Getting sleep right is an ongoing battle for many families across the world. However, fixing childhood sleep issues can seem very daunting. Can the answer really be this simple?
What Is The REST Method?
The REST Method is my teaching to help parents focus on the most important aspects of healthy childhood sleep and habits and focus their efforts on fixing childhood sleep issues.
Successful sleep is so much more than having a regular bedtime routine and although it's top of the list… you need to take other important things into consideration when mastering sleep too.
Such as:
Ensuring the sleep environment is conducive to sleep
Keeping track of all sleep in a 24-hour period
And handling the all-important transitions will ensure that you have a complete sleep solution at your fingertips.
To learn more about my REST Method, check out this post.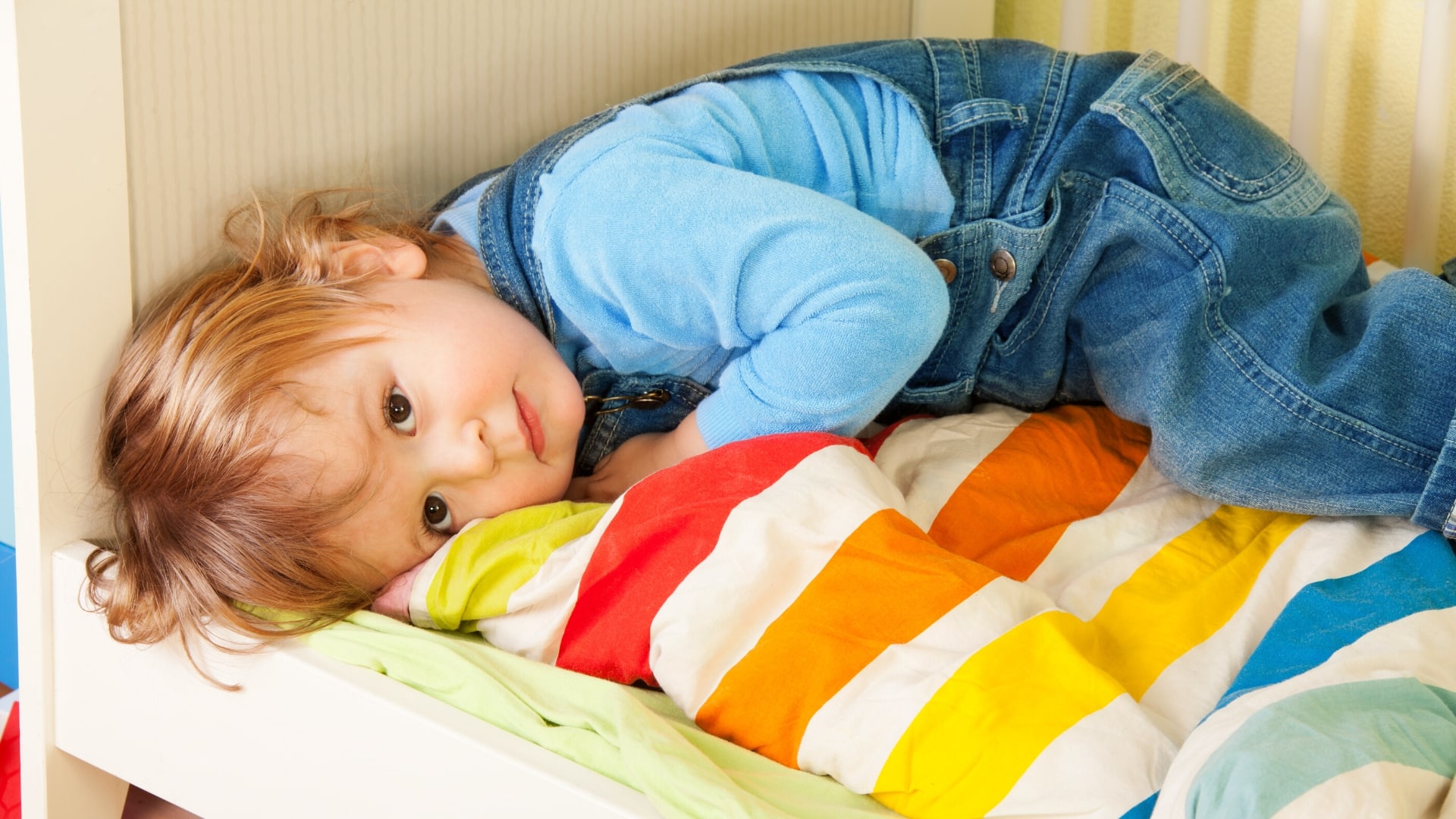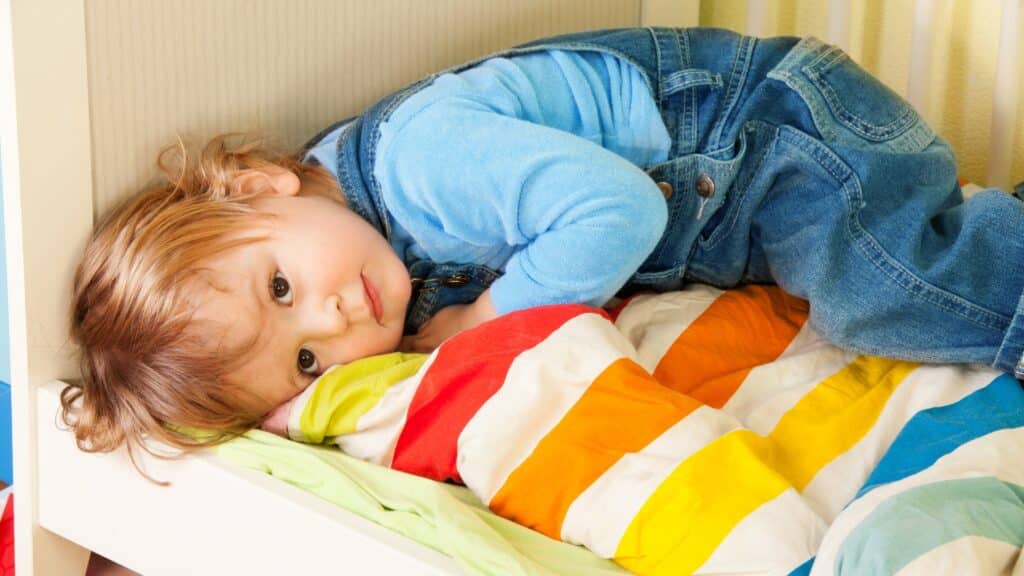 What Makes The REST Method Different?
Being a parent today is overwhelming.
There is so much information out there about baby and toddler sleep that it can be incredibly daunting for parents to work out how to go about fixing childhood sleep issues they might be having.
Not to mention how many articles contradict themselves and promote tactics that "work in 24 hours or less!" that inevitably don't work and make the parent feel useless when they've done absolutely nothing wrong.
My parenting approach has always been to make things as simple and actionable as possible and while all children are individuals and each child's situation needs to be treated as such…
Having a basic set of rules to refer to that gives the parent the information they need to handle childhood sleep can make solving any sleep-related issues far easier.
The REST Method reminds you of what is important and you fill in the information required.
You establish the routine, you control the sleep environment, you know how much sleep your little one is having in a 24-hour period and you control all the important transitions that might derail sleep and your little one's routine in general.
REST is also applicable across your whole day while reminding us that if you get sleep right, a lot of other things will fall into place allowing you to enjoy quality time with your little one.
Download Our FREE Bedtime & Nap Cheat Sheet
A bedtime & nap cheat sheet so good your little one will ask you to put them to bed...
Laura Williams "This is a life saver! I'm so glad I downloaded your bedtime & nap cheat sheet. My little one actually asked me to put him to bed last night! Unbelievable! Thank you so much!"
Click Here For The FREE Cheat Sheet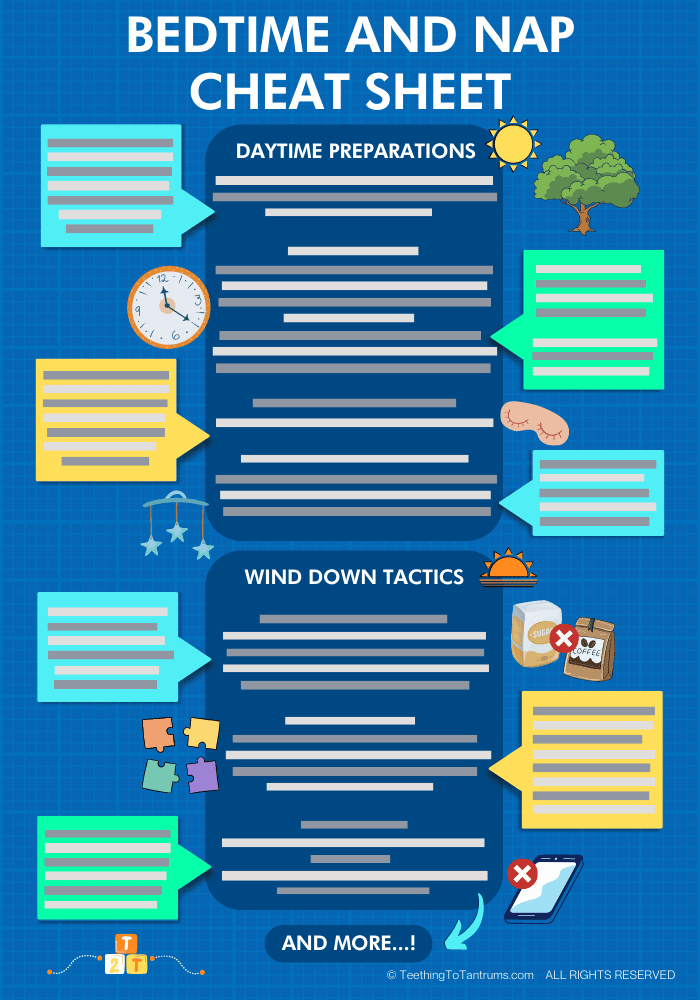 How Can Looking At Sleep Over 24-Hours Really Help?
I often get asked by parents why their children are not falling asleep nicely at bedtime despite the fact that they have an established and recognisable bedtime routine.
The first question I then ask is always about what happens with the rest of their little one's sleep schedule and how much daytime sleep they are having and when, including any cat naps.
This is because nighttime sleep is always affected by daytime sleep.
The timing and length of daytime sleep impacts nighttime sleep, so it is important that you know how much age-appropriate sleep your little one needs, how many naps are ideal for that age and when they should be taken.
After all… Sleep breeds sleep.
Why Do I Need The REST Method?
If you want to keep track of your little one's sleep and keep focused on what is important when it comes to mastering sleep then REST is the method to use.
You will feel in control of the sleep routine, stay focused on the things that impact sleep the most and be rewarded with your little one sleeping soundly… which means you will be too!
REST Seems Too Simple.
You might be thinking that such a big issue as sleep cannot be fixed by something so simple.
However, as parents, we can easily feel like there are so many things to remember and get right that we become overwhelmed and end up overthinking things.
Having an easy-to-remember mantra like REST can simplify things and help you feel more in control when fixing childhood sleep issues.
Simple does not mean that it is less effective.
Just remember Bath, Book and Bed and how that revolutionised the bedtime routine.
Raising our little ones is a hugely important task so having some simple ways to remember what to focus on when we are bombarded with huge amounts of information can be a lifesaver.
Are Sleep Schedules Necessary To REST?
Basic sleep schedules are a great place to start when it comes to building your child's individual sleep routine as they give you a basic framework to work with.
And I talk about sleep schedules a lot in my REST method.
This is because these schedules tell you how much sleep your little one needs in a 24-hour period and give you rough guides for how daytime and nighttime sleep can be split up.
However, you should never be a slave to these sleep schedules and you should appreciate that they are flexible to a certain degree.
While the sequence of events in the schedule may be the same for most children of a certain age… the timings can certainly be different.
If your little one is tired and they need to sleep, you should never keep them awake to fit the schedule.
Instead, tweak the schedule to fit your child's sleep needs.
TOP TIP: Always let your child sleep when they need to but don't be afraid to wake them from a nap to ensure they are ready for bedtime.
Here is a list of all of the sleep schedules for your child's first two years:
Need More Parenting Help?
Download our FREE Perfect Sleep Cheat Sheet. It's a free, easy-to-use and proven formula designed for parents of 0-5 year olds to master the art of consistently undisturbed and restful sleep without the yelling, nagging or exhausting long-winded evenings.
Check out our Parenting Toolbox. You'll get access to expertly-chosen products that you can guarantee are the best for your little one and your wallet.
Ready to create the calm, peaceful evenings you deserve? Then checkout our most popular course - The Bedtime Battles Masterclass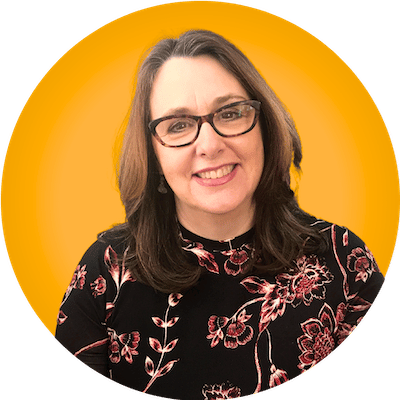 Paula McLaren - The founder of Teething to Tantrums has been in the childcare industry as a Norland Nanny and Childcare Expert since 1982. Her qualifications include a BA (Hons) in Early Years Development & Learning (0-6 Years) plus the highly prestigious Norland Diploma, recognized as the best early years practitioner qualification in the world. During her 40+ years of experience, she has worked as a night nanny (specializing in solving sleep issues), run a very successful daycare center in London, and raised almost 100 children, including her son, to be kind, healthy, and happy individuals with her tried and tested developmental and guidance methods.
Download Our FREE Bedtime & Nap Cheat Sheet
A bedtime & nap cheat sheet so good your little one will ask you to put them to bed...
Laura Williams "This is a life saver! I'm so glad I downloaded your bedtime & nap cheat sheet. My little one actually asked me to put him to bed last night! Unbelievable! Thank you so much!"
Click Here For The FREE Cheat Sheet