So you have a wonderful 14 month old bundle of joy! This is a lovely, but sometimes bittersweet age, when your little one moves from babyhood to toddlerdom!
This is the beginning of an EXCITING stage in your child's development and all their unique and wonderful individuality will begin to make itself known!
At 14 months old, your toddler's independence starts to grow and their ability to move around more efficiently and manipulate objects with more dexterity, gives them the ability to explore the world in new and exciting ways.
In this month, your little one will go through LOADS of milestone jumps as their personalities and independance grow!
It can be tricky to keep track of it all & so we've compiled EVERYTHING you need to know into ONE handy post!
So if you're ready… Here's what to expect during your toddler's 14th month!
14 Month Old At A Glance
This is a transitional age when your little one moves from being a baby to a toddler. Their routine will start to fit into a normal family routines more readily, their mobility will grow and their ability to communicate and do things for themselves will develop.
Food
When it comes to your 14 month old and food, your toddler should now be eating three meals a day and having a couple of healthy snacks in between.
Sleep
Most 14 month olds will now sleep between 11 and 14 hours in a 24 hour period with 1-2 naps per day with the longest nap being in the afternoon.
Physical Development
The biggest development at this age will be learning to walk. Some may hit this milestone a little earlier and some a little later but it will take up a great deal of their time either way as they master the art of walking.
Mental Development
Your 14 month old will also start to transition from babbling to saying clearly defined words. This is a game changer in the way they will start to communicate with you and express their wants and needs.
14 Month Old Development Milestones
Fine Motor Skills
Your toddler's hand eye coordination will improve and they will want to try and self feed as they start to use their fingers and thumb. They may start to drink from a cup too.
Gross Motor Skills
Toddlers of this age will be starting to take their first steps and will be able to climb stairs.
Social Development
14 month old babies still want you to be the centre of their world, so they will not play with other children yet… However, they may play alongside them.
Emotional Development
At 14 months old, your toddler may exhibit separation anxiety but they will also begin to be more aware of how others feel and show concern if someone is upset or crying.
Language Development
This is when your toddler's language will start to mature. All that chatting you have been doing will start to pay off as they begin to say their first understandable words.
Play For Development
Open ended play that allows your 14 month old to explore are perfect for this age group. This can include playing with building blocks and playing with a ball to increase their fine and gross motor skills.
Other Notable Milestones
Children of this age will also love to copy what you do. They will wave bye-bye, play peek-a-boo, enjoy familiar nursery rhymes and looking at books. This is a great sign of their emotional, physical and social development!
Download Our FREE Parenting Daily Routine
This free daily routine reveals our simple process to take you from feeling stressed, tired & overwhelmed to a thriving, organized & confident parenting champion.
By subscribing, you agree to get emails from Teething to Tantrums. We will respect your privacy and you can unsubscribe any time.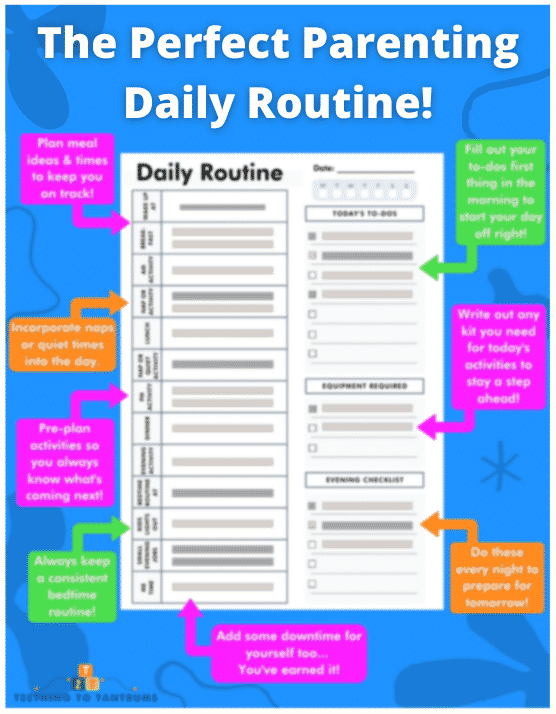 14 Month Old Weight
The average weight of a 14 month old is 21.5lb (9.7Kg).
Obviously, this is only a guide and will vary from child to child. As long as your toddler has steady weight gain and is healthy and alert, there is no need to worry.
14 Month Old Sleep
By this stage you should have a well established bedtime routine and your little one should be in bed between 6.30 or 7.30pm at the latest.
You will also find that your 14 month old will now sleep more heavily during the first half of the night and will not need to be fed if they wake.
Your 14 month old should be sleeping for 10 to 12 hours at night and they should be having a short nap in the morning for about an hour, followed by a nap of no longer than 2 hours in the afternoon. In total, your toddler should be sleeping for 11 to 14 hours per 24 hour period.
The length of time spent napping will depend on how long your toddler sleeps at night. Some 14 month olds may only need an afternoon nap if they are sleeping longer at night and waking later.
TOP TIP: This is most definitely when having a regular bedtime and solid routine will pay off. It will be a lifesaver so don't compromise on this part of the day! You will be rewarded with a peaceful evening to recharge and you will be a better parent tomorrow because of it.
14 Month Old Bedtime Routine
When it comes to a bedtime routine for a 14 month old the trick is CONSISTENCY.
Fundamentally, the bedtime routine should follow the same pattern and end with a regular bedtime every night.
A bedtime routine for toddlers will differ slightly from that of a younger baby. There may now be a teatime routine prior to bath time, but it will still follow the pattern of a bath, book, a milk feed or drink and finally, bed.
A good way to get a 14 month old ready for bed is to lower the energy at the end of the day by:
Having a calm teatime
Followed by a warm and calm bathtime
Having an evening feed or drink sitting quietly whilst reading together in a dimly lit room
Alongside the above, enjoying a bedtime story, cuddle and chat in the bedroom
Finally, putting your toddler to bed in a dark, peaceful, cosy room.
How Much Should You Be Feeding A 14 Month Old?
When they reach 14 months old, your toddler needs just under 1000 calories a day of which about 370 of which will be taken in the form of milk… so, do not expect your baby to eat a huge amount of food.
The amount of milk they should have should not exceed 500ml per 24 hours of full fat milk or breast milk and this can be given in the form of a drink or mixed into food.
Although they no longer need formula, full fat milk is important for this age to ensure they have enough vitamin D and calcium.
If your child is lactose intolerant or you are raising your child as a vegan, ensure you are choosing a suitable alternative that contains enough vitamin D and calcium for their needs.
By this age, you can also transition gradually from a bottle to a cup for their drinks. There are many bottles that can convert to sippy cups to make this transition easier. Check out my Parenting Toolbox to see my top recommendations!
Finally, ensure that your 14 month old has a good variety of food from the major food groups across the 3 meals and 2 snacks per day. This includes proteins, complex carbs, a variety of fruit and veg and some dairy (if appropriate).
Here is a quick rundown of what your 14 month old could have throughout the day!
Breakfast Options:
Fortified cereal with milk from daily allowance
Wholegrain toast
Fruits
Eggs
Lunch Options:
A protein, like chicken or fish
Vegetables
A complex carb such as potatoes, pasta or rice
Milk from daily allowance
Tea Options:
A protein is not essential at this meal if you had some for lunch but feel free to give one if you want.
Whole Grain bread or pasta
Dairy
Fruit
Veg Sticks
Snack Options:
Fruit
Veg Sticks
Bread sticks
But avoid sugary snacks!
TOP TIP: Babies of this age love finger foods!
If you are looking for great recipes for your toddler go to Annabel Karmel's website for an endless supply of wonderfully healthy ideas for feeding your little one. Annabel's recipes are super easy, healthy and fun!
And for more excellent information on childhood nutrition visit Sarah Bushell's website. Sarah is very knowledgeable about child nutrition and is keen to share her knowledge with parents. She also has loads of wonderful age appropriate recipes too!
Your average 14 month old will also tend to eat more one day than another and may like a certain type of food one day and then not want to eat it the next. I can speak from experience here! And as frustrating as it may be, the key to food and a 14 month old is to go with the flow.
Offer all sorts of different types of food and healthy snacks and have family meals with your baby when you can. Eating with others will definitely encourage them to eat well.
TOP TIP: Don't make a big deal when they do not want to eat as they will very quickly catch on to the fact that food is a big deal for you and you do not want to turn mealtimes into a battle ground.
14 Month Old Feeding Schedule
These timings are all approximate and will vary slightly from child to child but will follow the same sequence.
Wake Up 6.30am – 7am
Breakfast with a milky drink – 7am – 7.30am
Snack – 10am
Lunch – 12.30pm
Snack – 14.30pm
Tea time – 4.30pm
Milky drink before bed – 6.30pm – 7pm
TOP TIP: Offer milk drinks with meals and not in between. Only offer water to drink between meals.
12 Best Foods For A 14 Month Old To Eat
Fruit – add as much variety and colour as you can!
A variety of colourful veg – include different textures too!
Avocado
Sweet potatoes
Eggs
Whole grain pasta and bread
Chicken
Fish
Red meat
Rice
Yoghurt
Cheese (grated or melted)
A good rule of thumb is to try to avoid processed food and added sugar as much as possible. The fresher, the better!
14 Month Old Activities
Here are a few GREAT activities to play with your 14 month old. At this age, they will have seemingly endless energy when awake & it's important to keep them occupied to help keep you sane!
Hammer and peg toy
Push and pull toys
Action rhymes
Bead maze
Musical learning toys
Hide and seek
It's always handy to have a few activities that can be done either by themselves or with another person to ensure your 14 month old always has something to do regardless of what's happening around them!
14 Month Old Day In The Life Schedule
While each family will have slightly different timings, there is a basic schedule that you should aim to follow by this age. Toddlers like routine and predictability so creating a routine for your 14 month old will make them feel safe and secure.
Here is a basic 14 month old daily schedule for you to build on:
6.30am to 7am – Wake Up!
7am – 7.30am – Breakfast with Milk.
8am – Get Dressed.
8.30am – 10.30am – Play time!
10am – Snack with Milk.
10.30am – Short Nap (this nap may start to drop away at this age)
11.30am – Play Time.
12.30am – Lunch Time!
1pm – Nap Time! (if you have dropped the morning nap, this nap may last up to 2 hours)
2pm – 2.30pm – Wake Up and Have a Snack with a Milky Drink.
2.30pm – 5pm – Play time! Including a Trip Out or Outside Play. Check out my post about Outdoor Activities For Toddlers for some great outdoor ideas!
5pm – 5.30pm – Tea Time!
6pm – 6.30pm – Bath Time!
6.30pm – 7pm – Bottle or Drink Whilst Reading a Book Together.
7pm – 7.30pm – Bedtime!
Best Toys For 14 Month Old
Here are my top 5 toys for your 14 month old! Whilst you certainly don't need to buy every toy under the sun for your toddler, having a select few that will help with their development is a worthwhile investment.
Musical Farmyard Cube Learning Toy By Melissa And Doug
A soft, feature filled activity cube.
I love Melissa and Doug toys. They have been producing innovative toys that promote development in the very young for 30 years. This lovely soft activity farmyard themed cube is robust and has many interesting features for your 14 month old to explore. They can push, squeeze or throw it and it will make a noise and it also comes with a robust mirror that toddlers love.
Wooden Carrots Montessori Educational Shape Sorter
A simple, but beautiful wooden shape sorter toy.
I love the simplicity of this wooden toy. This is an easy first shape sorter which really just requires your 14 month old to place the carrots into the holes. It develops fine motor skills and hand-eye coordination. It is well made and non-toxic too.
Melissa And Doug First Bead Maze
A great wooden developmental toy from Melissa and Doug.
This is an exceptional first developmental toy that helps to improve your toddler's sensory skills, fine motor skills, and hand-eye coordination. This is also a toy with longevity that your child will love to play with for months and months.
Hape Pull Along Toy
A wooden pull along toy for early walkers.
This simple pull along toy is great for little ones when they first learn to walk. It improves their balance and hand eye coordination and they will love pulling it along behind them as they learn to toddle about.
Fisher Price Classic Xylophone
Simple and classic first musical instrument.
This is a toy from Fisher Price that has stood the test of time. Young toddlers love to bang things and giving them a simple musical instrument is perfect for this.
FAQs
Below are some of the most frequently asked questions about 14 month old toddlers that I feel every parent should know the answer to!
Does My Toddler Need Shoes Yet?
At this age barefoot is best. When your toddler first starts to walk you should let them go barefoot as much as possible. This will allow their feet to develop properly and it will help them balance and improve their coordination.
Once your baby is a confident walker then you can have them measured for shoes to wear outdoors if the weather or terrain is not suitable to go barefoot.
What Should My 14 Month Old Be Doing?
At this age your 14 month old will be showing more independence, will be increasing their vocabulary and becoming more mobile and dextrous. Typically at 14 months your toddler will
Transition from a bottle to a cup
Stand alone unaided and maybe start to walk alone
Move from 2 naps to 1 per day
Start to say several words clearly
Wave bye-bye
Try and copy what you do
Understand simple instructions and act on them but not always
Point and gesture for what they want
Want to hold a spoon and try feeding themselves
Use their finger and thumb to feed themselves
Sometimes experience separation anxiety
Stop when you say no
Come when you call their name
Have a favourite toy
Climb stairs
Not always do want you want!
My 14 Month Old Is Not Walking?
If your 14 month old is not yet walking independently, there is no need for concern. Many children do not take their first steps until way beyond this age.
As long as your toddler is crawling around quickly, pulling to stand, cruising and standing independently for short periods of time then there is nothing to worry about. Those first precious steps will come soon enough.
Some children just need to feel very confident before they brave those first steps while others are more fearless. If your 14 month old has had a fall while standing unaided, it may set them back a bit while they return to crawling for a while.
My son was about to take his first steps at around 13 months old when he fell one day (in a rather dramatic fashion!) and did not start walking properly until 2 months later!
If you are at all concerned about your baby's physical development then please talk to your doctor or pediatrician.
Checklist For This Month:
Let your toddler feed themselves either with finger and thumb
Offer your little one a spoon to feed themselves
Introduce your toddler to crayons and paper
Look at lots of different types of books
Sing lots of action rhymes
Play ball by sitting on the floor and rolling it back and forth between you
Encourage your toddler to walk unaided
Take some building blocks and build a tower together, knock it down and start again
Get your baby a baby wooden baby walker to push along
Take your 14 month old photo!
Read our 15 month old article to know what to expect next month!
Game Of The Month:
Mimic Me
Playing 'Mimic Me' is a great game for 14 month olds as it will develop their social skills, physical coordination and imagination as well as being lots of fun.
How? Sit facing your toddler then do something simple such as clapping your hands or sticking out your tongue. When they copy you, enthusiastically praise.
They might want to keep repeating the same action over and over again, but try to encourage them to copy other gestures like waving, raising their hands above their head, or covering their face. But don't worry if they don't copy you, as long as they are having fun, it's all OK.
Next start copying what they do and see if they notice. When they do, they will find it very funny!
Book Of The Month:
Dear Zoo By Rod Campbell
A classic lift the flap book by Rod Campbell
I have loved this book for many years. Toddlers love books about animals and love to lift flaps to discover what is underneath, so this book ticks all the boxes to engage and hold your toddler's interest. It is a timeless classic.
Top Parenting Tips For The Month
Parenting a toddler every day can be very exhausting (and sometimes very repetitive!) but also great fun. As they start to communicate more and engage with what you are doing together each day, it brings new wonder to both of your lives.
This is a time of great discovery and as with every stage in the early years, time passes very quickly! So make the most of each day and enjoy each phase.
But if it all gets too much sometimes… then take a break and don't feel guilty about it.
Here are some top tips for getting through the 14 month old phase:
Give your toddler lots of hugs and cuddles
Look at age appropriate books together every day
Talk and chat your way through the day and reinforce their emerging vocabulary
If you need time out for yourself, put your toddler in a safe place and take some time to breathe deeply, make a cup of tea or call a family member or friend for a chat.
Toddler proof your home
Encourage your toddler to move and enjoy physical activities
Mix things up and try and play lots of different activities
Appreciate that you will have bad days and that's OK
Have a regular and consistent bedtime routine
What is one parenting tip you received and never forgotten?
FINAL NOTE
Toddlers develop and grow at different rates. This post is to act as a guideline. If you are at all concerned about your toddler, please visit your doctor or local GP.
If you enjoyed this post and know other parents who would enjoy this post about 14 month old toddlers, be sure to give it a share around!
As I mentioned in this post, if you're looking for products for your little one and you're not sure where to begin, be sure to check out my Parenting Toolbox.
It is full of all my favourite products which I've tried to ensure are all non-toxic, eco friendly, sustainable and, of course, they're all baby proof!
Do you have any blog recommendations that you'd like me to write about? Drop me an email [email protected] and let me know. I love hearing from you!
Thank you for your continued support and until next time, Happy Parenting!
Paula McLaren
Paul Mclaren - Norland Nurse NNEB RSH is the founder of Teething to Tantrums and has been in the child care industry as a Norland Nanny since 1982. Since then, her mission has been to help parents become the best they can possibly be. And each year, she continues to help more families understand their child's development, the trials and joys of parenting and of course, how to care for their little ones.
Download Our FREE Parenting Daily Routine
This free daily routine reveals our simple process to take you from feeling stressed, tired & overwhelmed to a thriving, organized & confident parenting champion.
By subscribing, you agree to get emails from Teething to Tantrums. We will respect your privacy and you can unsubscribe any time.