"My toddler won't sleep without me, I've tried everything and I'm exhausted! What do I do?"
I've heard it over and over again. In fact, I've experienced it first-hand with my son so I know exactly how you feel.
Now, I'm going to be honest, this is not an easy road. Teaching your toddler to sleep alone requires persistence and determination… But your toddler will eventually be a blissful solo sleeper, I promise.
So what are the reasons why your toddler won't sleep alone?
And how can we help them become independent nighttime sleepers?
Well, from first-hand experience and decades of nannying experience, here are all the tips and tricks you need to get your precious evening back on track.
The 2 Key Differences About Not Wanting To Sleep Alone
Having issues with getting your toddler to sleep is VERY common – around 25 percent, in fact.
Unfortunately, poor sleep habits can manifest themselves in one of two ways… with your toddler either wanting you to physically lie next to them while they fall asleep or wanting you to be in the room with them as they nod off.
How you handle these two situations is different… so it's essential to know which one you and your little one are experiencing.
1. My Toddler Won't Sleep Without Me Unless I'm In The Room
Some children will fall asleep as long as you are in the room with them. This may mean you have to sit on the edge of the bed, sit on the floor or in a chair in the corner until they are asleep.
Typically, if you attempt to move out of the room before they are asleep your toddler will cry out and beg for you to come back or they will try to follow you.
If this is happening to you, then keep on reading the rest of the article. If not, then check out the next paragraph for more information about sleeping with a toddler who wants to be held.
2. My Toddler Won't Sleep Without Me Touching Them
As mentioned earlier, some toddlers will not fall asleep unless they are physically in contact with a parent. This may mean:
holding their hand,
stroking their forehead,
resting a hand on their tummy
or even lying next to them.
And if this is you, then be warned… The desire for your toddler to be in physical contact with you is a trickier problem to solve and it will take a little longer to resolve.
5 Reasons Why Your Toddler Does Not Want To Sleep Alone
Here are some of the most common reasons why your toddler may not want to fall asleep without you:
They lack a regular and healthy bedtime routine.
You have rocked them to sleep and then stayed with them until they go to sleep up until now.
They are experiencing separation anxiety.
They have a fear of the dark or experience nightmares.
They have just moved from a crib to a bed.
Looking to get your little one to sleep quickly and effortlessly through a healthy nighttime routine? Check out my Bedtime and Nap Cheat Sheet and master the art of making daytime naps and bedtimes as seamless as possible.
Download Our FREE Bedtime & Nap Cheat Sheet
A bedtime & nap cheat sheet so good your little one will ask you to put them to bed...
Laura Williams "This is a life saver! I'm so glad I downloaded your bedtime & nap cheat sheet. My little one actually asked me to put him to bed last night! Unbelievable! Thank you so much!"
Click Here For The FREE Cheat Sheet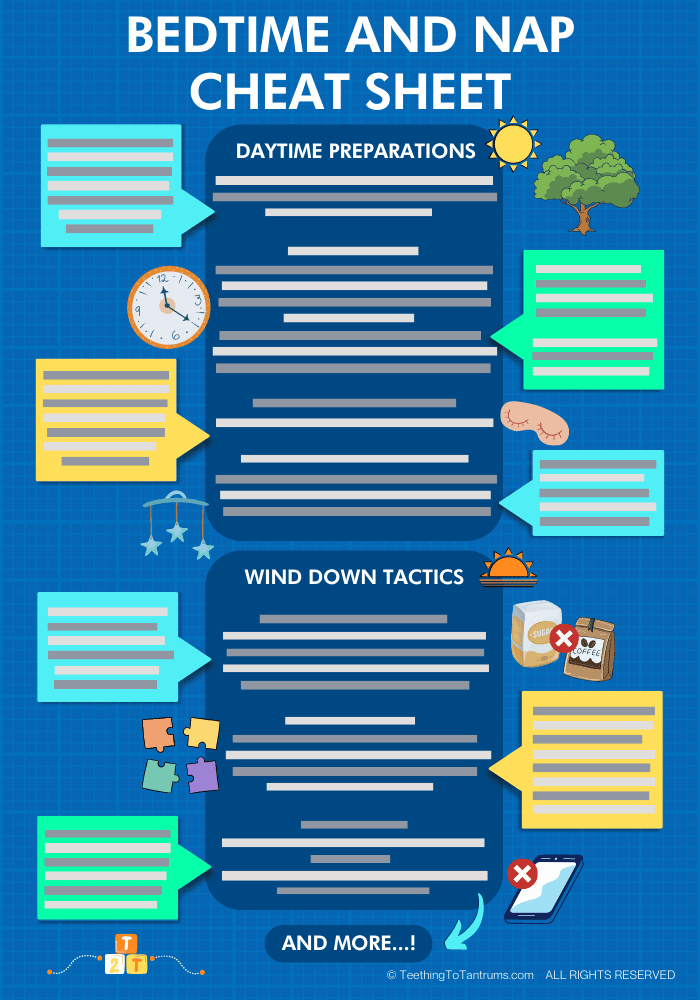 How To Help Your Toddler Learn To Sleep Without You
It is important to remember that falling asleep alone is a learnt skill.
If babies and young children had a choice, they would happily fall asleep next to you every evening and be very happy to find you there when they wake up… Why wouldn't they?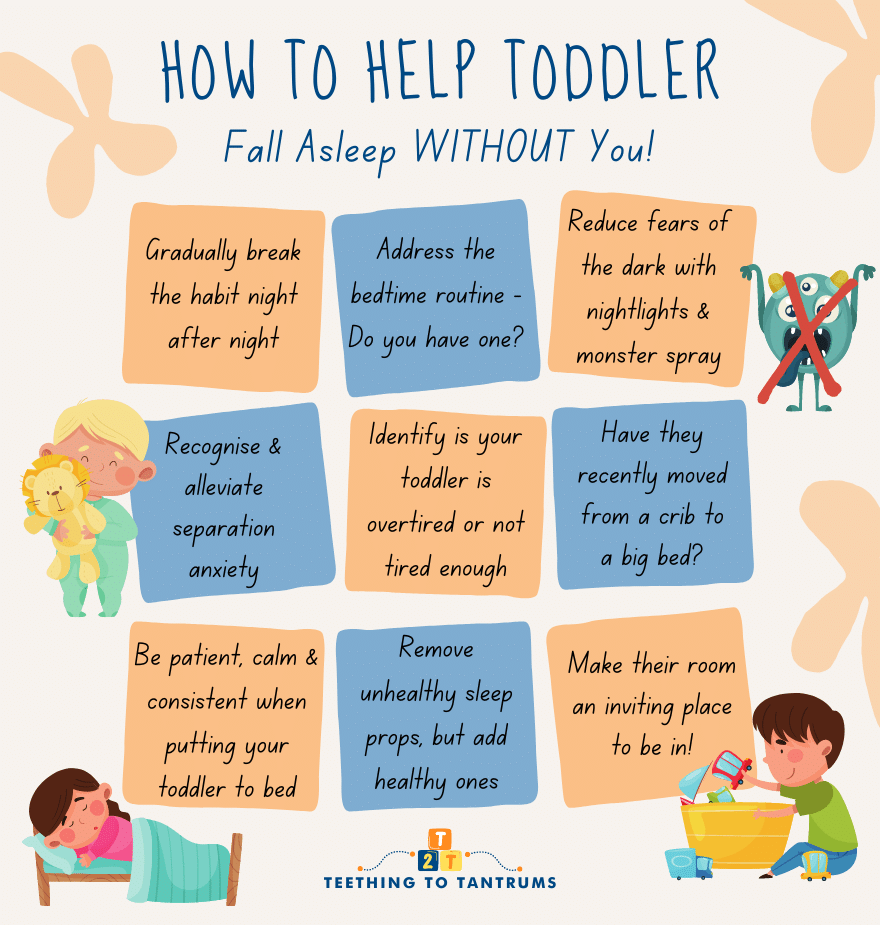 1. Gradually Break The Habit
If you have been staying with your little one until they fall asleep and are suddenly expecting them to fall asleep alone, just because they have reached an age when you would expect them to do so, it's not going to go smoothly…
What makes teaching a toddler to fall asleep alone more difficult than teaching a baby is that they now have a will of their own and are more mobile. Therefore, you need to adjust your evening routine and nighttime antics gradually to achieve the behaviour you want.
This can mean gradually moving further from your child night after night or gradually changing their room to be cosier for them to spend time in.
2. Address The Bedtime Routine
I know. I am always going on about the bedtime routine… but it is extremely important!
This is because getting your children into bed in a calm and timely manner will be a lifesaver and aiming for child-free evenings is your investment in your parenting for the following day.
So, if you have not had a regular and healthy bedtime routine… NOW is the time to start.
Children love routine and following the same steps at the end of every day will give them all the right signals that bedtime is on the way as well as improve sleep and reduce nighttime wakings.
Go to my post about the Bedtime Routine to see what makes a great bedtime routine and how you can refine yours to give you calm evenings once again.
REMEMBER: Ideally, your child should not be in bed any later than 8pm to ensure they get enough sleep to support their brain's growth and development as well as their physical development.
3. Reduce Any Fears Of The Dark
Many toddlers will develop a fear of the dark and this is very easily remedied by having a night light either in the bedroom itself or in the hallway with the door ajar.
In fact, I would always suggest that you leave the bedroom door ajar as very few toddlers want to sleep in a room with a door shut.
Our Pick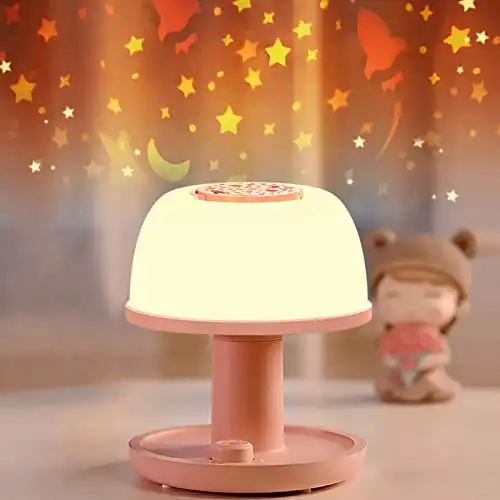 Toddler Night Light Lamp By LICKLIP
There are a lot of night lights out there but I love this one. The perfect bedside lamp is easy to use and projects onto the ceiling. It comes in a range of colours, soft lighting and a timer.
Buy Now
We earn a commission if you click this link and make a purchase at no additional cost to you.
TOP TIP: If your toddler does not want to sleep in the dark then don't try and persuade them otherwise, it's not worth the unnecessary stress.
4. Recognise And Alleviate Any Separation Anxiety
Your toddler's love for you is HUGE and they love nothing more than being with you. However, it is your job to help them learn to fall asleep alone and reduce their fears of being left alone.
Here are some handy tips to help you handle separation anxiety:
Offer your little one a favourite soft toy that they can fall asleep with and keep them company.
Talk to your toddler about the fact that they need to learn to fall asleep alone. Read bedtime stories that address this issue. And after saying goodnight, tell them that you are not going far and that you will just be in the kitchen/ living room and that you will pop back in a little while.
Make sure that you do come back after a short while and gradually lengthen the time that you stay away until they are falling asleep before you come back. Your return is what builds up the trust with your toddler that they are safe and loved. The "I'll be back" technique is one of my favourite sleep training methods.
TOP TIP: Playing an audiobook or some favourite music to lull your toddler to sleep can help with separation anxiety and fear of the dark too.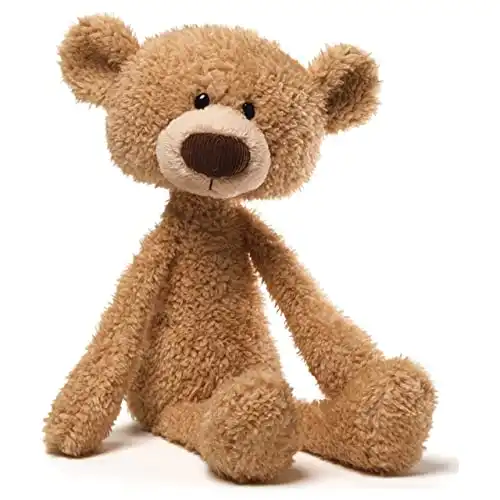 GUND "Toothpick" Soft Plush Teddy Bear
Super soft, very cuddly and the perfect companion to young children, the GUND Teddy Bears never fail to be toy box favourites for years to come!
Buy Now
We earn a commission if you click this link and make a purchase at no additional cost to you.
5. Are The Overtired Or Not Tired Enough?
Another reason your toddler may be struggling to sleep on their own is that they're either overtired or not tired enough.
As weird as it sounds… needing sleep can result in children fighting sleep.
This is because overtired toddlers who have poor quality sleep experience an increase in cortisol and adrenaline that will make them hyper and over-emotional before bedtime. Equally a toddler that is not tired enough will struggle to fall asleep.
If your toddler does not appear to be tired enough, then consider cutting down on any daytime sleep or increasing daytime activities and getting plenty of fresh air and natural light to help regulate your little one's melatonin levels and circadian rhythm.
NOTE: Getting sleep right is a tough balance, but you can find out more about how to master this balance of day and night sleep in my post Why does my toddler get hyper before bed?
6. Have They Moved From A Cot To A Bed Recently?
As easy as it may seem to us, moving from a cot to a bed is a big deal for toddlers and it's often the trigger for many bedtime settling issues.
It may also be the point at which you are tempted to stay with your toddler to settle them to sleep because they refuse to stay in the bed without you there. If this is the case, you will need to gradually wean your toddler off your presence little by little every night.
TOP TIP: Do not try to move your toddler into a big bed just before the arrival of a new sibling or after moving house as they will probably have a hard time handling 2 big changes at once.
Best Crib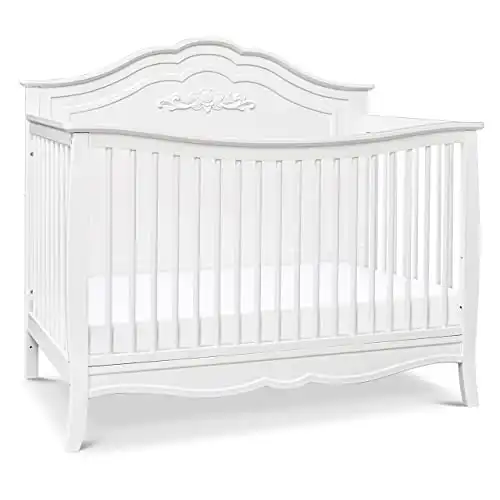 DaVinci Fiona 4-in-1 Convertible Crib
When looking for a crib I really feel that one that can grow with your baby is best. This lovely crib easily adapts to a toddler bed, then day bed or full size making the transition from crib to bed easier and less stressful for your little one. Couple this with its Greenguild Gold certification and stylish design this is a real value for money crib.
Buy Now
We earn a commission if you click this link and make a purchase at no additional cost to you.
7. Be Patient, Calm And Consistent
Finally (and most importantly) when it comes to teaching your toddler the all-important skill of falling asleep alone, you need to stay calm, be patient and consistent.
Toddlers understand a lot more from your tone of voice than they do from your words… so staying calm and not getting angry is essential to your success when dealing with a toddler who won't sleep without you.
REMEMBER: Toddlers are extremely emotional and it's perfectly normal for them to push the boundaries and experiment with their newfound independence to see how much they can get away with. Combine this with their desire to be with you all the time, and bedtime can easily turn into a battleground if not handled correctly.
8. Remove Unhealthy Sleep Props But Add Healthy Ones
Some sleep props are great – such as nightlights, black-out blinds and white noise machines. However, other sleep props such as requiring your hand or a bottle to fall asleep, are not and should be removed as soon as possible.
NOTE: If a toddler has to have a bottle of milk to fall asleep, it may seem fine at first. But later, it becomes unhealthy due to promoting cavities or being a source of extra calories that your toddler doesn't really need.
Our Pick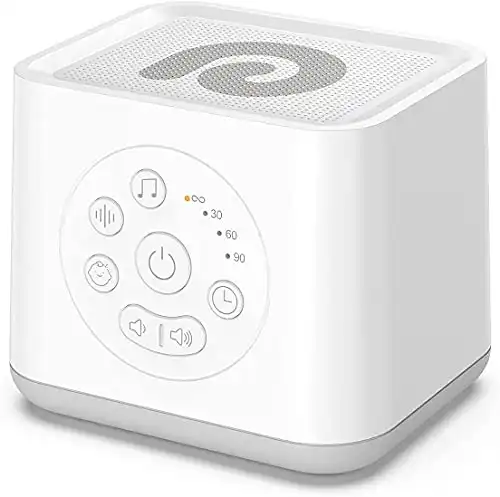 Dreamegg Soothing White Noise Machine - 21 Sound Variations
White noise machines are a game-changer for your little one's sleep and having one that plays all night is a must. Compact, stylish and containing 21 non-stop relaxing noises, this handy gadget from Dreamegg will lull your little one to sleep night after night, no matter where you are.
Buy Now
We earn a commission if you click this link and make a purchase at no additional cost to you.
9. Make Their Bedroom An Inviting Place To Be
Nobody wants to sleep in a cold, boring and bland room. Toddlers especially…
So make their room a place that they want to stay in!
Get them to help choose the bedding for their bed including pillows and throws if necessary.
Encourage your toddler to personalise their room and have their favourite toys on display or in bed with them
Make sure their room is warm enough (between 18-22°C or 65-70°F) and that they're appropriately dressed.
Maintain cosy lighting to alleviate nighttime fears
Have a monster spray (a bottle of water!) which you incorporate into the nighttime routine to scare off unwanted visitors to keep your toddler happy.
Have calm down quiet time in their bedroom during the day so they get used to being in their room alone during the day too.
Frequently Asked Questions About My Toddler Won't Sleep Without Me
Looking for more information to understand why "My toddler won't sleep without me"? Here are some of the most common questions.
How To Handle A Toddler Who Keeps Getting Out Of Bed?
If your toddler gets out of bed it is important that you are firm but kind, by saying very clearly that they need to go back to bed and stay there. You may have to repeatedly return them to bed but it is essential that you do not give in even if they cry and complain. And certainly, don't regress to old habits like lying next to them.
If your toddler does become very distressed then you may have to revert to staying in the room near their bed…
But do not engage in unnecessary conversation. Keep your voice low and calm but preferably stay as silent as you can.
TOP TIP: Pre-empt any attempts to get you to return to the bedroom by making sure that the night light is on and they have had that last kiss and last sip of water before you leave.
How Long Will It Take To Teach My Toddler To Sleep Without Me?
When it comes to solving the issue of your toddler not wanting to sleep alone you need to be determined and committed to the task at hand. But if you are consistent and stick to your guns, your toddler will hopefully be sleeping alone within 2 weeks.
Need More Parenting Help?
Download our FREE Perfect Sleep Cheat Sheet. It's a free, easy-to-use and proven formula designed for parents of 0-5 year olds to master the art of consistently undisturbed and restful sleep without the yelling, nagging or exhausting long-winded evenings.
Check out our Parenting Toolbox. You'll get access to expertly-chosen products that you can guarantee are the best for your little one and your wallet.
Ready to create the calm, peaceful evenings you deserve? Then checkout our most popular course - The Bedtime Battles Masterclass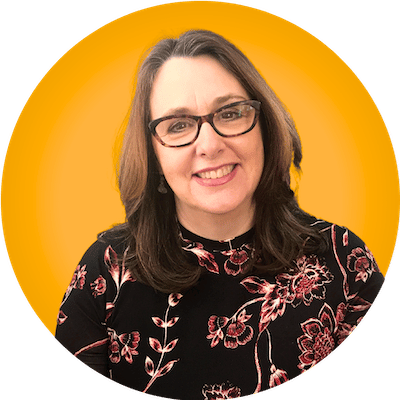 Paula McLaren - The founder of Teething to Tantrums has been in the childcare industry as a Norland Nanny and Childcare Expert since 1982. Her qualifications include a BA (Hons) in Early Years Development & Learning (0-6 Years) plus the highly prestigious Norland Diploma, recognized as the best early years practitioner qualification in the world. During her 40+ years of experience, she has worked as a night nanny (specializing in solving sleep issues), run a very successful daycare center in London, and raised almost 100 children, including her son, to be kind, healthy, and happy individuals with her tried and tested developmental and guidance methods.
Download Our FREE Bedtime & Nap Cheat Sheet
A bedtime & nap cheat sheet so good your little one will ask you to put them to bed...
Laura Williams "This is a life saver! I'm so glad I downloaded your bedtime & nap cheat sheet. My little one actually asked me to put him to bed last night! Unbelievable! Thank you so much!"
Click Here For The FREE Cheat Sheet