Every now and then, we all need a quiet moment when our emotions flare up and get the better of us…
And children are exactly the same!
If anything…
They actually need quiet moments MORE OFTEN as they are learning for the first time what all these new emotions and feelings are!
And that's where your parenting skills come into play...
It's time to create the beautifully simple… Calm down corner.
Safe, relaxing and cosy…
Your little one's calm down corner will be the secret tool to raise an emotionally aware and healthy child!
What Is A Calm Down Corner?
A calm down corner is a designated safe place or area in the home or preschool, where children can go to calm down and take a break when their emotions become overwhelming so they can regain their emotional and physical control.
Calm down corners can be as simple as a space with a mat, soft cushions and a box of books and soft toys, or it can be as elaborate as a toy castle, teepee or tent.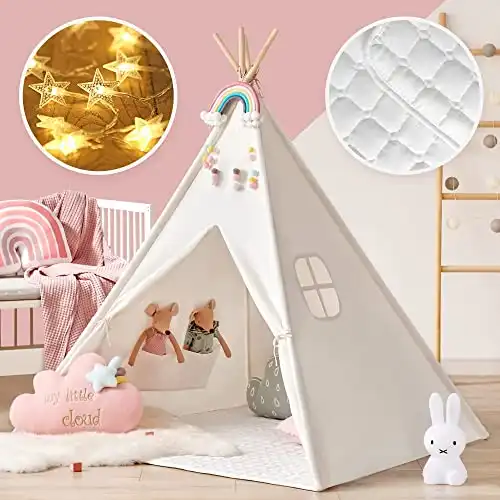 Tiny Land Large Kids Teepee Tent with Padded Mat, Light String & Carry Case
All children love a little house and a teepee is a versatile set up that you can use both indoors and out. This is an item tha will grow with your child's imagination and provide hours of fun for you and them. The perfect setting for nursery tea parties and a cosy snuggle spot for hanging out and reading together or alone.
Buy Now
We earn a commission if you click this link and make a purchase at no additional cost to you.
You can call your calm down corner something else such as a quiet corner, cosy corner or chill out space…
But no matter what you call it, the important thing is that your calm down corner is welcoming and provides children with a safe place to calm down when they feel angry, burnt out, frightened, upset or just overwhelmed with life.
Also, remember that a calm down corner is NOT to be used for time out.
If you use time out, you will require a separate space to manage these moments of unacceptable behaviour as you want your calm down corner to be associated with feeling safe, cosy and calm.
So, whatever you decide to do, a calm down corner is a safe place to go to in order to process feelings and is not a punishment!
I would also like to point out that a cosy corner is not just for your little one!
You can also spend quiet time with your child in the calm down corner.
So, cuddle, read books together and talk about how they are feeling, especially when they are very young.
Cultivating the idea that this is a safe place to be when you are feeling overwhelmed will establish the fact that the cosy corner is the perfect place to go when life gets tough.
5 Ways A Calm Down Corner Will Transform Your Child's Emotional Development
Not only are calm down corners important for helping children feel safe but calm down corners also teach children how to: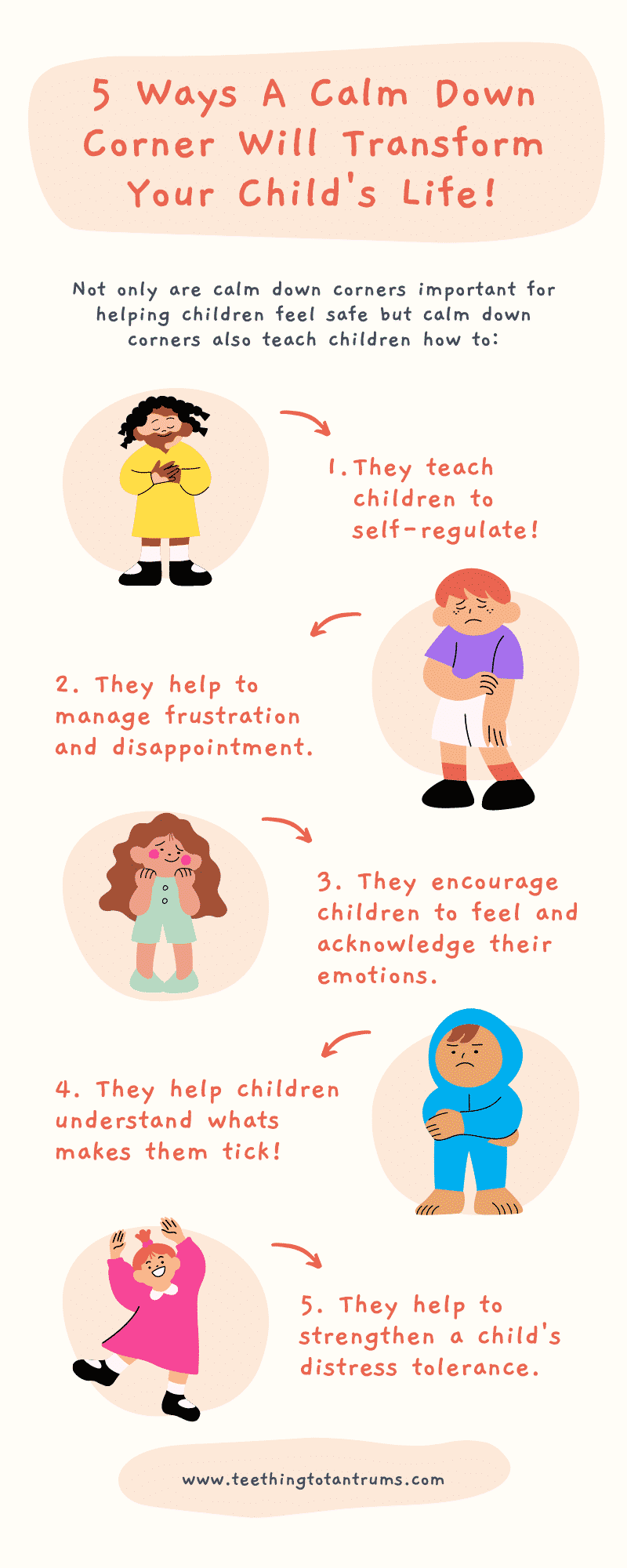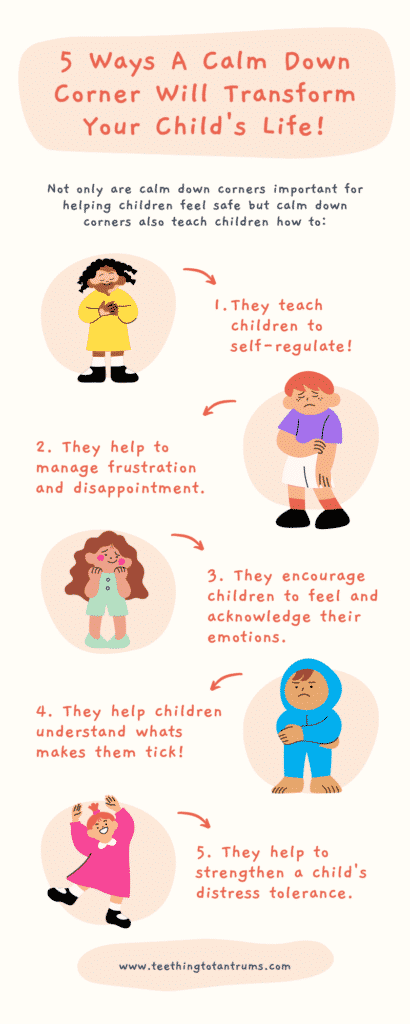 1. Self Regulate
Self-regulation is a HUGELY important life skill.
Children experience extreme emotions which can be very overwhelming in the early years.
Having a designated safe place to explore what these feelings feel like and how to process them, is vital to your young child's emotional and social development.
2. Manage Frustration And Disappointment
A cosy corner can also help with frustration and disappointment as it provides a haven where children can go to process these difficult emotions.
When they have not got their own way, a friend has not shared their toy or they become frustrated trying to master a new skill, the calm down corner can be a brilliant place to cool down.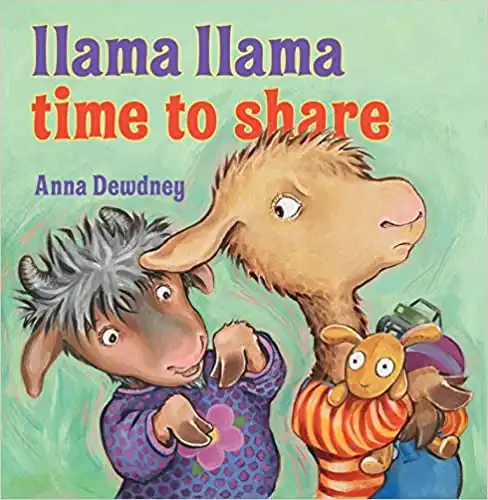 Llama Llama Time to Share
Loved by families all over the world, Llama's story about learning to share his toys with his neighbours is a brilliant way of opening the conversation about how and why sharing is important to your toddler!
Buy Now
We earn a commission if you click this link and make a purchase at no additional cost to you.
3. Encourage Feeling Emotions
Calm down corners can also become somewhere where your child is encouraged to talk about their feelings.
It is important that this space is a place where your little one feels free to say what they feel and there are no repercussions or blame.
REMEMBER: The calm down corner must be seen as a safe place and not a punishment.
Try using emotional flashcards or books to help your child express their emotions a little easier.
4. Understand What Makes Them Tick
Preschool children can also learn a lot about themselves in a calm down corner!
It provides a place where they can reflect on what they are feeling and what happened that made them upset in the first place.
5. Strengthen Their Distress Tolerance
Importantly a calm down space can build your little one's tolerance of distress.
Allowing your children to express and process their feelings in a safe place sends the message that it's ok to experience difficult and upsetting emotions.
This normalising of unpleasant feelings is very important in raising emotionally intelligent children.
Do Calming Corners Actually Work?
YES! They absolutely do!
I have utilised calm down corners time and time again throughout my nannying career and I love them.
Whilst time out spaces still have their place, I find that chill out corners are more beneficial for neutralising everyday overwhelming emotions and helping to develop emotional awareness and open communication with children.
Download Our FREE Bedtime & Nap Cheat Sheet
A bedtime & nap cheat sheet so good your little one will ask you to put them to bed...
Laura Williams "This is a life saver! I'm so glad I downloaded your bedtime & nap cheat sheet. My little one actually asked me to put him to bed last night! Unbelievable! Thank you so much!"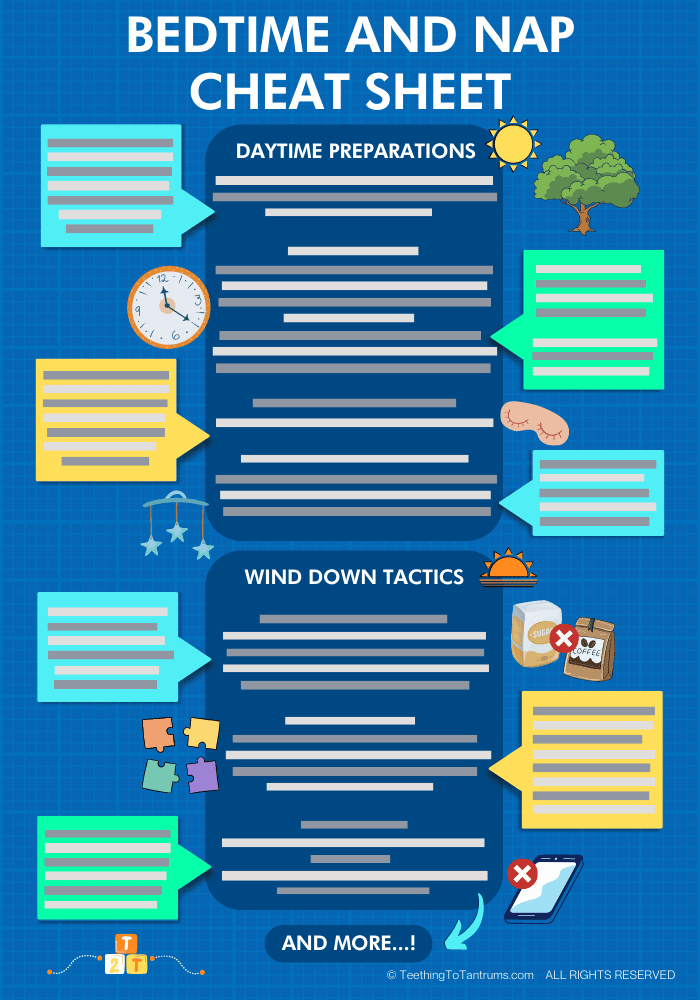 When Can You Start Using A Calm Down Corner?
You can start using a calm down corner from as young as 12 months, but definitely, by the time your toddler is 2 years old, you will find this safe place an essential parenting tool.
If your child is struggling to cope with their growing emotions then providing them with a safe haven as a default place to go to, to de-escalate their feelings or when they become too overwhelmed with life, is VERY important no matter how old they are.
So, what makes the perfect calm down corner?
How Do You Make The Perfect Calm Corner?
Well, a calm down corner can take many shapes and forms but essentially it needs to be.
Safe,
Comfortable,
Welcoming,
Quiet,
And containing calm sensory toys and objects.
7 Calm Down Corner Essentials
Here are some of my calm down corner essentials that I feel are really worth considering when setting up your child's safe haven.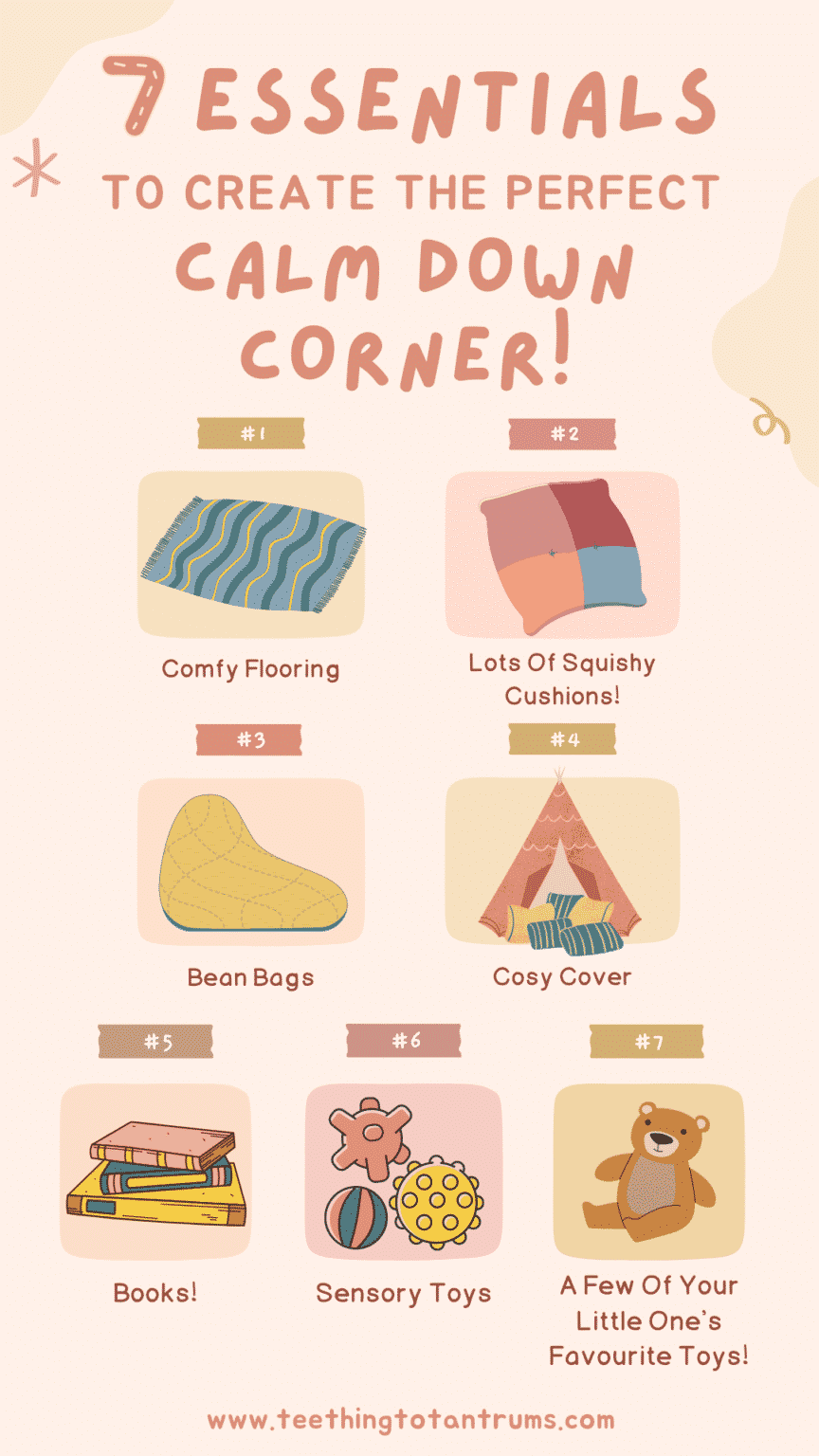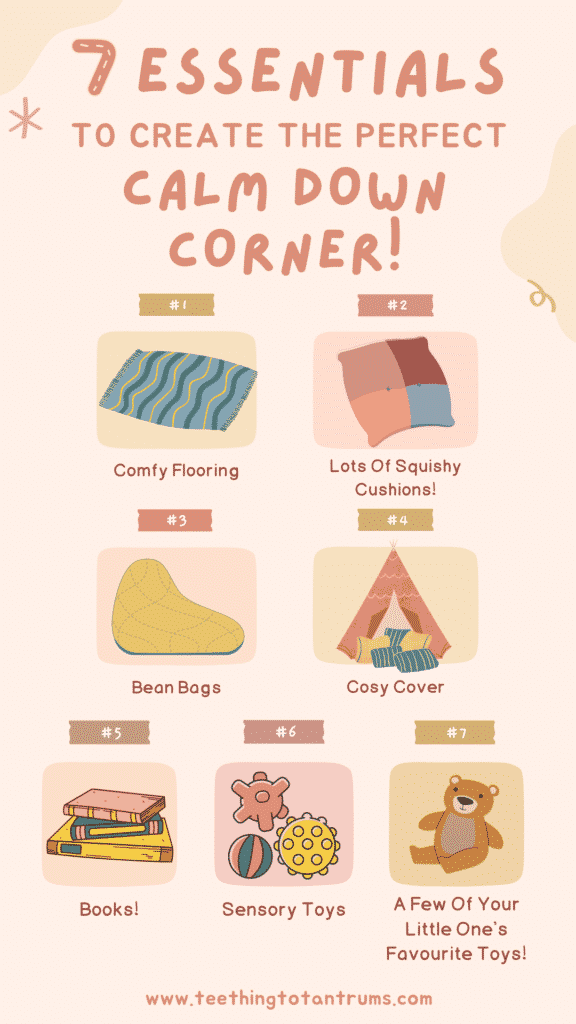 1. Comfy Flooring
Soft tactile rugs or carpeting are great flooring options for a chill-out corner.
2. Cushions
Cushions are a must in a calm down corner. Every child needs somewhere to sink into a chill down.
3. Bean Bag
Children love bean bags and they are the ideal accessory to a cosy corner.
4. Cosy Cover
If you have the space, a covered calm down shelter is a great idea. You can choose from some lovely cute tents or make your own den.
Either way, having a cosy covered corner is great for a calm down corner.
5. Books
Having the right kind of entertainment and distraction in a cosy corner is essential.
Books are great for this!
They provide a quiet focus and you can also choose books with content specifically designed to address difficult emotions. Be sure to include your little ones' favourites too.
Here are a few of my favourites to get you started: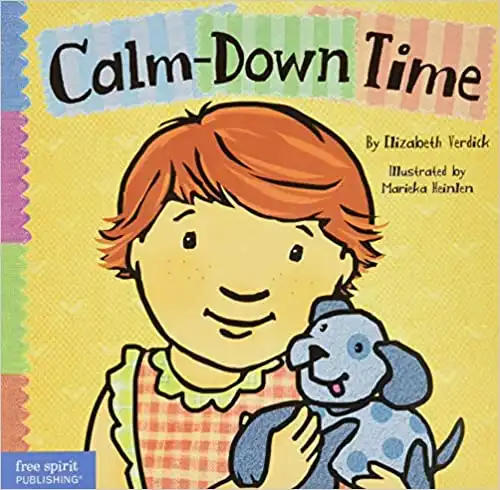 Calm-Down Time
Buy Now
We earn a commission if you click this link and make a purchase at no additional cost to you.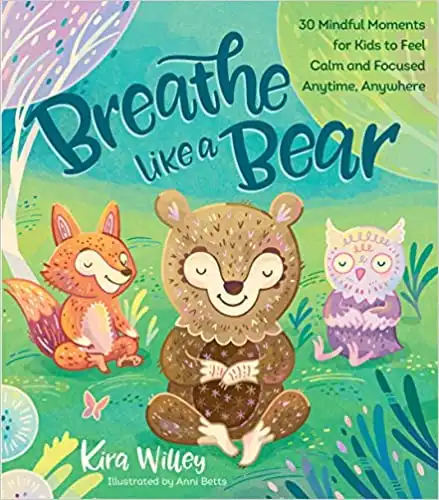 I also have loads of books in my Parenting Toolbox, so be sure to check those out too!
6. Sensory Toys
Sensory toys are great for de-escalating and processing emotions.
Try fidget toys, calm down flashcards, shaker toys or kaleidoscopes.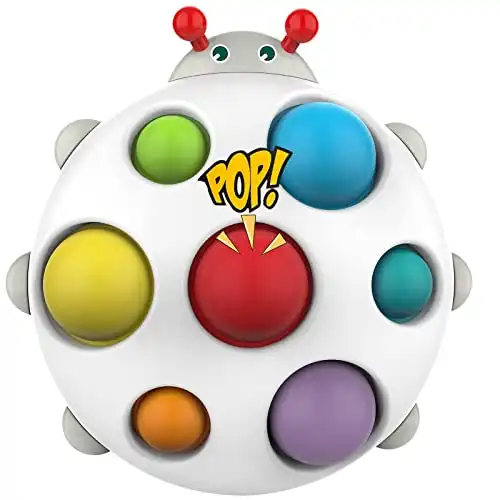 7. Favourites
Having some of your little one's favourite soft toy friends in the cosy corner can also help them to level out emotionally.
What Next?
So now you know the benefits of creating a calm down corner, where will you be creating yours?
How will you and your little one design it and fill it?
Will your cosy corner be full of cushions and cuddly toys?
Which books and blankets will you include?
I hope you have enjoyed this post about calm down corners and can see their beneficial place in our children's lives!
So until next time, with love and support, Happy Parenting!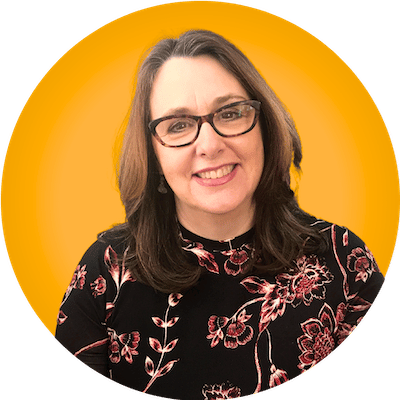 Paula McLaren - The founder of Teething to Tantrums has been in the childcare industry as a Norland Nanny and Childcare Expert since 1982. Her qualifications include a BA (Hons) in Early Years Development & Learning (0-6 Years) plus the highly prestigious Norland Diploma, recognized as the best early years practitioner qualification in the world. During her 40+ years of experience, she has worked as a night nanny (specializing in solving sleep issues), run a very successful daycare center in London, and raised almost 100 children, including her son, to be kind, healthy, and happy individuals with her tried and tested developmental and guidance methods.
Download Our FREE Bedtime & Nap Cheat Sheet
A bedtime & nap cheat sheet so good your little one will ask you to put them to bed...
Laura Williams "This is a life saver! I'm so glad I downloaded your bedtime & nap cheat sheet. My little one actually asked me to put him to bed last night! Unbelievable! Thank you so much!"