So, you now have a little bundle of joy and you're wondering what they need to be doing to help them develop. Well, let's break down everything you need to know about unoccupied play to ensure you and your baby get the most out of this precious play time in their early months!
What is Unoccupied Play?
Unoccupied play is the 1st stage of play and it's an exploratory phase during which your newborn baby will make lots of arm, hand, feet and leg movements as they learn how their bodies work and discover what they are capable of doing.
What Age is Unoccupied Play?
Young babies engage in unoccupied play from birth to 3 months of age.
Unoccupied play will lay the foundations for how every child will go on to explore the world around them, so it's a very fundamental early stage of baby's development!
Download Our FREE Bedtime & Nap Cheat Sheet
A bedtime & nap cheat sheet so good your little one will ask you to put them to bed...
Laura Williams "This is a life saver! I'm so glad I downloaded your bedtime & nap cheat sheet. My little one actually asked me to put him to bed last night! Unbelievable! Thank you so much!"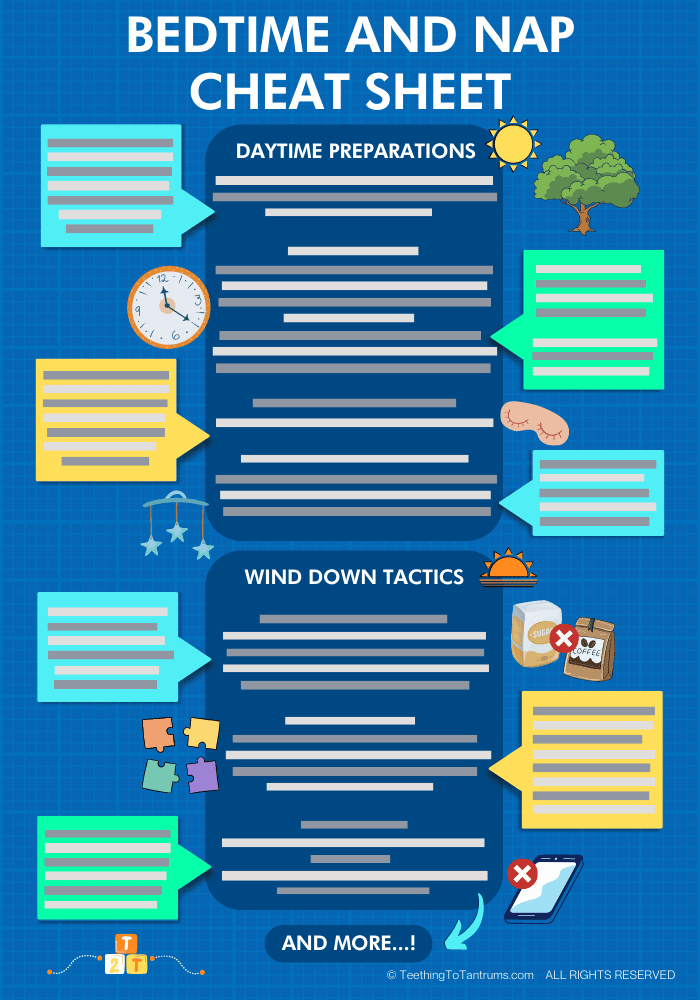 What Stage Is Unoccupied Play?
Unoccupied play is the first of six stages of play that your baby will progress through as they grow up.
If you're interested in the 6 stages of play, check out the below posts to learn more:
What is The Difference Between Unoccupied Play And Solitary Play?
Unoccupied play differs from solitary play with one key difference…
How they interact with the world around them.
During unoccupied play, your little one is simply exploring how their body works and casually observing the world around them.
But, during solitary play, children will actively play with different types of toys and things in their environment, however, they will still not engage with other children.
Unoccupied Play Benefits
The main benefits of engaging in unoccupied play include:
Allowing your baby to learn how to hold objects and manipulate them (even if it's their own feet!)
Developing their gross and fine motor skills.
Encouraging your little one to learn how to reach out for objects.
Helping them to develop strength in their legs as they kick around.
It also gives your baby the opportunity to see what their bodies can do and begin to learn about cause and effect.
And it will give your little one the opportunity to identify what belongs to their body (i.e hands, feet, arms and legs)
After all, before children can go on to play with toys effectively, they need to understand what their body is and develop a small understanding of how it can work!
How do You Encourage Unoccupied Play?
Encouraging unoccupied play is really about giving your baby plenty of opportunities to explore and practise what their body can do.
To ensure your baby gets all the right play opportunities in the early weeks try these simple but essential activities: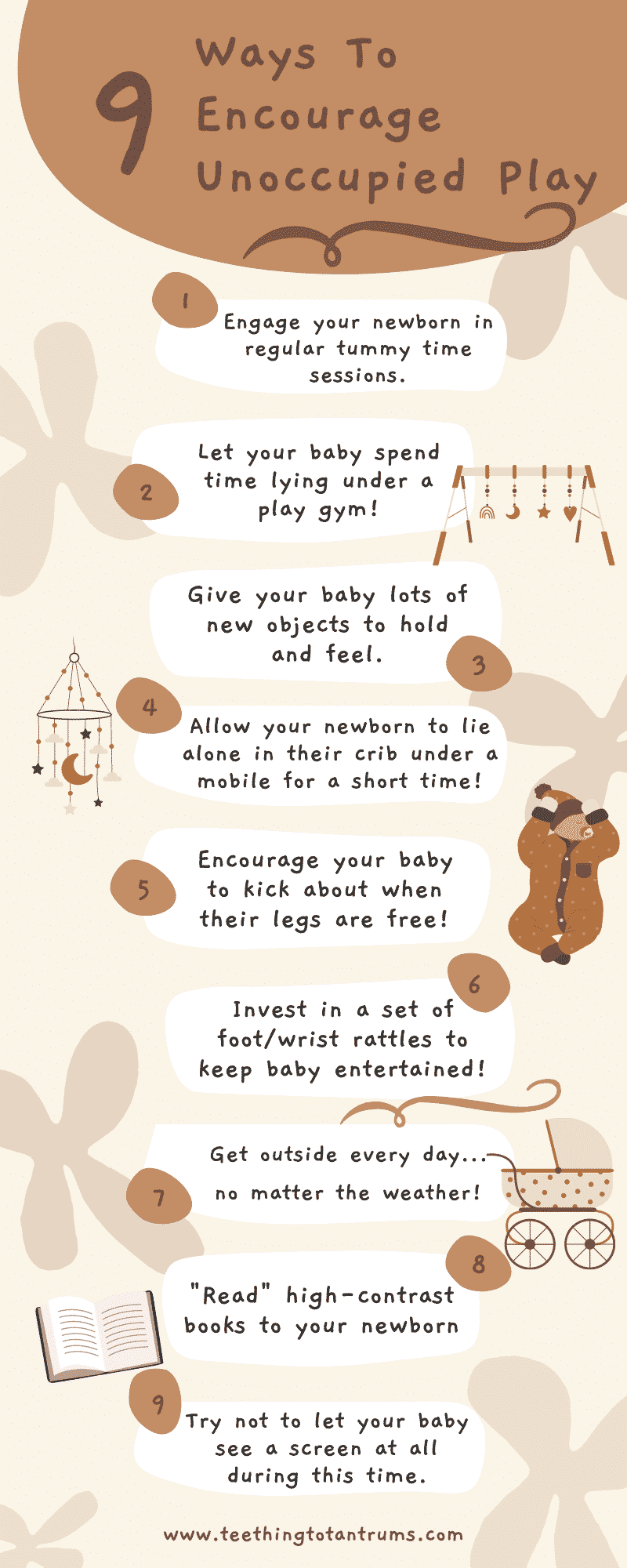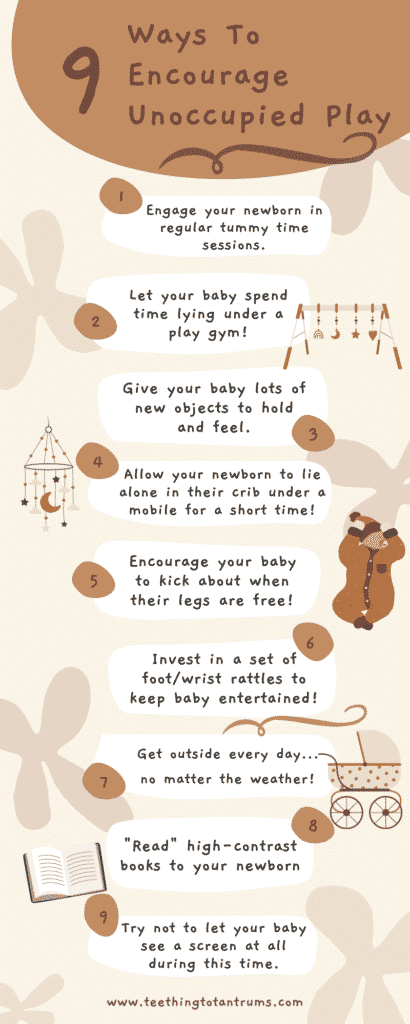 Regular Tummy Time
Tummy time is an amazing activity for babies as it will help to build up thier strength in order to become more mobile and enter the next stage of play.
If your baby is really struggling, here are some tips to help any baby who hates tummy time.
Time Spent Lying Under A Play Gym
Lying under a play gym and gazing up at the dangling toys will provide endless fun for your newborn.
Leaving them to unoccupied play, you will be amazed to watch your baby follow the toys with their eyes, wonder at the sounds coming from them and even attempt to reach and touch them!
Holding And Feeling Lots of Different Objects
At this age, everything your baby touches and feels is a new learning experience.
Offer lots of textured baby safe objects, and let your little one explore during unoccupied play!
Lying Under a Newborn High-Contrast Crib Mobile
A crucial step to helping your baby learn to self-settle…
Allow and encourage your baby to spend short amounts of time alone in their crib looking up at an enchanting high-contrast mobile.
Free Kicking
Your baby will love to kick their legs freely when on the floor or changing mat.
The perfect time is when changing their diaper for a few minutes, however, free kicking is also great for your baby's gross motor development when they have no trousers on and they're happy on the floor!
Playing With Foot And Wrist Rattles
Foot and wrist rattles will provide great stimulation for your baby as they realise their movements will have an effect on the rattles!
Be aware that some babies can find having a rattle on all of their wrists and feet overstimulating, so start with one and see how your baby likes it.
Outside Time
We all know how important outdoor time is for toddlers, preschoolers and older children…
But we sometimes forget how important it also is for newborn babies!
Full of different smells, sounds and sights, being outside will stimulate your baby's cognitive development and help them connect to the beautiful world around them.
Reading Books
Even though your baby cannot understand the stories, reading to babies is incredibly important.
They will love to follow the high-contrast images in the books and to hear your voice encouraging them to look and follow along.
Here's a collection of my favourite baby books if you need suggestions for your little one's library.
No Screens
I understand that screens are becoming a part of our lives, however, no newborn should be on a screen at all.
In fact, the American Academy of Pediatrics recommends no screens under 18 months at all.
Best Toys For Unoccupied Play
Below are some of my top toys to help encourage your newborn baby to engage in unoccupied play:
High Contrast Cards
One of my favourite toys to boost cognitive and visual development through unoccupied play are high-contrast cards. And buying cards that will last for a while is always a worthwhile investment!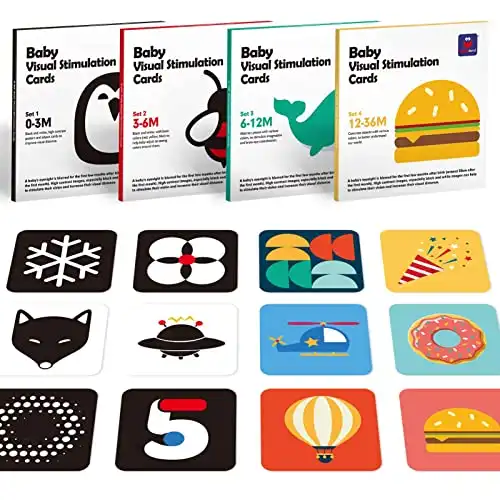 Baby Safe Mirror
Perfect to develop baby's self-awareness, visual tracking and even their gross motor skills whilst they reach out to their reflection, a quality baby-safe mirror will make complement every unoccupied play session.
Our Pick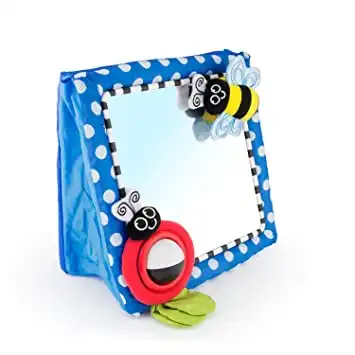 Sassy Tummy Time Floor Mirror | Developmental Baby Toy
We all know the importance of tummy time and there is no better way to keep your baby engaged during this essential activity than with a tummy time mirror. This one from Sassy is sturdy but soft and has a large good quality mirror that is guaranteed to grab baby's attention. It also comes in a black and white colourway.
Buy Now
We earn a commission if you click this link and make a purchase at no additional cost to you.
Play Gym
Designed to stimulate your baby with a multitude of textures, sounds and hanging toys, your baby's unoccupied play will benefit hugely from having a well-designed baby gym to lie underneath!
Our Pick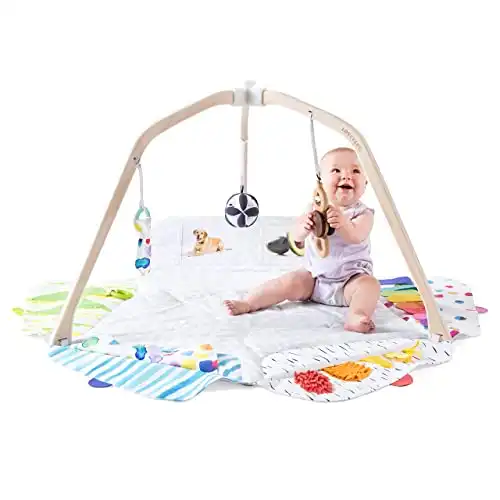 Foot And Wrist Rattles
With fun designs, exciting noises and soft textures, a must have toy for unoccupied play are foot and wrist rattles. Designed to encourage your baby to reach out and play with their feet, their spacial awareness and motor skills will develop every time they wear them!
You can watch them delight when they realise that they are the ones making the noises happen when they move too!
My Favourites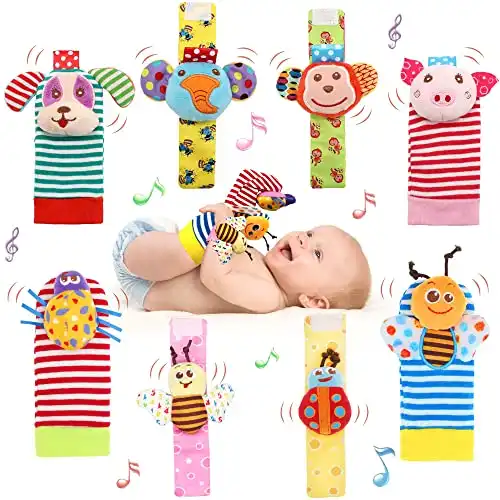 Textured Toys
Finally, one of the best toys for unoccupied play are textured toys. Whether it's balls, books or rattles, your newborn baby will love (and benefit from!) having a variety of endless developmental opportunities to learn about how to grasp, shake and feel different textures!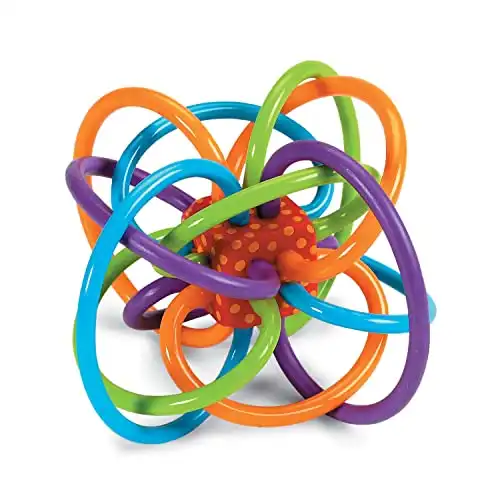 Manhattan Toy Winkel Rattle & Sensory Teether Toy
Even though your newborn will not be teething yet, this textured rattle toy is perfect for your baby to grasp, shake, suck and play with. It will also come in very handy when your baby unexpectedly begins to break their first tooth!
Buy Now
We earn a commission if you click this link and make a purchase at no additional cost to you.
Need More Parenting Help?
Download our FREE Perfect Sleep Cheat Sheet. It's a free, easy-to-use and proven formula designed for parents of 0-5 year olds to master the art of consistently undisturbed and restful sleep without the yelling, nagging or exhausting long-winded evenings.
Check out our Parenting Toolbox. You'll get access to expertly-chosen products that you can guarantee are the best for your little one and your wallet.
Paula McLaren
Paula McLaren - Norland Nurse NNEB RSH is the founder of Teething to Tantrums and has been in the childcare industry as a Norland Nanny since 1982. Since then, her mission has been to help parents become the best they can possibly be. And each year, she continues to help more families understand their child's development, the trials and joys of parenting and of course, how to care for their little ones.
Download Our FREE Bedtime & Nap Cheat Sheet
A bedtime & nap cheat sheet so good your little one will ask you to put them to bed...
Laura Williams "This is a life saver! I'm so glad I downloaded your bedtime & nap cheat sheet. My little one actually asked me to put him to bed last night! Unbelievable! Thank you so much!"