Learning how to play with a newborn is incredibly important for your baby and it is never too soon to start. Playtime is vital for bonding, the development of your baby's motor skills and hand-eye coordination.
How To Play With A Newborn
Understanding how to play with a newborn will ensure your little one has lots of fun and gets the most out of these play sessions without becoming overstimulated, overtired or agitated: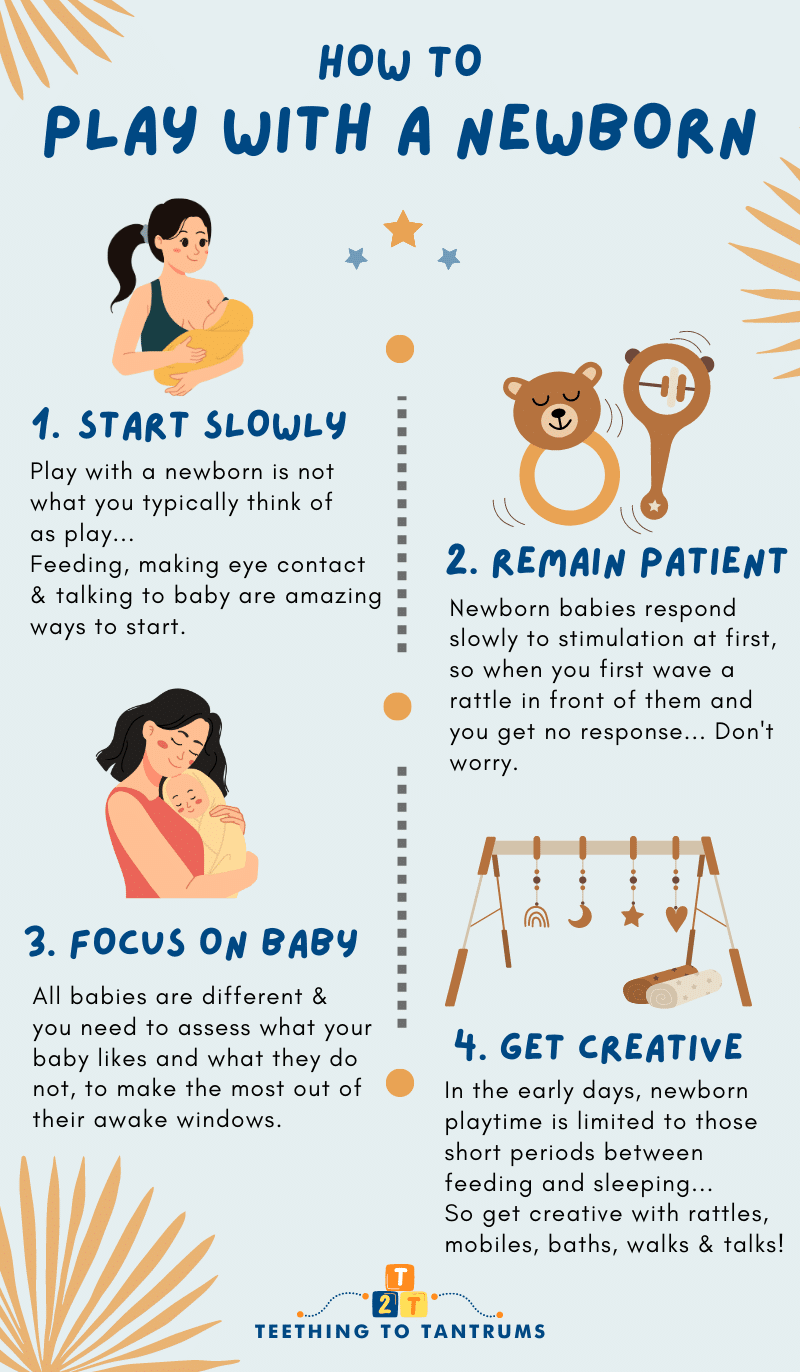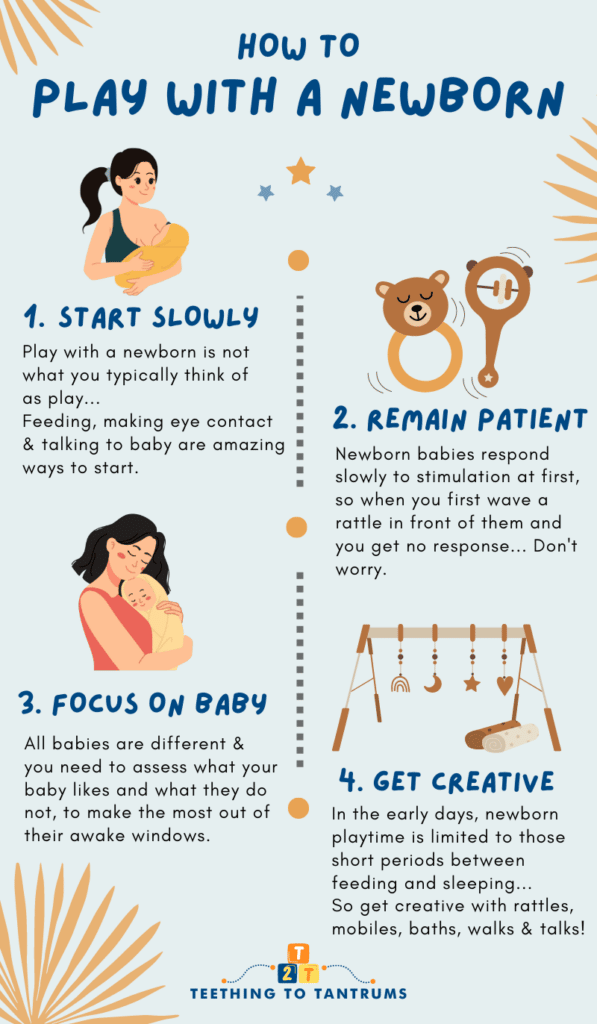 1. Start slowly. When it comes to understanding how to play with a newborn, it is important to remember that what constitutes play for very young babies is not what you would typically think of as playing.
For instance, just making eye contact and talking to your baby are perfect ways to start slowly engaging and playing with your newborn.
2. Remain patient. Newborn babies respond slowly to stimulation at first, so when you first wave a rattle in front of them and you get no response… Don't worry.
Simply pause and give them the opportunity to respond. You will notice that they will eventually try to make a sound and when they do, mimic it back to them.
TOP TIP: Think of newborn play as an investment in the future and keep in mind that your baby's brain is developing all the time and taking in everything that you say and do.
3. Focus on your baby. It is important to pay attention to your baby when you are interacting with them, as all babies are different and you need to assess what your baby likes and what they do not, which can be quite tricky when they are a newborn.
Therefore, I would suggest keeping play gentle and slow for the early weeks, as your baby adjusts to being out in the world.
4. Get creative. In the early days, newborn playtime is limited to those short periods between feeding and sleeping. Therefore, you need to be creative about how to make the most of these learning opportunities.
14 Newborn Play Ideas and Activities
There are plenty of fun learning opportunities that you can do with your baby to engage them, promote an understanding of the world around them, and strengthen the bond between you both that your baby will absolutely love.
Here are some of the top newborn play ideas:
Playing Music or Singing Lullabies
Whether you're singing away in the car or relaxing in the living room… Playing music is another great newborn activity and you don't need to just stick to nursery rhymes and lullabies either.
Feel free to play all sorts of music… just try to keep it calm and soothing.
Peek-A-Boo
Peek-a-boo is a lovely first game that will be popular with your newborn and one which they will never tire of as they grow.
The first peek-a-boo game you can play is by putting your hands over your face and opening them up to reveal your smiling face saying "peek-a-boo!"
Later you can drape a soft muslin over your baby's face and pull it off their face and say "peek-a-boo!" too.
Relax Under a Mobile
Sensory crib mobiles are a great way to encourage your newborn to play independently while improving their eyesight, cognitive development and general motor skills in a relaxed environment.
Award-Winning Baby Crib Mobile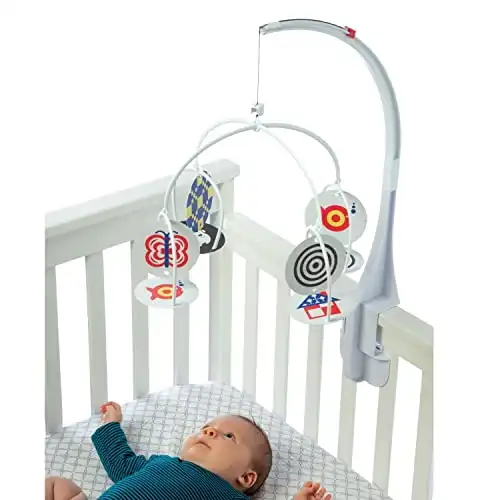 Manhattan Toy Wimmer-Ferguson Infant Mobile for Cribs
This award-winning crib mobile from the trusted Manhattan Toys range is perfect for entertaining your newborns without being overwhelming. It has 10 interchangeable cards that offer a range of simple high-contrast images to more complex coloured patterns and graphics to boost your little one's visual development!
Buy Now
We earn a commission if you click this link and make a purchase at no additional cost to you.
Bathtime Fun
Playing in the bath and having a splash about in the warm water is a lovely activity for both baby and you.
Holding your baby close so they can feel your warmth and breath is also a wonderful bonding experience.
Baby Massage
Asking "how to play with a newborn?" often implies you must always play with them when they're awake…
However, a simple massage after a bath or nappy change is the perfect way to connect with your baby and help them start to feel and discover new parts of their body.
Gently rub all the parts of baby's body from their toes, up their back and all the way out to their fingertips.
Be gentle, but still firm. And feel free to use some baby-safe lotion to keep their skin extra soft too.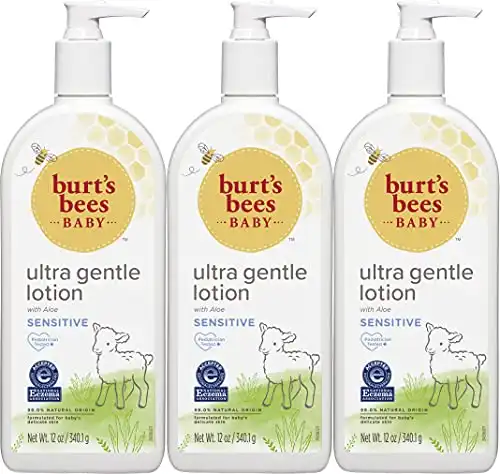 Burt's Bees Baby Ultra Gentle Lotion for Sensitive Skin
Specially formulated with baby's sensitive skin in mind including shea butter, jojoba and aloe this gentle, lightweight lotion deeply moisturizes in a quick-absorbing formula to keep baby's sensitive skin smooth, super soft and loveable... just the way nature intended.
Buy Now
We earn a commission if you click this link and make a purchase at no additional cost to you.
Getting Out and About
Going for a walk under the dappled shade of trees or a pram ride through town is a wonderful way to help your baby engage with the world around them.
The fresh air and sunlight will help align their circadian rhythm too, which should help them to sleep better at night.
TOP TIP: Remember to talk to baby when you're out and about. Even though they won't respond yet, they will be taking in everything you say.
Face-to-Face Time
You are the best toy for your newborn, especially in the early days.
So by smiling, sticking out your tongue, blowing raspberries, singing or just wiggling your fingers in front of your baby, you will be entertaining your newborn endlessly.
REMEMBER: Despite little to no reaction to all of these things, your baby is benefiting enormously and one day you will be rewarded with a lovely baby smile and the first gurgling of baby delight.
See My Reflection
Showing your baby a mirror is a great way to help with their cognitive development journey.
Whether you use a tummy time mirror or attach one to the side of the crib your baby will always be drawn to a mirror and it will definitely help with their visual development!
Our Pick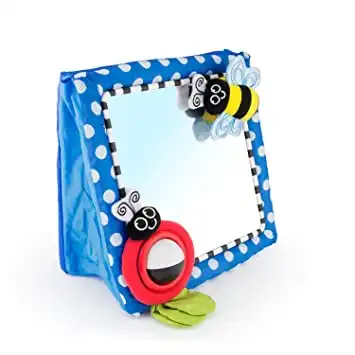 Sassy Tummy Time Floor Mirror | Developmental Baby Toy
We all know the importance of tummy time and there is no better way to keep your baby engaged during this essential activity than with a tummy time mirror. This one from Sassy is sturdy but soft and has a large good quality mirror that is guaranteed to grab baby's attention. It also comes in a black and white colourway.
Buy Now
We earn a commission if you click this link and make a purchase at no additional cost to you.
Baby 'Cycling'
Similar to a baby massage, baby cycling is a lovely activity to help your baby connect with their body and get used to the movements their limbs can do.
Simply lay your baby on a blanket or changing mat on their back, then whilst gently holding their hands, move their arms up and down and around, or hold onto their feet and pedal their legs (individually or together) towards their tummy.
Touch, Cuddle and Love
Bonding with your baby is grounded in touch from that first skin-to-skin experience to the cuddles and physical comfort that you give as they grow.
And a play session would not be complete without a hug, cuddle and kiss!
Shake a Rattle
A good old-fashioned rattle comes in many different forms and they offer so much developmentally for your baby.
From exposing your baby to lots of textures and sounds, opening their eyes to the world of cause and effect and providing hours of fun, newborns love to play with rattles.
My Top Pick For Newborn Rattles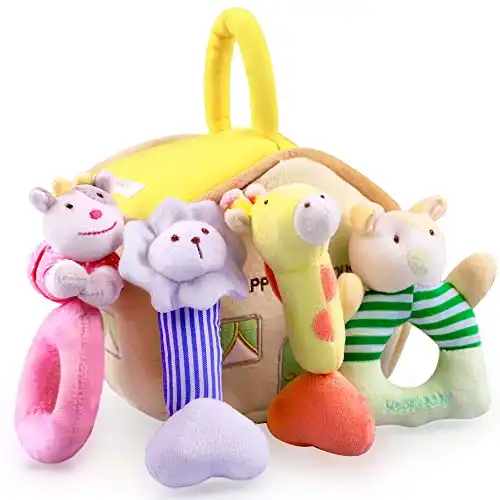 iPlay, iLearn: 4x Plush Baby Soft Rattle Toys
Lightweight and easy to hold, these gentle rattles provide the perfect amount of sensory stimulation for tiny babies to play with. Durable, soft and washable, these rattles will definitely stand the test of time!
Buy Now
We earn a commission if you click this link and make a purchase at no additional cost to you.
Everyday Object Entertainment
Sometimes, simple is best when it comes to newborn playtime. Gently shaking a set of house keys, or bangles will intrigue your newborn with the changes in sound and light.
Reading Out Loud
I believe that books are vitally important in raising young children. They have so many benefits, the most important being the huge bonding experience that reading a book with your baby can be.
Books improve your baby's vision and help to develop their language, cognitive development and concentration too.
Your newborn will also love the sound of your voice and listening to you read aloud will be comforting and fascinating for them. 
TOP TIP: There are some wonderful books for newborns in black, white and bold colours for you to share with them, but you could also just read aloud from any book to keep them entertained.
Tummy Time
You cannot ask "how to play with a newborn?" without talking about tummy time.
Tummy time can be started from 2 weeks old for around 30 seconds to 1 minute as you lay skin to skin.
You can then progress to short periods of tummy time on a stimulating play mat or with a tummy time book.
After a nappy change is an ideal opportunity to have a quick tummy time session… but avoid tummy time immediately after a feed.
Tummy time is important for your baby's physical development as it helps to strengthen your baby's neck, shoulders, back, arms and legs.
Our Pick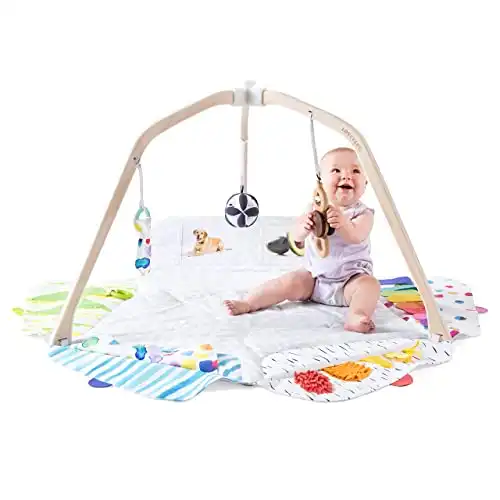 When Should You Start Playing With A Newborn?
You can start playing with your newborn from the moment they are born.
Simply holding your baby and having them look up at you, hear your voice and feel your warmth are all wonderful connections that count as play at the beginning of your little one's life.
Ideally, you want to engage in a newborn playtime session after your little one has had a good nap so that they're alert and ready to play.
Looking to get your little one to sleep quickly and effortlessly? Check out my Bedtime and Nap Cheat Sheet and master the art of making daytime naps and bedtimes as seamless as possible.
Download Our FREE Bedtime & Nap Cheat Sheet
A bedtime & nap cheat sheet so good your little one will ask you to put them to bed...
Laura Williams "This is a life saver! I'm so glad I downloaded your bedtime & nap cheat sheet. My little one actually asked me to put him to bed last night! Unbelievable! Thank you so much!"
Click Here For The FREE Cheat Sheet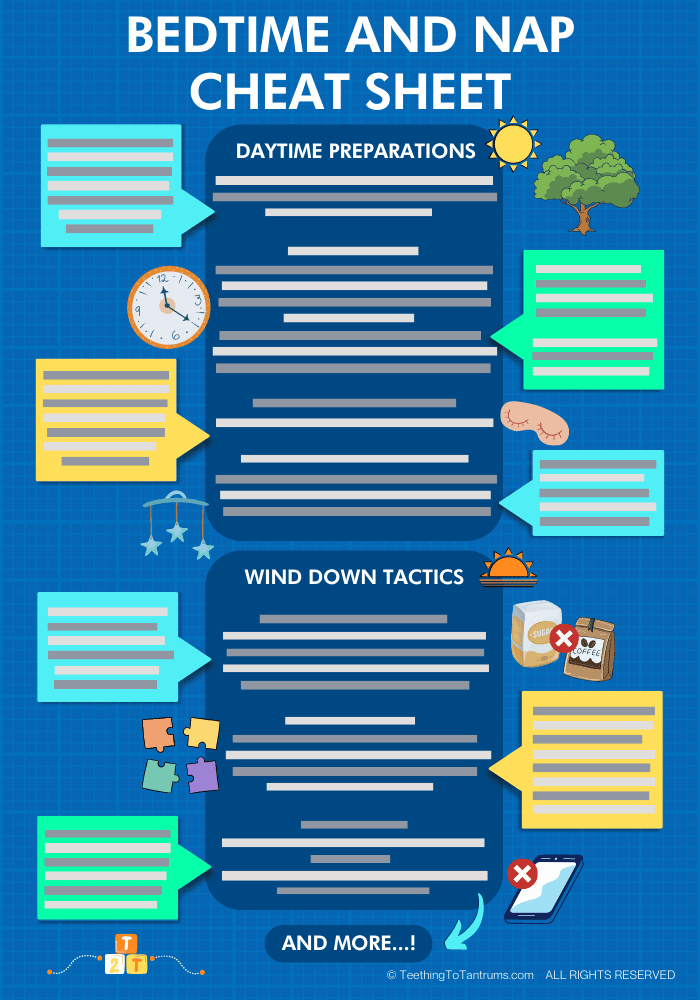 Why Is Play Important For Newborns?
From the moment your baby is born, they are starting a physical, emotional and cognitive developmental journey that, for the first few years of life, sees the most rapid growth that the human body will ever experience.
With the physical developments that your baby undergoes, there are more subtle emotional and cognitive developmental growths occurring too.
Therefore, newborn playtime is essential to all aspects of your baby's development:
Talking and singing to your baby creates a loving bond and sows the seed for language development.
Holding and cuddling your baby makes them feel safe and loved.
Showing them books with clear patterns encourages visual and language development.
Tummy time will strengthen shoulder and neck muscles in preparation for sitting.
Play gyms and mobiles will help with physical and visual development.
Getting outside and showing them the world around them develops their senses and circadian rhythm.
How Much Should You Play With A Newborn?
Knowing how to play with a newborn also includes knowing how long to play with a newborn…
Most newborns will only manage between 10-20 minutes of play at a time and many will only manage a couple of minutes before needing a break. 
REMEMBER: Start slowly and see what your little one can manage. The time your baby spends awake and alert will increase naturally with age.
Toys For Newborn Playtime
From about 6 weeks old, your newborn will begin to enjoy and interact with simple toys.
There are some lovely age-appropriate toys and books you can introduce to your baby at this stage.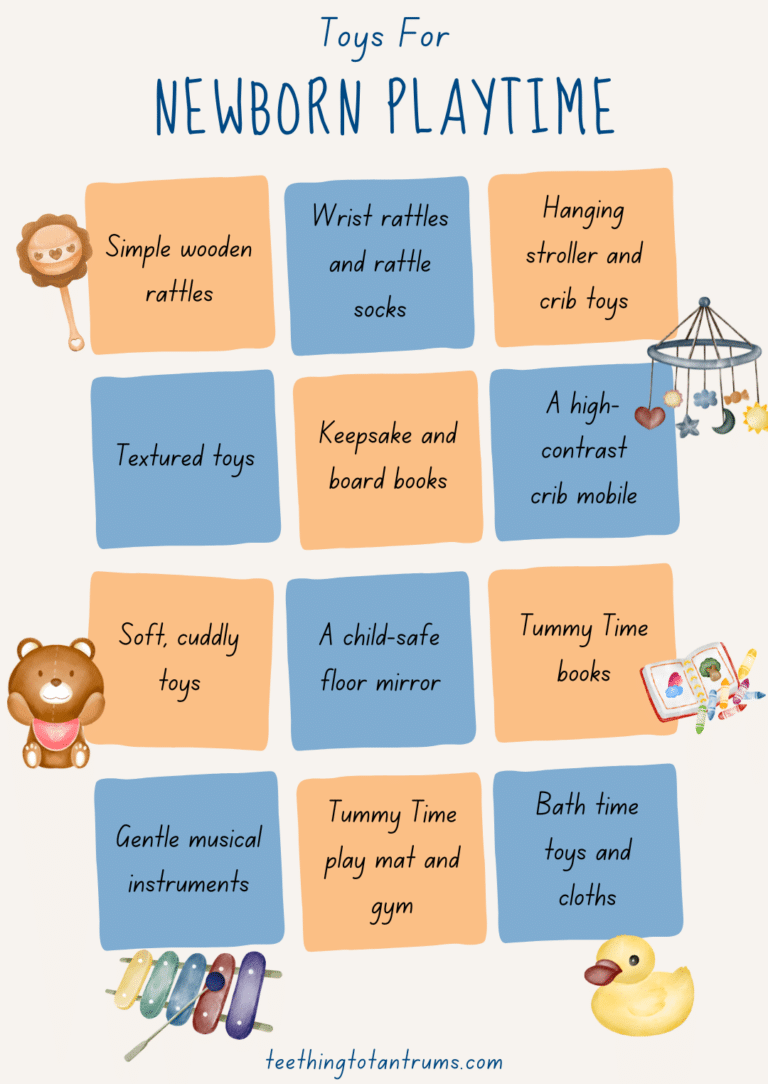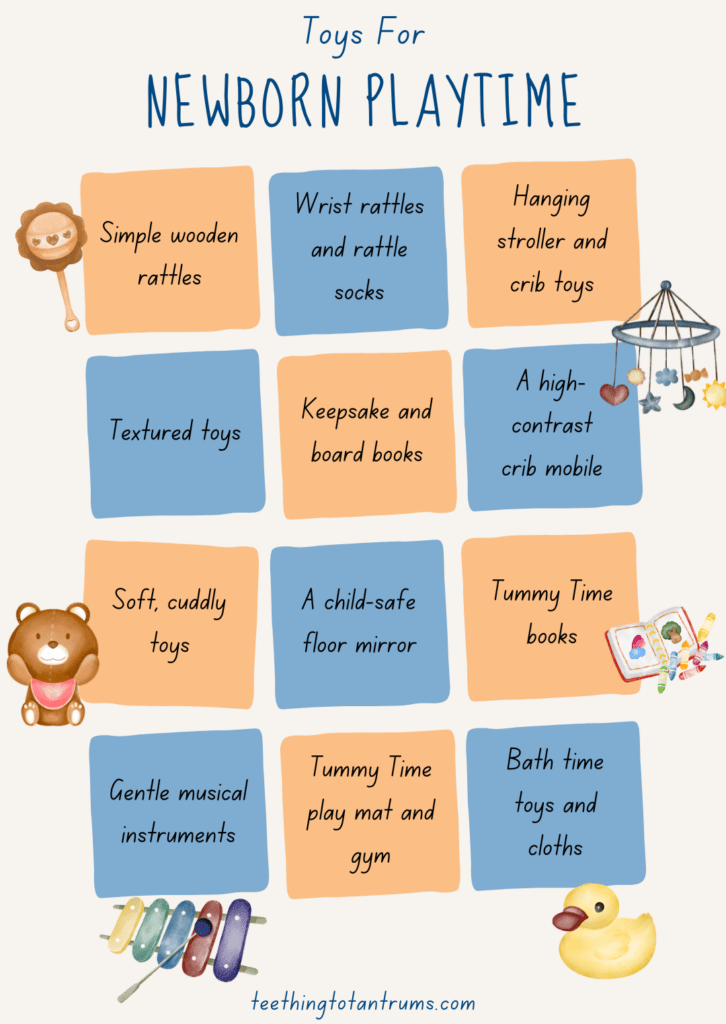 Simple wooden rattles
Rattle socks
Wrist rattles
Hanging baby toys and rattles for cribs and strollers
Textured toys
A cot mobile
Soft cuddly toys
A few keepsakes and board books
Books for tummy time
A floor mirror
Tummy time play mat
Bathtime toys
TOP TIP: Black and white toys or ones with strong contrasting colours and patterns are ideal for newborn playtime sessions as they are easier to focus on. Toys that offer sensory stimulation and are interesting to look at, feel and listen to are also amazing.
My Favourite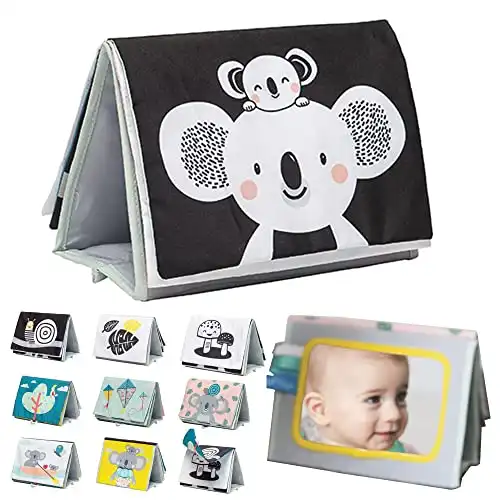 Taf Toys Koala Infant Tummy Time Contrast Soft Activity Book
This beautiful flip-the-page tummy time book will keep your baby's attention during the entire play session! With high contrast colours, a baby-safe mirror and lots of wonderful pictures on every page, it is perfect for every tummy time session!
Buy Now
We earn a commission if you click this link and make a purchase at no additional cost to you.
Frequently Asked Questions About How To Play With A Newborn
Looking for more information about how to play with a newborn? Check out the most commonly asked questions here.
My Baby Doesn't Look Or Respond To Me… Why Should I Play With Him?
In the beginning, your baby may not respond to you as you might like… They'll stare off into space and will not show much interest at all…
However, newborn babies learn through sight, sound and touch, meaning you are their best plaything & your facial expressions, the sound of your voice and the feel of your comforting touch are all ways in which your newborn will start to learn about the world around them.
Do I Need To Entertain My Baby All Day?
No. There is no need to entertain your baby all day.
In fact, young babies will not be able to stay awake and concentrate for very long and offering them too much stimulation may result in an overtired baby.
While it is important to interact with your baby during their wake periods, it is also a good idea to offer them opportunities to play alone or just observe the world around them.
TOP TIP: Your average 1-month-old will only be able to stay awake between 45 and 90 minutes before needing to nap again. During this time, they will only manage 10-20 minutes of focused play at the most.
When To Contact A Doctor About Newborn Developmental Delays
It is hard to pinpoint a developmental delay in a newborn as babies respond to the world around them in their own unique way…
Some will be sleepy and hard to engage with at first… While others will be very alert and seem to be watching out for anything new.
There are, however, things that you would expect a newborn to do in the early weeks, that would indicate that they are developing normally.
By 1 month old, your baby should:
Start to respond to sounds by turning their head towards the source.
Try to coo back at you when you talk to them and make gurgling sounds.
Start to track a moving object but forget it once it is out of sight…
Begin to move their arms and legs with little to no coordination.
If you feel your baby is not responding as they should to sound or visual stimulation or they are lethargic in their movements, then consult a medical professional who will be able to set your mind at rest or conduct some tests to see if any specialised action is necessary.
REMEMBER: All babies are individuals who develop at their own individual rates. If you're at all concerned about your newborn's development, seek medical advice.
Need More Parenting Help?
Download our FREE Perfect Sleep Cheat Sheet. It's a free, easy-to-use and proven formula designed for parents of 0-5 year olds to master the art of consistently undisturbed and restful sleep without the yelling, nagging or exhausting long-winded evenings.
Check out our Parenting Toolbox. You'll get access to expertly-chosen products that you can guarantee are the best for your little one and your wallet.
Ready to create the calm, peaceful evenings you deserve? Then checkout our most popular course - The Bedtime Battles Masterclass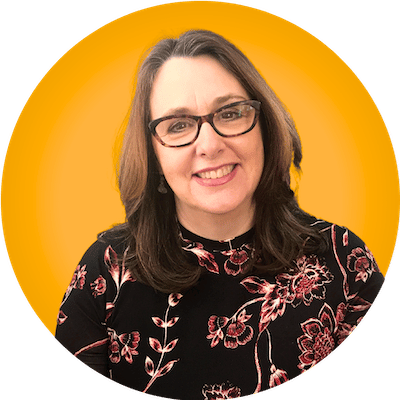 Paula McLaren - The founder of Teething to Tantrums has been in the childcare industry as a Norland Nanny and Childcare Expert since 1982. Her qualifications include a BA (Hons) in Early Years Development & Learning (0-6 Years) plus the highly prestigious Norland Diploma, recognized as the best early years practitioner qualification in the world. During her 40+ years of experience, she has worked as a night nanny (specializing in solving sleep issues), run a very successful daycare center in London, and raised almost 100 children, including her son, to be kind, healthy, and happy individuals with her tried and tested developmental and guidance methods.
Download Our FREE Bedtime & Nap Cheat Sheet
A bedtime & nap cheat sheet so good your little one will ask you to put them to bed...
Laura Williams "This is a life saver! I'm so glad I downloaded your bedtime & nap cheat sheet. My little one actually asked me to put him to bed last night! Unbelievable! Thank you so much!"
Click Here For The FREE Cheat Sheet