Activities for 3 month old babies need to be two things!
SIMPLE and FUN!
As your baby reaches 3 months of age you will start to notice a subtle difference in the way they interact with you and the world around them.
So now is the perfect time to start to incorporate more cognitive and motor activities into your little one's life!
This is also a wonderful time for new parents as it's when all that hard work of endless feeding and sleepless nights starts to end and you can begin to feel as if you are getting into a more established routine, which includes playing with your baby in a more developed and interesting way!
So what are the best activities for 3 month old babies and why is play so important for them?
What Development Milestones Should A 3 Month Old Be Doing?
Your 3 month old baby will now be able to do more physically and to be more visibly engaged both cognitively and emotionally.
Expected developmental milestones for this age are:
Is able to support upper body with arms while on tummy.
Brings hand to mouth.
Can open fist.
Will swipe at dangling objects.
Will grasp and shake a toy.
Will push down on their feet if held in a standing position.
Smiles at the sound of parent's voice.
Responds to others with a social smile.
Turns towards sounds.
Begins to recognise their own name.
Starts to imitate vocal sounds and babbles.
May imitate facial expressions.
Becomes more communicative and expressive.
May cry if you stop playing with them.
For some more information about 3 month old milestones, check out this post from E Medicine Health.
How Do You Entertain A 3 Month Old?
As your little one becomes more able, it is important that you make the most of these developments when you interact with them, by offering them age-appropriate activities and opportunities.
Entertaining a 3 month old can be joyous, as finally, you are getting a true response. In addition to that first heart-melting smile, you will now notice that they are so much more aware of what is going on around them and they will start showing an interest in wanting to reach for objects and study new things more intently.
They will also start trying to communicate with you by babbling and staring closely at your face when you talk to them.
Taking all this into consideration, how do you go about entertaining your 3 month old?
Well, the simple answer is that you introduce them to as much of their new world as possible and you talk to them A LOT.
With that said, please don't think you have to entertain your baby all day! They need downtime too! Check out my post on Do I Have To Entertain My Baby All Day post to learn more!
But keep reading to discover my top 12 activities for 3 month old babies!
Download Our FREE Bedtime & Nap Cheat Sheet
A bedtime & nap cheat sheet so good your little one will ask you to put them to bed...
Laura Williams "This is a life saver! I'm so glad I downloaded your bedtime & nap cheat sheet. My little one actually asked me to put him to bed last night! Unbelievable! Thank you so much!"
Click Here For The FREE Cheat Sheet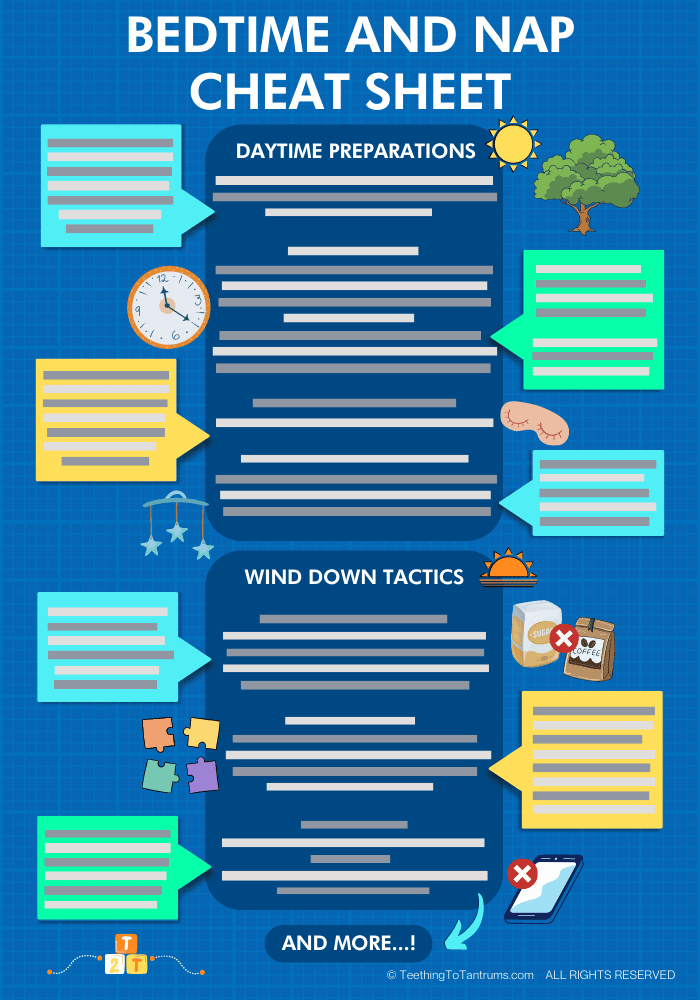 The Importance Of Learning Through Play
Play is hugely important for all age groups as it is the cornerstone of how children begin to learn about and understand the world around them.
Playing allows children to use their creativity while developing their imagination, dexterity, physical, cognitive, and emotional strength.
Play is also important for healthy brain development and in early childhood, playing is how children explore, investigate and interpret the world around them and begin to understand human emotions and relationships.
It helps to develop social, communication and cognitive skills. And as they grow, play nurtures your child's imagination and teaches them how to share, work with others and solve problems.
In addition to all this, a child's sense of self-worth and faith in their abilities are greatly influenced by play and how we interact with them!
So, the importance of play in child development cannot be underestimated and it is up to us, as parents and carers, to provide a safe and nourishing play environment in which children can best play and flourish!
For a more in-depth look at the importance of play for young children then be sure to read my post about The Importance Of Play!
5 Wonderful Sensory Activities For 3 Month Old
Sensory Play Mats And Blankets
A sensory mat or blanket is a great addition to tummy time play and has the added bonus of not only strengthening your baby's upper body but allowing them to explore different textures and patterns while on their tummy.
How? Place your baby on a sensory play mat such as a water mat or brightly coloured and boldly patterned textured mat and let them enjoy the experience of how different things feel.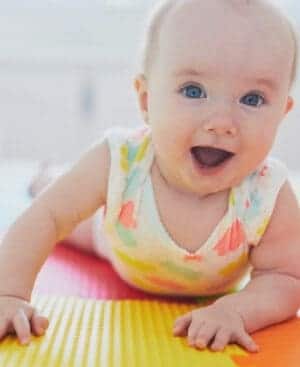 Mirror Mirror
All babies love mirrors and as your little one reaches 3 months of age they will find mirrors mesmerising. They can be used in so many settings: during tummy time, in their crib, in books or while you are holding them in front of a large mirror.
How? Place your baby in front of a mirror during tummy time, or attach one to the side of their crib and let them get to know their reflection.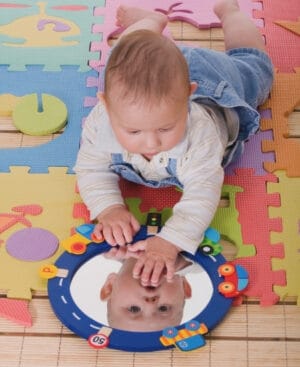 Foot And Wrist Rattles
I love this relatively new innovation as it allows your baby to experiment with movement and sound as well as touch different textures without the frustration of dropping their rattle. These attachable rattles are ideal activities for 3 month old babies!
How? Attach the rattles to either the feet or wrists of your little one and let them have fun with the sounds and textures.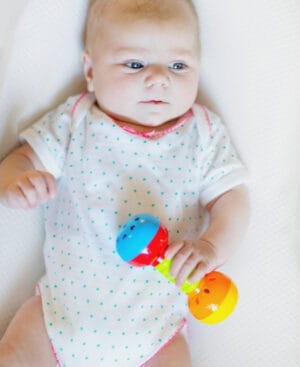 Sensory Developmental Bumpy Ball
Now that your baby is able to grasp and hold things, offering them objects like Developmental Bumpy Balls are a great way to stimulate their sense of touch and inspire their minds.
How? Offer your little one this sensory ball to hold and feel. They may need you to hold it for them to begin with… but as their grasp and dexterity improve, they will love to feel all the different textures of this great first toy.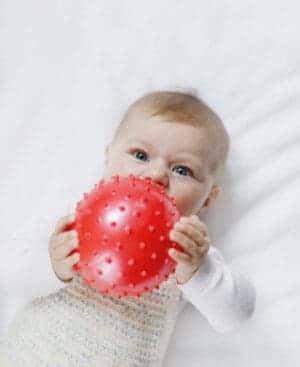 Take Them Outside
Whilst not strictly "activities for 3 month old babies", it is never too early to introduce your little one to the joys of being outside in nature! Show them all you can and as long as they're appropriately dressed, try to get them outside in all weathers too.
How? When you can take your baby outside to play, put a blanket on the grass and let them look at nature. Walk them around the garden and talk to them about what you see. Lay them on their tummy and let them feel the grass, lay them on their back and look up at the trees.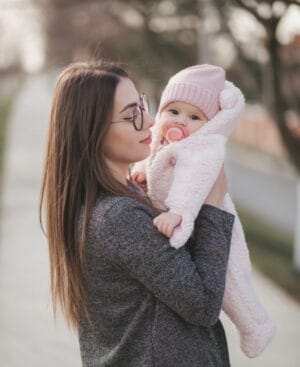 3 Stimulating Cognitive Activities For 3 Month Old
Learn The Art Of Conversation
Like so many activities for 3 month old babies, talking to your baby and holding their gaze is a hugely bonding experience. There is nothing more wonderful than hearing your baby coo back at you as they try to communicate!
How? Chat to your baby face to face. Talk to them and then pause to allow them time to respond. Over time your little one will respond with vocal sounds and then wait for you to talk back.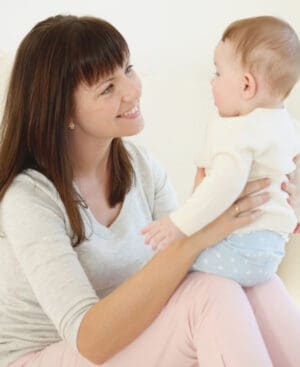 Read Books Together
I love all types of books and it is never too early to introduce your little one to the world of books. There are some wonderful age-appropriate books to choose from which are ideal for 3 month olds that have bright colours, bold patterns and mirrors. Cloth books that crinkle are especially good for this age group and they will love to snuggle up and listen to your voice.
How? Find age-appropriate books and a cosy, calm corner to cuddle up in. Talk about the colours and textures and encourage your baby to feel the books too. Use different voices, expressions and generally have a fun time together.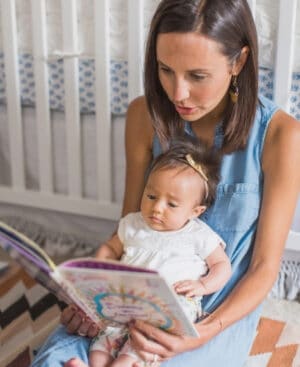 Peek-A-Boo
Peek-A-Boo is a great game for all ages but, at this early age, your baby will still love the anticipation of you saying peek-a-boo.
How? Cover your baby's face with a soft muslin cloth then pull it away and say peek-a-boo. Or cover your face with your hands and then reveal your face to them with a beaming smile!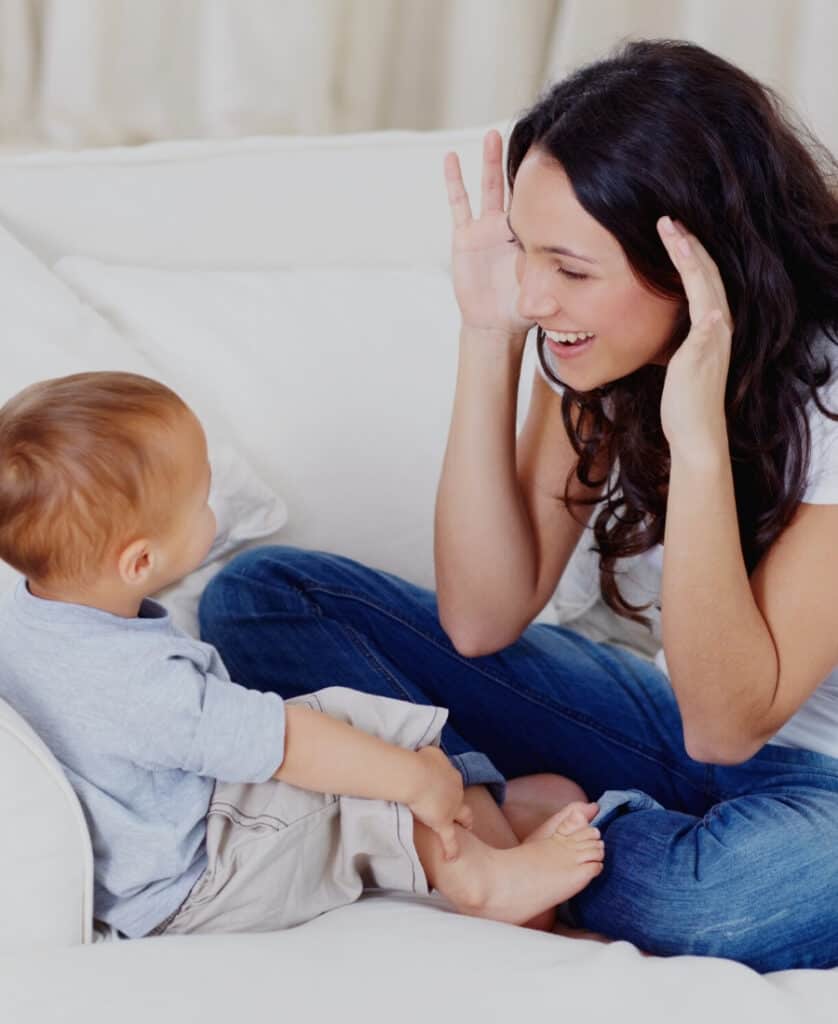 Track And Follow
This is another simple activity for 3 month olds that will greatly improve your baby's concentration and focus and is something that you can do a little of every day.
How? Hold a rattle or bright coloured object in front of your baby and move it from side to side and watch as they track its movement.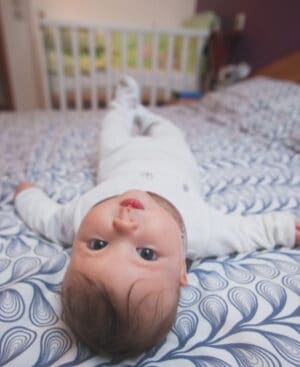 4 Effective Motor Activities For 3 Month Old
Reach And Grab
Reach and grab activities for 3 month old babies are fantastic to play as it improves your baby's hand-eye coordination and they will not tire of you handing them their rattle again and again!
How? Hold a rattle out for your baby to reach and grab for. When they drop it, repeat! They will gradually start to hold onto their toys for longer periods as their grasp and dexterity improves.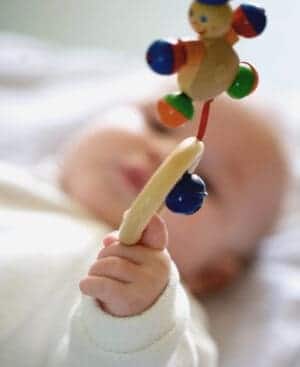 Play Gym
Play gyms are perfect for 3 month old babies. They allow them to play independently, reach out, grab and swipe at the toys dangling above them. Play gyms are the perfect toy for perfecting hand-eye coordination and motor skills.
How? Lay your baby on their back under the play gym and let them swipe, gaze and play with the dangling toys.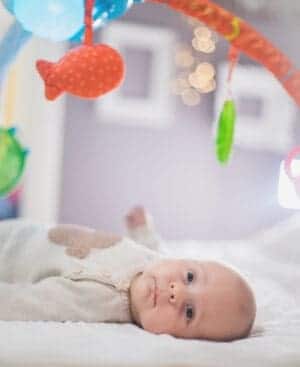 Tummy Time
By 3 months, your baby should be enjoying tummy time a lot more and it is a great opportunity to put different objects around them for them to experience and explore. From tummy time books to mirrors and play mats or just an interesting toy there is so much you can now offer your little one during tummy time to entertain them.
How? Lay your baby on their tummy and place toys or tummy time books just within their reach to keep them occupied.
NOTE: if your baby is struggling with tummy time, check out my post on My Baby Hates Tummy Time to learn more.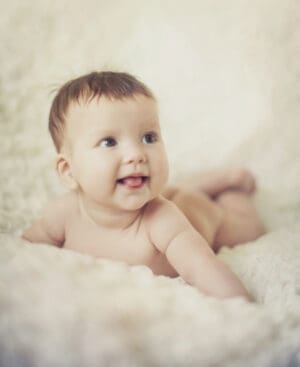 Change Position
Changing the position you carry your baby in will help to strengthen their muscles in a comfortable and interesting way. This keeps them engaged and interested in the world around them.
How? Carry your baby around the room or garden in different positions, sometimes facing forward and sometimes over your shoulder.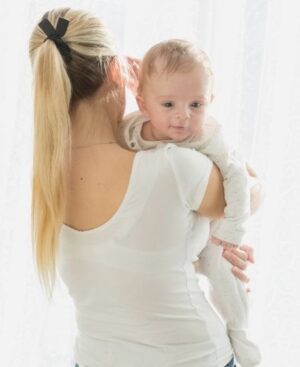 Activities For 3 Month Old Babies Recap
When it comes to activities for 3 month old babies, the key is to not overcomplicate things or overthink them.
Activities at this age will help to develop a great bond with your baby as they continue to grow!
At this age, the simplest of activities can be hugely beneficial and all that is needed is to talk a lot, sing, dance, read, touch, show your little one the world around them and simply enjoy this special time with your baby!
If you enjoyed this post about activities for 3 month old babies, and know other parents who may find it helpful, be sure to give it a share around!
And if you have any other blog post ideas or questions you'd like to ask me, feel free to drop me an email at [email protected] and let me know!
So, until next time, Happy Parenting!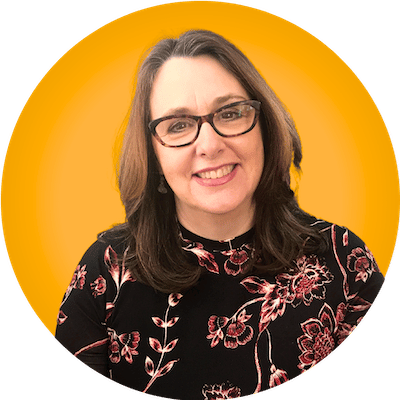 Paula McLaren - The founder of Teething to Tantrums has been in the childcare industry as a Norland Nanny and Childcare Expert since 1982. Her qualifications include a BA (Hons) in Early Years Development & Learning (0-6 Years) plus the highly prestigious Norland Diploma, recognized as the best early years practitioner qualification in the world. During her 40+ years of experience, she has worked as a night nanny (specializing in solving sleep issues), run a very successful daycare center in London, and raised almost 100 children, including her son, to be kind, healthy, and happy individuals with her tried and tested developmental and guidance methods.
Download Our FREE Bedtime & Nap Cheat Sheet
A bedtime & nap cheat sheet so good your little one will ask you to put them to bed...
Laura Williams "This is a life saver! I'm so glad I downloaded your bedtime & nap cheat sheet. My little one actually asked me to put him to bed last night! Unbelievable! Thank you so much!"
Click Here For The FREE Cheat Sheet