So your little one is ready to go to daycare! What an exciting new chapter in their lives! But… thinking of questions to ask daycare can seem like a daunting task… Right? I mean…
Will they be OK?
Are they going to be happy?
Is my baby getting the best care around?
The answer to these questions should, of course, be YES. But there are SO MANY MORE questions to ask daycare too! Here's my COMPLETE list of questions to ask daycare!
Oh and don't worry, I've included a FREE PRINTABLE QUESTION LIST for you to take with you when you go and visit your potential daycare centres too!
What Questions Should I Ask Daycare?
Knowing the right questions to ask your prospective daycare provider is hugely important. They will help you make one of the most important decisions regarding your little ones' care in the early years.
1. Carer To Child Ratio?
In the UK there are strict guidelines that must be adhered to with regard to carer to child ratios and these are checked by OFSTED regularly. In other countries the rules that apply to the childcare industry may vary, so it is a good idea to check that the centre has a healthy carer to child ratio.
2. Are Staff Background Checked?
This is one of the questions that goes without saying that one of the most important questions to ask daycare centers. Are all the staff background checked? That goes for cleaning staff too.
3. How Are Children Greeted?
Check if children are greeted individually or whether it is up to the parent to settle them in each day.
4. What Qualifications Do The Staff Have?
It is very important to know how qualified the people who are going to be looking after your child are. Are their trainees on site and, if so, how are they monitored and supervised?
5. Are Children Divided Into Groups By Age? If So, How?
Another important question to ask is does the daycare center have facilities to divide the children into different age groups i.e. babies, toddlers and preschool?
6. Do The Age Groups Mix At Any Time?
Following on from above, another one of the important questions to ask daycare centers is do the age groups mix at any time?
7. What Is The Induction Policy For New Children?
Ask how new children are settling into the daycare centre.
8. Do The Children Spend Time Outside? If So, Where?
Does the daycare center have it's own outside space? Are the children taken off site at any time and how is this supervised? Does the centre have their own strollers and buggies?
9. Will I Be Contacted If My Child Is Upset?
Check if you will be told or called if your child is very upset. This will give you peace of mind.
10. How Are Children Comforted?
Are children at the daycare offered cuddles and support when upset or hurt?
11. What Types Of Play Activities Are The Children Offered?
This is a very important question to ask as you will want your little one to be offered a variety of play experiences to further their development. Is there a dress up box, a pretend kitchen area, painting on offer, quiet corner with soft cushions and books etc?
12. Is There A Structured Daily Routine?
Ask if there is a daily routine that revolves around periods of free play, structured outdoor activities, meal and nap times.
13. Are Food And Snacks Provided?
Some daycare centers will feed your child, others will expect you to send packed lunches/teas and snack provisions. If they do provide food, ask to see the kitchen and ask about the variety of food they supply and their policy on sweets etc.
14. What Do Parents Need To Provide On A Daily Basis?
Find out if you need to supply nappies, nappy cream, change of clothes, breast milk or bottle feeds, shoes for going outside etc
15. What Is The Approach To Discipline?
Be sure to ask your prospective daycare provider what child discipline techniques they apply. How do they deal with a child that hits or bites, for example, and how do they settle disputes between peers.
16. What Is The Drop Off And Pick Up Policy?
Make sure you know exactly HOW, WHEN and WHERE to drop off and collect your child from.
17. Are Children Attending Required To Be Up To Date With Vaccinations?
For some daycare centres this is a must-have. Therefore, you may need to get your little one up-to-date with any vaccines they require before they join daycare.
18. Are Any Of The Staff Medically Trained To Deal With Emergencies?
An important question to ask is, does the center have at least one medically trained member of staff, who has completed a pediatric first aid course and knows infant CPR?
19. Is A Daily Report Made Available?
Will you have access to a daily report of how your child's day has been and what they have been up to?
20. What Is The Policy For Late Pick Ups?
Enquire if you will be charged for late pick ups. How will my child be cared for in the event of a late pick up?
21. Can Parents Check In To See How Their Child Is Doing?
Some parents will find reassurance in knowing they can check in to see how their child is doing throughout the day. Check what the policy is about this at any potential daycare centres.
22. What Is The Policy For Recording Illness And Injury?
Each daycare will have a different policy for recording illnesses and injuries, so make sure you know what they are.
23. How Are Nap Times Handled And Where Do They Take Place?
Is there a separate room for different age groups to sleep in? How are naps handled for the different age groups? What is the policy for sleep regression episodes?
24. Are All Areas And Toys Disinfected And Cleaned Regularly?
This is an important question to ask as you do not want your child playing in unhygienic areas!
25. Is There Support For Potty Training?
Some daycare centres will provide support with potty training others will not.
26. Are There Facilities For The Use Of Cloth Nappies?
With more people using cloth nappies ask how the center deals with this. Are you expected to provide bags to have the nappies returned to you or does the centre provide nappies themselves?
27. Is There Provision For Special Diets?
Ask the daycare center if they cater for special diets such as dairy free, vegan and if they do not, ask if you are able to send food for your child. They may be happy to integrate this into their normal feeding schedule.
28. Is There Sufficient Storage For Milk Feeds?
Some daycare centers will ask you to bring the milk feeds already made up… others will make them up for you. Therefore, check where they store the feeds, where they are made up (if applicable) and how they know which feeds are for which baby.
29. Are Visitors Permitted?
Be sure to ask if visitors are permitted and, if so, how they monitor them. Prior permission should be given and a list of permitted visitors noted.
30. How Do You Regulate Who Picks Up Children?
Is there an approved list of who is allowed to pick up children and how is this monitored?
31. What Security Measures Are In Place?
Following on from the previous question, do they have any additional security measures like intercom, buzzed entry and security cameras?
32. Do They Administer Medication?
Ask what their policy is for administering medicines and how they are stored and recorded.
33. What Is The Sick Child Policy?
Do they ask that children with colds stay at home and do they notify all parents of any illnesses that are circulating? In the UK, there are what is known as 'notifiable diseases' and infections that have to be posted clearly if there has been a case in the centre. This may vary from country to country and state to state.
34. Is The Daycare Centre Licenced/Registered?
Again, this will vary depending on where you live. But some form of accreditation should be required and regular checks made by some governing body such as OFSTED (UK).
35. Is There Any Preschool Education Provided?
If the centre takes preschoolers do they follow a pre school curriculum for school readiness?
36. What Holidays Are Celebrated?
I believe this is an important question to ask daycare centres. You will want to ensure your choice of daycare aligns with your own celebrations as a family.
37. Is There A Refund Policy For Absences Due To Illness Or Holidays?
Check if the fees policy allows for refunds for absences.
38. Is Sunscreen Provided?
Some daycare centres will ask that you provide sunscreen when required and others will have a supply of their own and sun hats for playing outside. Again, this will vary from country to country.
Free Printable Questions To Ask Daycare Checklist
As promised, here's my complete list of questions to ask daycare centres in a handy printable PDF!
Click the link below to open it up in a new tab!
Questions to Ask Day Care PRINTABLE PDF!
Download Our FREE Bedtime Routine Cheat Sheet
A bedtime routine so good your little one will ask you to put them to bed...
Laura Williams - "This is a life saver! I'm so glad I dowloaded your bedtime routine cheat cheat. My little one actually asked me to put him to bed last night! Unbelievable! Thank you so much!"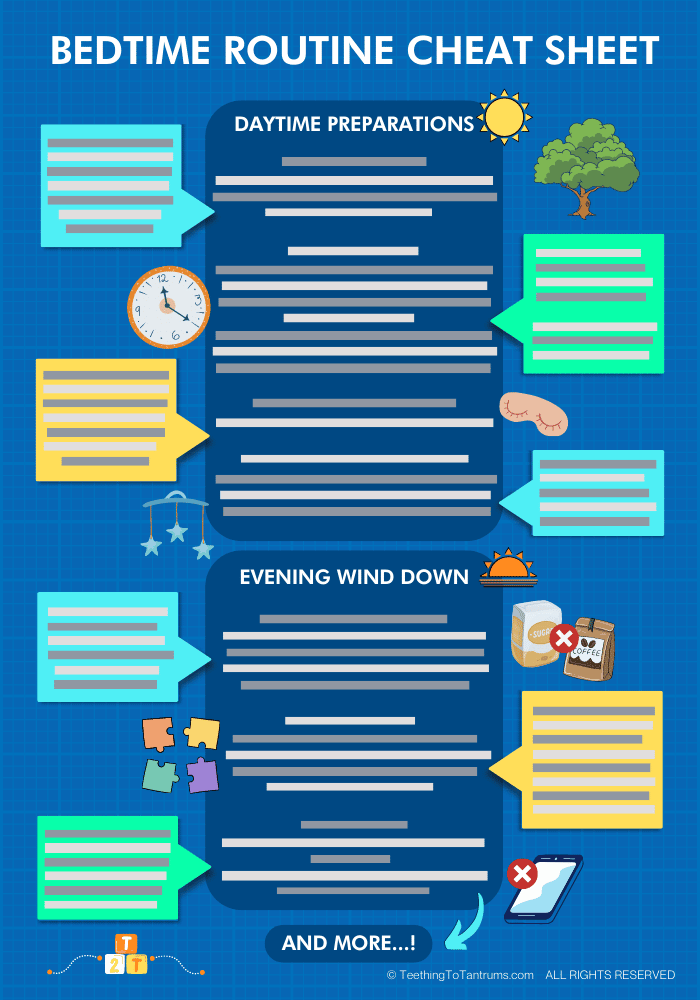 What Makes A Great Daycare?
Choosing a daycare provider is a big deal. These are the people you will be handing your child over to, to care for and provide nourishment both developmentally and physically.
So they need to live up to all the essential expectations that you would have for an establishment that is going to look after your child on a daily basis.
Therefore, making sure you choose the right one for your child is SO IMPORTANT.
From knowing what questions to ask, to just getting a feel of the place when you visit, so many things need to be taken into consideration.
I ran a daycare centre in London and for me, providing a safe, secure and loving environment for the children in my care, where they could flourish socially, emotionally and intellectually were high on my list of priorities.
As a parent, you want to know that you are leaving your child with qualified and well trained individuals who are able to offer your little one stability and lots of opportunities to learn.
A big advantage of any multiple child care facility, is that they allow your children to mix with other children of their own and different ages. This can be of great social benefit.
When you visit a daycare center, look around to see if the children appear to be happy and watch how the staff are interacting with the children. Happy children and engaged staff make for a happy environment where your child can spend their day.
TOP TIP: A good daycare provider will have an interesting and diverse play area with a good range of toys for all the age groups they cater for.
A good daycare centre will be very well informed about child development too and they will have a fixed schedule and play programs that offer a variety of play activities that cover all aspects of developmental play.
A good daycare will also have a low child to carer ratio and will be able to give you a full report on your child's day when you pick them up preferably in written form.
Organising events where families can meet along with their children on occasional weekends is also a great sign that your daycare center positively encourages parent input and support.
Most importantly, FOLLOW YOUR GUT FEELING.
You know your child better than anyone & you will feel if it is somewhere that your child will be happy and feel secure.
If anything feels off, then it is probably not the right choice.
Looking at several daycare centers will enable you to make the right decision too.
The BEST daycare centers will have good reviews and references so look them up online and talk to your friends and family to see if they can recommend any centers to you.
A good recommendation from a parent with a child already in daycare is INVALUABLE.
What Is The Best Age For Daycare?
This is a tricky question and depends on the parents' need to return to work, the child's personality and which age group they fit into…
Are you looking for full time childcare or part time?
Do you need childcare so that you can return to work?
Are you wanting to give your preschooler the chance to get ready for that big step to full time education?
Children under the age of 3 will benefit from a low child to carer ratio as babies and toddlers definitely need a lot of 1-to-1 attention and do not need to spend lots of time with children their own age in order to develop socially.
Putting your baby into daycare is a very personal choice and will be based on your emotional and economical needs.
In an ideal world, under 3's would stay with a primary carer… however, this is not always possible so choosing the right daycare for the younger child is extremely important.
If you do have to put your baby or toddler into daycare, then make sure that they have adequate facilities to give the age group of your little one the attention they need.
Children from 2 ½ to 3 onwards, will definitely benefit from preschool social interaction and it is great practice for them to get ready for functioning and thriving in a group of their peers.
Whatever age you decide to send your little one to daycare, be sure that they have the right facilities for your child's particular age group.
TOP TIP: The younger the child, the smaller the daycare group should be.
Some childcare providers provide brilliant care for babies while others are better suited to preschoolers. Others will be able to offer a childcare facility that will grow with your child.
Whatever childcare provider you go for, make sure you ask the RIGHT questions on your tour and follow your instincts!
Remember you can download a FREE PRINTABLE CHECKLIST of questions to ask daycare by clicking here!
If you enjoyed this post and know other parents who would enjoy this content, be sure to give it a share!
If you have any questions about choosing a daycare or you have any blog recommendations that you'd like me to write about… then feel free to drop me an email at [email protected] and let me know – I love hearing from you!
Thank you for your continued support!
Paula McLaren
Paul Mclaren - Norland Nurse NNEB RSH is the founder of Teething to Tantrums and has been in the child care industry as a Norland Nanny since 1982. Since then, her mission has been to help parents become the best they can possibly be. And each year, she continues to help more families understand their child's development, the trials and joys of parenting and of course, how to care for their little ones.
Download Our FREE Bedtime Routine Cheat Sheet
A bedtime routine so good your little one will ask you to put them to bed...
Laura Williams - "This is a life saver! I'm so glad I dowloaded your bedtime routine cheat cheat. My little one actually asked me to put him to bed last night! Unbelievable! Thank you so much!"