Pretend play for toddlers is one of my favourite aspects of raising children.
You get to watch the world through the eyes of someone experiencing it for the first time…
All whilst they discover the wonder that surrounds them to create fun scenarios and amazing games as a result!
And pretend play doesn't have to be complicated and it's my goal to ensure that everyone gets the most out of this incredible imaginative time…
What Is Pretend Play?
Pretend play for toddlers is a type of play that lets children explore and experiment with different scenarios they have witnessed in their lives by engaging their imaginations.
Also known as imaginative play, pretend play can involve games such as cooking an imaginative meal, climbing a mountain, healing sick toys and building a pillow fort!
What Age Do Toddlers Pretend Play?
Pretend play actually has its roots in babyhood but does not really come into its own until the toddler stage.
And between 12 and 18 months is when your toddler will start to show signs of engaging in pretend play.
And once they start using their imaginations, they will be pretend playing for years to come!
What Are The Benefits Of Pretend Play For Toddlers?
Pretend play is crucial for your toddler's development and is so much more than dressing up or hosting a doll's tea party.
The benefits of pretend play for toddlers are numerous and will help them develop many essential life skills: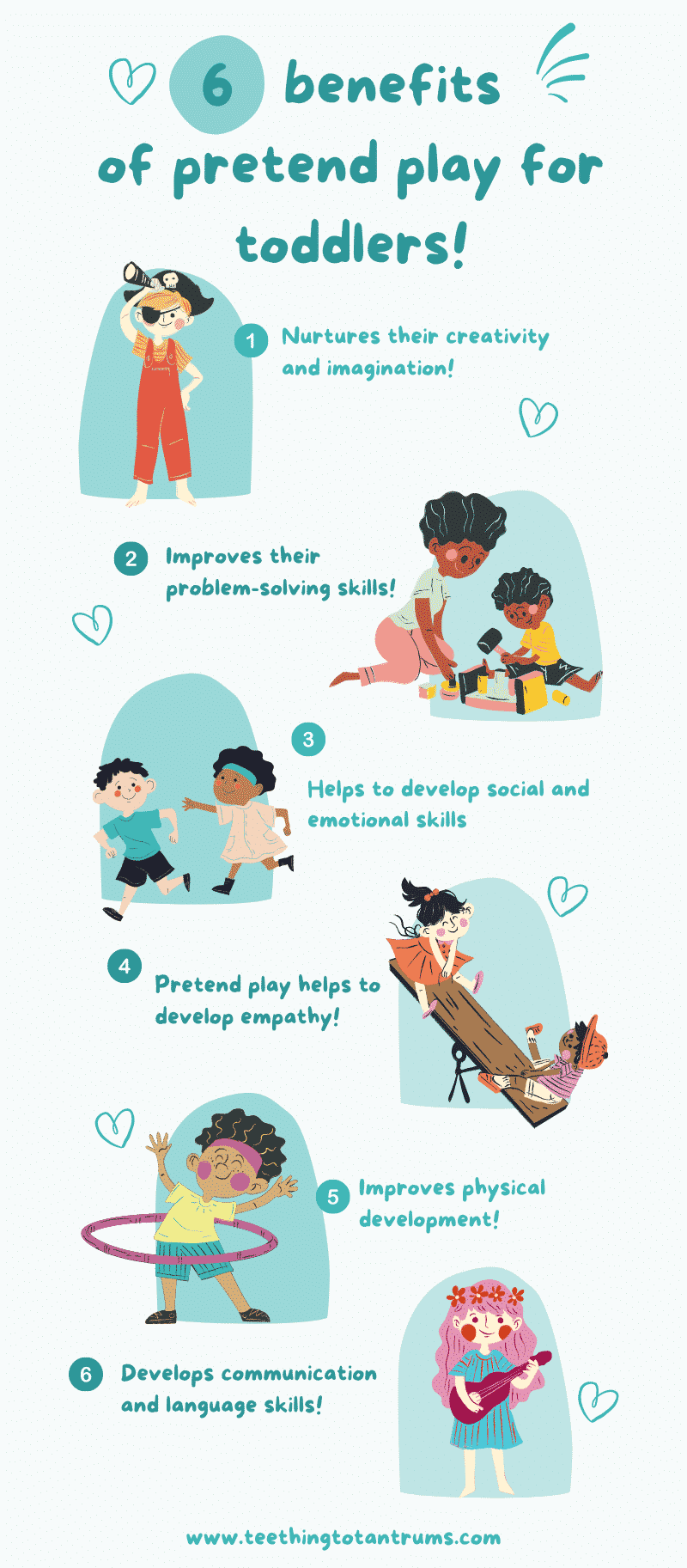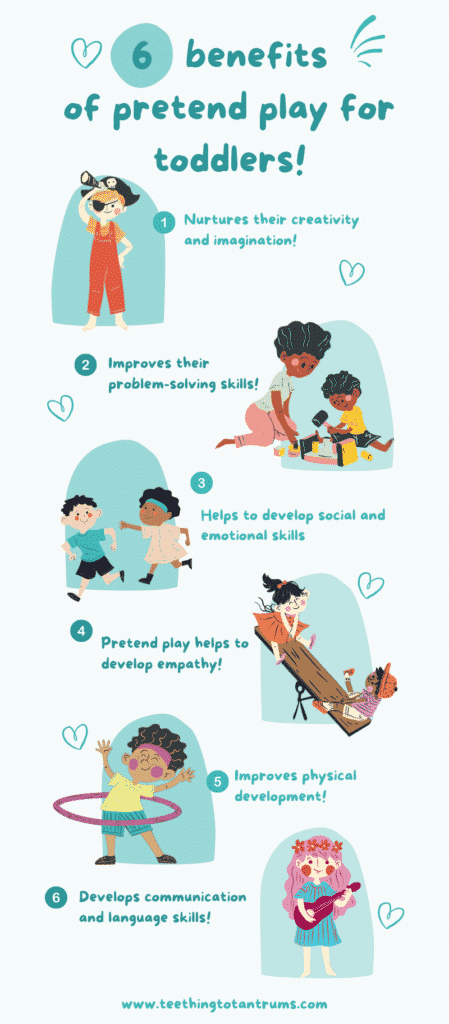 Encourage and nurture their creativity and imagination. Children will learn to see things from other people's points of view and re-create what they have seen during their day.
Improve their problem-solving skills. By exploring and acting out different scenarios, your child will learn how to overcome obstacles in a safe way.
Help with their social and emotional development. By engaging in pretend play, toddlers will often be able to exhibit abilities beyond the norm for their age by reenacting adult actions.
Develop empathy. Pretend play for toddlers will also help children to learn about the emotions involved in certain activities and begin to understand how others feel and think.
Improve physical development. As they act out more physical roles, such as climbing an imaginary mountain, your little one's strength and balance will flourish.
Develop their language and communication skills. By repeating what they have seen during their day, you will find your toddler will use varied language to make their pretend play scenarios as real as possible.
Download Our FREE Baby & Toddler Cheat Sheets
Designed for busy parents, these sanity-saving cheat sheets provide simple, practical and effective parenting strategies to tame tantrums, create calm bedtimes, support thriving development, and more! See results within hours!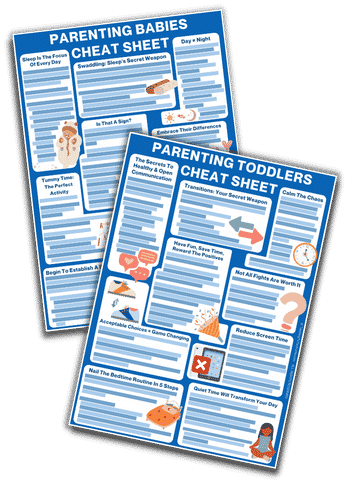 How To Encourage Pretend Play In 0-24 Month Olds
You can actually start to encourage pretend play when your little one is a tiny baby.
Getting close up face to face and making different sounds and expressions that they eventually imitate are the foundations of pretend play for toddlers.
Later they will start to copy simple day to day actions that they have observed you doing such as sweeping the floor, reading a book or talking on a phone.
Here are a some more brilliant pretend play ideas for 0-24 month olds:
Have a chat. When your little one copies your facial expressions and mimics the sounds you make, they are engaging in the simple and early stages of pretend play. So it is important that you talk face to face with your baby from early on!
Sing action rhymes. Singing action rhymes such as "incy wincy spider" and this "little pig goes to market" are all perfect ways to encourage your little one to copy what you are doing.
Repeat simple actions. Between 0 and 24 months, children love repetition and they will repeat the same actions over and over again as they perfect their motor and language skills.
Offer lifelike toys. Toy telephones offer the opportunity to imitate conversation and you will find that your little one will love to babble away as they pretend to chat. Toy brooms and dustpans are also ideal as your toddler will love to imitate cleaning the house as they have seen others do.
Create a pillow mountain. As your toddler approaches their 2nd birthday they will start to imagine that ordinary everyday objects are something else. Laundry baskets can become boats and a pile of pillows is suddenly a mountain to climb. They will need your help at first to lead the game, but with the use of props such as teddy bears and dolls to engage them with their pretend world, they will be creating their own scenarios in no time.
How To Encourage Pretend Play In 2 Year Old Toddlers
At this stage, your toddler's pretend play is based around their real life experiences so they may act out the bedtime routine with their doll or teddy bear, pretend to read a story or make a simple meal.
So what can you do to offer your little one the best opportunities to explore pretend play at this stage?
Put up a wigwam. Putting up a wigwam or similar small den can create the perfect environment for pretend play for toddlers. It can be a place to hold pretend tea parties or put dolls to bed. Make the most of normal everyday objects like draping a sheet over dining room chairs or using a cardboard box as a pretend car to get the imagination going.
Show them how. Some children need a little encouragement to pretend play in the beginning… So offer them imaginary food to serve their teddy bears, pretend you're birds soaring through the sky as your run around the garden or even host a singing and dance competition where your hairbrush is a microphone and a small towel is a fancy skirt!
Invest in more complex lifelike toys. You can now offer your toddler more complex life like toys such as pretend food or money. Miniature tea sets are also perfect for 2 year olds, as well as train sets and toy garages.
How To Encourage Pretend Play In 3 Year Old Toddlers
By three years of age, your little one will start to create their own pretend scenarios rather than acting out things they have seen in their lives.
So try and encourage the following pretend play for toddlers examples:
Dressing up. Your toddler is now ready for more complex pretend play and will love to dress up and pretend to be anything and anyone that takes their fancy. They will love to put on your shoes and hats and will delight in dressing up as a superhero and imagining they can perform daring acts. You can invest in specific dress up outfits if you wish, but equally old clothes from your closet work just as well!
Miniature kitchen or workshop. Miniature kitchens or workshops are also great for 3-year-old pretend play. They can act out making a meal or doing a bit of DIY using manageable toy replicas that are perfect for this stage in imaginary play.
Let's do the housework. We adults might be tired of housework but your average 3 year old will love to help out! Give them their own miniature set of cleaning implements and you will probably find them happily cleaning away and imitating what they have seen you do. Bonus points if your toddler can get the most 'fairy dust' on their rag!
Let them lead and swap roles. Whereas you will have taken the lead when they were younger… it's now you can let your toddler decide how the play develops. Your 3 year old toddler may now want to take on the role of the parent while they pretend to feed and care for you at a tea party or at a doctor's surgery.
How To Encourage Pretend Play In 4 Year Olds
Pretend play for 4 year olds is now developing in complexity.
4 year olds will now imagine play scenarios in a far more depth… acting out adventures and events that last for long periods of time and becoming ever more inventive.
Run a restaurant. While cooking dinner with your little one, pretend that you are running a restaurant from your kitchen rather than just cooking the evening meal.
Build a town. Your toddler can now progress to using more complex building blocks that can be used to recreate whole towns where they can push toy cars around and imagine a whole little world they have created. This set from Melissa and Doug is brilliant.
Puppets. Puppets are another perfect example of encouraging pretend play for toddlers. Whether they put on a show for you or whether you work together to create a story, the cognitive and fine motor development your 4 year old will gain is huge.
Let's play shop. A pretend cash register can be a great start to encouraging your little one to set up an imaginary shop. They can pretend to sell you everyday household items and get the opportunity to play the role of both shopkeeper and customer.
Join in. It is important that you join in with your toddler's pretend play. Participate in tea parties, have a stuffed animal dance party and imagine you are going on a wild jungle adventure when you take a walk in the woods. This will help strengthen your bond as parent and child as well as create incredible memories together.
How To Encourage Pretend Play In 5 Year Olds
By the time your little one reaches their 5th birthday their capacity for pretend play will be in full swing and it will take up a large amount of their playtime, especially when playing with their peers!
As your child's social skills have developed to the point that they can engage in cooperative play your 5-year-old will relish the opportunity to play 'pretend' with their friends and you.
Have an indoor picnic. On a bad weather day, a great pretend play idea is to hold an indoor picnic. You can imagine that you are all outside in the sunshine and having a lovely time by recreating the picnic on a blanket inside. Bonus points if your child also brings a pretend meal from their kitchen with them!
Build a castle in the garden. Most 5 year olds can happily turn any den into a secret hiding place or turn a jungle gym into a castle. So encourage your children to get outside and create exciting adventures by letting their imagination run wild!
Go on an insect hunt. Giving your 5 year old a magnifying glass and going on an exploration of the house or garden looking for strange new creatures is a perfect way to inspire a pretend new world explorer game. It will also motivate your child to be connected to the amazing world around them too!
Have a story basket. Story baskets are a great way to get your children's imagination working. You can take a basket and fill it with everyday items and toys and then encourage your little one to tell a story based on the contents. Alternatively, you can take one of their favourite story books and fill it with props related to the story and then get them to use those props to retell the story in their own way!
Best Pretend Play Toys For Toddlers
To complement the pretend play examples I have mentioned above, here are the best pretend play toys for toddlers to get the most out of every play session:
Wooden Fruit And Vegetable Preparation Set
iPlay, iLearn Wooden Food Toy Set, Magnetic Fruit Vegetables
Perfect for a budding chef, this set of wooden magnetized foods will encourage your little one to develop their fine motor skills by imitating chopping and preparing whilst creating a delicious imaginary dish for you to try!
Buy Now
We earn a commission if you click this link and make a purchase at no additional cost to you.
Wooden toys are always a favourite of mine and this set of 26 wooden food items is the perfect way to inspire pretend cooking and imaginative restaurant play on rainy days.
Made from high-quality wood, this durable and safe set will stand the test of even the most 'enthusiastic' toddler chefs!
It is also the perfect accompaniment to my next favourite pretend play toy:
Mini Kitchen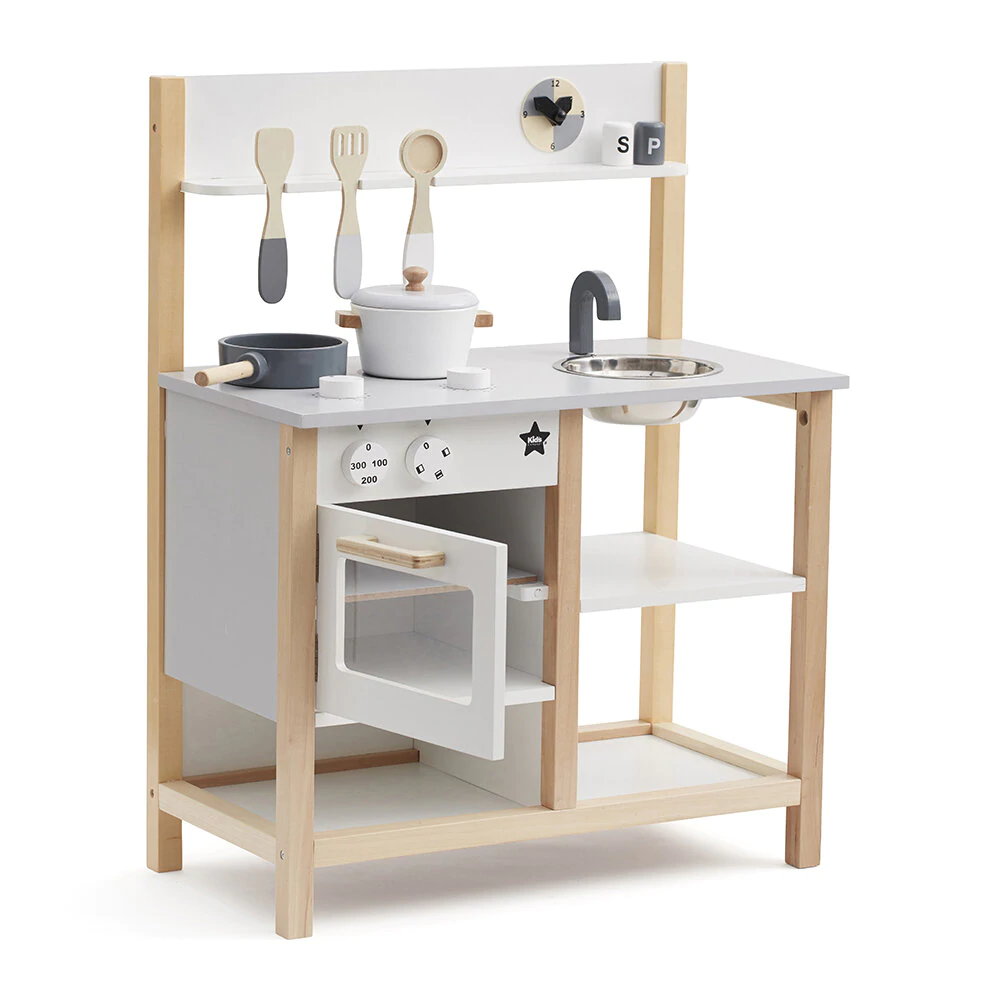 Kids Concept - Natural/White Wooden Play Kitchen
I love all things Scandiborn and this play kitchen is no exception. Guaranteed to look good in any setting and provide your little one with hours of imaginative play that you can add to as you see fit.
Buy Now
We earn a commission if you click this link and make a purchase at no additional cost to you.
This gorgeous handmade wooden play kitchen is perfect for children who love to role play cooking food for their friends and family!
It's even better to know that the pots and pans accessories are all included too!
Wooden Tool Workbench
ROBOTIME Creative Wooden Tool Toy Bench for Kids
Made out of quality wood, this bench will survive any hammering and sawing your little one can throw at it! All whilst providing hours of fun as your little one expands their imagination and improves their fine motor skills!
Buy Now
We earn a commission if you click this link and make a purchase at no additional cost to you.
Does your child love to replicate building trades instead of cooking?
Whether it's measuring, cutting, sawing, hammering or drilling, this wooden tool bench will be the centrepiece in any little builder's playroom!
Hand Puppet Set
This beautiful puppet set will help kids to practice new vocabulary, refine their fine motor skills and boost their self-confidence all whilst spending quality time with you!
Made with brightly patterned, washable fabrics and built to last, these delightful glove puppets are sure to be go-to toys for years to come.
Dressing Up Sets
Born Toys Dress Up & Pretend Play 3-in-1 Costume Set
Provide the perfect opportunity for your child to imagine, explore and play through the art of role-play with 3 amazing gender-neutral costumes!
Buy Now
We earn a commission if you click this link and make a purchase at no additional cost to you.
It's time to do some research, go on a safari and plant some plants in the garden with this wonderful dressing-up set!
Designed to be super durable for ages 3+, these fun outfits will make pretend play even more real for your little one!
Toy Cleaning Set
I am a firm believer in introducing very easy and simple chores to your children from a young age to help them learn how the world and how a household functions. And this fun miniature cleaning set is the ideal way to gently introduce the idea of helping around the house on your toddler's terms.
Frequently Asked Questions About Pretend Play For Toddlers
Looking for more information about pretend play for toddlers? Find answers to the most common questions here.
Is Pretend Play Montessori?
Montessori is a scientifically based education approach that focuses on teaching children to embrace their independence, embrace their freedom within limits, and respect their natural psychological, physical, and social development.
Montessori education is based on the belief that all children are unique individuals, that they all have immense potential, and that they want to learn and be busy.
Therefore, yes, pretend play for toddlers with the right tools and toys is classified as Montessori play… However, regardless of whether you follow Montessori principles or not… Pretend play is a vital part of every child's healthy development…
What Is The Difference Between Pretend Play And Symbolic Play?
There is no difference between pretend play and symbolic play.
Symbolic play is simply another name used to describe pretend play.
Why Is Pretend Play Important For Language Development?
Pretend play for toddlers is important for all forms of development, however with language development pretend play is especially vital as children will often use higher forms of language than they would use in their day-to-day conversations. This is because they are often pretending to be adults!
Is There Such A Thing As Too Much Imaginative Play?
I do not believe there is.
Imaginative and pretend play for toddlers offer incredible learning opportunities that will help your child to process what they witness in their life and boost their development in a fun and creative way.
Pretend Play For Toddlers Summary
Remember… Pretend play for toddlers is a type of play that lets children explore and experiment with different scenarios they have witnessed in their lives by engaging their imaginations to develop essential life skills.
They will learn, practise and develop the skills:
To be kind,
To be patient,
To have empathy for others.
To negotiate with their play companions,
To communicate their desires and explain how their playmate can fit into their pretend play scenario.
They will develop their social and emotional development,
As well as their motor and language skills too.
Providing your little one with the pretend play opportunities to explore this type play is very important and there are numerous ways you can help inspire imagination and have a huge amount of fun too.
After all…
A young child's imagination is an amazing place to be and a wondrous thing to share.
Need More Parenting Help?
Paula McLaren
Paul Mclaren - Norland Nurse NNEB RSH is the founder of Teething to Tantrums and has been in the child care industry as a Norland Nanny since 1982. Since then, her mission has been to help parents become the best they can possibly be. And each year, she continues to help more families understand their child's development, the trials and joys of parenting and of course, how to care for their little ones.
Download Our FREE Baby & Toddler Cheat Sheets
Designed for busy parents, these sanity-saving cheat sheets provide simple, practical and effective parenting strategies to tame tantrums, create calm bedtimes, support thriving development, and more! See results within hours!