We all know TWO things…
Nature is wonderful and beneficial for everyone and everything…
Some babies seem to be repulsed by grass (we've all seen the videos!) and as a result, we, as parents, ask ourselves this… "Is it OK for babies to crawl on grass?"
Well, it's a common question that A LOT of parents have thought about time and time again! So you're not alone and it's NOT a silly question.
But what's the TRUTH about letting your baby crawl on the grass?
Is it good for them?
Why don't some babies like it?
What are the benefits of time spent on the grass?
And how can we make time spent outside fun?
Well, learn all the answers and discover 6 of my FAVOURITE baby outdoor activities to try with your little one too, by diving into today's post right now!
Is It Ok For Babies To Crawl On Grass?
If your baby likes crawling on grass then the answer is YES! Absolutely!
As long as you are keeping a close eye on them, it's fine to let your baby crawl on grass.
What Are The 4 MAIN Benefits For A Baby Crawling On Grass?
There are SO MANY benefits of babies crawling on grass, but here are the main 4:
Being outside in the sunshine improves vitamin D production.
It helps establish day-night patterns to promote better sleep for your newborn.
It improves autoimmune health.
It encourages your little one to feel comfortable being outside in nature.
Even with these amazing benefits, some babies will almost repel from grass… So why is that?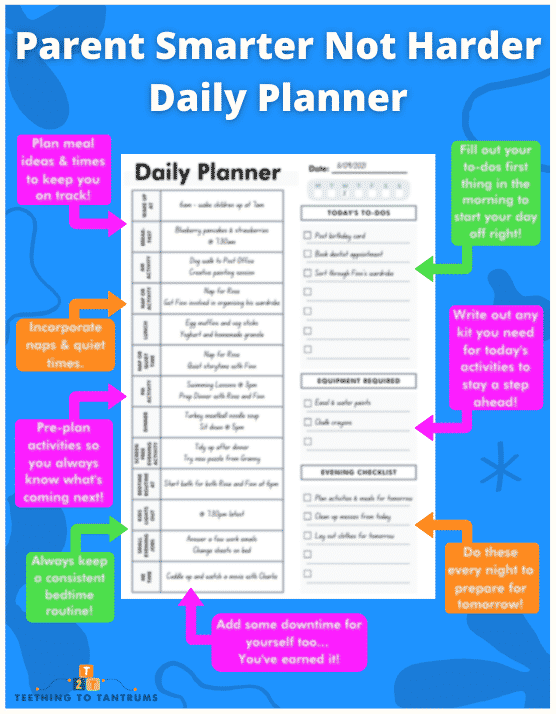 Become The Calm, Organised & In Control Parent You Want To Be By Adopting My "Parent Smarter Not Harder" Daily Planner!
Psst... The secret to peaceful parenting starts with your routine!
By subscribing, you agree to get emails from Teething to Tantrums. We will respect your privacy and you can unsubscribe any time.
Why Do Some Babies Avoid Grass At All Costs?
Put simply, some babies do not like the feel of grass. In fact, if you put a blanket on the grass you can almost guarantee that they will not venture off it!
Most babies will have learnt to crawl on carpets, wooden floors or tiles and as a result, grass may feel prickly and itchy. And like many adults, some babies may be allergic to grass and may even develop a rash when exposed to it.
Finally, a baby's nervous system may quite simply not be developed enough to deal with the overstimulation of the feel of grass!
So if your baby is not keen on crawling on grass yet, they are definitely not alone, and it's NOT something to be worried about.
Continue to take your baby outside on a blanket and gradually they may decide that one day they don't mind the feel of it and they'll venture off the blanket!
How To Play Outside With A Crawling Baby
Whether your baby likes to crawl on grass or not, it is still VERY important to let your baby spend time outside in the garden or park.
Being outside in the fresh air and sunshine will develop a love of nature which is vital to your little one's healthy development.
You will need to create a safe place for your baby to spend time outside and there are plenty of outdoor activities you can do with your baby even before they learn to walk!
Putting on appropriate clothing is also ESSENTIAL. Unless it is super hot then wearing something that covers their legs may encourage your little one to crawl around more comfortably.
Creating A Safe Space For Baby To Crawl
When it comes to creating a safe place outside for your baby to crawl there are a couple of options.
Blanket or tarpaulin – If your baby is reluctant to crawl on grass then you can just put down a blanket or a waterproof tarpaulin to allow your little one to crawl and play on.
Playpen – If you put an open-bottomed playpen out in the garden then your baby can play safely in the fresh air in the shade of a tree and crawl around in a space that you can ensure is free of anything you would not want your baby to touch or put in their mouth.
Whatever you decide on, never leave your baby to crawl about outside alone.
6 Creative Outdoor Activities For Crawling Babies
1. Free Crawling
Why? Exposing your little one to nature and the outside is so beneficial to their health and wellbeing. From helping with the production of vitamin D to encouraging them to get in touch with nature, spending time crawling around outside is a great activity for your crawler.
How? Sit down on the grass with them and encourage them to feel it, crawl and roll around. Lie down with them and look up at the sky and the trees. Crawling outside does not have to be restricted to the summer months. If the weather is damp or cold then dress your little one up and let them crawl around then too!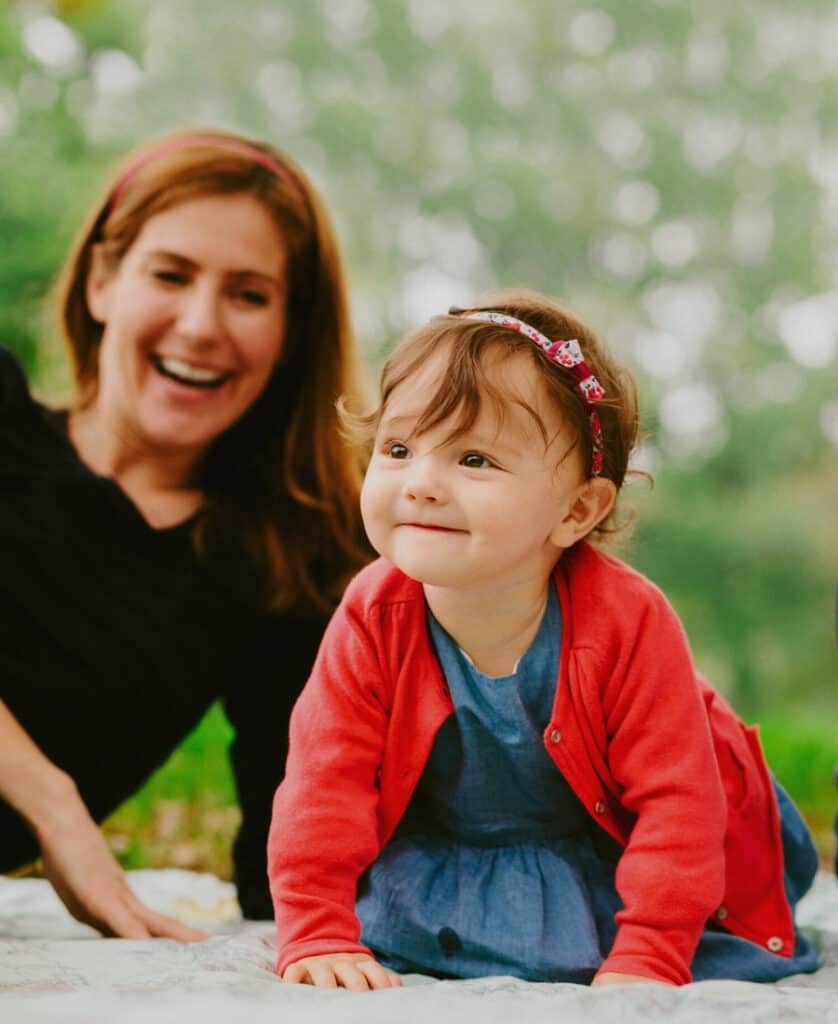 2. Large Building Blocks
Why? If your little one is reluctant to play on the grass then giving them some interesting toys to play with is a great way to encourage them to let loose outside.
How? Playing outside gives you the opportunity to let your little one play with large toys that they may not be able to play with outside. You can get mega building blocks that are perfect for outdoor play either on a blanket or tarpaulin or on the grass.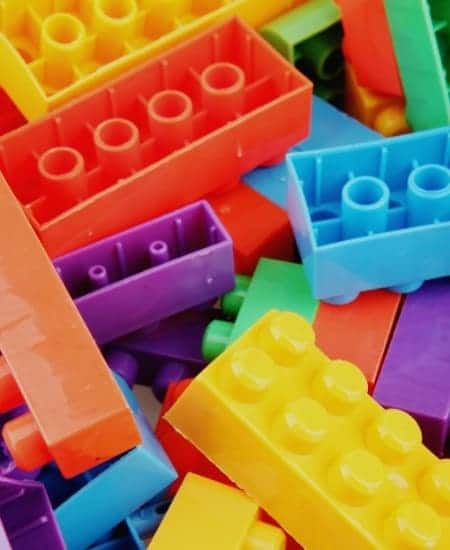 3. Take Your Pushable Baby Walker Outside
Why? Taking the walker outside is a great way to encourage your baby to learn to walk independently. They will also practice crouching down and standing again.
How? If your baby is able to push a baby walker then take it outside. Let your baby walk barefoot on the grass if the weather allows or with socks if they don't like the feel of the grass. Encourage your little one to collect twigs, leaves or interesting stones to put in their walker.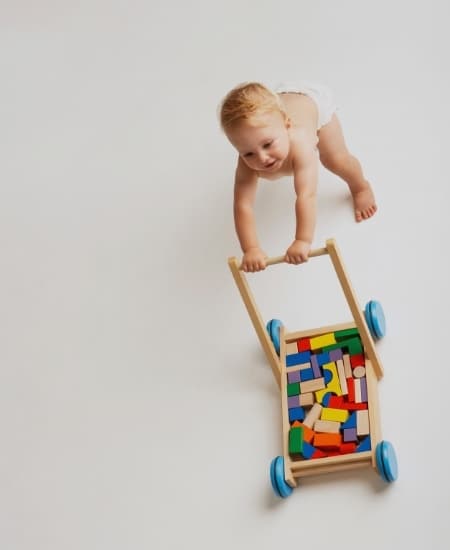 4. Play Ball
Why? Playing ball improves your baby's fine and gross motor skills and it is a great game for you to play together. Crawling after the ball as it rolls away may also encourage your baby to come off the blanket or tarpaulin.
How? Take as many different sized balls as you can to play outside. Get your baby to sit on the grass or blanket and roll the balls between you. If the ball rolls off the blanket your baby may happily crawl off after it.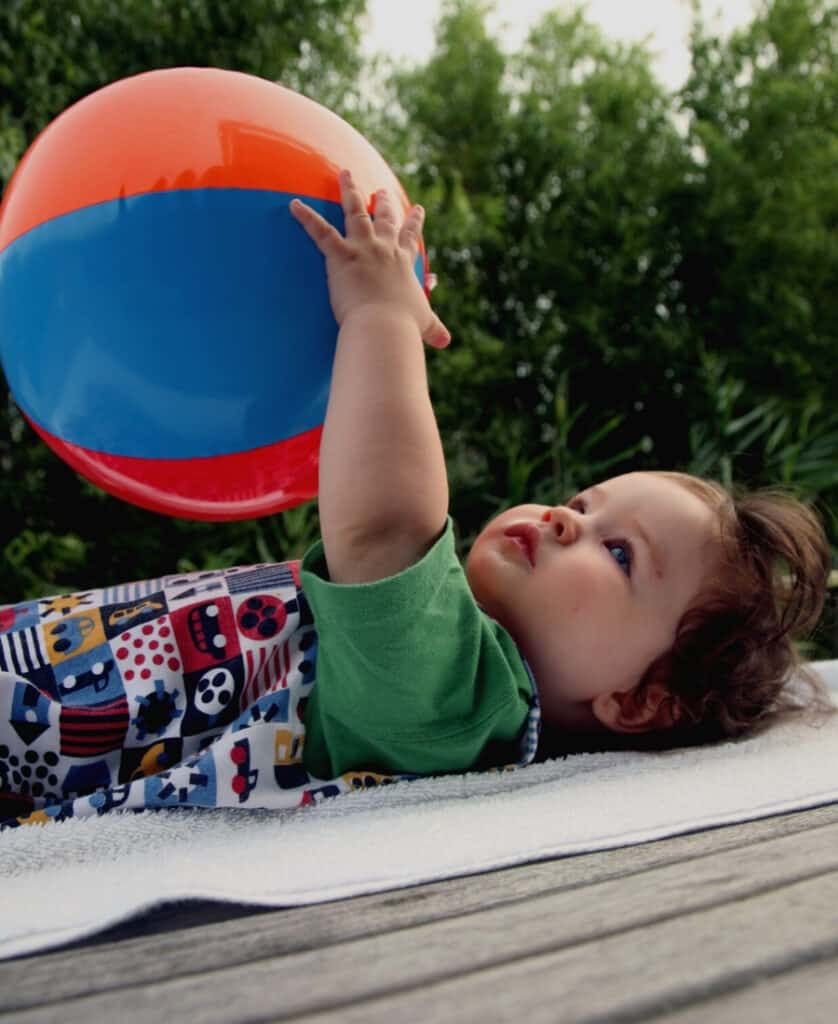 5. Take Mealtimes Outside
Why? As with all these outdoor activities, eating outside is a great way to keep your baby entertained whilst outside.
How? Deciding to take lunch to tea outside on a blanket is another great activity for crawling babies. Just decamp to the garden for a spontaneous picnic and enjoy the fresh air with your baby!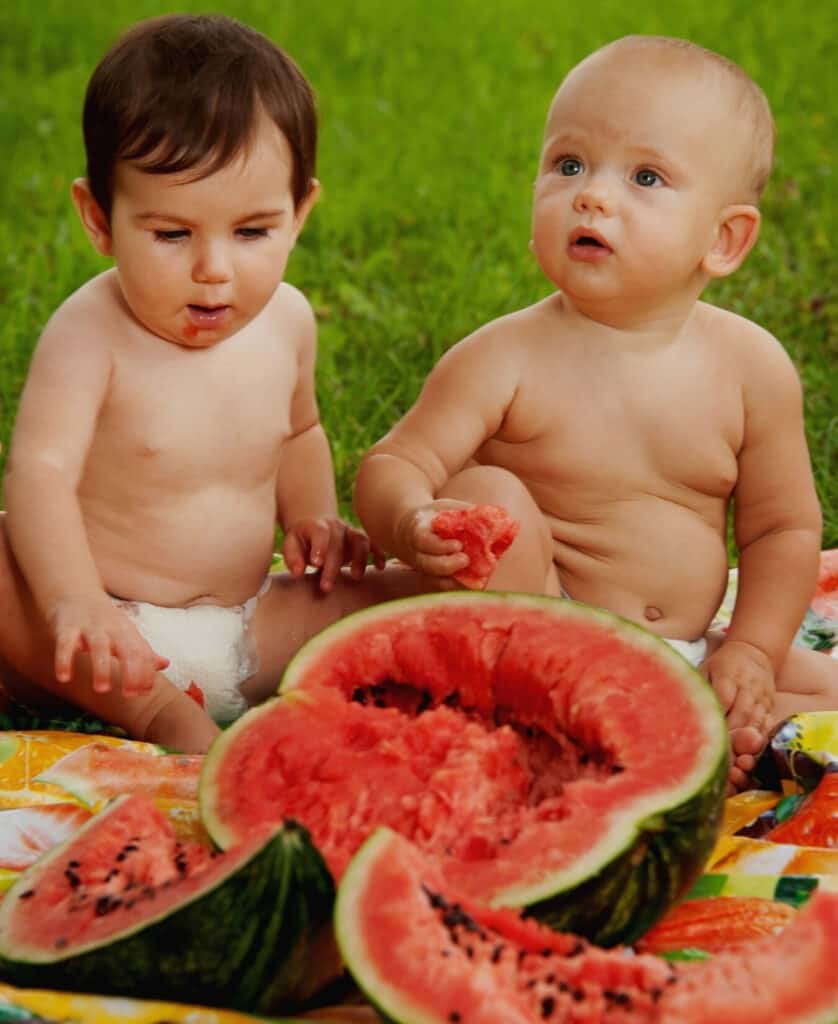 6. Read Books Outside
Why? This is an activity that you can enjoy together outside and will probably end up with them wanting to crawl off and explore.
How? Take your baby's favourite books outside and sit on a blanket together and read under the dappled shade of a tree.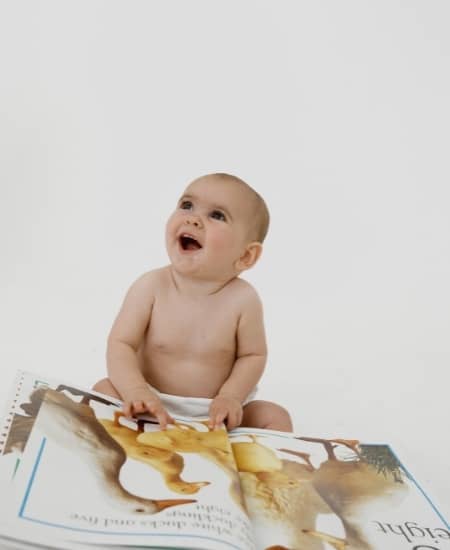 Is It Ok For Babies To Crawl On Grass CONCLUSION
So if you are wondering "is it OK for babies to crawl on grass?" The answer is YES!
Let them go ahead and enjoy it with you in close attendance. And if they are not so keen then go for the blanket option.
But whatever your baby prefers, it is important that you take your baby outside as often as you can to encourage them to get in touch with nature.
If you enjoyed this post and know other parents who would enjoy this content, be sure to give it a share!
If you're looking for any products for your little one and you're not sure where to begin, be sure to check out my Parenting Toolbox. It is full of all my favourite products which I've tried to ensure are all non-toxic, eco friendly, sustainable and, of course, they're all baby proof!
And if you have any blog recommendations that you'd like me to write about, then be sure to drop me an email at [email protected] and let me know! I love hearing from you!
Thank you for your support! And with love and support, until next time, Happy Parenting!
Paula McLaren
Paul Mclaren - Norland Nurse NNEB RSH is the founder of Teething to Tantrums and has been in the child care industry as a Norland Nanny since 1982. Since then, her mission has been to help parents become the best they can possibly be. And each year, she continues to help more families understand their child's development, the trials and joys of parenting and of course, how to care for their little ones.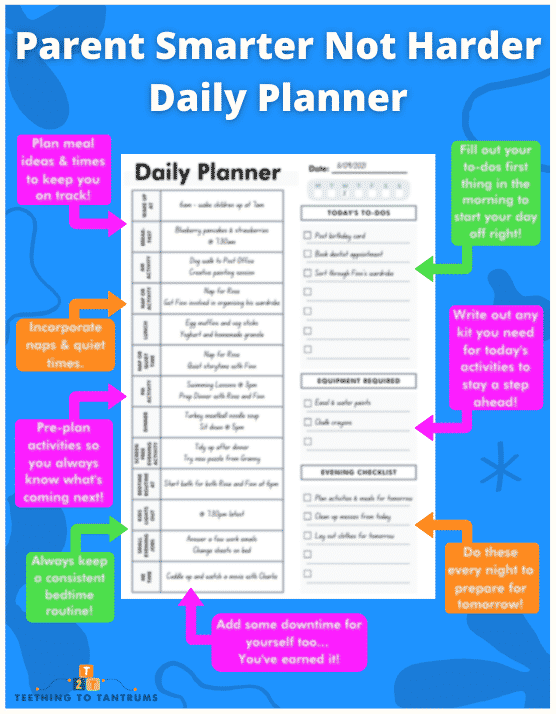 Become The Calm, Organised & In Control Parent You Want To Be By Adopting My "Parent Smarter Not Harder" Daily Planner!
Psst... The secret to peaceful parenting starts with your routine!
By subscribing, you agree to get emails from Teething to Tantrums. We will respect your privacy and you can unsubscribe any time.