Did you know that your newborn baby will sleep for about 16 hours per day?
I know it may not feel like it when you're up at 2am feeding them once again… But that's a lot of time for your little one to be snoozing!
And when your newborn spends 66% of their day asleep, you need to make sure that WHERE they sleep is the most comfortable, safe and cosy space to drift off in!
And that's where bassinets will transform your baby's nursery…
Choosing the best bassinet for your baby is a personal journey, but I'm here to help explain exactly what to look out for when choosing your perfect bassinet, the reasons why a bassinet may be better than a crib as well as recommend my best baby bassinet picks that you need to check out!
So, without further ado… let's dive right in!
The Best Baby Bassinet: Our Top Pick: Happiest Baby SNOO
The SNOO bassinet is most definitely the top of the range bassinet and for good reason! Created by the renowned paediatrician Dr. Harvey Karp this best baby bassinet ticks all the right boxes and is worth every penny.
It is stylish, has integrated white noise that simulates being in the womb and responds to your baby's crying. It also has a handy mobile app so you can monitor your baby's sleep patterns.
The Snoo also comes with 3 sleep sacks designed to work with the bassinet so your baby's comfort and safety are all catered for. If you are worried about your baby becoming too dependent on the Snoo movement there is also a weaning mode when you are ready to transition to a full-size crib.
Finally, there is the added benefit of a 30-day money-back guarantee. Most babies and parents will love this bassinet, but if for some reason it does not work for your little one, you have peace of mind knowing you can return it.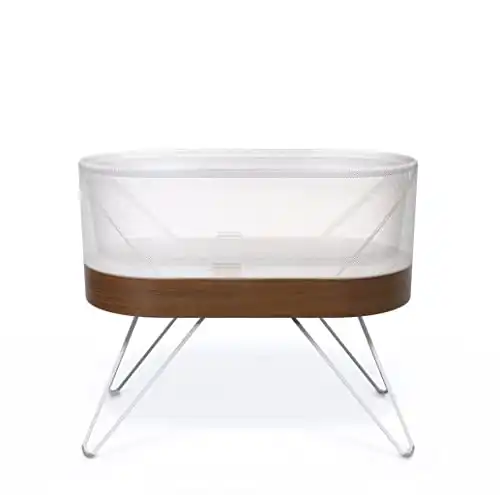 SNOO Smart Sleeper Baby Bassinet - Happiest Baby
Its built-in swaddles, soothing noises and mesh walls make this crib an incredibly comfy and safe sleep environment for your baby giving you the peace of mind that they are always cosy and secure. And the gentle rocking and fuss-detection capabilities also ensure your baby is soothed at the first sign of restlessness!
Buy Now
We earn a commission if you click this link and make a purchase at no additional cost to you.
The Best Baby Bassinet: Runner Up: Baby Bjorn Cradle
I am a great fan of Babybjorn products and this bassinet is no exception!
This attractive no-frills best baby bassinet with mesh sides is light and easy to move around ensuring you can keep an eye on your baby at all times.
It rocks and bounces in response to your baby's movement or you can rock it manually yourself.
This bassinet is also easy to assemble and clean and is made of materials and fabrics that are kind to your baby's skin.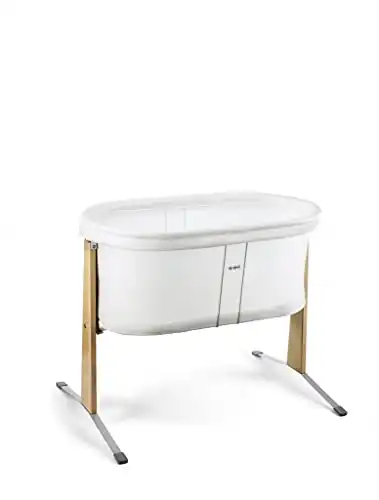 Download Our FREE Bedtime & Nap Cheat Sheet
A bedtime & nap cheat sheet so good your little one will ask you to put them to bed...
Laura Williams "This is a life saver! I'm so glad I downloaded your bedtime & nap cheat sheet. My little one actually asked me to put him to bed last night! Unbelievable! Thank you so much!"
Click Here For The FREE Cheat Sheet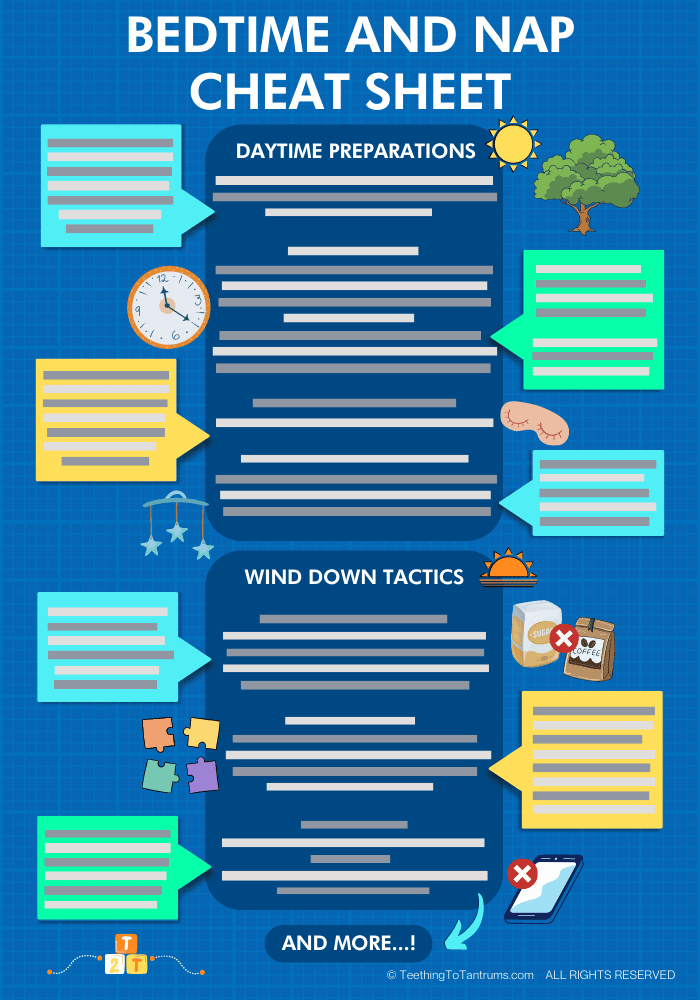 The Best Baby Bassinet For Travel: Dream On Me Lotus Bassinet
If you are looking for a truly portable travel-friendly bassinet that comes with all the necessary attributes you would want from a bedside crib, then the Dream On Me Lotus Bassinet is the one for you.
It has 4 adjustable heights, is light and easy to assemble and comes with its own carry bag for easy transport.
This bassinet also has the all-important mesh sides for good ventilation and an optional canopy/mosquito net for outside use. The drop down side makes nighttime feeding a breeze and it comes in a range of different colours too. This really is the best baby bassinet for an on-the-go family!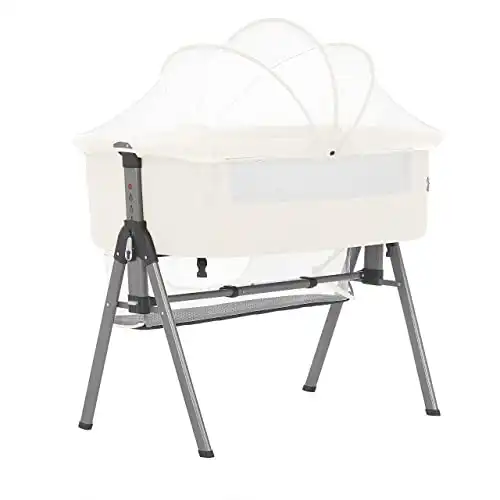 How Do Bassinets Work?
One of the most important decisions you will make when preparing for your baby's arrival is where will they sleep?
While you can put your newborn to sleep in a crib, opting for a bassinet for the first few months is what most parents choose.
Your newborn will spend a lot of time sleeping so it is important that you provide them with a safe haven to do so. 
Different from moses baskets, the best baby bassinet will provide a compact, portable and cosy environment for your little one while being a safe and comforting place for a newborn to sleep. 
Very importantly, bassinets allow your baby to sleep close to you at night which is a comfort to both you and them.
They are also easy to move and fit nicely next to your bed for convenient nighttime feeding. And some will come with motion sensors while others can be rocked manually.
In essence, a bassinet is a brilliant first bed for your baby, as they adjust to being outside of the womb.
Why Baby Bassinets Are Better Than Other Baby Beds
So what are the pros of choosing a bassinet over a crib for your baby?
Well firstly, the American Academy of Pediatrics (AAP) recommends that for at least the first 6 months of a baby's life they should sleep in the same room as their parents as it can decrease the risk of SIDS by as much as 50% and is much safer than bed-sharing…
And by far the best way to facilitate this recommendation is to use a baby bassinet.
Using a baby bassinet over a crib will make it easier for you to feed, comfort, and watch your baby and provide your newborn with a safe and comfy place to sleep that will resemble the closeness and warmth of a womb which a crib cannot.
Other important advantages of using a bassinet are:
1. Portability
During the early months, your baby will sleep a lot and having a portable sleep space for your little one will make your life a lot easier and offer you peace of mind as you can always have your baby nearby.
2. Size
Not all bedrooms can accommodate an adult bed and a full-size crib. Therefore a bassinet is an obvious and safest solution to having your baby sleep in the same room as you!
3. Ease Of Use
You will be putting your baby in and taking them out of a crib numerous times a day and night. Having a baby bassinet can make this a lot easier on your back.
TOP TIP: If you have had a C-section then a bassinet is definitely the way to go!
Baby bassinets are lower and easier to reach into than a crib and are designed to be positioned alongside your bed so that you don't actually have to get out of your bed to feed.
4. Affordability
Getting ready for the arrival of a new baby can get very expensive and not having to buy a full-size crib initially can help spread the cost of nursery items.
Bassinets are generally cheaper than a crib so you can opt for this more affordable sleep option, to begin with… and then buy a crib later on.
5. Storage
Many bassinets come with handy storage for nappies, baby wipes and spare clothing so that you can have everything you need in one place while caring for your baby in those hectic early weeks and months.
6. Rocking and special features
Many modern bassinets can either be rocked manually, have a rocking feature or come with motion sensors to gently move the bed.
A full-size crib does not have the benefit of such extras that can really help in settling your young baby to sleep.
So now we know how bassinets can be better than regular cribs, what are the specific features we need to look out for when choosing one to buy?
The 7 Best Features To Look For In The Best Baby Bassinet
As with every baby product you will buy for your newborn, you must ensure it meets all your strict criteria!
So here are the 7 features I recommend you look out for and consider when choosing the best baby bassinet for you.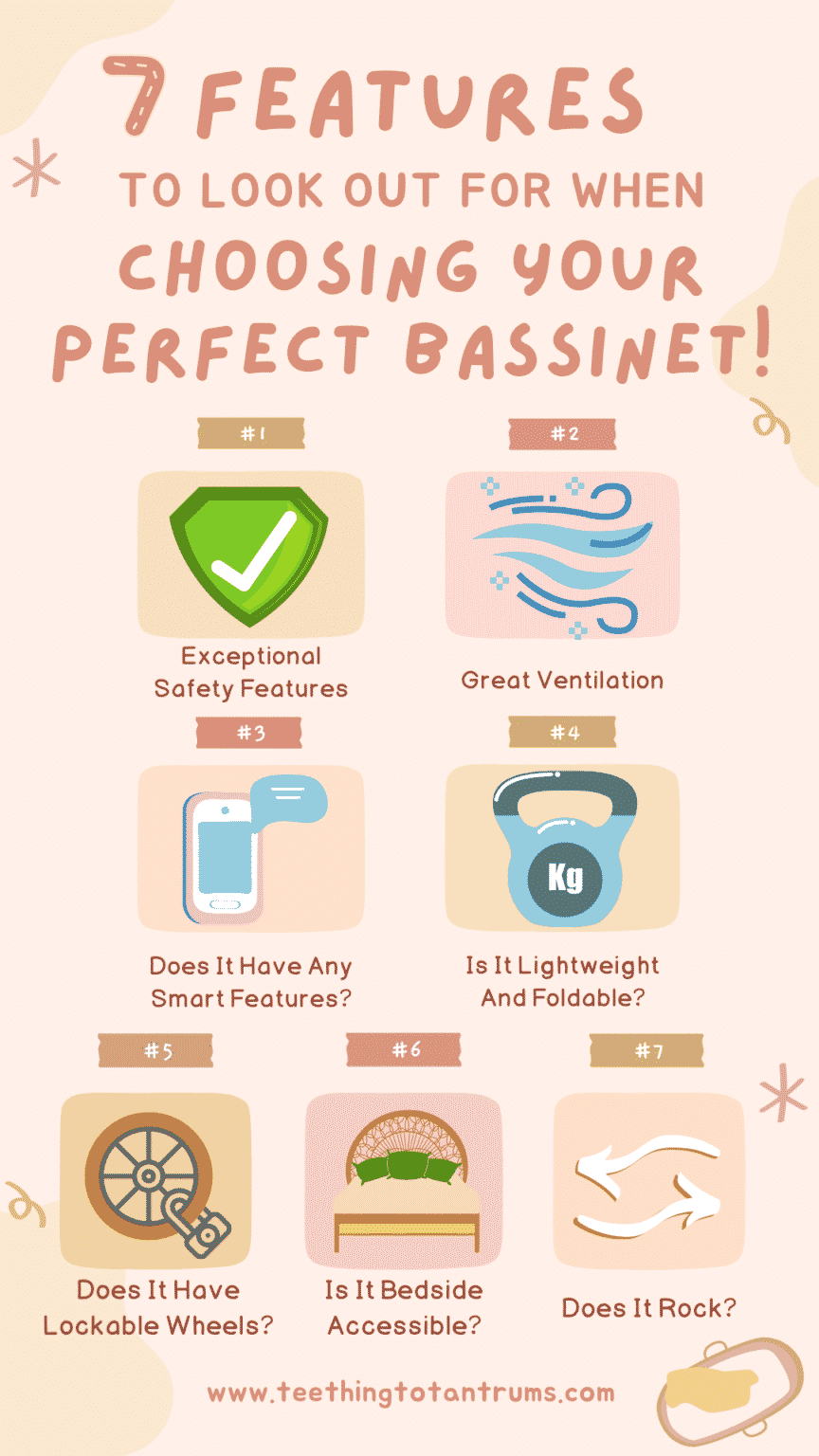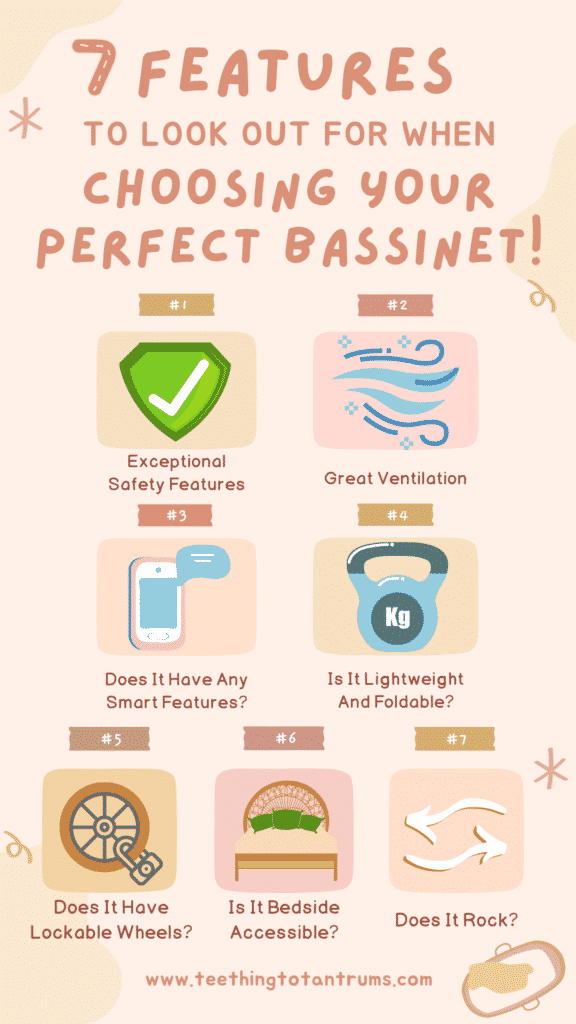 1. Exceptional Safety Features
First and foremost you need to know that where your baby is going to sleep is safe. Here's what the US Consumer Product Safety Commission (CPSC) advises you to look out for in bassinets:
A sturdy bottom with a wide base.
Smooth surfaces.
No hardware should be sticking out from the bassinet.
Mattresses need to be firm and fit tightly.
TOP TIP: To test the firmness of a bassinet mattress, press your hand on the sides and centre.
A firm mattress should not mould to the shape of your hand and you should feel some resistance. When you take your hand away, the mattress surface should pop back into shape again quickly.
2. Great Ventilation
Next, you need to be aware of the airflow around your baby bassinet.
Ventilation is extremely important when it comes to choosing your bassinet and almost all of the modern bassinets have mesh sides that allow air to flow freely, as well as enable you to see your baby from all sides.
3. Does It Have Smart Features?
The best baby bassinets now have smart features that range from motion sensors that can detect your baby's movements and react accordingly by rocking your baby automatically, while others have BlueTooth capabilities that allow you to control the movements of your bassinet remotely.
Some even come with built-in white noise machines.
NOTE: Depending on your budget all of these extra features can be a huge help when coping with those early weeks when you are trying to establish a sleep routine, but they're certainly not essential if you can't afford them.
4. Weight And Foldability
As one of the big advantages of a bassinet is its portability and you should definitely take into consideration how heavy it is and how easy it is to move around the house.
Also, if you know you are going to be travelling or moving around a lot, a bassinet that folds easily and is light to carry will be essential.
5. Lockable Wheels
While one of the advantages of a bassinet is its moveability, it is important that if the bassinet has wheels… ensure they are lockable!
6. Bedside Accessibility
Many modern bassinets are now designed to improve the ease with which you can reach out for your baby to comfort and feed them at night.
Bassinets now come with drop-down sides and stands that fit neatly under your bed to allow them to be brought close to the bedside.
There are also some bassinets that come with adjustable heights and can attach safely to the side of your bed if you wish.
7. Does It Rock?
Even if you don't want to go for all the fancy features… I would certainly recommend a bassinet that is rock-able.
It is perfectly natural for your baby to need some gentle rocking to get to sleep, especially when they are first born, as they have been used to the rocking motion of your body while in the womb!
How Long Do Baby Bassinets Last For?
Most bassinets will last for ages if they are well looked after and cared for.
So you can use them for multiple babies throughout your family's life.
However, the length of time that your baby can stay safely sleeping in their bassinet will depend on the bassinet itself and your baby's weight and development.
Therefore, you must always check the recommended weight guidelines for your particular bassinet to get an indication of when your baby might be ready to move onto a crib.
As a rough guideline, most babies can stay in their bassinets until they are between 4-6 months old but signs that your baby is ready to move on are:
Baby's head and feet are touching the top and bottom of the bassinet
Your baby is scrunched up or sleeping diagonally to get comfy
They are learning to sit up
TOP TIP: If you buy a secondhand bassinet it is best to buy a new mattress as they tend to lose their breathability and firmness over time.
How To Keep Your Baby's Bassinet Clean And Healthy
As I mentioned above, the longevity of your bassinet relies on you keeping it clean and healthy.
And this will also ensure your baby is safe when in the bassinet too.
So, once you have chosen your best baby bassinet there are a few key things to remember to keep your baby healthy and safe:
Clean the bassinet every 2 weeks. Wipe the sides and interior with a mild detergent and disinfect the frame.
Wash the bedding regularly with a mild washing detergent. I love the Deft Stage 1 Laundry Detergent for newborns.
Always use the recommended fitted sheet.
Leave the bassinet bare with no added bedding or padding.
Don't place the bassinet near a window with hanging blind or curtain cords.
Don't position the bassinet next to a heater.
Don't drape blankets over the sides or restrict ventilation.
Ensure any collapsible sides and legs are always locked. 
Ensure wheels are always locked when in use.
Are Baby Bassinets Worth It?
In conclusion, YES, baby bassinets are definitely worth buying!
When used correctly they are the safest and most comfortable sleeping environment that you can provide for your newborn.
They will also help with baby bonding and give you peace of mind that your baby is close at hand at all times making your baby feel safe knowing that you are there to comfort them when needed.
And there you have it!
Everything you need to know about choosing the best baby bassinet for you and your little one!
If you have any more questions about bassinets or you have a favourite bassinet that you love and I have not mentioned, be sure to email me at [email protected] and let me know!
Thank you for reading, and with love and support, until next time… Happy Parenting!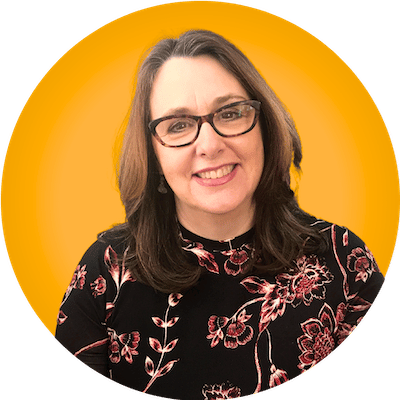 Paula McLaren - The founder of Teething to Tantrums has been in the childcare industry as a Norland Nanny and Childcare Expert since 1982. Her qualifications include a BA (Hons) in Early Years Development & Learning (0-6 Years) plus the highly prestigious Norland Diploma, recognized as the best early years practitioner qualification in the world. During her 40+ years of experience, she has worked as a night nanny (specializing in solving sleep issues), run a very successful daycare center in London, and raised almost 100 children, including her son, to be kind, healthy, and happy individuals with her tried and tested developmental and guidance methods.
Download Our FREE Bedtime & Nap Cheat Sheet
A bedtime & nap cheat sheet so good your little one will ask you to put them to bed...
Laura Williams "This is a life saver! I'm so glad I downloaded your bedtime & nap cheat sheet. My little one actually asked me to put him to bed last night! Unbelievable! Thank you so much!"
Click Here For The FREE Cheat Sheet