As a parent, one of your jobs is to teach your child to behave appropriately in various situations. And it's a job that takes time and patience.
However, learning how to discipline a toddler will inevitably make this journey a lot smoother, and will help your little one understand what they can and cannot do in a safe and appropriate way.
Why Do Toddlers Need Discipline?
Toddlers are driven by intense curiosity and their desire to explore and understand the world is all-consuming. Therefore, they do not think ahead and often try to do and want things that they cannot have.
This can lead to frustration, anger and unwanted behaviors, such as tantrums. Effective discipline and enforcing boundaries will ensure your toddler knows exactly what is expected of them and where they stand within certain situations to learn how to appropriately react next time.
Discipline Vs Punishment
Discipline is the practice of training someone to behave in accordance with a set of rules or a code of conduct so they can behave desirably within a situation. Punishment is inflicting suffering on them for their past behavior.
I never advocate physical punishment for a child. They are learning how the world works and are bound to make mistakes. It is our job, as parents, to guide our children towards understanding how to act appropriately when faced with different scenarios in a calm and considerate manner.
10 Expert Strategies To Discipline A Toddler The Right Way
Here is a comprehensive step-by-step guide to learning how to discipline a toddler: crafted from over 40 years of childcare experience.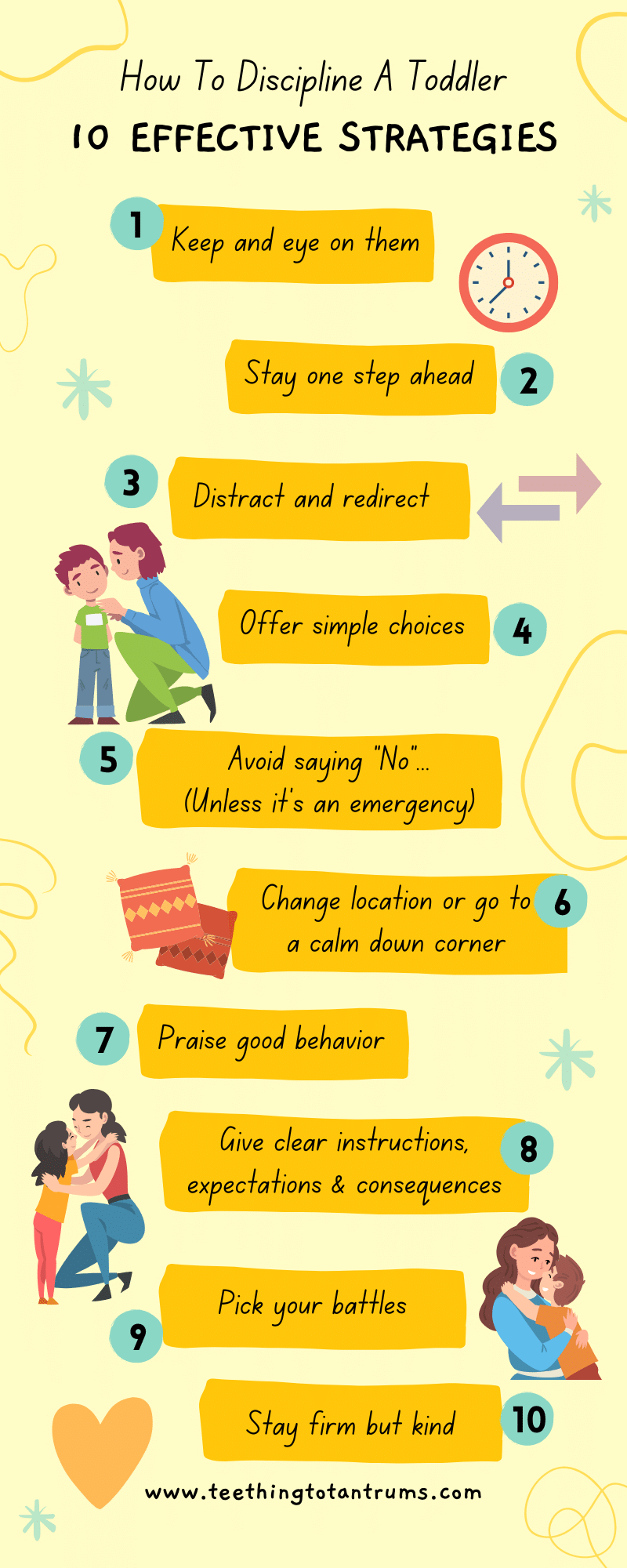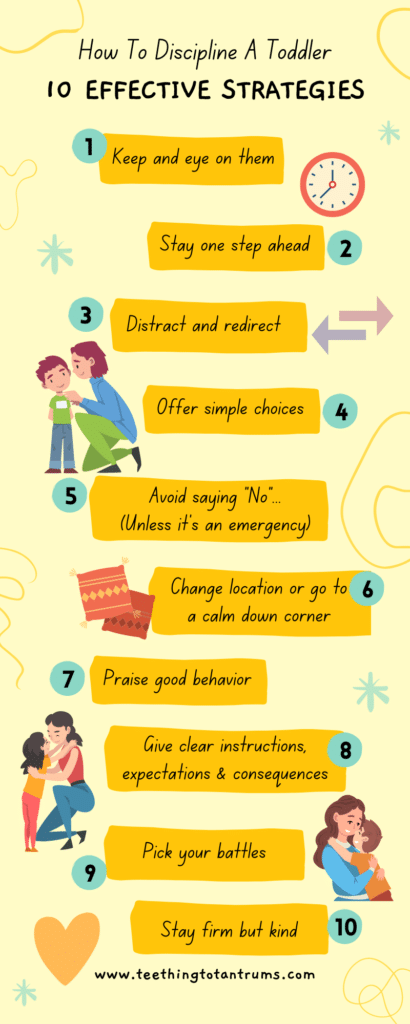 1. Keep An Eye On Them
Whilst this may now seem like a discipline tool…
You cannot help your child learn appropriate behavior if you aren't there to teach them how.
This being said… it doesn't mean you need to oversee and solve every problem your toddler encounters. It means you need to be able to advise and guide your little one to behave appropriately.
Plus, the more you watch your toddler, the more you'll be able to spot what situations set them off and how you can help.
2. Stay One Step Ahead
By staying one step ahead of your toddler, you can predict and act before unwanted bad behavior occurs.
A good example is if you know your toddler always throws a meltdown because they want chocolate at the store, you can avoid the aisle entirely and direct their attention elsewhere.
3. Distract And Redirect
Distraction and redirection work exceptionally well for toddlers aged between 12-18 months old, but also work brilliantly for older toddlers and preschoolers too.
So, if you see a toddler tantrum building, try to distract your toddler with something completely different that they like to do.
The trick is to make the alternative option engaging and exciting so they don't feel like they're missing out. And at this age, kids love to help you so ask them to join you away from a challenging situation too.
4. Offer Simple Choices
For older children, one of the best ways to discipline a toddler is to offer two simple choices to help to defuse potentially volatile situations.
It is important to offer 2 choices that you're happy with to keep your little one from becoming overwhelmed in a moment of already heightened emotions.
This tactic also helps your little one feel empowered and independent which (if suppressed) is often a trigger for unwanted negative behavior in the first place.
5. Avoid Saying "No"
Now… I know this is tough but try to avoid saying "No" to your toddler and ONLY use it for extreme situations (like when your toddler is in imminent danger).
Overuse of the word "No" means it will lose its impact and can be very demoralising for your toddler if they are always being told they cannot do something over and over.
Instead, change your words and tell your children what they CAN do!
6. Change Location
This discipline strategy is one of my favourites when all else fails… When things are getting out of hand, change your location.
As simple as it sounds, toddlers are usually quite easy to distract and taking them to another room or outside for some fresh air will often do the trick to calm them down.
Creating a calm down corner to take your child for some quiet time is also a wonderful way to help diffuse a situation. These spaces are not like timeout zones.
7. Praise Good Behavior
Disciplining your children towards good positive behavior is more about praise and rewards than anything else.
When your child listens, responds or is kind and caring be sure to give them lots of praise for it.
Because despite how self-centred they seem, your toddler will still want to please you and see you happy. And positive attention is always better than negative attention!
8. Give Clear Instructions, Expectations And Consequences
You must always give clear instructions if you want your toddler to do something specific.
TOP TIP: They can't follow the rules if they don't know what they are!
Get down to their level, make eye contact and (if they are old enough) get them to repeat back to you what you have said.
Shouting instructions over your toddler's head very rarely works.
If your toddler understands the rules and then ignores them, ensure you follow through with the consequence.
For example: Putting their crayons away because they drew on the table instead of the paper as you asked.
9. Pick Your Battles
You don't want to be constantly having standoffs with your toddler so before you decide to push through with a point ask yourself "Is it worth it?", because once you commit to disciplining them you MUST follow it through.
The counterpoint to this is that if you've already stated the consequence of unwanted behavior BEFORE the activity or event began… you MUST follow through with it regardless of how small the incident may now seem.
This is to ensure that your toddler learns that the rules laid out cannot be dismissed easily.
10. Stay Firm But Kind
This is a discipline tactic that I have always lived by when communicating with children.
There is no need to yell at children. Simply use a firm and steady voice which makes it clear to your toddler that you're not going to waver and are serious about the situation.
REMEMBER: Our job as parents and carers is to nurture and guide the children in our care to be decent human beings NOT to force them into complying with our wishes no matter what.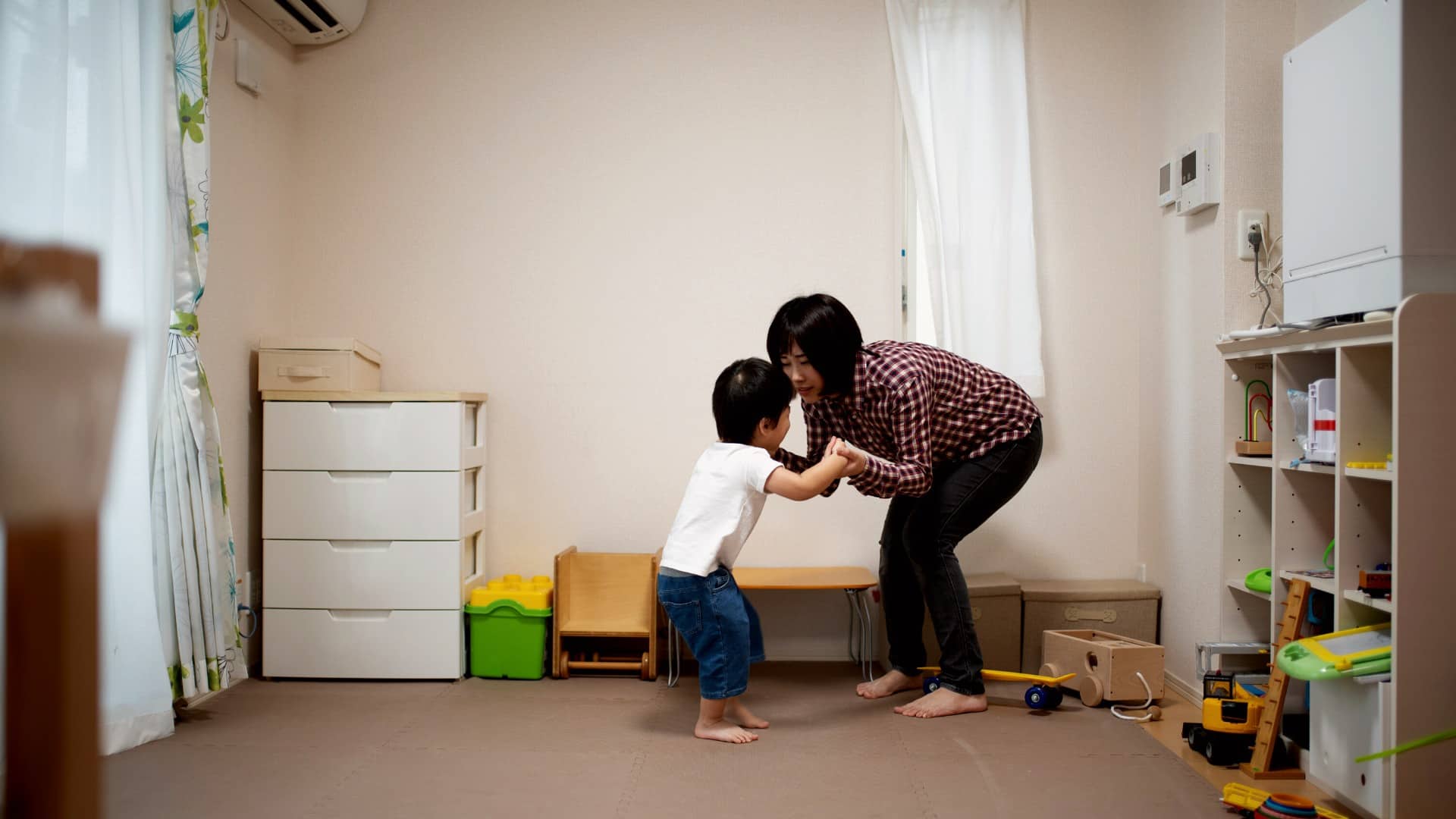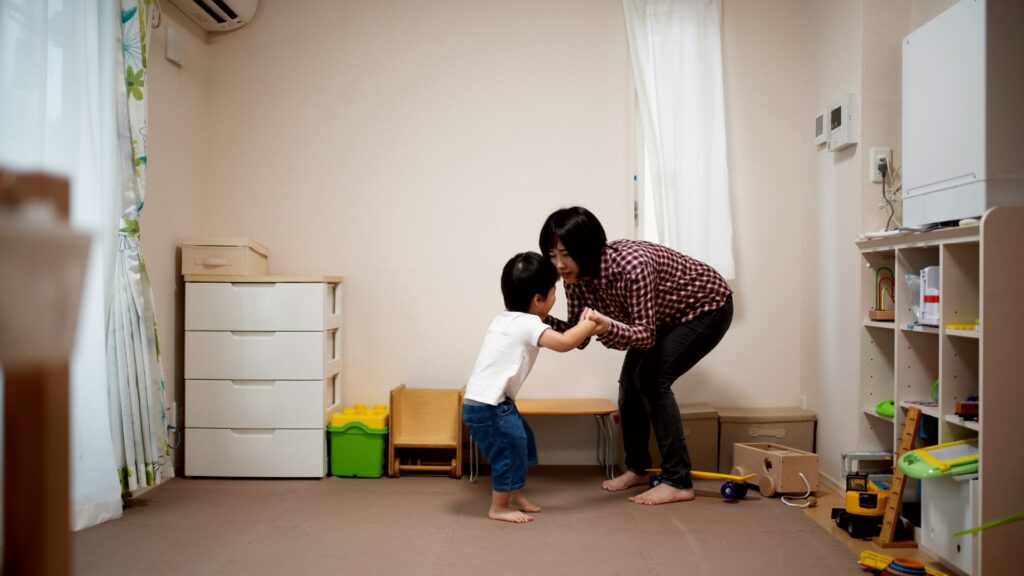 How NOT To Discipline A Toddler
Following on from above, effective discipline does NOT include the following:
Don't give in. Stick to your boundaries.
Don't force your toddler to say "Sorry". Young toddlers do not understand the concept of apologising so save this for older children who know what's going on.
Don't ask them WHY they are behaving badly or WHY they did what they did… Toddlers under 4 years never do anything out of malice or a desire to hurt.
Don't shout and yell. This only escalates the problem and makes your children scared of you and can lead to behavioral problems and depression as your child grows up.
Don't ridicule or blame. This form of discipline will make your child feel embarrassed which can lead to them avoiding you and distancing themselves in the future.
Don't negotiate or bribe. Toddlers are very clever and if they realise they can get away with certain behaviors to get what they want… You will encounter a lot more unwanted behavior and temper tantrums in the future.
Never use physical punishment. Children are simply learning how the world works… So, you should NEVER hit a child for making a mistake or for not listening. It will not benefit you and it certainly will not benefit them. You will only be critically damaging the bond between you and your child.
REMEMBER: Knowing how to discipline a toddler is far more than just saying "No" to your child. Saying "No" should be saved for swift action that is needed if your toddler is about to engage in potentially dangerous behavior… Such as grabbing a hot cup of coffee off the table.
How To Discipline A Toddler Who Doesn't Listen?
Disciplining a toddler who doesn't listen can be challenging, but ultimately it requires a lot of patience and consistency from you.
Using positive reinforcement and having age-appropriate consequences for unwanted behaviors, such as time-outs or loss of privileges are the best tactics to use. But it's incredibly important to be consistent with these techniques and to set clear expectations for what you look for in your child's behavior.
Want to stop your children from yelling, shouting & throwing tantrums... Whilst helping them listen to you and building a healthy strong relationship? Look no further than Calm Connections and transform your family's life for years to come.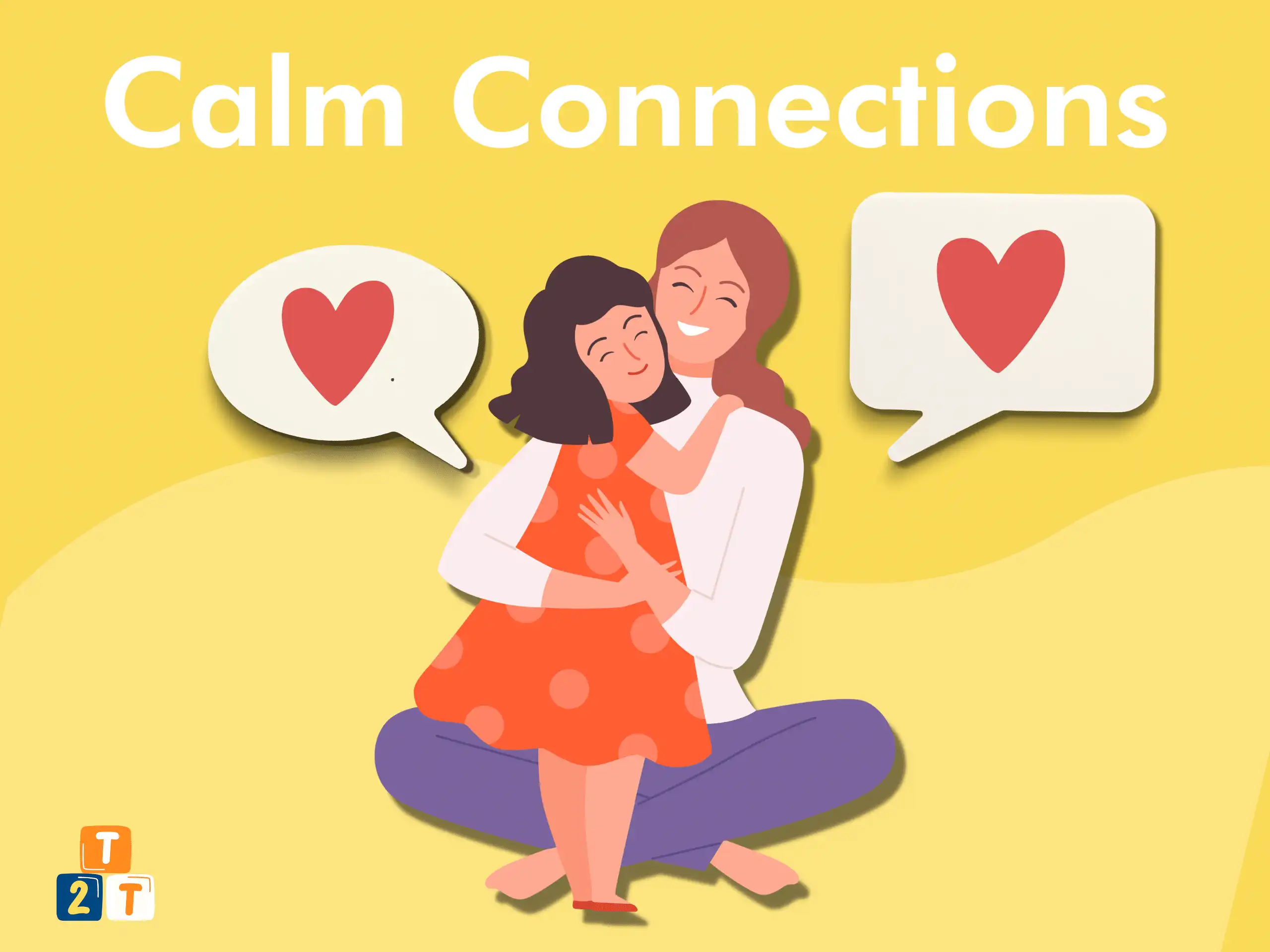 Calm Connections: How To Talk To Your Child So They'll Hear...
Understand the best way to communicate with your child in different situations,

so you feel more confident, relaxed, and in control... even during the most challenging moments.
Learn how to set clear boundaries

and engage your child's cooperation

Break free from tantrum cycles and promote healthy alternatives

(without using punishment)

Learn my trade secrets

(collected over 40+ years in the childcare industry) to

get your child to listen to you without shouting
Promote kindness and honesty

to prioritize a respectful relationship with your child
Click Here Learn More
How To Discipline A Toddler Who Throws Food?
There are usually three reasons why your toddler will throw food…
To get a reaction from you.
They don't like the food they have been given.
They don't like feeding themselves. If you think this is the case, read my post My Toddler Won't Feed Himself to learn more about how to handle this tricky situation.
So here are some quick tips on how to deal with a toddler who throws food.
1. Don't Overreact
Toddlers love a reaction to their behavior so if you act like it is no big deal in many cases they will stop throwing food relatively quickly.
2. Offer Small Amounts Of Food At A Time
If your toddler feels overwhelmed by the amount of food in front of them, this may prompt them to throw it away. So try giving them smaller portions and don't rush their meals.
3. Sit With Your Toddler During Meal Times
If your toddler is feeling ignored during mealtimes they may throw food on the floor to get your attention. If you sit with them and are chatting with them, they are less likely to throw the food.
4. Be Firm
You can also try making it clear that throwing food is not acceptable by placing your hand firmly but gently on theirs and saying "Food is for eating, not for throwing".
The key here is balance not giving them a big reaction whilst being firm.
5. End The Meal
This may be a tough one for some families… But if your toddler persists in throwing food, simply end the meal.
Once your little one realises that throwing food = no more food and you're not going to give in, they may stop doing it.
6. Remember, It's Just A Phase
Most toddlers will at some point throw their food, usually between 1 year and 18 months and, despite how frustrating this habit is, this phase will pass eventually… So stay calm and try not to react.
Looking to get your little one to sleep quickly and effortlessly? Check out my Bedtime and Nap Cheat Sheet and master the art of making daytime naps and bedtimes as seamless as possible.
Download Our FREE Bedtime & Nap Cheat Sheet
A bedtime & nap cheat sheet so good your little one will ask you to put them to bed...
Laura Williams "This is a life saver! I'm so glad I downloaded your bedtime & nap cheat sheet. My little one actually asked me to put him to bed last night! Unbelievable! Thank you so much!"
Click Here For The FREE Cheat Sheet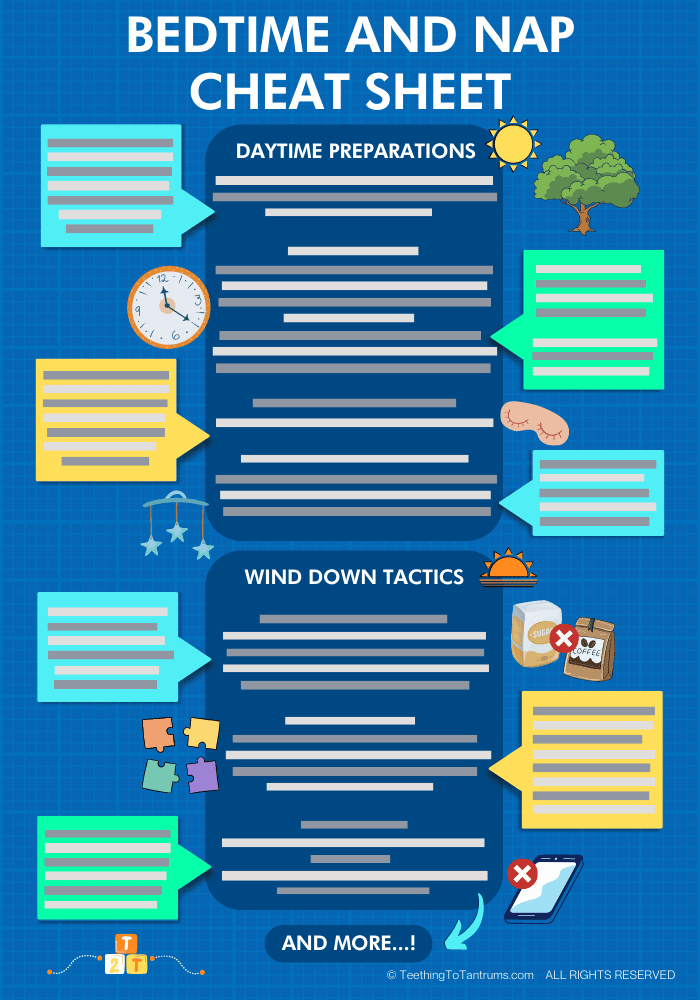 Frequently Asked Questions About How To Discipline A Toddler
Looking for more information about how to discipline a toddler? Find the answers to the most common questions here.
What Can I Do If My Toddler Hits Himself When Disciplined?
If your toddler hits himself when being disciplined, stay calm.
Although this aggressive behavior can be alarming, it is a physical expression of your toddler's inability to deal with their developing emotions in an attempt to self-soothe their way out of the anger and frustration they are feeling.
If this happens, you must stay calm and hold your toddler in a firm but comforting way until they calm down.
It will help to watch for triggers and to try and avoid your toddler finding themselves in situations where they feel overwhelmed and angry.
NOTE: This is usually a passing phase that stops once they can process their extreme emotions. But if you're struggling to handle this behavior, contact your local GP or childcare expert for further advice.
How To Discipline A Sensitive Toddler?
Sensitive toddlers are more likely to become overwhelmed and react in extreme ways to being frustrated, angry or scared.
However, if you have a sensitive toddler who is learning how to deal with extreme emotions, you must not back off on discipline.
Discipline and boundaries will ensure your child feels safe and secure within these moments of intense emotion.
Similar to the best way to discipline a toddler, when disciplining a sensitive soul remember this:
Sensitive toddlers respond well to boundaries as it makes them feel safer.
Avoid over-stimulating situations that are likely to lead to meltdowns.
Learn what triggers bad behavior and try to avoid or pre-empt them.
Sensitive toddlers can feel bad if they get into trouble so avoid blaming them.
Make eye contact and give clear instructions.
Stay calm and caring.
Acknowledge and give words to their feelings.
Offer a solution.
At What Age Do You Start To Discipline A Toddler?
When it comes to toddlers they need to be 2 years old before they can fully understand the consequences of discipline.
But this does not mean that we can let our 1-year-old or 18-month-old toddlers do whatever they want until then.
TOP TIP: Establishing guidelines before your child becomes a toddler will make disciplining much easier. A child that is already used to subtle boundaries will respond far better to discipline than one that has little or no structure in their daily routine until now.
If Unwanted Behavior Is Escalating, When Do You Step In To Discipline A Toddler?
As strange as it seems, being firm and drawing a clear line for your child that a certain type of behavior is unacceptable actually makes them feel safer and more secure.
With this in mind, it will make it easier for you to stand your ground on occasions when things have got to a point of no return and your toddler's unwanted behavior is escalating.
In these situations, removal and redirection are your best options.
Change location by taking your toddler to another room or outside. Let them calm down and then offer an alternative activity.
Your toddler's bad behavior must not succeed in getting them what they want as this will reinforce in their head that: screaming + bad behavior = the result they want.
Which is the exact opposite of the behavior we are trying to establish.
Depending on the age of your toddler you can also explain what happened and why emotions ran high once things have calmed down. (I would suggest doing this if your little one is aged 2 and up.)
How To Discipline A 1-Year-Old Toddler
For this age group, distraction and redirection works best.
To discipline a 1-year-old you need to remember that they live in the moment and are easily distracted and interested in an alternative toy, activity or location.
How To Discipline An 18-Month-Old Toddler
At 18 months, toddlers have a comprehension and a desire to do things way beyond their ability to communicate verbally.
This easily leads to frustration and sometimes biting and/or hitting.
You will need to react swiftly to deal with these behaviors and be aware that they may not necessarily remember from one day to the next what behavior is unacceptable.
Being consistent and calm is key.
How To Discipline A Two-Year-Old Toddler
To discipline a 2-year-old you can now use more words and encourage them to use words to express how they feel too.
They will be able to understand far better the consequences and reasons why they need to behave in a certain way.
Offering simple choices and explaining clearly what you want them to do will go a long way to helping you guide your two-year-old towards good behavior.
You can also try using emotional flashcards like these to help your child express their emotions to you.
Need More Parenting Help?
Download our FREE Perfect Sleep Cheat Sheet. It's a free, easy-to-use and proven formula designed for parents of 0-5 year olds to master the art of consistently undisturbed and restful sleep without the yelling, nagging or exhausting long-winded evenings.
Check out our Parenting Toolbox. You'll get access to expertly-chosen products that you can guarantee are the best for your little one and your wallet.
Ready to create the calm, peaceful evenings you deserve? Then checkout our most popular course - The Bedtime Battles Masterclass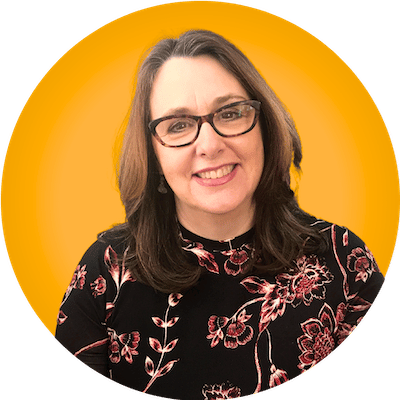 Paula McLaren - The founder of Teething to Tantrums has been in the childcare industry as a Norland Nanny and Childcare Expert since 1982. Her qualifications include a BA (Hons) in Early Years Development & Learning (0-6 Years) plus the highly prestigious Norland Diploma, recognized as the best early years practitioner qualification in the world. During her 40+ years of experience, she has worked as a night nanny (specializing in solving sleep issues), run a very successful daycare center in London, and raised almost 100 children, including her son, to be kind, healthy, and happy individuals with her tried and tested developmental and guidance methods.
Download Our FREE Bedtime & Nap Cheat Sheet
A bedtime & nap cheat sheet so good your little one will ask you to put them to bed...
Laura Williams "This is a life saver! I'm so glad I downloaded your bedtime & nap cheat sheet. My little one actually asked me to put him to bed last night! Unbelievable! Thank you so much!"
Click Here For The FREE Cheat Sheet