Are you wondering if having chores for 4 year olds is a good idea? Although this can be a dividing topic, if dealt with properly, I feel the answer is a resounding yes!
At this age, young children are eager to help and learn new things. Therefore, giving them simple tasks around the house not only helps with their development, but it has many other benefits such as teaching them basic responsibility and teamwork.
What Chores Can 4 Year Olds Do?
Simple chores for 4 year olds include picking up toys and dirty clothes, feeding pets, and making their bed. They can also help with preparing simple family meals, sorting laundry and laying and clearing the table after meals.
List Of Chores For 4 Year Olds
Here are some more examples of chores for 4 year olds that your preschooler can handle: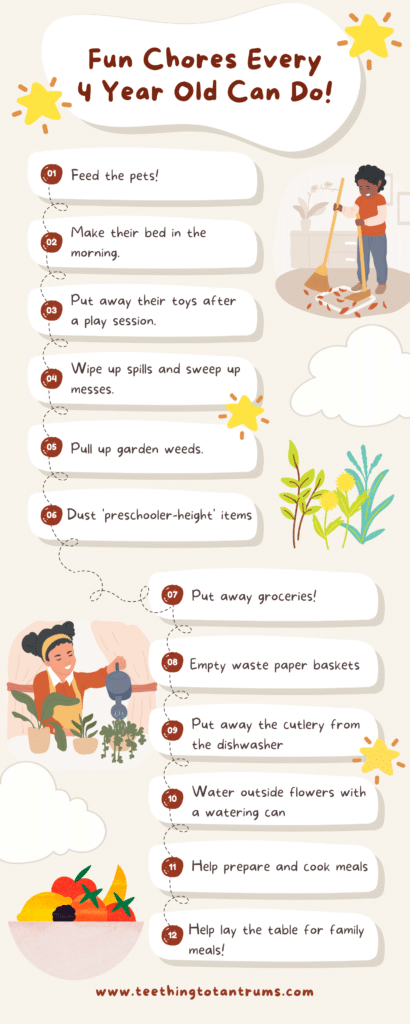 | | |
| --- | --- |
| Chore | Description |
| Feed pets | Show your child how to measure out food and water for your pets. |
| Make bed | Teach your child to pull up the duvet and arrange the pillows. |
| Put away toys | Encourage your child to put away their toys when they're done playing. |
| Wipe up spills | Show your child how to clean up spills with a rag or paper towel. |
| Pull up weeds | If you have a garden, let your child pull up unwanted plants. Give them a set of gardening gloves and show them which plants get removed and which ones stay. |
| Dusting | Give your child a dusting cloth and make it a competition to see how much dust they can collect from around the house. |
| Put away groceries | Get your child to separate food into fridge and cupboard piles and then help you put them away into low cupboards and pass food for you to put into the fridge and freezer. |
| Empty wastepaper basket | Show your child how to empty small trash cans from around the house into a big bin to help with tidying up. |
| Empty the cutlery from the dishwasher | Give your 4 year old the cutlery basket and let them put the cutlery back into the drawer. |
| Water flowers | Again, if you have a garden, encourage your child to water plants (sunflowers, tomatoes, herbs, roses etc) with a watering can. |
| Cooking and preparing meals | With adult supervision, you can get your 4 year old to help in the kitchen when preparing family meals. Simple tasks such as measuring pasta, mixing sauce and taste testing are all vital jobs that need to be completed. |
| Laying the table | With supervision, help teach your child how to lay the table for family mealtimes (start with plastic cutlery and work your way up to proper crockery) |
REMEMBER: Assigning daily chores to your 4 year old may seem daunting at first, but it's an important part of their development. And by giving them age-appropriate tasks, you are helping them develop important life skills and a sense of responsibility.
Advantages Of Chores For 4 Year Olds
By assigning chores to your 4 year old, you are teaching them important life skills that they will use throughout their entire life.
They will learn to take care of their space and belongings, and they will develop a sense of pride and accomplishment when they complete their tasks.
Additionally, doing chores can help your child feel like a contributing member of the family and children who do chores may exhibit higher self-esteem and be better equipped to deal with frustration, adversity, and delayed gratification.
Want to stop your children from yelling, shouting & throwing tantrums... Whilst helping them listen to you and building a healthy strong relationship? Look no further than Calm Connections and transform your family's life for years to come.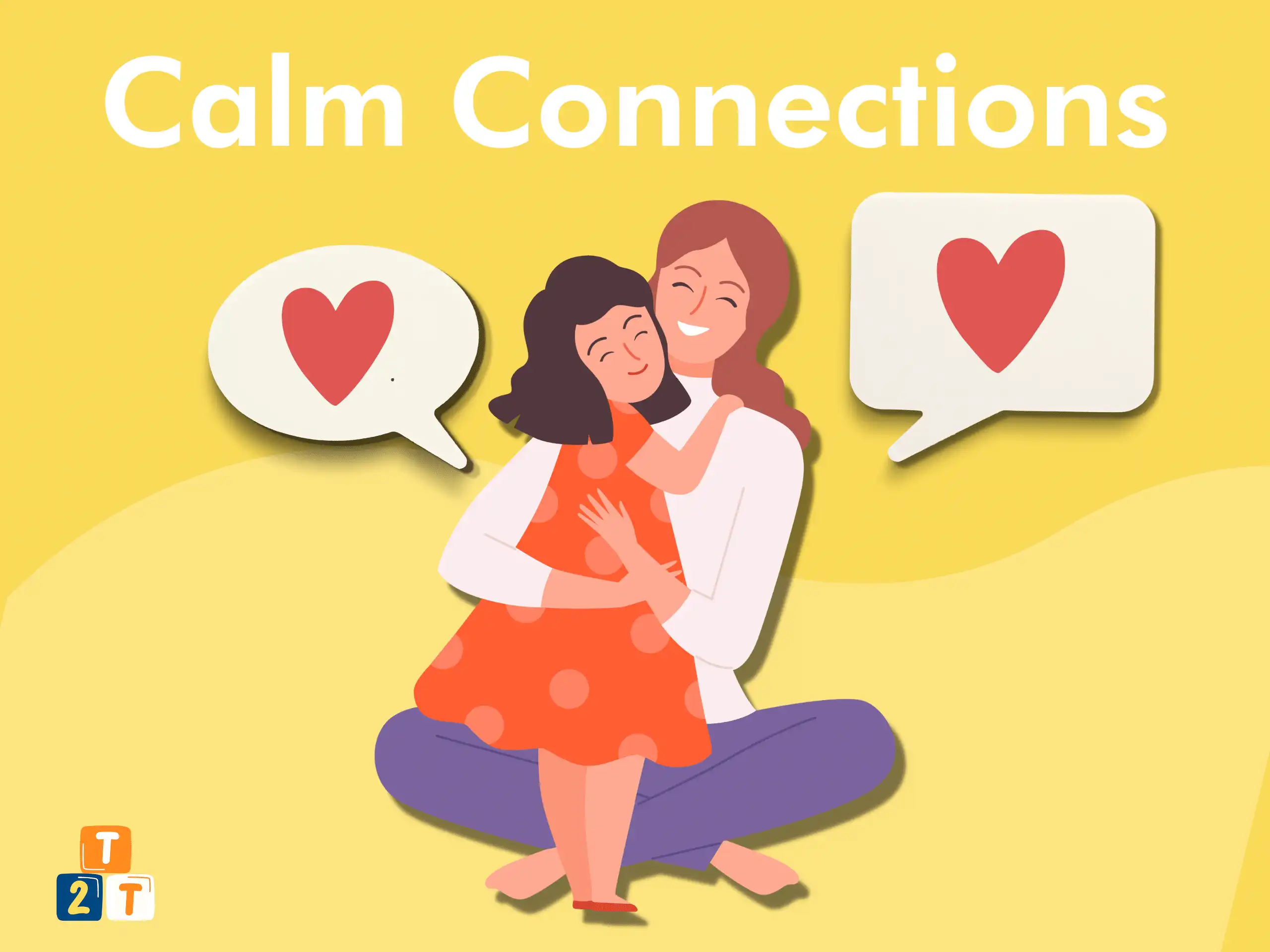 Calm Connections: How To Talk To Your Child So They'll Hear...
Understand the best way to communicate with your child in different situations,

so you feel more confident, relaxed, and in control... even during the most challenging moments.
Learn how to set clear boundaries

and engage your child's cooperation

Break free from tantrum cycles and promote healthy alternatives

(without using punishment)

Learn my trade secrets

(collected over 40+ years in the childcare industry) to

get your child to listen to you without shouting
Promote kindness and honesty

to prioritize a respectful relationship with your child
Click Here Learn More
How Can I Make Chores Fun For My 4 Year Old?
Making chores for 4 year olds fun is essential to getting them excited about helping out around the house. Here are a few ways you can make chores more enjoyable for your little one:
Make it a game. Turn cleaning up into a game by setting a timer and seeing how much your child can pick up before the timer goes off. You can also turn sweeping into a game of "dust bunnies" where your child gets to sweep up all the imaginary dust bunnies around the house.
Use a chore chart. Reward your child for completing their chores by creating a sticker chart. This will help your child feel proud of themselves and motivated to continue helping out.
Get them involved in decision-making. Let your child have a say in what chores they want to do and how they want to do them. This will give them a sense of control and make them more invested in the process.
Make it a family affair. This is a very important one. As always, setting a good example is the best way to get your little one to do things. Involve the whole family in cleaning up by turning on some music and having a dance party while you clean. This will make it a fun and social experience for everyone.
Use child-size equipment. Give your 4 year old pint-size equipment to help you clean such as a small broom or mop like this one from Melissa and Doug: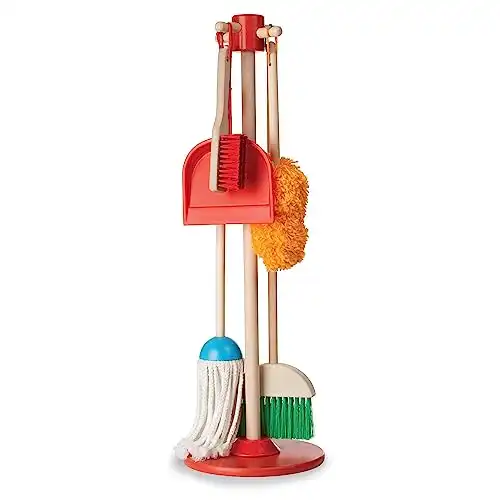 Melissa & Doug Let's Play House Dust! Sweep! Mop! 6 Piece Pretend Play Set
This colorful, kid-sized set looks just like the real thing and includes a wooden pretend play broom, mop, duster, brush, and organizing stand. Perfect for coping you and joining in with household chores, this sturdy set will withstand even the most enthusiastic cleaners!
Buy Now
We earn a commission if you click this link and make a purchase at no additional cost to you.
REMEMBER: It is important that young children find doing chores a positive experience so by implementing these strategies, you can make chores an enjoyable exercise for your 4 year old. Not only will this help them develop important life skills, but it will also strengthen your bond as a family. Win-win!
Chore Charts For 4 Year Olds
When it comes to chore charts for 4 year olds, there are several options available to visualise a chore list:
You can create a simple chart with a list of chores and boxes to check off when each task is completed.
Alternatively, you can use a chore wheel or a magnetic chore chart with pictures and removable chore cards for added flexibility. This magnetic responsibility chart from Melissa and Doug is a great place to start and there are plenty of printable chore charts online.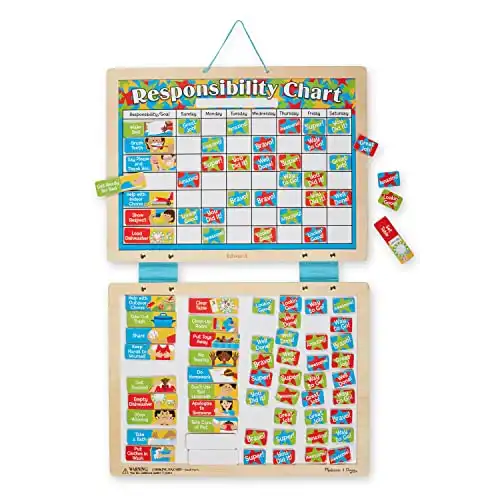 Melissa & Doug Magnetic Responsibility And Chores Chart
This innovative chart is designed to help your child develop good habits and take responsibility for their actions. With its easy-to-use magnetic system, your child can track their progress and earn rewards for completing tasks. The chart encourages positive behaviour and helps your child learn the value of responsibility, making it a must-have for any parent looking to instil good habits in their child.
Buy Now
We earn a commission if you click this link and make a purchase at no additional cost to you.
Whatever option you choose, make sure it is age-appropriate and easy for your child to understand.
Consistency is key when it comes to chore charts. Set up a routine and stick to it.
This will help your child understand what is expected of them and make it easier for them to complete their tasks with a visual reminder.
Natural consequences can also be a helpful tool. If your child does not complete their chores, they may miss out on a fun activity or lose a privilege.
REMEMBER: There should never be harsh repercussions for not completing a chore and you should never tell your 4 year old off. Simply explain the consequence and follow through calmly.
The Pros and Cons of Chores for 4 Year Olds
Giving your 4 year old chores can have both advantages and disadvantages. So before you decide to give your little one some simple toddler chores here are some pros and cons to consider: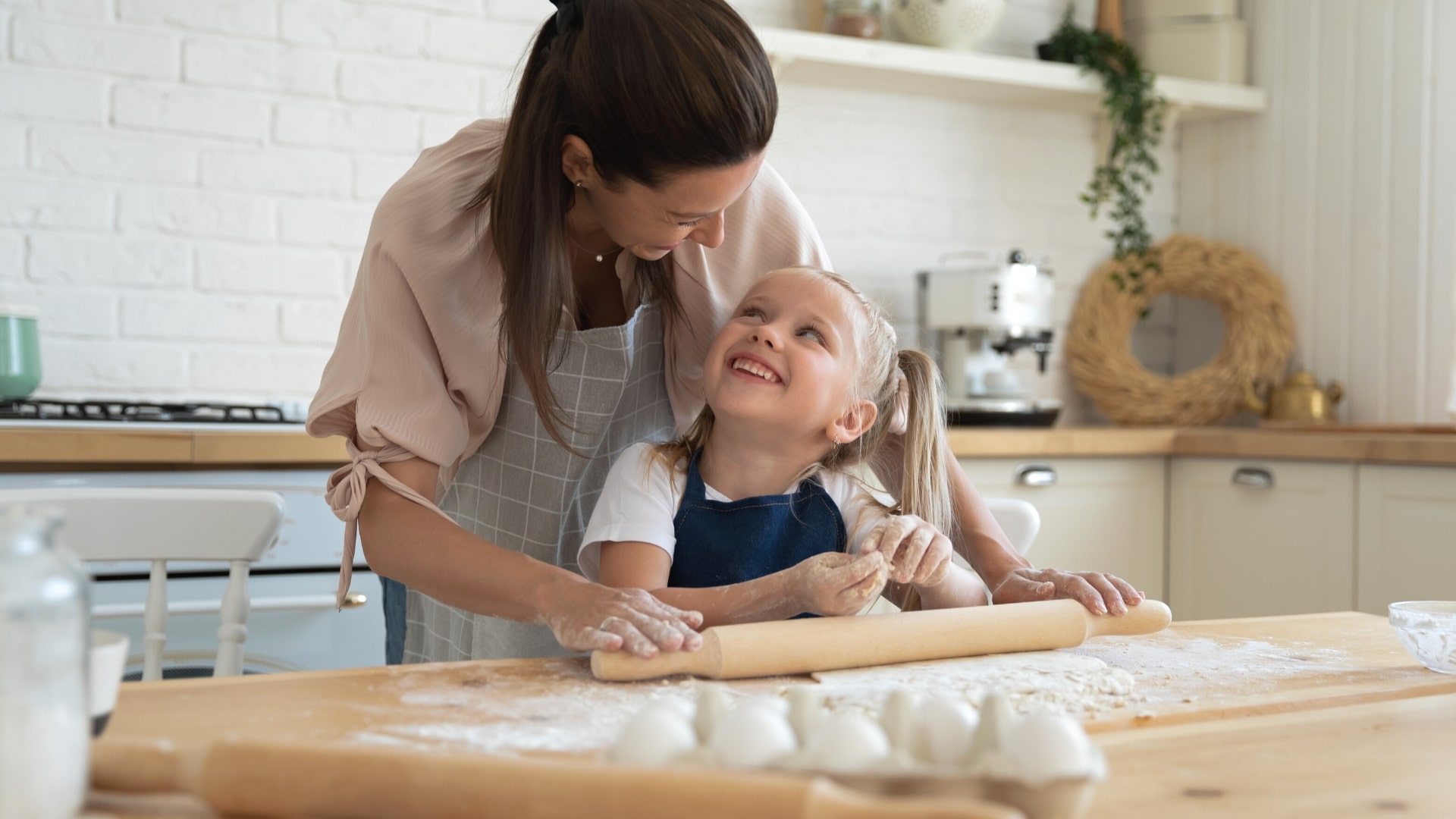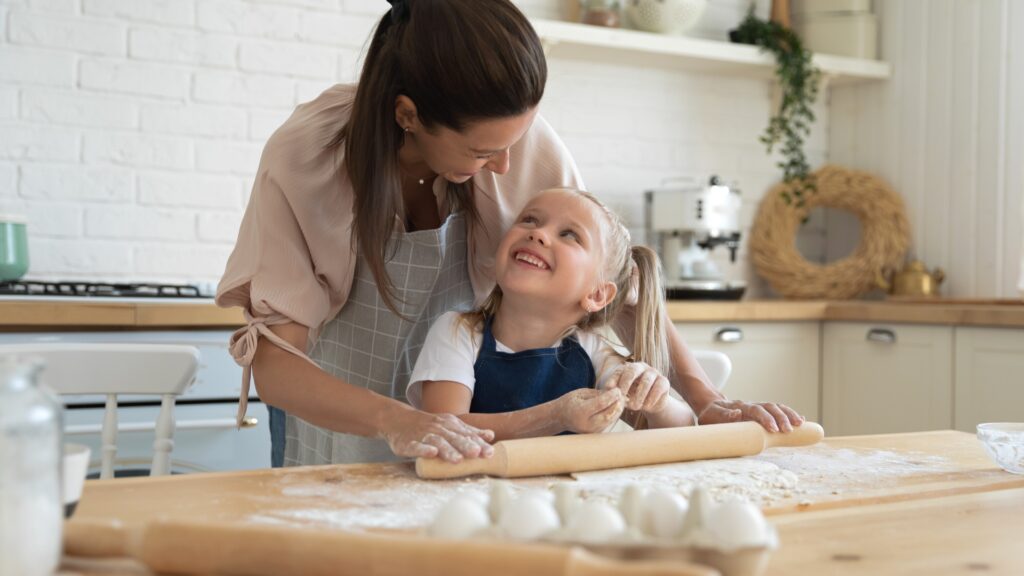 Pros of Chores For 4 Year Olds
Teaches responsibility: Giving your child age-appropriate chores can teach them responsibility and the importance of contributing to the family.
Boosts confidence: When your child successfully completes a task, it can boost their confidence and sense of accomplishment.
Develops life skills: Daily chores for 4 year olds can help your little one develop important life skills such as organization, time management, and problem-solving.
Prepares them for the future: By giving your child chores at a young age, you are preparing them for future responsibilities and independence.
Develops communication skills: Talking about chores and talking about how best to carry out the chore will develop your little one's communication and language skills.
Develops fine and gross motor skills: Many of the chores for 4 year olds will further develop their motor skills as they're pysical and will require practice to master.
Improves social skills: Working with others to complete chores improves their social skills.
Cons Of Chores For 4 Year Olds
Short attention span: Young children of this age have short attention spans so their chores need to be achievable in a relatively short period of time. complicated chores will not end well.
Frustration: On that note, your child may become frustrated or overwhelmed if the chore is too difficult or if they don't understand how to complete it. Make sure to provide clear instructions and break down the task into smaller steps.
Lack of interest: Your child may not be interested in certain chores, which can lead to resistance and refusal to complete them. Offer choices and incentives to make the chore more appealing.
Overtiredness. If your child is overtired, getting them to complete chores will be a challenge. Focus on getting them into a healthy sleep routine and you will have a much happier and calmer child on your hands.
Looking to get your little one to sleep quickly and effortlessly? Check out my Bedtime and Nap Cheat Sheet and master the art of making daytime naps and bedtimes as seamless as possible.
Download Our FREE Bedtime & Nap Cheat Sheet
A bedtime & nap cheat sheet so good your little one will ask you to put them to bed...
Laura Williams "This is a life saver! I'm so glad I downloaded your bedtime & nap cheat sheet. My little one actually asked me to put him to bed last night! Unbelievable! Thank you so much!"
Click Here For The FREE Cheat Sheet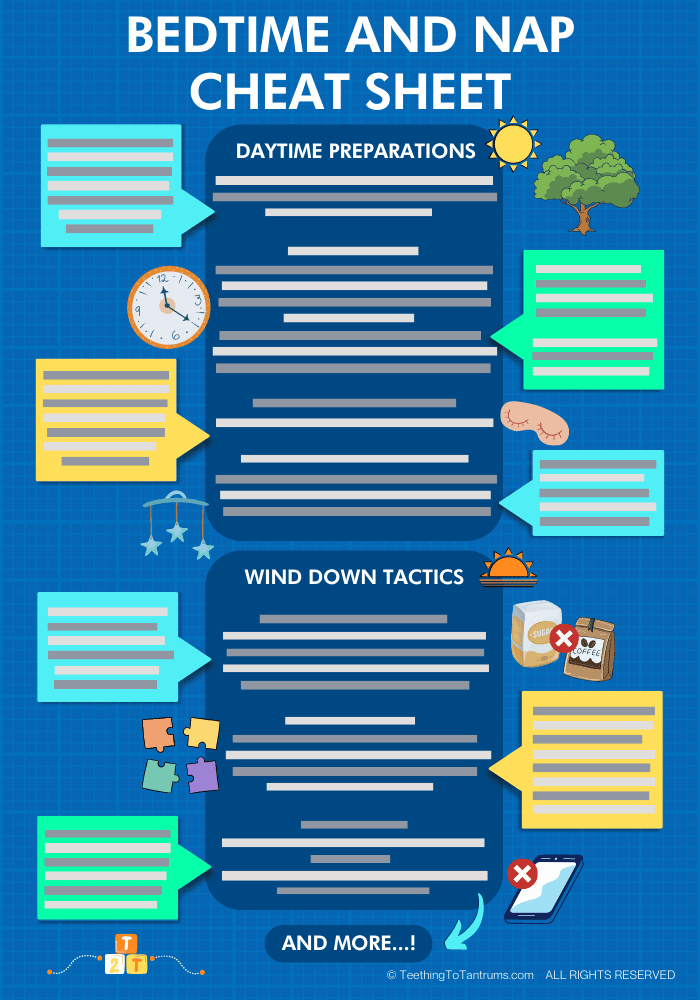 Frequently Asked Questions About Chores For 4 Year Olds
Looking for more information about chores for 4 year olds? Here are the answers to the most commonly asked questions.
What Are The Benefits Of Assigning Chores To Young Children?
As I mentioned earlier, assigning chores to young children helps them develop a sense of responsibility and independence. It teaches them life skills that they will need as they grow older. Additionally, chores for 4 year olds will help build your child's self-esteem and confidence.
What Are Some Age-Appropriate Chores For Young Children?
For young children, age-appropriate chores include helping sort laundry, picking up toys, putting away shopping, and setting the table. As they get older, they can take on more complex tasks like outside sweeping, proper dusting, and folding laundry.
What Are Some Examples Of Household Tasks A 4 Year Old Can Do?
A 4 year old can help with simple household tasks such as wiping down surfaces, picking up toys and folding towels. They can also help with tasks like setting the table, putting away dishes, and watering plants or filling the pet's water bowls.
How Can I Encourage My 4 Year Old To Help With Chores?
The best way to encourage your 4 year old to help with chores is to make it fun! You can turn it into a game or give them a reward for completing their tasks.
Another way to encourage chores is to involve your child in the decision-making process by letting them choose which chore they want to do.
Finally, be sure to give plenty of positive reinforcement, encouragement and praise… and always thank them for their efforts!
In Conclusion
Having chores for 4 year olds can be a great way to teach children responsibility and life skills, but make sure to consider safety concerns and your child's individual, personality, needs and interests.
By involving them in age-appropriate tasks such as sweeping, wiping up messes, and even brushing their own teeth, you can help them to feel like a contributing member of the household.
It's important to remember that young kids may need guidance and encouragement as they learn how to complete these tasks, but giving them the opportunity to help out can be a rewarding experience for both you and your child.
Using tools like chore charts or rewards systems can also help to keep them motivated and engaged.
Overall, it's important to find a balance between giving your preschooler enough responsibility to help them grow and not overwhelming them with tasks they may not be ready for.
With patience and consistency, you can help your 4-year-old develop important life skills that will serve them well in the years to come.
Need More Parenting Help?
Download our FREE Perfect Sleep Cheat Sheet. It's a free, easy-to-use and proven formula designed for parents of 0-5 year olds to master the art of consistently undisturbed and restful sleep without the yelling, nagging or exhausting long-winded evenings.
Check out our Parenting Toolbox. You'll get access to expertly-chosen products that you can guarantee are the best for your little one and your wallet.
Ready to create the calm, peaceful evenings you deserve? Then checkout our most popular course - The Bedtime Battles Masterclass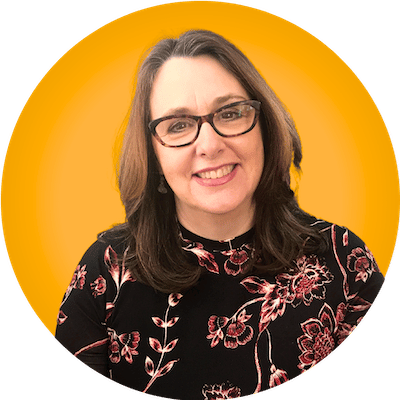 Paula McLaren - The founder of Teething to Tantrums has been in the childcare industry as a Norland Nanny and Childcare Expert since 1982. Her qualifications include a BA (Hons) in Early Years Development & Learning (0-6 Years) plus the highly prestigious Norland Diploma, recognized as the best early years practitioner qualification in the world. During her 40+ years of experience, she has worked as a night nanny (specializing in solving sleep issues), run a very successful daycare center in London, and raised almost 100 children, including her son, to be kind, healthy, and happy individuals with her tried and tested developmental and guidance methods.
Download Our FREE Bedtime & Nap Cheat Sheet
A bedtime & nap cheat sheet so good your little one will ask you to put them to bed...
Laura Williams "This is a life saver! I'm so glad I downloaded your bedtime & nap cheat sheet. My little one actually asked me to put him to bed last night! Unbelievable! Thank you so much!"
Click Here For The FREE Cheat Sheet