So, when does parenting become fun? Well, no one can say that parenting is an easy ride… and that parents are not enjoying raising their children and some are actively hating it.
The sad fact is that the unhappiness and discontent of parents appear to have worsened over recent years with the increased pressure on moms and dads to be perfect in every way and produce perfect children…
Well… I wholeheartedly disagree with this pressure and I'm here to encourage, advise and help parents answer the question "when does parenting become fun?"… to get you LOVING being a parent again!
Challenging Parenting Pressures
Before we start, I have a few questions for you…
Why are we setting ourselves up to fail by placing unrealistic expectations on ourselves?
Who do they help?
Who are we trying to impress?
What do these expectations do to you and your family?
How do these pressures affect your way of life?
Now here's the truth: Competitive parenting leads to dissatisfied parenting.
With social media infiltrating all of our homes, it is very easy to compare and compete. Also, there is a huge amount of advice for you to try to process and figure out what is best for your families. So, how can you even BEGIN to know what to do or not?
Of course, the act of raising a child is nothing new… However, the science of modern parenting is relatively new and with so much information available, it can often give us a disproportionate message about how much time we should be worrying about how good we are as parents and whether we are doing all we can for our children to give them the best start in life.
With the added pressures of modern life such as:
Juggling work and homelife
Having to sift through too much information
And not living in multi-generational homes (generally)
You can easily become overloaded.
And you can easily see how parenting is no longer fun but rather a chore.
When Does Parenting Become Fun?
I am not going to pretend that parenting is a breeze, because it's not.
At times it can be exhausting, frustrating and it can weigh you down with the huge burden of being responsible for another human being.
However, I do believe that the joy and rewards of being a parent far outweigh the bad times.
I think modern parents need to try and adjust their expectations when embarking on parenthood. Without doubt a shift in priorities is required, but this shift can certainly bring you a lot of joy and happiness.
Penelope Leach who has been an expert in parenting for decades says "The mistake people make is to think they can get 'back to normal', but in fact there's a whole new normal. And once you know everything is going to be different, it's easier to find the pleasure in the new life you've got."
The fact is… the happier you are, the happier your children will be, which can go a long way in helping you to enjoy parenting more!
I am a great advocate of learning through play and I do believe we should spend some part of our day 'playing' with our children, but children will also learn so much from just hanging out with us while we do what we normally do.
When you do spend time reading a book, doing an activity or going for a walk with your little one, be present in the moment with them. Put away your phone and throw yourself into looking at the world through your child's eyes.
If you have had some guilt free focused time with your little one you can have some guilt free time doing the other jobs while your little one plays independently later.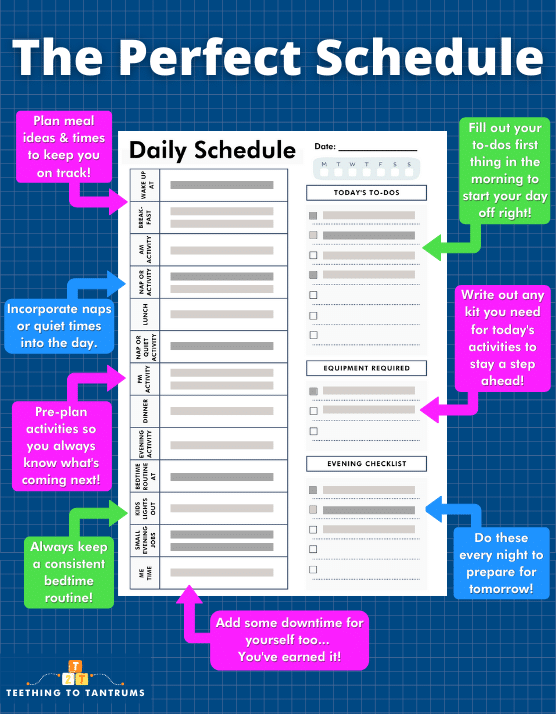 Become a Better Parent Today by Getting The FREE Perfect Parenting Daily Routine...
Download this daily routine template to take back control and get out of perpetual survival mode!
By subscribing, you agree to get emails from Teething to Tantrums. We will respect your privacy and you can unsubscribe any time.
No One Is The Perfect Parent
It is also so important to remember that no one is the perfect parent.
NO ONE.
You can't do it all and if the laundry does not get done on time don't beat yourself up about it especially if it meant that you were able to spend some time playing hide and seek with your little one instead.
Finding joy in parenting is all about deciding what is important and focusing on it.
Don't obsess over or compare your child's progress to others. While it is good to be well informed, acknowledge all children are different and the most important thing is that your child is happy.
Lastly, it is OK to have a bad day or two. No one is perfect and no one can do the right thing everytime.
So, when it comes to being a parent give yourself a break. If you feel you shouted when you shouldn't, gave in when you should have stuck to your guns or you gave your little one a chocolate just to keep them quiet, don't panic.
TOP TIP: Becoming a parent should be a way of life and not something you see as an additional job on your to do list that you have to get done every day. 
Share The Load Of Parenting
There is a saying that it 'takes a village to raise a child' and I think there is a lot of truth in this.
If having a spotless home is important to you and you can afford it, hire a cleaner.
Make use of a trusted babysitter so that you are able to get away for an hour or so either on your own, with your partner or with friends once in a while.
If finances do not permit then share the parenting with your partner, close family members and friends. It is good for your child to get used to spending time and socialising with others!
Although most parenting relies on the mother, if you and your partner both work, get your partner to do bedtime and the early mornings at the weekend.
Share the responsibilities and don't be afraid of asking for help.
Establish A Regular Bedtime For Your Children
Having a regular bedtime for your children is really important as it will give you some child free time at the end of the day. Which will indirectly lead to you enjoying parenting more.
Don't feel guilty that you can't wait to get your little ones in bed at the end of the day. You deserve that down time with no children around. Think of you evenings as an investment into your parenting for tomorrow.
If you want parenting to become more fun than you need to sleep and so do your children.
Establishing a regular and healthy bedtime routine should be one of your first priorities and you don't have to wait. You can start building a bedtime routine from the moment you bring your baby home. See my post on Hacking The Bedtime Routine for help in establishing that all important bedtime.
Share Your Feelings
We can easily spend too much time complaining about being a parent.
It is important not to feel isolated, so joining a mother and baby group or toddler playgroup will give you other mothers to talk to.
While it is good to share your exhaustion about parenting with a fellow parent so you don't feel alone… Don't forget it is also good to share the little triumphs too!
Try and find a fellow parent who has a positive attitude that you can feed off and who can encourage you if you are feeling overwhelmed.
So When Does Parenting Get Easier?
Without doubt there are challenges at all ages of parenting.
The sleep deprived early months are some of the hardest… but once your baby is sleeping through the night, things should get easier and you will feel more in control and more human.
The same is true once your child begins to attend daycare or preschool. You will find you have more time to yourself which will help to make the time you do spend with your children easier and more fun.
Knowing this will pass and they will be moving onto the next phase may make you enjoy the demanding baby and toddler years more.
TOP TIP: If you are looking for advice online or in a book, look for an ethos that instinctively feels right and in tune with what you would like to achieve as a parent. 
17 Ways To Make Parenting Easier
Parenting is known to be easier when parents adopt the following approach. And when parenting gets easier, parenting becomes more fun.
So try to keep these things in mind and you will begin to find more joy in your child and parenting:
Look at the world through a child's eyes
Be consistent and set boundaries
Stick to a regular bedtime for their children
Don't be scared to say 'no'
Have fun and laugh a lot
Have a sense of humour
Listen to your children & take interest and be in the moment
Be flexible
Give lots of love and praise
Model tolerance, compassion and patience
Accept that it's OK to have a bad day
Don't treat parenting as part of a to do list or job
Adjust your expectations
Share the parenting load
Don't try to be the perfect parent
Don't compare your family life to others
Keep things simple
A Final Word
Enjoying being a parent is all about adjusting expectations.
Acknowledge that you have them to yourself only for the first 4 years of their life and these are precious years when you can rediscover the world through their eyes and establish a lifelong relationship that will become one of your most valued and precious.
You will enjoy your children more if you are truly present and listen to what they have to say.
Finally, keep things simple. Children don't actually need a lot of 'things'. They need you, love and boundaries.
Fancy toys and lots of extra curricular activities are not essential to your children's happiness so try and keep these things in perspective. You might find you enjoy parenting more if you take the pressure off in these areas!
Steve Biddulph, respected psychologist and author puts parenting into perspective when he says:
"Let's face it… how much chasing around parks, flying kites or eating ice-creams on the beach would we do, without kids to do them with?"
REMEMBER: Kids are capable of showing us how to have fun, but only if we pay attention.
And there you have it! The the answer to 'when does parenting become fun?'!
If you enjoyed this post about "When does parenting become fun?" and know any other parents who would enjoy this content, be sure to give it a share!
If you have any further questions about parenting struggles or if you have any blog recommendations that you'd like me to write about, then please drop me an email at [email protected] and let me know! I absolutely love hearing from you!
And as always, thank you for your continued support.
Paula McLaren
Paul Mclaren - Norland Nurse NNEB RSH is the founder of Teething to Tantrums and has been in the child care industry as a Norland Nanny since 1982. Since then, her mission has been to help parents become the best they can possibly be. And each year, she continues to help more families understand their child's development, the trials and joys of parenting and of course, how to care for their little ones.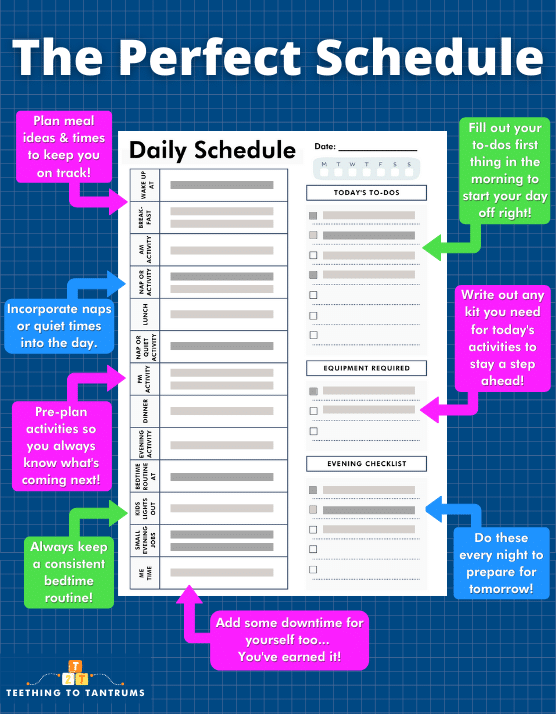 Become a Better Parent Today by Getting The FREE Perfect Parenting Daily Routine...
Download this daily routine template to take back control and get out of perpetual survival mode!
By subscribing, you agree to get emails from Teething to Tantrums. We will respect your privacy and you can unsubscribe any time.