"Ahh! My toddler won't wear shoes!"… It's a common cry of many parents and if you've never had a shoe battle, then you are a VERY lucky parent!
For many, getting your toddler to wear shoes is a DAILY BATTLE as your little one cries and wiggles their way out of their shoes within minutes of you putting them on!
So what can we do when our toddler's simply REFUSE to wear shoes and how can we teach our children to be happy when wearing shoes to reduce those tantrum filled moments?
Also… how can we balance shoe-wearing time and barefoot time? Is going barefoot really that bad? PS: I've included 4 of my favourite shoes for toddlers at the end of the post for you to look into and potentially try with your little one too!
My Toddler Won't Wear Shoes, Why?!
It is quite common for toddlers to not want to wear shoes and it is only really an issue if they are going to be walking on a surface that is not safe for their feet.
Your toddler refusing to wear shoes can easily turn into a regular battle so it is important to put this issue into perspective and then decide what course of action you wish to take to remedy the situation.
So what are the reasons why my toddler won't wear shoes?
5 Proven Reasons Why Toddlers Won't Wear Shoes
They are not ready to wear shoes yet,
They have the wrong type of shoes,
They have outgrown their current shoes,
They know you really want them to put on their shoes and they'll simply resist,
They have sensory difficulties.
And what can cause your toddler to SUDDENLY start hating shoes?
What Triggers A Toddler To Suddenly Hate Shoes?
Their shoes are uncomfortable, inflexible or too small,
They prefer to walk barefoot,
They want to be in control,
Maybe it's the socks?
They have been made to wear shoes to start attending daycare and associate wearing shoes with being away from you,
Maybe they have fallen or tripped whilst wearing new shoes or boots and are scared to wear them in case it happens again.
Whatever the causes, how can we help our little ones be OK with wearing shoes? (Because sometimes it's important to wear them!)
What Do You Do When Your Toddler Refuses To Wear Shoes?
As any parent knows, having a showdown with your toddler about anything you want them to do and they don't, is REALLY TOUGH.
And now that your little one is developing a will of their own there will be occasions when they will refuse to do what you want them to do and the more you try, the more they'll resist!
However, you also need to consider the other reasons why they may not want to wear shoes.
Working out what the underlying cause is behind your toddler refusing to wear shoes at that moment will determine how you deal with the situation moving forward.
4 Quick Questions To Ask Yourself
So, take a second to ask yourself these 4 simple questions…
1. The first question to ask yourself is: "how important is it that my toddler wears shoes?"
Depending on where you live and the time of year, can you let your toddler not wear shoes most of the time?
If they don't want to wear shoes and it is safe for them to not… then let them go barefoot!
2. Another question is: "Am I putting the right shoes on my toddler?"
If your toddler has only been walking for a short while they may not yet be ready for shoes and when you do buy that first pair they need to be professionally fitted and made of the correct soft materials.
An ill-fitting pair of shoes or shoes that are too stiff will put your toddler off wearing them as they do not allow your toddler to feel in control of their walking, running and climbing.
3. "Has my toddler suddenly decided to stop wearing shoes?"
If your toddler has been happily wearing shoes and then suddenly refuses to do so or is constantly taking them off, then maybe their current shoes have become too small and are uncomfortable.
It is important to have your toddler's feet measured regularly to ensure that they are wearing the right-sized shoes.
You should also consider that their feet may be getting hot.
If they have happily been wearing their shoes in the winter and now that the weather is warmer they need sandals or lighter weight shoes.
4. Finally, you should ask: "Does my toddler have sensory difficulties?"
Now… this sounds more alarming than it actually is…
But, once you know if your toddler has sensory issues it can make your life a lot easier, not just with putting on shoes but with general dressing as well!
My son had sensory issues as a young child which manifested itself with him being hugely picky about what he would wear!
So, if your toddler is sensitive to the feel of different fabrics then they are likely to be picky about what shoes they feel comfortable wearing too.
Now you've established what is happening, we can implement some strategies to help them put their shoes on and keep them on!
Download Our FREE Bedtime & Nap Cheat Sheet
A bedtime & nap cheat sheet so good your little one will ask you to put them to bed...
Laura Williams "This is a life saver! I'm so glad I downloaded your bedtime & nap cheat sheet. My little one actually asked me to put him to bed last night! Unbelievable! Thank you so much!"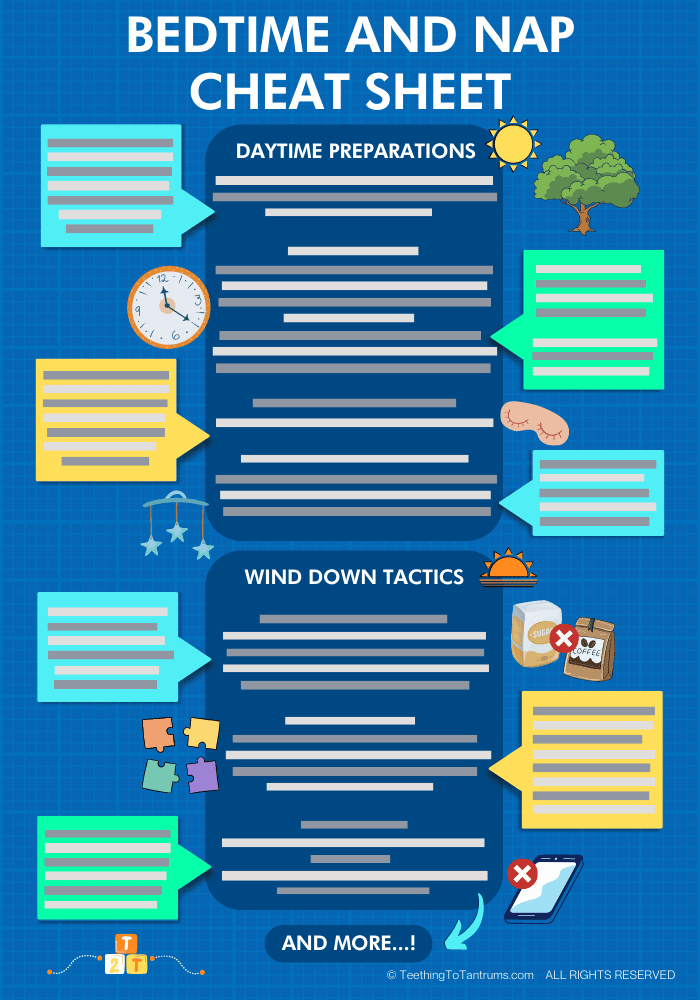 5 Simple Tricks To Get A Toddler To Keep Their Shoes On!
Armed with these 5 SIMPLE TRICKS you should be ending shoe-battles in no time!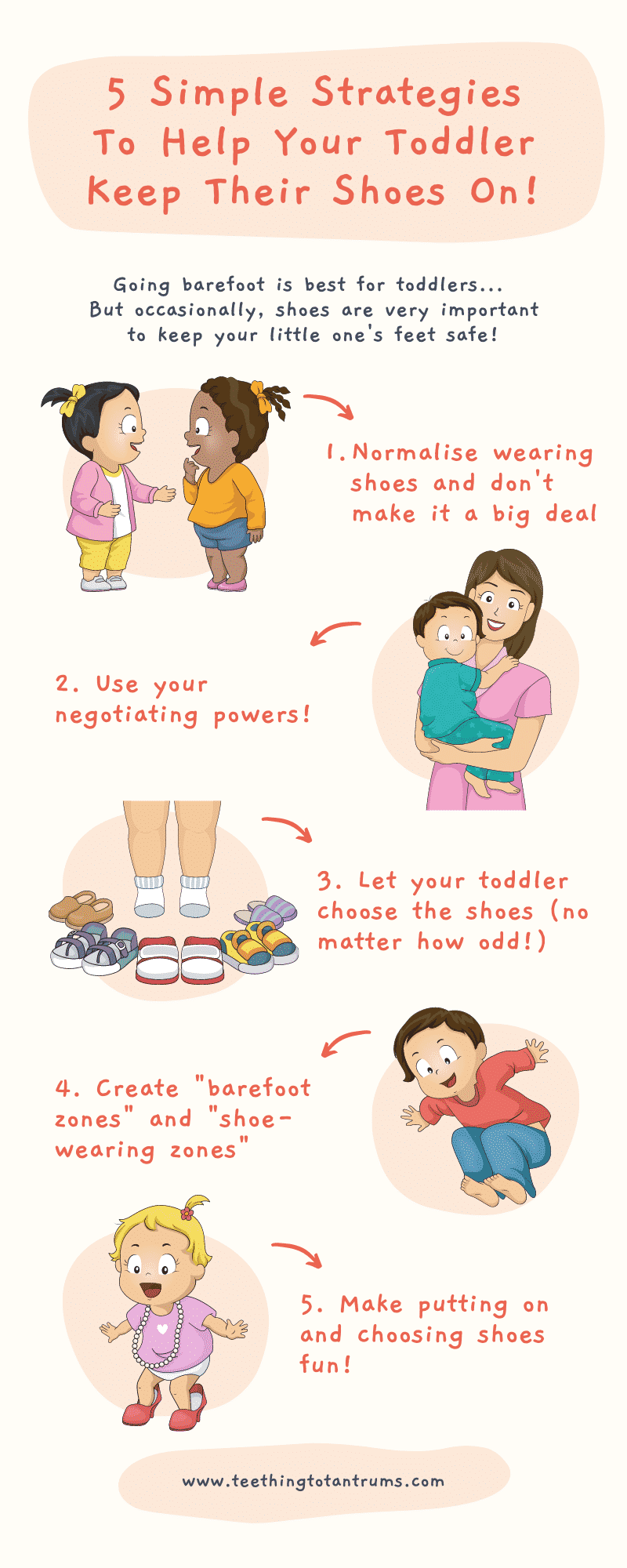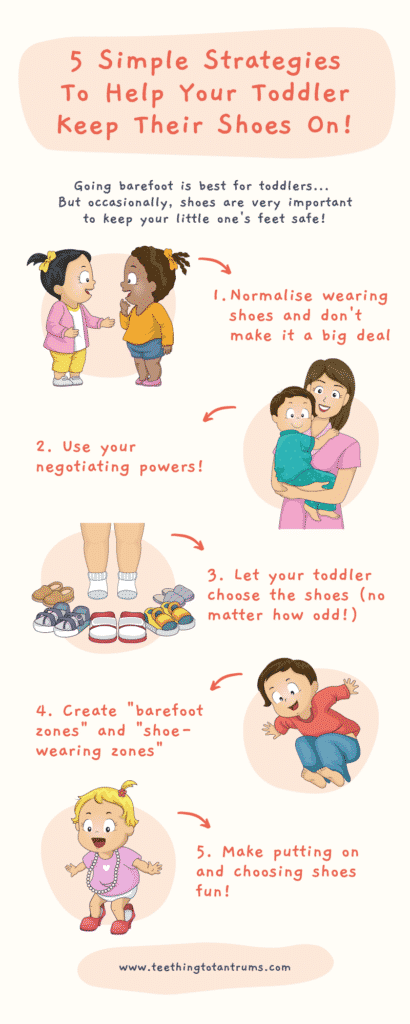 1. Make Wearing Shoes Not Such A Big Deal
Taking the importance out of wearing shoes can sometimes be all it takes to diffuse their daily resistance. If it becomes no big deal for you then it quite often becomes no big deal to them anymore.
Using a favourite toy who can also be putting on their shoes at the same time as you want your toddler to do so can encourage your toddler to happily wear their shoes.
Melissa & Doug's Teddy Wear Stuffed Bear Educational Toy can help your child learn how to dress and undress themselves including putting their shoes on and off.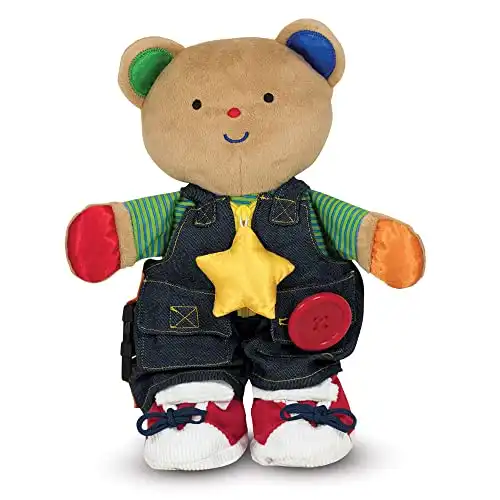 2. Use Your Negotiating Powers
In situations like these, it is OK to negotiate.
You can bargain by offering to let them go barefoot at home and in their own garden but if they want to go with you to the shops or the park then they must wear shoes.
Toddlers like to have some control over their lives and they also like clear boundaries. Making it clear when shoes can and can not be worn may help you and them through this phase.
3. Let Your Toddler Choose The Shoes
Next, let your toddler choose.
It does not matter if the shoe does not match the occasion as long as it will keep them safe (and dry if the weather is wet).
If they want to wear wellies with their shorts or summer dress… let them!
REMEMBER: It really isn't worth the battle and will give you more negotiating power when you need to enforce them wearing a particular shoe on another occasion.
4. Create Barefoot Zones And Shoe Wearing Zones
Obviously, there are times when your toddler will have to wear shoes so create "barefoot-zones" at home or at a family or friend's house where they can go shoeless as they please…
But explain that when they go to the park or to the shops, that these are "shoe-zones" and that they must wear shoes to be safe.
It is important that you talk to your toddler about this before you leave the house so they are prepared for what is expected.
5. Make Putting On And Choosing Shoes Fun
Making a situation fun that has previously been a battleground, can often break the cycle of non-compliance in toddlers.
Ways to make putting on shoes fun could be putting shoes on their soft toys or dolls.
Make a game of it and ask them to put the shoes on their toys too!
You could even pretend to try and put on their shoes as a joke. They may even say "Those shoes aren't yours, they are mine!" and you can then say "Are they?! Why don't you show me that they fit you better!"
All of these things will take the tension and the pressure out of the situation.
Should Toddlers Really Wear Shoes?
Recent studies have shown that going barefoot is actually beneficial to children and adults. So should we be encouraging our toddlers to wear shoes at all?
There is no scientific reason for toddlers to wear shoes.
In fact, the wearing of shoes for young children is more purely based on safety rather than a developmental perspective.
The reality is that if the surface is safe for walking barefoot, there is no real reason why your toddler should wear shoes and in fact wearing inflexible shoes can often hinder your child's agility when it comes to running and climbing.
Your toddler's feet are precious and need to be well cared for and by choosing some of the new shoes that are now available you will be investing in your child's future foot health and general wellbeing.
Today there are some very healthy shoe options for our children and I would recommend taking a look at what is on offer for toddlers.
At the end of this post, I have listed some of my favourite toddler shoe options and why I feel they are great for this age group and beyond.
Do Toddlers Know Something About Shoes That We Don't?
When to put shoes on your newly walking toddler often stirs up a debate. When they have just learnt to walk, being barefoot is vital for your little one to learn balance and coordination while walking.
Therefore, preferring to go barefoot may be an instinctive inclination that toddlers know they are better off and feel more in control of their walking if they are barefoot.
The Reality Of Having A Barefoot Toddler
Obviously, the reality is that there are many occasions when wearing shoes is important for safety reasons and you should never allow your toddler to walk where they might cut, puncture or burn their feet or where the surface is too cold!
It is also important that you make smart shoe choices for your toddler by ensuring their footwear is soft, flexible and well-fitting and allow them to go barefoot when it is safe to do so on various surfaces.
REMEMBER: Having a healthy balance between going barefoot and wearing shoes when appropriate will undoubtedly help you to have a satisfied and more compliant shoe-wearing toddler.
The 4 Best Shoes For Toddlers That Hate Wearing Shoes!
According to the American Academy of Pediatrics, new walkers' feet are growing so rapidly that their first pair of shoes might only last them 2 to 3 months.
Therefore, it is important to get the right balance between healthy shoes for your toddler at the right cost as they may only be worn for a short time!
Here are 4 of my favourite toddler shoes:
1. Bobux Xplorer Toddler Shoes
What is it? This is an ultra-flexible toddler shoe with a durable sole.
Why do I recommend it? I love the fact that this shoe is super flexible and is podiatrist endorsed. These little shoes are practical, comfortable and gentle on your toddler's feet.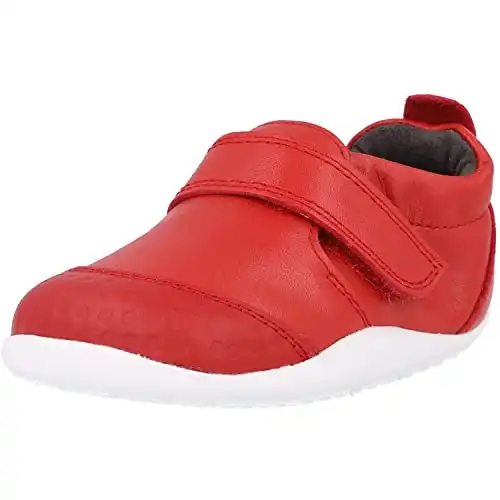 2. Vivobarefoot Toddler Shoes
What is it? Everyday barefoot inspired pull-on shoes for toddlers.
Why do I recommend it? I love Vivobarefoott shoes and even though this shoe maybe a little on the expensive side, Vivo has a great reputation for providing excellent barefoot footwear for all ages. Their shoes are super comfortable and allow your toddler the freedom of movement in as near to barefoot as you can get with a shoe on!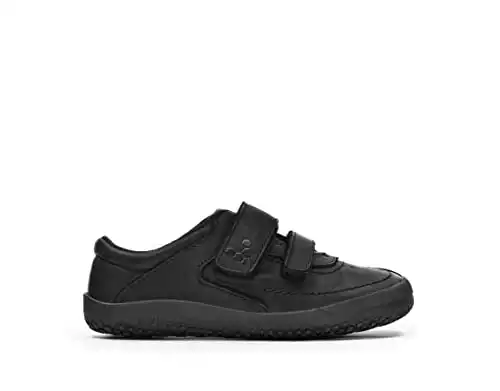 3. Dotty Fish Leather Toddler Shoes
What is it? This is another flexible toddler shoe made from super soft leather.
Why do I recommend it? This lovely range of shoes has a style that will appeal to everyone's tastes. They feature a wide foot toe area, padded ankle support and cushioned soles and are made of baby-safe genuine leather. The rubber soles give added traction. All in all, these are a very comfortable range of first shoes.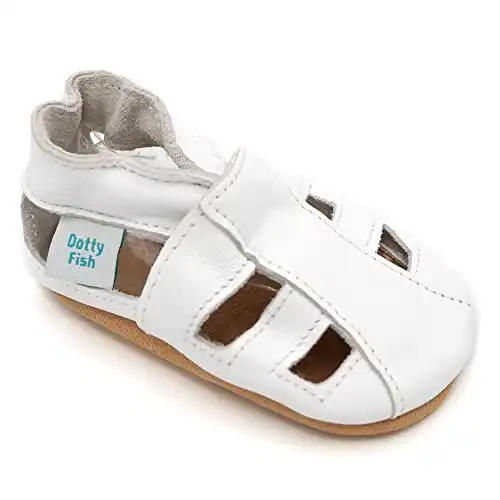 4. Stride Rite Soft Motion Toddler Shoes
What is it? A great range of toddler shoes with Ortholite memory foam for extra comfort.
Why do I recommend it? Stride Rite Soft Motion has a lovely range of toddler shoes that cradle your little one's natural foot shape. They are easy to put and are APMA approved.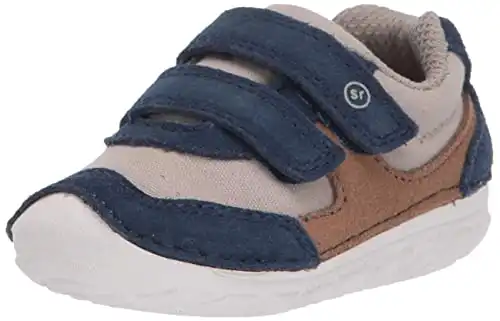 For more information about barefoot shoes for kids, check out Vivobarefoot's Wild Kids to learn more.
And if you enjoyed this post and know other parents who would enjoy this content, be sure to give it a share!
If you're looking for any more products for your little one and you're not quite sure where to begin, be sure to check out my Parenting Toolbox.
It is full of all my favourite products which I've tried to ensure are all non-toxic, eco friendly, sustainable and, of course, they're all kid proof!
Do you have any blog recommendations that you'd like me to write about? Drop me an email at [email protected] and let me know! I love hearing from you!
Until next time, thank you for your continued support and Happy Parenting!
Need More Parenting Help?
Download our FREE Perfect Sleep Cheat Sheet. It's a free, easy-to-use and proven formula designed for parents of 0-5 year olds to master the art of consistently undisturbed and restful sleep without the yelling, nagging or exhausting long-winded evenings.
Check out our Parenting Toolbox. You'll get access to expertly-chosen products that you can guarantee are the best for your little one and your wallet.
Paula McLaren
Paula McLaren - Norland Nurse NNEB RSH is the founder of Teething to Tantrums and has been in the childcare industry as a Norland Nanny since 1982. Since then, her mission has been to help parents become the best they can possibly be. And each year, she continues to help more families understand their child's development, the trials and joys of parenting and of course, how to care for their little ones.
Download Our FREE Bedtime & Nap Cheat Sheet
A bedtime & nap cheat sheet so good your little one will ask you to put them to bed...
Laura Williams "This is a life saver! I'm so glad I downloaded your bedtime & nap cheat sheet. My little one actually asked me to put him to bed last night! Unbelievable! Thank you so much!"