Are bedtimes a constant battle to get your little one to settle down and go through a book together? Do you find yourself thinking "My toddler won't let me read to him, Why?!!" Do you feel like abandoning the evening reads altogether because… "What's the point?"
Well firstly, please don't bail!
THIS IS COMPLETELY NORMAL.
A lot of children will go through a phase of not enjoying reading with you, so please don't take it personally!
I have experienced this several times throughout my Norland Nanny career and I've always come out the other side with a little bookworm! And you can too!
And yes… having a toddler who refuses to read with you is not great… But by abandoning reading time you are missing out on the huge benefits for your toddler's development that they gain from being around books!
So, I want to give you the SAME strategies that I use to help settle your toddler down so you can both begin to enjoy storytime once again!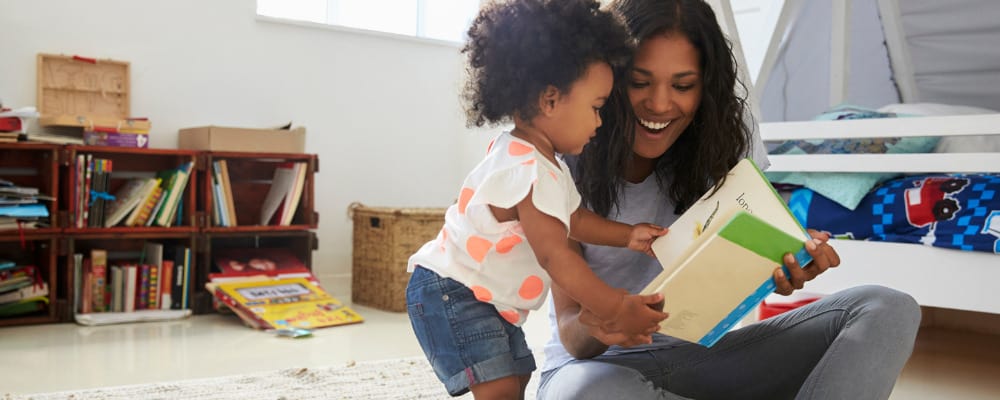 Help! My Toddler Won't Let Me Read To Him!
If you find yourself saying to your friends "but my toddler refuses to read with me!" then I want you to know that it's perfectly normal and in time, your toddler will come back and enjoy cosy, reading time soon enough.
While introducing your baby to books from an early age is the best way to nurture an interest in reading, not all toddlers will continue to like reading once they're mobile.
They just want to explore and be up and about! (I mean, who wouldn't!)
Therefore, it's not necessarily that they hate reading or don't want to be with you… but rather they're refusing to read because they just want to go, go, go!
So, what do you do if your toddler won't sit still when participating in looking at a book?
Firstly… Don't Give Up Hope
Well, just because your toddler doesn't want to sit quietly next to you when you look at a book together, it doesn't mean that they're not interested.
There are lots of things you can do in order to read to an active toddler and the most important thing to remember is to not give up.
As with so many things in life, consistency and creating habits are key. So here are 10 of my top solutions to get your toddler reading a story with you again!
REMEMBER: Personality and gender have a lot to do with whether your toddler is able to sit still or not.
Boys are just generally more fidgety than girls… although, this is not exclusive!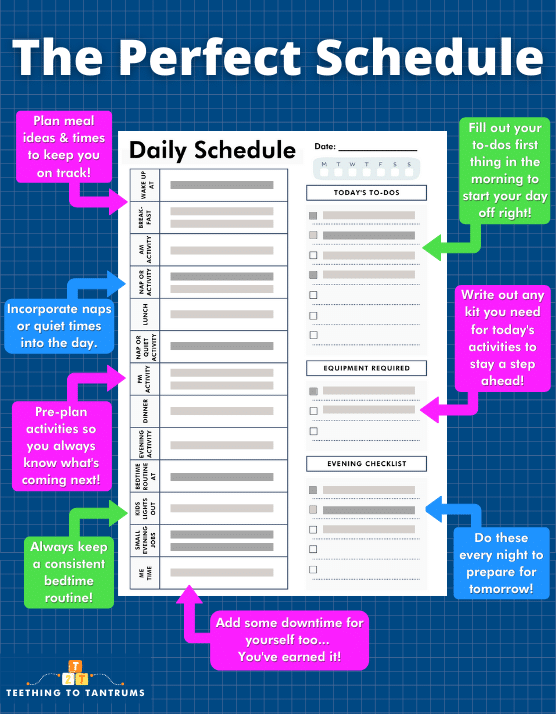 Become a Better Parent Today by Getting The FREE Perfect Parenting Daily Routine...
Download this daily routine template to take back control and get out of perpetual survival mode!
By subscribing, you agree to get emails from Teething to Tantrums. We will respect your privacy and you can unsubscribe any time.
10 Genius Solutions For How To Read To An Active Toddler
So, how to read to a toddler who won't sit still? Well…
Contrary to what you may have heard… the aim is NOT to have your toddler sit still!
Your aim is to have them listen and participate in reading & they can do this even when they are moving around the room!
For some toddlers, once the novelty of being mobile has worn off, they become more able to sit still more and for others, it is simply a maturing process that will eventually wear off.
So, here are my 10 top solutions to get your little one loving storytime!
1. Have Specific Times Of Day When You Look At Books
Even if your active toddler does not want to sit still, I would still suggest that you have specific times in the day that you dedicate to books. This could be after lunch or before they go down for a nap but books should always be part of the bedtime routine!
2. Read And Ask Them Lots Of Questions
Sit on the floor and take out a book and start reading. Don't ask your toddler to sit next to you or pay attention just read in an animated fashion.
If they pop over to take a look at the book ask them about what they see on the page, but if they want to wander off again don't force them to stay. Just keep reading.
They may pop back several times and that is OK. Returning to look means that they are listening to what you are saying and this is a step in the right direction.
Even if they are across the room ask them questions about what you are reading such as:
"What colour is the ball?"
"What is the cat doing?"
"Where is the dog?"
And hold the book up for them to see.
3. Have Books That Are Easily Accessible To Your Toddler
Have books in an accessible place to make the most of the opportunity should your toddler decide to pick one up and have a look.
If they bring the book to you then this is a great time to get them engaged but again don't force them to sit on your lap. Invite them to sit with you but if they would rather stand up, that is OK!
If your toddler starts to look at the book without you I would NOT interrupt or offer to read it to them. You could ask them what they are reading or what they see, but let them hold onto the book and explore it themselves.
4. Let You Toddler Choose The Book
If your toddler doesn't want to read books, a great way to encourage them to read is to let them choose the books. And yes, even if it turns out to be the same one each time…
As long as they are engaged and interested you are on the right track. Toddlers like to feel independent and in control, so offering to let them choose will tap into their desire to do what they want.
Variety can come later on!
5. Read To Their Toys
You could also try reading to your toddler's favourite stuffed toys.
Toddlers don't like to be left out so chances are they will either want to listen to or want to show the book themselves to their toys. Either way, you are getting them to engage with reading a book!
6. Make Reading Fun
Making reading fun rather than a chore is KEY for this age group.
The more animated you are, the more likely your toddler will want to be engaged. Make funny voices and encourage them to take part in actions and rhymes.
7. Give Them A Passive Toy To Play With While You Read To Them
Some toddlers will sit and listen to a book if they are offered a toy to hold and fiddle with at the same time. Pick a passive toy that does not require them to move around and let them sit and play with it while you read to them.
You would be surprised at how much they are taking in. They may not be sitting and listening in the conventional sense but they will be sitting still.
8. Aim For Books That Are Interactive Or Have Silly Rhymes
Interactive books are ideal for active toddlers. They are much more likely to become engaged in a book that requires them to interact with it from push buttons, to pop up and lift a flap!
9. Keep Things Short And Sweet
Keep reading times short and sweet.
Your busy toddler who is reluctant to sit still will easily get bored. So once you do have them sitting, read one book and then see if they want more.
If not, or if they don't make it to the end of the book, let it go. You can carry on reading and gradually the length of time they are able to concentrate for till gradually improve.
10. Let Your Toddler See You Reading
Finally, if your toddler refuses to read a book then make sure they see you reading.
This is simply a case of leading by example.
If they see you reading and if you have lots of books around the house, they are more likely to eventually take an interest!
So, what are the best books for toddlers who don't let you read to them?
My 11 Best Books For Active Toddlers And Reluctant Readers
Here are my Top 11 Books for active toddlers and reluctant readers to stop you saying "my toddler won't let me read to him", RIGHT NOW!
Handpicked by me to save you precious time, all 11 books are going to be a valuable addition to your toddler's library!
1. Gallop! A Scanimation Picture Book
What is it? This is a unique book that uses new technology to show movement on the page. Showing a galloping horse and a swimming turtle amongst others is truly an interactive book.
Why do I recommend it? This book is guaranteed to get even the most reluctant reader interested. The silly rhymes and requests encourage children to move while they are enjoying this book so they're excellent for tempting your active toddler to participate. 
2. Little Yoga: A Toddler's First Yoga Book
What is it? A book that encourages your little on to participate while introducing them to yoga.
Why do I recommend it? You can kill two birds with one stone with this fun book. Your active toddler will love to copy the yoga moves and at the same time, you are getting them interested in books too.
3. From Head To Toe! By Eric Carle
What is it? Another great interactive book from Eric Carle introduces children basic body parts and movements. Gorillas, elephants, camels and other animals invite youngsters to clap, stomp, wriggle and bend as they do.
Why do I recommend it? This is a great book to get your toddler moving and interested in books. While actively asking your little one to act out the animal antics, you may find your little one begging you to read this one.
4. I Thought I Saw A Lion! By Lydia Nichols
What is it? This is an interactive slider book with a silly tale that should capture your little one's interest.
Why do I recommend it? Toddlers like books that they can engage and you can actively encourage your toddler to move the sliders within this book. Even if they watch from afar and you do the sliding, they are sure to find the story silly and fun to follow. 
5. Twinkle Twinkle Little Star With Interactive Sound Buttons
What is it? This is a musical book with a sound button on every page that plays instrumental music.
Why do I recommend it? This book is truly charming and your toddler will love to press the buttons and get the music playing. Encourage them to turn the pages so that they get to press the next button. This is a great book for reluctant readers.
6. Dear Zoo: Noisy Book
What is it? This classic from Rod Campbell has a new twist that is perfect for encouraging toddlers to be interested in books.
Why do I recommend it? With bright, bold artwork, a catchy story and eight animal noises, this all-time favourite is sure to keep toddlers entertained and is perfect for joining in!
7. Where Is Baby's Belly Button?!
What is it? This delightful interactive book by Karen Katz's depicts adorable babies playing Peek-A-Boo and identifying body parts.
Why do I recommend it? This fun book is a great way to get your toddler learning body parts by actively pointing and showing them off. The perfect interactive book for after bath time and an active toddler.
8. Chomp Goes The Alligator! By Matthew Van Fleet
What is it? A great counting book with ten touchable textures, a sturdy chomping pull tab, and a grand finale pop-up.
Why do I recommend it? This is a fun interactive book that is sure to engage even the most reluctant reader. Ask your toddler to pull the tabs and feel the different textures and your little one will soon realise that there is much more to books than just words.
9. Fly! By Xavier Deneux
What is it? A delightful book from the 'touch-think-learn' format with moveable parts.
Why do I recommend it? For the slightly older reluctant reader, this book allows your little one to actively engage in the story by moving the little bird from page to page.
For toddler's struggling to listen to a complete story, this may be the answer!
10. Hug Me, Little Bear!
What is it? An interactive finger puppet book.
Why do I recommend it? This is a book has a unique twist that should capture any toddlers attention. The sweet story is very relatable and lends itself superbly to interactive reading.
11. Dance! By Matthew Van Fleet
What is it? Another lovely book by Matthew Van Fleet with a laugh-out-loud, jazzy story of a little baby chick who learns how to dance from a friendly band of animals.
Why do I recommend it? This is a lovely sturdy interactive book that your toddler should love to get involved in. Encourage them to dance like the chick in the book as they learn the new moves too.
There are endless places to buy books for your 3-year-old. Amazon is the first place most people think of buying books, however you can pick up books at garage sales, charity shops, online second hand book shops such as Awesome Books and Better World Books and of course, your local library.
And there you have it! I hope you enjoyed this post about "My toddler won't let me read to him". I hope it has been helpful and has provided you with some handy tricks and solutions to get your toddler reading again!
If you know other parents who would enjoy this content, be sure to give it a share!
And if you have any further questions about helping your toddler to enjoy storytime, or you have any blog recommendations that you'd like me to write about… Then be sure to drop me an email at [email protected] I love hearing from you!
Once again, thank you for your continued support and until next time, Happy Parenting!
Paula McLaren
Paul Mclaren - Norland Nurse NNEB RSH is the founder of Teething to Tantrums and has been in the child care industry as a Norland Nanny since 1982. Since then, her mission has been to help parents become the best they can possibly be. And each year, she continues to help more families understand their child's development, the trials and joys of parenting and of course, how to care for their little ones.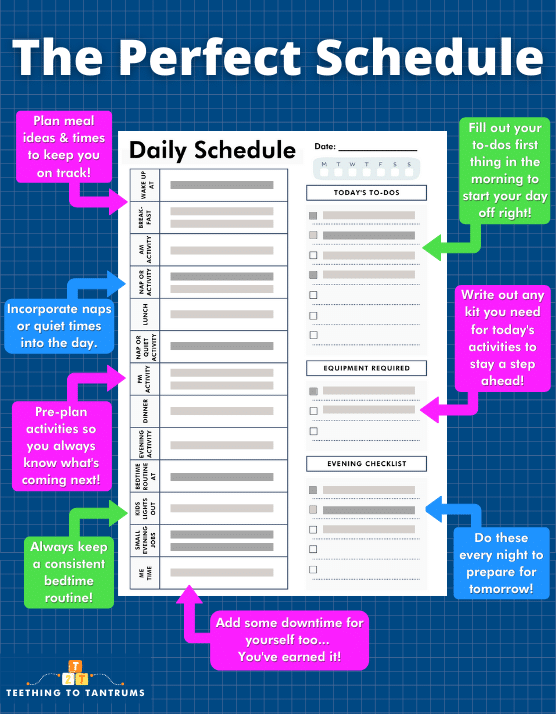 Become a Better Parent Today by Getting The FREE Perfect Parenting Daily Routine...
Download this daily routine template to take back control and get out of perpetual survival mode!
By subscribing, you agree to get emails from Teething to Tantrums. We will respect your privacy and you can unsubscribe any time.