Putting together your minimalist baby registry can be insanely overwhelming.
There are over 200,000 options on Amazon.com for baby items alone!
And for new or expecting parents, it can be really difficult to separate the essential baby items from the non-essentials.
But here's the kicker no one wants to tell you…
Babies really don't need that much stuff!
So whether you're working within a small space, living on the road, deciding to keep your home free from clutter or wish to be more eco-friendly, this fuss-free Ultimate Guide will keep things super simple for you!
Now, let's get started!
Minimalist Baby Registry Checklist Must-Haves
When it comes to deciding what you need to buy for your new baby it can be rather overwhelming, to say the least.
With such a huge amount of choice you really need to know what items are essential and what are nice to have.
You also need to consider what items are necessary for your lifestyle and budget.
For example, do you travel a lot and therefore need a mobile nursery or are you super keen on being eco friendly or both? Maybe you are working with a limited budget or limited space.
With these things in mind, I have compiled my minimalist baby registry to help you decide what is best for you and make sure you have everything you need, whether you are compiling a list for others to choose from or just making sure that you are well prepared.
Here is my Top 36 Registry Essentials Checklist:
Sleep box, bedside crib or cot
Cot sheets
Baby Monitor
White noise machine
Stroller/car seat combo
Swaddle/ sleep sack
Baby bouncer
Baby carrier
Nipple cream
Nursing pads
Nursing bra
Bottles
Formula
Bottlebrush
Breast milk freezer bags
Steriliser
Breast pump
Nursing tops
Nursing pillow
Baby thermometer
Changing mat
Eco-friendly nappies
Eco Wipes
Nappy pail (or bin)
Nappy cream
Baby travel bag/rucksack
Muslin cloths or burp cloths
Baby bath support
All in one baby shampoo and wash
Baby moisturiser
Baby clothes
Baby-friendly washing detergent
Tummy time book and mirror
Baby books
Teething toys
Baby gym
Essential Minimalist Baby Registry Checklist Printout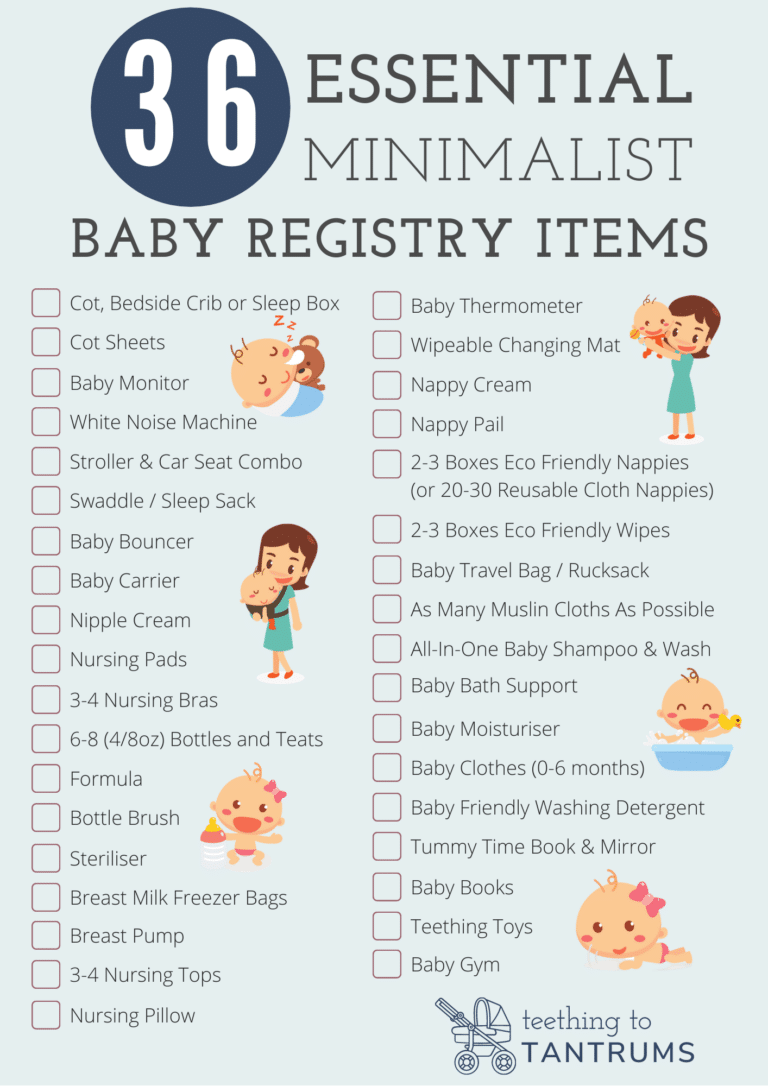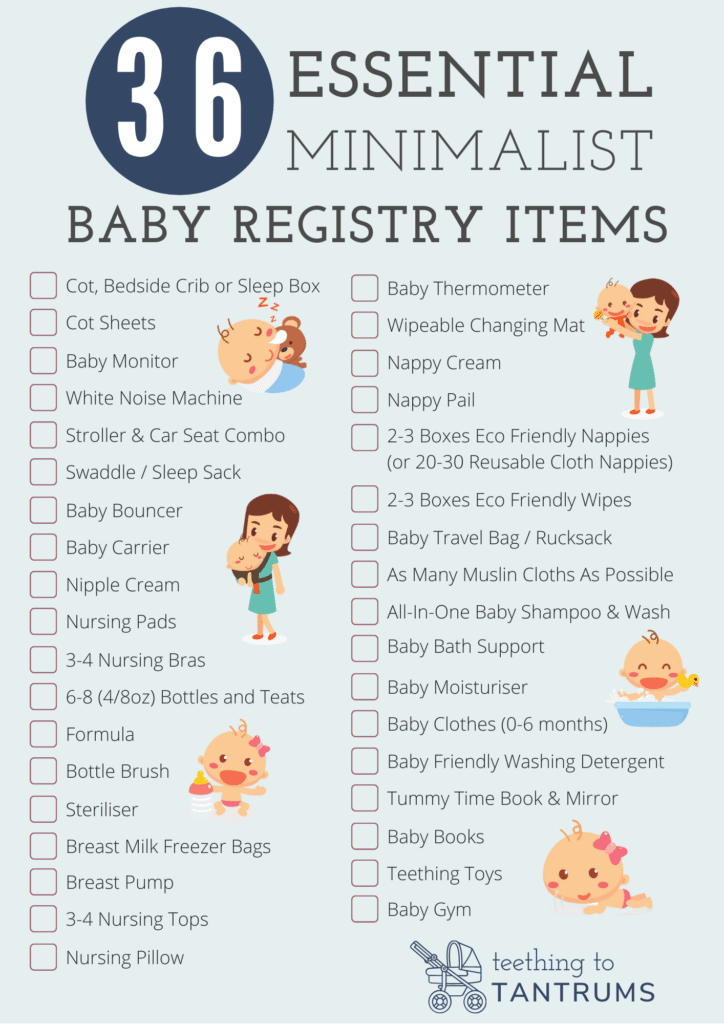 Why A Minimalist Baby Registry?
By having a minimalist baby registry you will hopefully avoid ending up with a load of unnecessary items that either end up not being used or not fit for purpose.
Of course, manufacturers are going to tell you that all of their products are the best and most essential you will need, but the truth is…
For the first 6 months, there is a finite number of essentials that you require.
Another thing you might consider is making use of borrowed expensive items and hand-me-down clothes from friends and family, which can then be handed on after you have finished with them.
So what constitutes the best minimalist baby registry?
Eco Friendly
There are now quite a lot of minimalist eco-friendly baby registry options on offer.
I would always advocate going the eco-friendly route if you can.
With cloth diapers, eco-friendly baby wipes, organic clothing, greenwashing detergents, baby lotions, soaps and a resurgence in wooden and BPA free toys, you won't be short of choice.
Saves Money
Another great reason for going the minimalist baby registry route is to save money.
Having a baby is not cheap and knowing what to invest in and what not to is important.
I would say that spending money on larger items such as a cot, stroller/pram and car seat is definitely advisable. As they will get the most use over their lifetime!
Alternatively, you may be offered these items by friends & family and as long as they comply with current safety regulations, you can save quite a bit of money.
There are also some reputable second-hand clothing websites that you could use for your newborn clothes, which let's face it are not in use for very long.
Reduces Stress
Being well prepared is key to limiting stress once your baby arrives, but it can also be very stressful worrying that you may have missed some essential baby stuff.
Therefore, having a simple checklist of registry essentials that meets all you and your baby's needs, while not putting too much strain on your finances, is a good plan of action.
That is where a list of registry essentials comes in.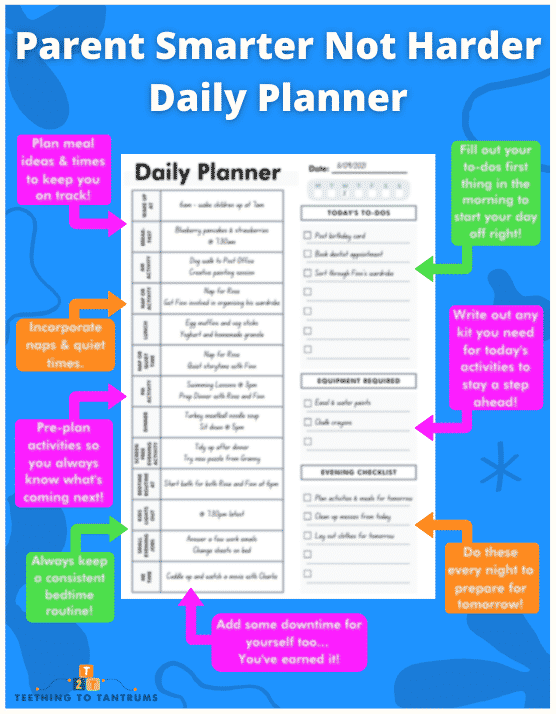 Become The Calm, Organised & In Control Parent You Want To Be By Adopting My "Parent Smarter Not Harder" Daily Planner!
Psst... The secret to peaceful parenting starts with your routine!
By subscribing, you agree to get emails from Teething to Tantrums. We will respect your privacy and you can unsubscribe any time.
Pros & Cons Of A Minimalist Baby Registry
PROs
The best thing about a minimalist baby registry is that you keep things simple and do not run the risk of ending up with lots of unnecessary items.
It also means that you have less to worry about beforehand and can keep your expenses down.
You will be spending money on your little one for many years to come and all the fancy toys etc can come later. In the beginning, your baby needs very little, so keep it as simple as possible.
CONs
The main downside of a minimalist registry is that you may find that you need something that was thought unimportant before the baby arrived and then realise you have to dash out and buy it.
However, to be honest, if you look at the list I have compiled, I cannot, honestly, think of anything that you would need other than what I have listed for the early days.
When Should I Start A Baby Registry?
Compiling a minimalist baby registry with all the right baby gear will allow you to get all your ducks in a row and ease a lot of the stress of bringing your baby home.
For this reason, I would recommend starting to compile your list about 2-3 months before the birth.
Setting out your registry essentials in advance will mean that friends and family will know what you need and what you already have.
You will also be able to keep an eye on cost and do some budgeting while you decide what you want to buy from new and what you will try to borrow or get second hand.
What Do I Need For My Baby Registry?
When compiling your baby registry must-haves, you need to consider the needs you and your baby will have. Divide your list into the following sections:
Feeding and nursing
Nappy changing 
Sleep
On the go
Clothing
Minimalist Toys and books
Baby care and bath time
Feeding/Nursing
While nearly all mothers will start off breastfeeding you should not exclude formula and baby bottles from your minimalist baby registry as you may wish to express and may need to move to bottle feeding for all sorts of unforeseen reasons.
The basic nursing registry essentials you will need to cover all eventualities are listed below:
Nursing pads
Nipple cream – Lasinoh Lanolin Nipple Cream is safe, 100% natural and effective.
2 nursing bras – Bravado does a good range.
6-8 bottles and teats 4 and 8 ounces. Tommee Tippee The Closer to Nature Range is very good and I also like the Comotomo Natural Feel baby bottles.
Bottle sterilising unit – Tommee Tippee's Closer to Nature Complete Feeding Set is great.
Breast milk freezer bags
Formula. Although you may need to try a few to find the best for your baby a good place to start is with Similac First Infant Milk.
Bottlebrush
4-8 bibs such as KeaBabies Bandana Bibs are perfect.
Breast pump
If you are breastfeeding then I would advise getting a good pump. The Bellababy Dual Action Breast Pump is great value for money.
Nappy Changing
Now, the fact of the matter is that you will be doing a lot of nappy changing so making the process easy and stress-free is what you are aiming for.
While a specifically designed changing table is NOT essential to your minimalist baby registry, having a chest of drawers or dresser at the correct height for changing, with all you need at hand will always make changing nappies and getting your little one dressed easier.
Wayfair has a great range of dressers and top changers where you can put a changing mat or changing pad, that later convert into a handy and practical piece of nursery furniture that will last for years.
No matter where you change your baby, having the right changing kit is essential.
Therefore, you will need:
A changing mat or changing pad
2-3 boxes of disposable biodegradable newborn size nappies. Eco By Naty makes biodegradable plant-based disposable nappies that are kind to your baby and the planet!
6-10 dozen cloth nappies and 6-8 nappy covers. I like Bambino Mio who do a great range of cloth nappies and accessories including Bambino Mio Miofresh Natural Nappy Cleanser.
2-3 boxes of biodegradable unscented baby wipes such as Earth Friendly Baby Eco Baby Wipes or Yugi Baby Green unscented wipes.
2 large tubs or nappy creams such as Bepanthen or Sudocrem.
Sleep
The importance of sleep both for you and your baby will become very apparent soon after you bring your baby home.
Having all the necessary sleep accessories and creating the best and safest sleep environment for your baby is going to be vital.
If you are offered a second-hand cot or crib please make sure that they adhere to current safety standards (especially the crib mattress!).
You might find that all you need to do is fit a new cot mattress in a second-hand crib to make it safe.
The following items are what I feel should be on your minimalist baby registry must-have list.
Bedside Crib
There are quite a few options when it comes to where your baby will sleep when you bring them home.
You can opt for a bedside crib which although expensive can make nighttime soothing and feeding so much easier.
The Baby Delight Beside Me Dreamer Bassinet and Bedside Sleeper is a great safe and no-frills bedside crib.
I love the fact that this crib is light enough to be moved around the house and can quickly be converted to the bedside sleeper mode which makes it a versatile investment.
OR
Sleeping Box
I recently came across an interesting, eco-friendly and safe option the other day for babies from birth to 6 months that may appeal to some.
The sleeping box is something that has been popular in some northern European countries for some time. The Pip and Grow Smitten Baby Box is very safe designed by leading safe sleep experts.
Sleeping boxes are easy to move around the house and can be used as a storage box once your baby moves onto a cot.
It is a super minimalist and eco-friendly option for your baby in the first 6 months.
OR
Crib
Graco cribs are excellent with handy storage drawers and I especially like the Graco Hadley 4-in-1 convertible crib which has 3 adjustable mattress heights and will eventually convert into a toddler day bed or full bed.
Although this might mean paying out a more bit in the beginning, its longevity makes it a great investment piece.
If space is limited or you are often on the move then Graco Pack n Play On the Go is a good first crib that doubles as a travel cot.
Cot Sheets
Gone are the days when you needed a lot of baby bedding. With the advent of excellent swaddles and sleeping bags, you no longer need anything more than some cot or crib sheets.
Try and go for organic-based materials and wash in baby-friendly detergent.
Swaddle And Or Sleeping Bag
If your newborn is happy to be swaddled then this is a definite must for the early days. You can opt for a simple swaddling wrap but if you want to make your life easy, then purchase a swaddle wrap.
I love the Grobag range that has a wonderful range of swaddle wraps and sleeping bags.
Dummies / Pacifiers
While you might be thinking that you do not want your baby to have a pacifier having one to hand JUST IN CASE is a good idea.
When you are desperate for sleep you may easily wish you had a pacifier to hand to help your baby settle.
Choose 3-4 orthodontic approved dummies such as Nuk genius or Hevea Star and Moon.
Baby Monitor
Some kind of baby monitor is a must for your own peace of mind.
Budget will greatly determine what you go for and there are certainly a lot to choose from.
Vincture does a great and very reliable range of baby monitors to suit every budget.
White Noise Or Sound Machine
I am a relatively new convert to the white noise or sound machine but I feel that they have an important place on the list as they will help you sleep train your baby and help them to stay settled.
On-The-Go
It is important to make sure you have the right baby gear for getting out and about with your little one safely and easily.
You don't want to feel trapped at home and being able to get out of the house and have some fresh air is ESSENTIAL for you both.
This is where another big important investment decision has to be made as you will now have to look at car seats, strollers and prams.
There are some combinations out there that will offer you all of the above that will grow with your baby or you can buy them separately.
Whatever you decide, one of the most important things to remember is that, newborn babies need to lie on their backs in a pram and that they need a car seat that can be put into a reclining position.
Car Seat
With the above in mind, I like the Graco range of car seats. They do a great range that can last from birth up to 12 years, or you can pick one to cater for just the first 12 months.
My top pick would be the Graco Recline N'Ride which allows you to recline the seat with one easy hand movement and will serve as an excellent car seat from birth to 10 years.
Finally, if you have a smaller car it can make moving a car seat in and out quite difficult. Therefore, you could opt for the Lettas Baby Car Seat which has a 360-degree rotation feature.
Stroller Car Seat Combo
If you want to go for a complete set that comes with a car seat and compatible stroller then the Bugaboo range of car seats and strollers are high on my list of best buys.
The Bugaboo Turtle by Nuna car seat offers a safe travel solution that transfers to your Bugaboo stroller with ease and will be suitable for your baby from newborn to 15 months.
A more expensive option is the Bugaboo Fox 2, foldable 3-1 pram which does tick all the boxes with its strong but lightweight design, all-terrain wheels and power steering.
However, a less expensive option would be Maxi Cosi Adorra Baby Pushchair which has the option to add on a carrycot and a car seat.
Whatever you decide, this is one area where I would HIGHLY recommend investing some money.
However, if you are lucky enough to be offered a hand me down product then by all means take it as long as it meets with current safety regulations.
Baby Carrier
The things to bear in mind when choosing your baby carrier are that the head restraint offers good support, that your baby sits in a frog-like position and that your little one should have ease of movement.
Ergo Baby or Baby Bjorn's products tick all these boxes for me.
Baby Travel Bag Or Rucksack
Once you are out and about, you should always take a well-stocked baby bag with you containing all your baby changing needs and baby items.
You can opt for any bag really, even a normal rucksack will suffice or you don't want to spend lots of money on a specialised bag.
However, if you do decide to go the specialised route then I like PacaPod and Lekebaby who both do great ranges of nappy/diaper changing day bags.
The advantage of a specially designed tote is that they usually come with a changing mat and handy pockets including insulated ones for bottles that can make going out with baby so much easier.
Travel bag baby items should include:
A wipeable travel changing mat
Several nappies
Nappy sacks
A change of clothes for baby
A change of top for you
Nappy cream
A few baby toys
A soft book
Baby wipes
A couple of muslin cloths and or bibs.
TOP TIP: Always re-pack your bag when you get back home straight after use. Therefore, it is ready to go with no fuss next time you want to go out.
It is good to have a few toys that you leave in the bag all the time so you are not running around looking for things to put in there to entertain your baby at the last minute.
Clothing
When it comes to baby clothes, despite the temptation to do so, I would suggest that you DO NOT purchase too many items for the newborn stage.
This is because your baby will grow at an alarming rate in the first 6 months. Therefore, it is always wise to have items available for your baby to grow into.
Here is a list of the basics I would recommend for the early days and weeks:
4 – 8 daytime baby grows or outfits
4 – 8 snap bottom vests
4 – 6 night time baby grows
2 baby blankets for winter babies
2 lighter wraps for summer babies
1 – 3 warmer tops or cardigans for winter babies
1 – 3 lighter long-sleeved tops for summer babies
1 – 3 dress up outfits
4 -6 booties or socks
1 – 3 hats (broader brimmed for summer babies) (cosy soft cap hats that cover ears for winter babies)
2 pairs of no-scratch mittens
Warm fleece all in one for winter babies
Gentle baby-friendly laundry detergents like EcoGurus Natural Laundry Detergent or Tru Earth Eco Strips are also super planet-friendly
As many muslin cloths as you can afford – they are essential for protecting your clothes and just a good all-rounder essential.
I love LifeTree muslin cloths. They are great value for money and look lovely too.
You will need to ensure you dress your baby appropriately for sleep too. Be sure to check out my post How To Dress Baby For Sleep to learn more.
TOP TIP: For your ease, crotch fastening tops and undergarments are advisable and front fastenings, in general, make for easy changing.
Baby clothes are probably one of the gifts you will get a lot of and you may also be offered hand me downs from friends and family.
My advice would be to take them if you can. You will save a lot of money and also soon realise that babies go through a lot of clothes and only wear them for a relatively short period of time.
I would always advocate going green when you can so if you are looking for good quality eco-friendly clothing then take a look at Little Green Radicals or Colored Organics both of which have a beautiful range of soft organic naturally hypoallergenic clothes for babies. Moon and Back on Amazon also do a very cut and affordable range.
Other great options for finding baby clothing are at Car Boot Sales, Garage Sales and Charity Shops. Just be sure to give them all a good wash before baby arrives!
Toys and Books
When it comes to toys and books on your minimalist baby registry, you do not need huge amounts in the early months.
To your newborn, your face and voice are the best entertainment, but as they grow, their focus improves and they can track and start to grab objects.
I would, therefore, add a few minimalist toys to your registry that I feel are essential for your little one's development:
Books
As I always say, it is never too early to introduce books to your baby. There are some wonderful books to choose from for newborns and babies under 6 months.
Simple Rattles
Rattles come in all shapes and sizes that you can offer to your baby.
I like Manhattan Tory Baby Whoozit as it is a great interactive toy and I also love Twiddle Ons Foot Discovery rattles.
Tummy Time Mirror/Book
Tummy time will quickly become an essential developmental staple for your little one.
To encourage them to enjoy this time (which many baby's find challenging to begin with!) having a tummy time book with a mirror or a tummy time mirror-like the Sassy Floor Mirror will help them to have fun while on their tummy.
Tummy Time Mat
A tummy time activity mat is also a great idea to make tummy time fun like Bright Stars Tummy Time Prop Play Mat.
Baby Gym
A baby gym is a great way to entertain and help your baby's development. They are also a perfect way to get your baby used to playing independently.
I like the Fisher-Price Rainforest Music & Lights Deluxe Gym or the Nuby Baby Play Gym, Wooden Activity Gym, if (like me) you prefer wooden toys.
Simple Cot Mobile
Whilst cot mobiles are only suitable for the first few months, they are a great way to make the crib an interesting place to lie safely for a while when you need to get things done.
A mobile that can be easily removed at nap and bedtime is ideal. I like the Tiny Love range of mobiles as well as the Small Foot Forest range.
Teething Toys
Before your baby is 6 months old you will need some teething toys. They are essential to help soothe your baby's pain and discomfort. There is a great range to choose from in my Parenting Toolbox!
Bath Time
There are definitely a few minimalist baby registry must-haves in this category.
Baby Baths
Specific baby baths are not essential but they do make handling a slippery newborn easier.
Having said that, you can bathe a newborn in a sink just as easily as in a bathtub and while I like the Nuby Bath which has a built-in seat for newborns its use is relatively short-lived.
OR
Baby Bath Supports
Baby bath supports on the other hand are great.
I like the Angelcare soft touch bath support which can be used in a full-size bathtub and is useful as it can be used until your baby is able to sit.
Baby Shampoo And Body Wash
When it comes to choosing what to use to wash your baby, all in one baby shampoo and body washes are the way to go.
Try Organic Babies or Babyganics who both do a lovely range of fragrance and scent-free baby products.
Baby Moisturiser
Your baby does not need any fancy products to be applied to their skin but a mild moisturiser is useful to have.
Applied sparingly after a bath it will keep your baby's skin soft and is ideal for giving your baby a pre-bedtime massage.
Baby Care
I would suggest that you should have the following to hand as a simple baby first aid kit for your little one.
Any major concerns you have should be addressed by a medical professional but this shortlist of items is definitely worth having.
Baby thermometer
Cotton balls
Medicine dropper /syringe
Vaseline
Chest rub – 3 months+
Saline nasal drops
Nasal Aspirator
Infant ibuprofen – 2 months+
For Parents
Baby Bouncer
You might wonder why I would suggest a baby bouncer is for parents BUT…
Being able to put your baby down in a safe place while you make a cup of coffee or a sandwich is something that will make your life so much easier.
Nursing Tops
Nursing tops may sound like a luxury but being able to feed your baby simply and easily is another way to make your life easier and less stressful.
They do not necessarily need to be specially designed nursing tops but ensure you have several that allow you to breastfeed easily.
Nursing Pillow
Being comfortable while you feed is also a MUST and many mothers find a nursing pillow helps to get into the correct position for breastfeeding.
Comfy Bedroom Chair
Having a quiet comfy place to sit and hang out with your baby whether you are feeding or not is really useful.
I appreciate that not everyone has a bedroom big enough but if you can, finding somewhere quiet away from the TV and household noise to chill out with your little one is ideal.
What Should You Not Put In Your Minimalist Baby Registry
There are lots of unnecessary and sometimes unsafe baby items on offer for new babies that you might be tempted to purchase.
Here is a shortlist of things that I would recommend you avoid or really do not need:
Crib bumpers
Cot bedding
Baby wipe warmers
Expensive nappy bucket
Cots with drop downsides
Baby bath towels and face cloths
Hairbrush
Expensive nursery furniture
A High chair
A Booster seat
My Top 19 Baby Registry Tips
Don't buy or ask for too many newborn baby clothes, your new baby will grow far quicker than you can get through them all.
Have some clothes for your newborn to grow into. (3 months +)
Take the offer of hand me down clothes for the same reason as above.
Don't bother with lots of fancy going out clothes as your newborn will probably have grown out of them before you get the chance to show them off.
If you are offered a hand me down crib or car seat be sure to check if they meet current safety standards.
Make sure you have a pram/stroller that allows your baby to lie flat.
Ask family and friends to club together to buy expensive items such as prams, cribs and car seats.
Don't buy lots of baby bedding, a swaddle and or sleeping bag are enough.
You can never have too many muslin cloths.
You do not need special baby bath towels and face cloths. Any towel and face cloth will do.
Always opt for hypoallergenic wash and shampoo products.
Ensure you have gentle washing detergent for washing baby's clothes.
Try to buy eco-friendly nappy products.
There is no need to buy expensive nursery furniture.
Be sure to have a few baby books on your list.
Keep toy purchases simple in the beginning as YOU are your baby's best entertainment!
Don't spend lots of money on a cot mobile, its use will be very short-lived. Go for a simple removable option instead.
Ask friends for recommendations on baby products they have used.
Consider space when buying large items, there are many foldable items available.
Is It Rude To Put Expensive Items On A Baby Registry?
When it comes to putting out a baby registry there are many things to take into consideration.
It might just be a list for you to ensure that you have everything you need or you may be planning to put one up on Amazon or at a local store.
Whatever the situation there are inevitably going to be some expensive items on the list.
Whether you put them on the list for others to see depends on a few things…
The buying power of your friends and family and what you are prepared to buy yourself.
I, personally, would recommend NOT putting the very expensive items on the list unless you are sure that someone will be happy to purchase it for you.
Instead, if you are unable to buy the product yourself, I would suggest that close family and friends club together to get that perfect pram and or crib, for example.
You might also find as is often the case, that grandparents are happy to buy such items for you.
I think the key here is to have open discussions about the most essential and expensive items on your list and make a sensible plan about purchasing them between yourselves, family and friends.
So, you know what the essentials are for your bundle of joy, and what to avoid.
Now, go get that registry started!
If you loved this post, and want to share it, there's a button for that below. Please share this blog as a way of helping others simplify their parenting journey!
Paula McLaren
Paul Mclaren - Norland Nurse NNEB RSH is the founder of Teething to Tantrums and has been in the child care industry as a Norland Nanny since 1982. Since then, her mission has been to help parents become the best they can possibly be. And each year, she continues to help more families understand their child's development, the trials and joys of parenting and of course, how to care for their little ones.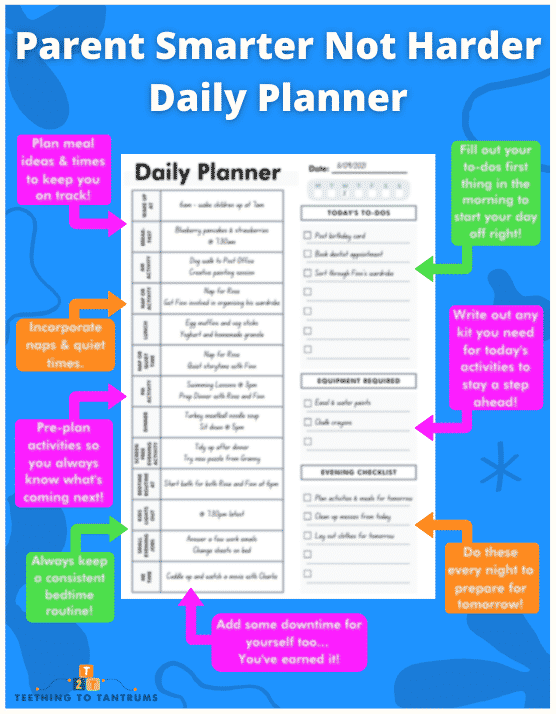 Become The Calm, Organised & In Control Parent You Want To Be By Adopting My "Parent Smarter Not Harder" Daily Planner!
Psst... The secret to peaceful parenting starts with your routine!
By subscribing, you agree to get emails from Teething to Tantrums. We will respect your privacy and you can unsubscribe any time.