Understanding how to transition from formula to milk will make this final weaning stage much more pleasant for both baby and you!
Not only will knowing how to transition from formula to milk put your mind at ease, it will also help your baby's tummy adjust and limit the possibilty of accidents!
After all… it's quite a change for them!
So let's dive right on into it!
When Should Baby Move From Formula To Milk?
One of the final steps on your baby's weaning journey is moving onto cow's milk and most experts agree that this transition can take place around 12 months old. 
However, from 6 months of age, you can begin to include milk and dairy products in your baby's diet in the form of cheese, sauces, milk in cereals and yoghurts.
So, why then, do we not recommend that babies under 12 months drink cow's milk?
Well, when compared to breast milk or formula, cow's milk does not contain the right balance of vitamins and minerals that your young baby requires. It is low in iron, vitamin E and fatty acids but it is high in protein, potassium and sodium.
In addition, the nutritional composition of cow's milk is harder for babies under 1 year old to digest.
By 12 months of age, your baby should be following a well-balanced diet and getting the majority of their nutritional and caloric needs from solid foods.
However, milk in the form of cows milk will continue to be an important source of calcium until your little one is 5 years old.
Cows milk will now become an important source of calcium and part of your little one's balanced diet, rather than the main source of their daily nutrition.
Note: If your child is lactose-intolerant or you are raising them in a vegan household, choose a suitable milk substitute and ensure your little one has a very balanced diet with enough calcium.
Do You Need To Use "Follow On" Or "Growing Up" Milk?
Using follow-on or growing-up milk is a personal choice. You do not need to use these types of milk but they do contain extra protein and minerals that are advertised to promote healthy development. 
However, as long as your baby is following a well balanced diet they should not need to get these extra nutrients (apart from calcium) from the milk they are drinking.
Once your baby reaches 12 months of age, it is then important for you to make the shift from seeing milk as the main source of their nutrition to becoming a supplemental beverage that is part of a well balanced diet.
How Much Milk Should Young Children Drink?
The American Academy of Pediatrics recommends that toddlers between 12 to 24 months should consume 2–3 cups (16 to 24oz) of whole milk per day and children between 2 to 5 years drink 2–2.5 cups (16 to 20 oz) of low fat or skimmed milk per day.
Download Our FREE Baby & Toddler Cheat Sheets
Designed for busy parents, these sanity-saving cheat sheets provide simple, practical and effective parenting strategies to tame tantrums, create calm bedtimes, support thriving development, and more! See results within hours!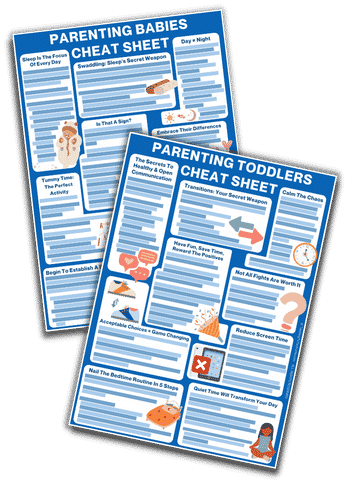 Here's How To Transition From Formula To Milk
Deciding on how to transition from formula to milk will largely depend on your baby's adaptability. 
Some babies will take to switching to milk effortlessly, however, I always suggest a gradual transition to allow your little one's tummy time to adjust to digesting milk on it's own.
You can start by adding cows milk to ready-made formula and gradually decrease the amount of formula over a few days.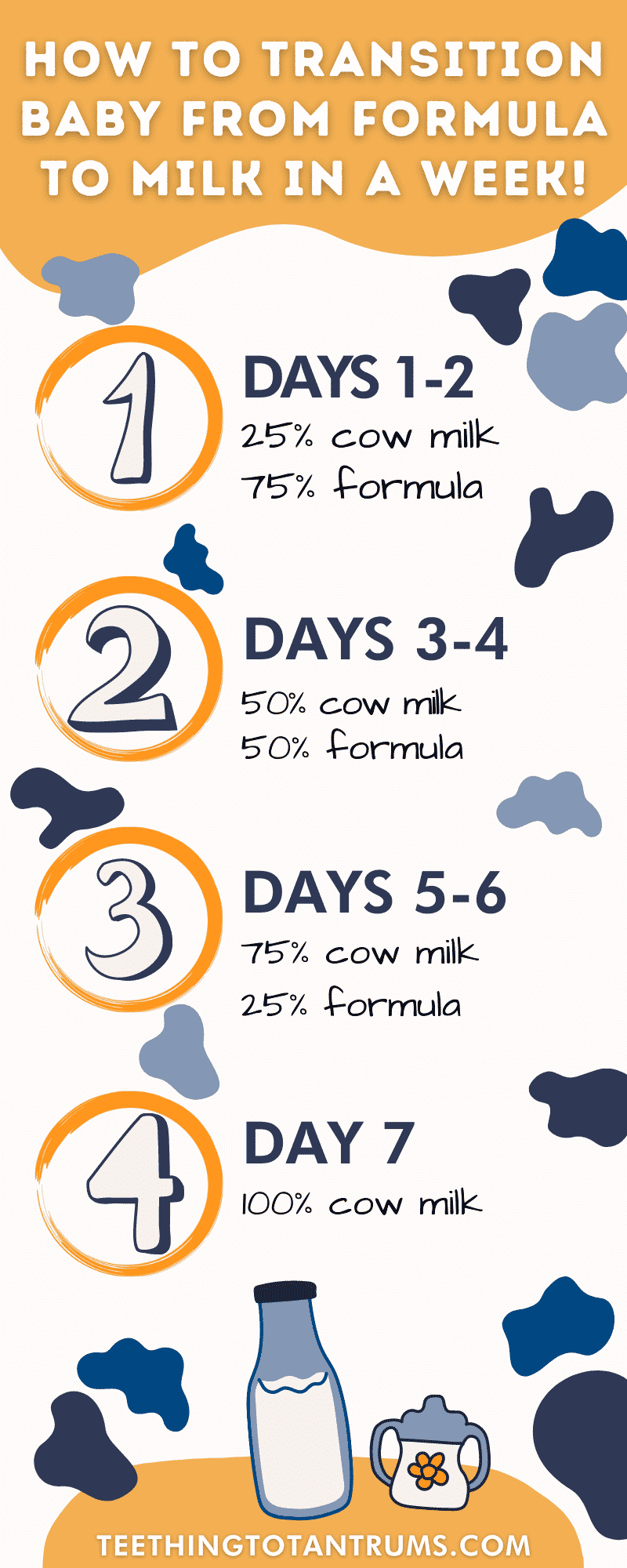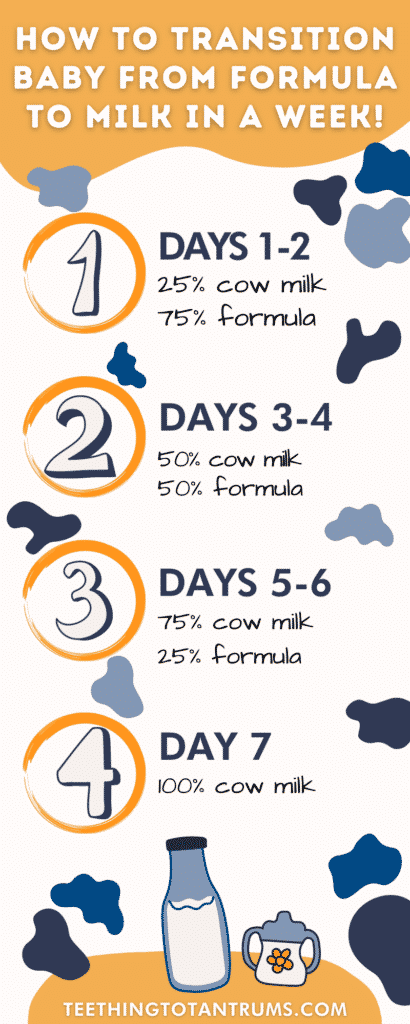 Here is an ideal example of how to transition from formula to milk:
Day 1 and 2: 25% cows milk and 75% formula
Day 3 and 4: 50% cows milk and 50% formula
Day 5 and 6: 75% cows milk and 25% formula
Day 7: 100% cows milk
NOTE: Some babies will drink cow's milk easier during the day if it is served in a cup as they will have already associated the taste of formula with sucking on a bottle. 
Therefore, any taste other than formula in their morning and bedtime bottles will not go down as well!
Once they are used to drinking cow's milk during the day from a cup you can then switch out the bedtime bottle for cows milk and then eventually offer these milk drinks from a cup as well.
The Perfect Time To Switch From Bottle To Cup
Transitioning from formula to milk is the ideal time to also switch your baby from drinking milk from a bottle to a cup.
While most babies will have been introduced to a cup during the weaning process for the purpose of drinking water or juice, many will still be having their milk from a bottle.
Offering milk in a cup during the day is often the best way to start and eventually, you can move to a cup for the morning and evening milk too. 
TOP TIP: If your baby is struggling with the transition try serving the milk at the same temperature that you would have served their formula. Be careful of warming milk in a microwave as you may get pockets of very hot milk, so be sure to shake the bottle well to even out the temperature.
There are lots of great transitioning cups to help with this stage to choose from and you may have to try a few before you find the one that suits your little one. However, here are a couple of my all-time favourites to get you going!
Philips Natural Response Transitional Cup
If your little one is struggling to give up the teat when drinking milk then the Philips Natural Response Sippy Cup could be the answer!
This cup will take you through all the stages of moving from a bottle to cup gradually so that your little one has time to adjust to drinking milk from a cup, first with a teat and then with a soft silicone spout.
There is the added bonus that this cup is also interchangeable with other Philips Avent toddler cups.
Dr Brown's Wide Neck Transition Sippy Cup
This Dr. Brown's Transition Bottle with its easy to grip handles is the perfect first step from bottle to cup.
Once your little one is ready you can replace the silicone teat with the soft silicone sippy spout and the easy-grip 100% silicone removable handles make this cup easy for your little one to hold and feed themselves!
5 Switching From Formula To Milk Side Effects
As with all new foods you will need to keep an eye on your baby for a few days once they start having cow's milk, to see if they have any adverse reactions. Symptoms to look out for are:
Diarrhoea or general changes in stool
Vomiting
Irritability
Excess wind/gas
Skin rashes
If your baby shows any signs of the above they may be lactose intolerant. 
While it is quite common for babies to experience some digestive changes when they move onto cows milk if the symptoms persist for longer than 48 hours you should seek medical advice in case a milk allergy is the cause of these side effects.
What If Baby Has A Milk Allergy?
If it turns out that your baby does indeed have a milk allergy then there are loads of non-dairy alternatives and speciality lactose-free formulas to try instead.
It is important that if you suspect your baby has a milk allergy, you get them tested and have a formal diagnosis as soon as possible as your doctor or paediatrician will be able to give you the best advice for how to manage a dairy intolerance and alternatives to try.
You may already be aware that your baby is dairy intolerant if they have not been able to digest dairy products that you may have tried during weaning…
And, if this is the case, then you should avoid cow's milk and go directly onto soy or a lactose-free alternative formula once your little one reaches 12 months old.
How To Transition From Formula To Milk Recap
Moving onto cow's milk can feel like your final farewell to your little one's babyhood, but it can also be very liberating, with no more bottles to prepare and clean!
Most children will take to the transition quite easily, especially if they have been using a cup during the day and you really only need to drop the morning and evening bottle.
The important thing to remember is that there is no right or wrong way to do this and you do not have to rush!
Just remember these 5 golden rules of transitioning from formula to milk and you'll be doing great:
Gradually supplement more cow's milk for formula over the course of a week regardless of how easy baby finds it to drink it to allow their tummy time to adjust. 
Offer milk from a cup during the day first and use a transitioning cup for the nighttime feed.
Keep an eye out for any adverse side effects that last for more than 48 hours.
Don't make a big deal out of the transition, be patient and take things slowly.
Remember that from 12 months, milk should become an important supplemental source of calcium and most of your little one's nutritional needs should now be coming from a well balanced solid food diet.
I hope you have enjoyed this post about how to transition from formula to milk and if you did, feel free to share it around to help other parents out!
Of course, if you have any further questions, feel free to get in contact by emailing [email protected] and I'll reply with as much help as I can!
One final note, if you're looking for more gadets, products and top reccommendations, head over to my Parenting Toolbox to find all my top picks for little ones!
And as always, thank you for reading and until next time, Happy Parenting!
Paula McLaren
Paul Mclaren - Norland Nurse NNEB RSH is the founder of Teething to Tantrums and has been in the child care industry as a Norland Nanny since 1982. Since then, her mission has been to help parents become the best they can possibly be. And each year, she continues to help more families understand their child's development, the trials and joys of parenting and of course, how to care for their little ones.
Download Our FREE Baby & Toddler Cheat Sheets
Designed for busy parents, these sanity-saving cheat sheets provide simple, practical and effective parenting strategies to tame tantrums, create calm bedtimes, support thriving development, and more! See results within hours!