Learning to roll over is one of your baby's first major milestones. And you'd be surprised by how quickly it can happen! Here are the top tricks and tips to help you learn how to teach a baby to roll over with confidence and ease.
At What Age Do Babies Roll Over?
Babies will first learn to roll over from tummy to back between 3 and 4 months old.
Most babies will roll in both directions by around 6 or 7 months of age.
REMEMBER: As with all developmental milestones, the time at which your baby is able to do certain movements varies from child to child.
Check out this post to learn more: When Do Babies Roll Over? 6 Subtle Signs To Look Out For!
How To Teach A Baby To Roll Over
Your baby's ability to roll over is a big deal and one of the first major developmental milestones that they will achieve. However, it is important that you offer your little one plenty of opportunities to learn and practise their new skill!
Here is the simple technique I use to help you know how to teach a baby to roll over:
Start by placing your baby on their back on a soft, flat surface. This will give them plenty of room to move around and explore safely.
Encourage your baby to lift their head and shoulders by placing age-appropriate developmental toys or other objects just out of reach. The looking and reaching actions will help them develop the muscles they need to roll over.
Once the baby is able to lift their head and shoulders, you can try helping them roll over by strategically placing a toy to the side of your baby in preparation for a roll.
Starting on their back, gently bend and bring the leg opposite to the side the toy is on and move it up and across the body to begin a 'roll'.
As they roll over, gradually straighten their leg and let your little one naturally bring their hands forward and reach for the toy to help them finish the roll.
Allow them to play on their tummy with the toy on then practise moving them back and trying again!
As the baby becomes more comfortable with the motion, you can gradually reduce the amount of support you provide, allowing them to do more of the rolling on their own!
NOTE: If you are a more visual learner, check out Corinne Hagins' Starfish therapies' lovely YouTube video showing this exact technique in practice.
Signs Your Baby Is Ready To Roll Over
When establishing how to teach a baby to roll over, you need to look out for a few signs that your baby is ready to roll over first:
Baby is lifting their head while lying down
Baby is making swimming action with their arms
They are rocking on their tummy
They are pushing up on their arms with their chest off the floor
Baby is twisting their legs in an attempt to roll over
They are reaching for toys whilst on their tummy
Download Our FREE Bedtime & Nap Cheat Sheet
A bedtime & nap cheat sheet so good your little one will ask you to put them to bed...
Laura Williams "This is a life saver! I'm so glad I downloaded your bedtime & nap cheat sheet. My little one actually asked me to put him to bed last night! Unbelievable! Thank you so much!"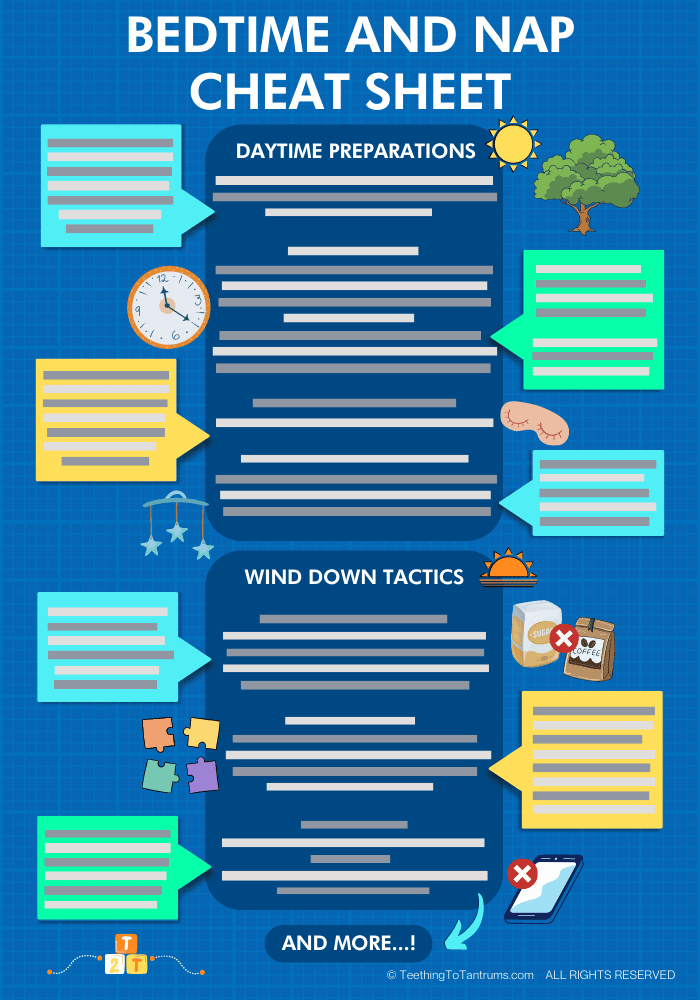 Exercises To Help Baby Roll Over
As well as initiating rolling over and encouraging your baby with toys, you can also discover how to teach a baby to roll over by helping to strengthen their muscles through exercises such as:
Tummy time. This exercise is ideal for helping your baby to strengthen their upper body, neck and core muscles as they learn how to shift their weight around. If your baby is struggling with tummy time, check out this post: 10 Tricks You Must Try If Your Baby Hates Tummy Time.
Toy reaching. This is a super simple game that will encourage your baby to shift their weight from side to side and stretch around. Use developmental toys that light up, make a noise or have bold patterns and fun textures to keep their interest.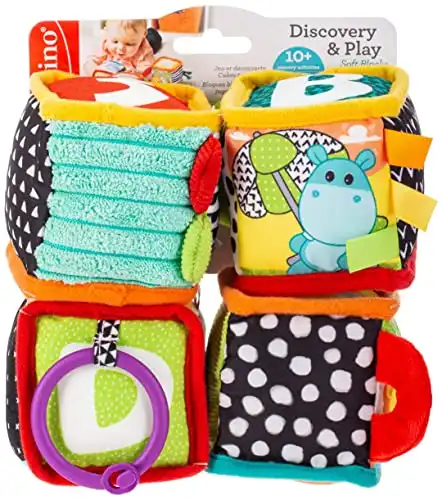 Infantino Discover and Play Soft Blocks Development Toy
Building blocks of all kinds are great for your little one but soft blocks are a perfect place to start. This collection has the added benefit of sensory surfaces that are easy for little hands to handle and explore and will grow with your baby.
Buy Now
We earn a commission if you click this link and make a purchase at no additional cost to you.
Play in different positions. To balance your little one's muscle development, it's important to give them plenty of time to play on their front, back and even side, from time to time.
Use a play gym. Play gyms offer the perfect opportunity to develop reaching skills and encourage kicking to develop core strength in readiness for rolling.
Our Pick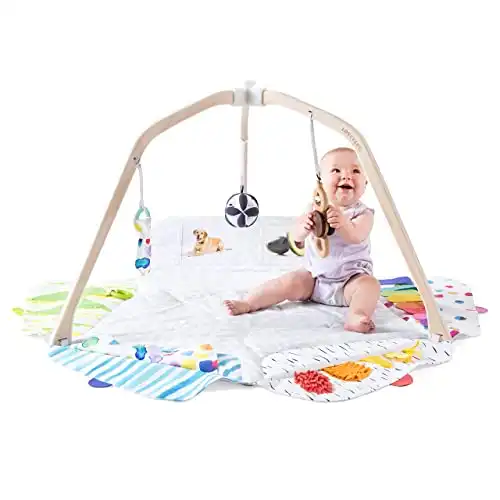 The Lovevery Play Gym | Stage-Based Developmental Activity Gym & Play Mat for Baby to Toddler
This play gym is designed by experts for baby's developing brain and body. Winner of multiple awards it includes everything you need in an activity gym... with a stimulating tummy time mat and wooden arc filled with age-appropriate toys, develop reaching, batting and coordination skills to inspire a whole year of play!
Buy Now
We earn a commission if you click this link and make a purchase at no additional cost to you.
Play across the midline. Encouraging your child to track and follow a toy from one side to another is a great way to build up the neck and core strength required to roll over. As well as the ability to shift their weight with greater control.
Pick up and put down your baby in a rolling movement. Gently rolling your baby in and out of positions is a simple yet effective way to get them used to the feeling of rolling over whilst you are still in control.
Rock baby's hips. This technique helps your baby learn how to shift their weight in order to roll over.
Encourage them. Your voice is a huge motivator for your baby, so by being enthusiastic about any attempt to roll over, your little one will soon realise that this movement is a good one and one they should repeat! Clapping, cheering, smiling and kissing are all wonderful motivators.
TOP TIP: Don't overuse baby bouncers, swings and jumpers as they will not help your baby to roll over or develop the skills and muscles required to move independently.
Frequently Asked Questions About How To Teach A Baby To Roll Over
Looking for more information about how to teach a baby to roll over? Find answers to the most common questions here.
Do Some Babies Skip Rolling Over?
Yes. A few babies will skip the rolling over stage and go straight to crawling or bum shuffling. 
REMEMBER: As long as your little one is progressing physically and building strength in their upper body there is nothing to be concerned about.
When Should I Worry If My Baby Is Not Rolling Over?
It is normal for babies to develop at different rates, so it is not necessarily a cause for concern if your baby is not rolling over at the same time as other babies their age.
However, if your baby is significantly behind in their physical milestones, has a weak upper body and little core strength or if they have not rolled over at all by 7 months old, it may be worth discussing a plan of action with your healthcare professional.
TOP TIP: Knowing how to teach a baby to roll over is as much about providing the right opportunities to develop and learn the skill as well as lots of parental encouragement!
What To Do If Your Baby Rolls Over While Sleeping
As parents, we all know that we should place our babies on their backs to sleep… Therefore, once they learn to roll over onto their tummies it can be rather alarming as we worry if they will be safe or not sleeping on their front.
While it is important to always put your little one to sleep in their crib on their back… if they roll over, do not panic.
Your baby is now strong enough to lift their head and shoulders and move independently to ensure they can breathe freely. 
Learning to roll over usually happens once the main high-risk stage of SIDS has passed.
Do I Need To Prepare For My Baby Rolling Over?
Yes, you definitely need to prepare yourselves and your house BEFORE your child can roll over.
You will be surprised how far and how quickly they can roll into potential trouble!
To create a safe environment cover electric sockets, and remove all dangling items such as cables, curtain cords and tablecloths. 
Most importantly, never leave your baby on an elevated surface unattended.
Need More Parenting Help?
Download our FREE Perfect Sleep Cheat Sheet. It's a free, easy-to-use and proven formula designed for parents of 0-5 year olds to master the art of consistently undisturbed and restful sleep without the yelling, nagging or exhausting long-winded evenings.
Check out our Parenting Toolbox. You'll get access to expertly-chosen products that you can guarantee are the best for your little one and your wallet.
Paula McLaren
Paula McLaren - Norland Nurse NNEB RSH is the founder of Teething to Tantrums and has been in the childcare industry as a Norland Nanny since 1982. Since then, her mission has been to help parents become the best they can possibly be. And each year, she continues to help more families understand their child's development, the trials and joys of parenting and of course, how to care for their little ones.
Download Our FREE Bedtime & Nap Cheat Sheet
A bedtime & nap cheat sheet so good your little one will ask you to put them to bed...
Laura Williams "This is a life saver! I'm so glad I downloaded your bedtime & nap cheat sheet. My little one actually asked me to put him to bed last night! Unbelievable! Thank you so much!"