Biodegradable nappies have become somewhat of a buzzword in recent years… But what exactly are they? How do they benefit your family and the planet? Are they really that much better than normal nappies? Are they worth the extra cost?
Well… The BIG question is: How do they affect YOU and YOUR baby? And that's EXACTLY what we're going to dive into today!
This post will clear up all the confusion and hype around biodegradable nappies and GIVE YOU THE FACTS that are often hidden away so you can make the most informed choice when choosing the best nappies for your little one!
So click on the jump links below to get started and learn the TRUTH behind biodegradable nappies!
What Does 'Biodegradable' Actually Mean?
First things first! What does 'biodegradable' mean?
Well, biodegradable refers to the breakdown of materials in a safe and natural way that is not harmful to the environment.
Therefore, your biodegradable nappies need to be able to fully break down in such a way that it is kind to the planet.
What Are Biodegradable Nappies Made Of?
Biodegradable nappies are FREE FROM dyes, perfumes, latex and chlorine which could prove harmful to your baby.
They are made from eco and baby skin-friendly products such as :
Biodegradable wood pulp from sustainable forestries
Organic woven bamboo fibre
Sustainably harvested corn and sugarcane
Chlorine-free fluff pulp also from sustainable sources
Use synthetic rubber as adhesives
Use latex for stretch
Download Our FREE Bedtime & Nap Cheat Sheet
A bedtime & nap cheat sheet so good your little one will ask you to put them to bed...
Laura Williams "This is a life saver! I'm so glad I downloaded your bedtime & nap cheat sheet. My little one actually asked me to put him to bed last night! Unbelievable! Thank you so much!"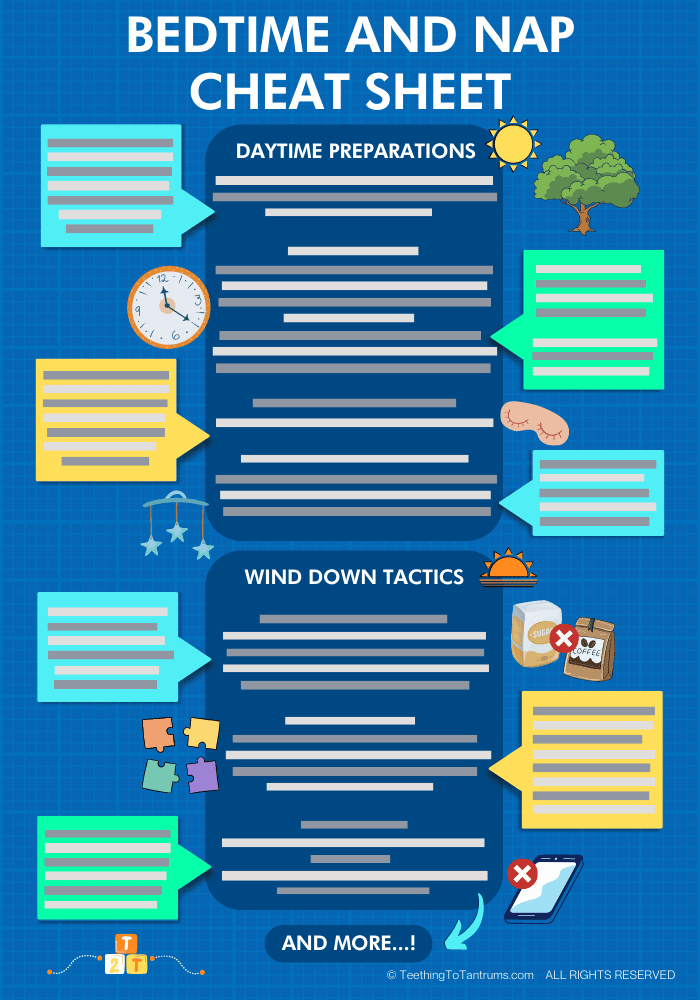 Why Are Biodegradable Nappies Better Than Normal Disposable Nappies?
Biodegradable, eco-friendly nappies are more expensive than normal disposable diapers, BUT if you are able to afford them then they are DEFINITELY kinder to our planet and your little one too.
Compared to normal disposable nappies, biodegradable nappies have the following benefits…
They produce fewer carbon emissions at the point of production
Contain some biodegradable materials that are sustainably sourced
Are kinder to your baby's skin
They do not contain harmful chemicals such as perfumes, chlorine or other toxins
Are Biodegradable Nappies Really 100% Biodegradable?
Now, this is where things can get a bit confusing and why I would rather call these nappies eco-friendly nappies and not biodegradable nappies…
Sadly, at present, there are NO nappies on the market that are 100% biodegradable; there are only ones that are made from natural environmentally friendly materials.
So, Can You Home Compost Biodegradable Nappies?
Despite being made out of biodegradable materials such as wood pulp, you CANNOT realistically home compost biodegradable nappies… This is because it only works with wet nappies and NOT soiled ones.
Therefore, you would also have to separate out the biodegradable bits from the non-biodegradable which would be very time-consuming (and not very pleasant!!)
In addition, the Environmental Health Department for England does not recommend home composting diapers as they may pose a potential health risk. You would also have a mountain of nappies sitting at the bottom of your garden!
As I would NOT recommend putting biodegradable nappies in the compost bin, the reality is that all disposable nappies (eco or not) will inevitably end up in landfill sites…
In an ideal world, the best way to dispose of biodegradable nappies is to compost them in an industrial compost but this is not always an option. Be sure to check what your country and county/state offers and check if this is a viable option for your diapers!
In Calgary, Canada, Mark Arishenkoff, co-founder of Soiled Diaper, explains how his system for composting biodegradable nappies works.
'We go [to homes] and collect the nappies and we bring it back to our facility, shred them up to organic material and once it's all shredded up, it goes into the composting unit and it takes 10 to 12 days from start to finish to compost the nappies.'
It would be great if, in the future, more parents have access to services like this and did not have to resort to landfill sites to dispose of their nappies.
I am hopeful that things will change in the future and that parents will have the option of following through with their eco choice by being able to dispose of their nappies in an ethical fashion.
But for now… your biodegradable nappies will most likely end up in landfills… But how long does it take to ACTUALLY degrade?
How Long Does It Take For Biodegradable Nappies To Degrade In Landfill?
Biodegradable nappies take 50 years to decompose.
This may sound like a very long time, however, regular disposables take between 150 and 500 years to decompose in a landfill!
So whilst it may seem like a long time to degrade, a biodegradable diaper is certainly a better option than regular disposable diapers!
Are 'Eco-Friendly' Products And 'Biodegradable' Products The Same?
It is important to remember that eco-friendly nappies do not necessarily mean biodegradable and that these terms mean two different things!
Eco friendly refers to the ethics behind the way a product is sourced and produced. So when it comes to a disposable nappy, we need to consider how the nappy is made. Does the company use plant-based, sustainable materials that are ethically sourced?
According to the Cambridge Dictionary, 'biodegradable is the ability to decay naturally and in a way that is not harmful to the environment.'
So if a product is described as eco friendly it does not always follow that it is biodegradable.
But knowing the difference between these two terms will ensure you are a savvy shopper when choosing items for you and your baby!
So, What Actually Are The Most Environmentally Friendly Nappies?
As a parent, you will literally change hundreds and thousands of nappies!
WRAP – Waste & Resources Action Programme UK, says that by the time they are potty trained, a baby could have used 4,000 to 6,000 disposable nappies or 20 to 30 reusable nappies.
So if you REALLY want to be eco-friendly then you need to be using reusable cloth nappies, as they are BY FAR the most environmentally friendly way to go.
Award-winning Bambino Mio has a brilliant reusable nappy system that works from birth onwards. Their nappies function like disposables with their quick fasteners so they're super easy to put on and take off. They also come with the option for an added insert for extra protection and their super-absorbent core draws moisture into the nappy away from your little one's skin.
GroVia Reusable Cloth Nappies
These are Super soft and chemical-free reusable nappies
I love the choice of patterns for these easy to use reusable nappies and the fact that you buy a nappy that will grow with your baby.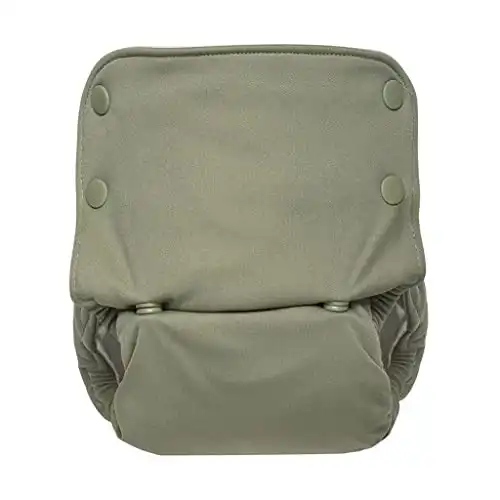 Reusable cloth nappies will keep on the right side of being eco friendly and produce fewer carbon emissions if:
they are mostly line dried
only tumble dried when absolutely necessary
washed once you have acquired a full load
not washed at more than 60 degrees.
are used on subsequent children
If you're looking for some more nappy options, I have compiled a few more of my favourites in my Parenting Toolbox. Be sure to check them out!
BUT there's a catch… cloth nappies can be very messy and for some families, they are just a bit too inconvenient for your everyday lives or when travelling, for example.
Therefore, the main advantage of biodegradable nappies is that they are convenient to use and are kinder to the environment than regular disposable nappies.
Just know that WHATEVER diapers you choose, ensure they are ethically produced with a low carbon footprint, are chemical-free and made from sustainably sourced plant-based materials. (I will be recommending my favourites at the end of this post!)
TOP TIP: No matter what you decide there is no doubt that both reusables and biodegradable nappies are BETTER for the planet than normal disposable diapers.
Conclusion:
If as a parent you are trying to make an ethical choice when choosing baby products for your little one, your choice of nappy will be the hardest and most confusing one to settle on.
I feel that reusables are the most eco-friendly way to go as they do produce fewer carbon emissions over time, have longevity, are kind to your baby's skin and there are excellent companies out there producing very effective reusable nappies, covers and biodegradable liners.
However, please don't beat yourself up on the ethics of using the occasional biodegradable nappy, just try to choose the most ethically produced brands you can!
What To Look Out For When Choosing Biodegradable Nappies
So, if you've decided that using biodegradable nappies will work for your family, you now need to unlock your inner detective to ensure you're buying the best nappies for your baby and the planet! Here are the most important questions to get answers to when choosing the best diapers!
Are they ethically produced?
Are they made from sustainable and renewably sourced materials, such as sustainable wood pulp?
Are they free from perfume, chlorine and plastic?
Do they consist mostly of biodegradable materials?
Do they come in biodegradable packaging?
Does the company producing them give back to the environment in any way?
Are they hypoallergenic so great for baby sensitive skin?
Can they be left on for 12 hours for nighttime dryness?
So, with that in mind… here are my top picks for eco-friendly and biodegradable nappies that tick all the boxes!
The Best Eco-Friendly Biodegradable Nappies To Do Your Bit For The Planet
REMEMBER: No nappy is 100% biodegradable. You just have to choose the most eco-friendly option that you can. The more natural the materials used, the quicker the nappy will biodegrade and the better for the planet it will be!
Mum & You NappyChat Eco Diapers
Super soft eco-friendly nappies with smart-tube technology which distributes liquid evenly to improve fit & protect against leaks.
These are cute looking nappies that also have a yellow line wetness indicator and come in a good range of sizes and they are produced using 100% renewable energy.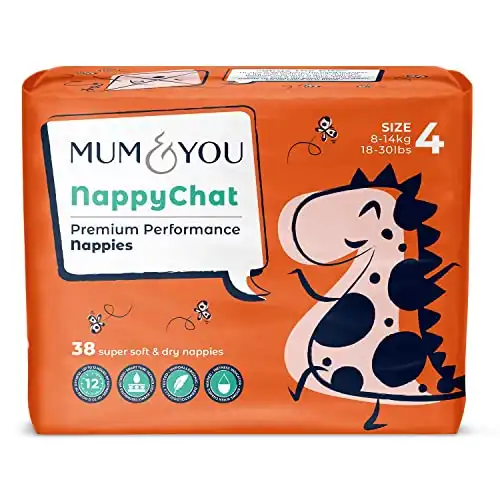 ECO BOOM Biodegradable Diapers
Super absorbent eco-friendly nappies made from bamboo.
This nappy is ethically sourced and has a German-designed absorbency layer that keeps your baby's bottom dry. They also come in all sizes from newborn to pull-ups for older children.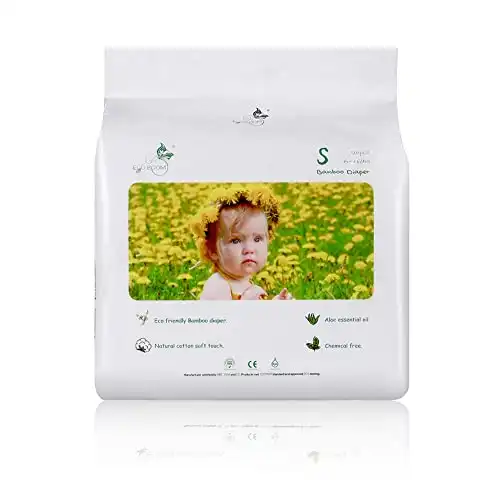 Bambo Nature Eco-Friendly Nappies
These sustainably produced nappies are widely considered to be excellent nappies both in the UK and USA.
Whilst not 100% biodegradable, they are free from harmful chemicals both of which reduce the risk of nappy rash and allergic reaction. They have a wetness indicator and give a good fit with a super-absorbent core that ensures your baby stays dry all night with no leaking.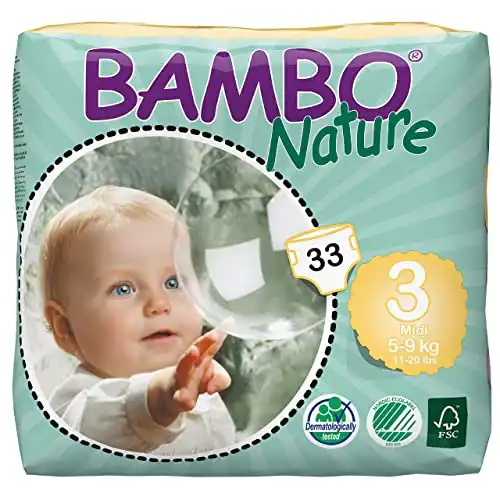 Kit & Kiln Eco Nappies
Well-fitting eco nappies with a super absorbent core.
While this nappy ticks all the normal eco-friendly boxes, I love the fact that they work in conjunction with the World Land Trust: Buy an Acre programme to help replant the rainforests.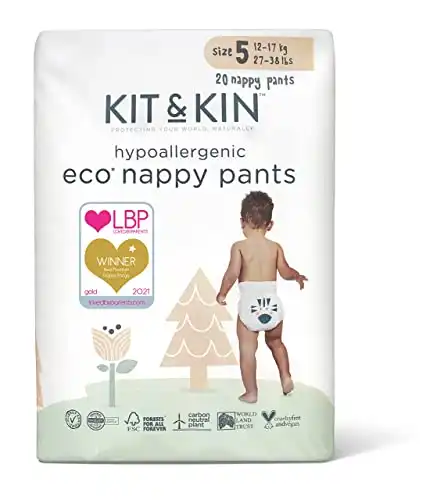 Are Biodegradable Nappies Worth It?
The Updated Study from the Environmental Agency for England published in 2008 showed that, when used responsibly, real nappies can be 40% better for the environment than disposable nappies.
I think that the Great Nappy Debate is quite hard for new parents. There is a great deal of pressure to be eco-friendly… So when it comes to nappies, reusables appear to be the best answer.
However, the practicality of it is that even if you decide to use reusable nappies you will, on occasion, find it more practical to use a disposable nappy.
Until we have a totally biodegradable nappy option, I would say that a COMBINATION of reusable nappies along WITH eco-friendly, disposable nappies is the BEST option!
Just accept the fact that your disposable diapers will not be home compostable but as they will be made mostly of biodegradable material, you will DEFINITELY be doing your bit for the planet!
Biodegradables are significantly more environmentally friendly than traditional disposable diapers and you will NOT be exposing your little one's bottom to any bad materials either!
If you enjoyed this post and know other parents who would enjoy this content, be sure to give it a share around!
As I mentioned in this post if you're looking for products for your little one and you're not sure where to begin, be sure to check out my Parenting Toolbox.
It is full of all my favourite products which I've tried to ensure are all non-toxic, eco friendly, sustainable and, of course, they're all baby proof! I've also included loads of cloth nappy options in the Baby Care section if you're stuck on where to begin!
Also, be sure to check out my post: Best Baby Wipes to complement your eco-friendly nappies with eco-friendly and baby-safe wipes!
Do you have any blog recommendations that you'd like me to write about? Drop me an email at [email protected] and let me know! I love hearing from you!
Thank you for your continued support! And with love, until next time, Happy Parenting!
Need More Parenting Help?
Download our FREE Perfect Sleep Cheat Sheet. It's a free, easy-to-use and proven formula designed for parents of 0-5 year olds to master the art of consistently undisturbed and restful sleep without the yelling, nagging or exhausting long-winded evenings.
Check out our Parenting Toolbox. You'll get access to expertly-chosen products that you can guarantee are the best for your little one and your wallet.
Paula McLaren
Paula McLaren - Norland Nurse NNEB RSH is the founder of Teething to Tantrums and has been in the childcare industry as a Norland Nanny since 1982. Since then, her mission has been to help parents become the best they can possibly be. And each year, she continues to help more families understand their child's development, the trials and joys of parenting and of course, how to care for their little ones.
Download Our FREE Bedtime & Nap Cheat Sheet
A bedtime & nap cheat sheet so good your little one will ask you to put them to bed...
Laura Williams "This is a life saver! I'm so glad I downloaded your bedtime & nap cheat sheet. My little one actually asked me to put him to bed last night! Unbelievable! Thank you so much!"