There are a seemingly endless number of best teething toys on the market and it can seem impossible to choose the best one for your little one… Right?!
Well… teethers have come a long way from basic teething rings and now, more than ever, best teething toys come in all shapes and sizes that are perfect for little hands (and our planet!)
Teething can be a challenge for any family, so when it comes to helping your little one (and you!) through it, getting the right products is KEY.
It's important to remember that not all natural teething toys are made equal either… and you must check that you are choosing the right ones for your little one to chew and gnaw on to soothe their pain SAFELY.
And that's why we've done all the hard work and have compiled our top favourites RIGHT HERE to help you and your little one ASAP!
What Are The Best Teething Toys?
The best teething toys offer safe teething relief while stimulating your baby's development. 
Keeping your little one occupied when teething pain kicks in is key, so choosing the best teething toys that are fun to look at and hold as well as being good to chomp on is ideal. Here are my TOP 13 FAVOURITES!
Cactus Baby Teething Toy Toothbrush
What is it? Unlike teething rings, these are a great teething toy for babies that help soothe teething pain while promoting oral hygiene. Made from high-quality food-grade silicone this is sure to be one of your favourite baby teethers.
Why do I recommend it? As well as being safe and the ideal shape for easing teething discomfort, this teether helps with visual, tactile and exploratory development with the undeniably added benefit of getting your little one ready for using a toothbrush.
AngelBliss Baby Teething Toys Set
What is it? These natural organic safe teethers, are made from 100% food-grade silicone and are BPA free. The giraffe teether is designed to soothe and massage sore gums whilst the banana toothbrush teether with soft silicone bristles is easy to grasp and promotes oral hygiene. The strawberry and orange teethers complete the set with their easy to grasp stems. All items in the set are also designed to be refrigerated for extra soothing.
Why do I recommend it? Apart from being very cute, this teething set offers you several options in one box. Made from high-quality products the teethers are easy for babies to hold and they will love the bright colours and feel of these bendy, chewy toys.
Skylety 11 Piece Wooden Teething Toy Set
What is it? A beautiful set of 11 beech wood teethers. These pieces have well-rounded corners and are beautifully tactile as well as offer teething relief.
Why do I recommend it? I love the fact that wooden teethers do not attract dust and do not need washing all the time. Wooden teethers also offer your baby an alternative tactile experience, while being safe to chew on. These toys from Skylety come in various shapes which will also help to develop your baby's recognition and visual skills.
Baby Elefun Teething Toy
What is it? This soft gummy teether is designed specifically for soothing teething pain with multiple shapes and textures that will very effectively soothe any discomfort while promoting dexterity. Baby Elefun is dishwasher safe and can be placed in the freezer for extra cooling comfort.
Why do I recommend it? This is a teether that will quickly become a firm favourite with your little one. It is an ideal teether for molars and I especially like the multi-textured surface. This toy will definitely last as your baby grows!
Itzy Ritzy Silicone Teether
What is it? A teething rattle with two silicone rings, these lovely little teething toys will keep your baby entertained, while the raised textures help to soothe and massage their sore gums. The wide opening makes it an easy teething ring for small hands to grasp and it is suitable for babies from 3 months upwards.
Why do I recommend it? I like the simplicity of these 100% food-grade silicone teething toys with their soft colours, easy to hold design and silicone rings to keep little hands busy.
Haakaa Silicone Baby Teethers 2 Pack
What is it? Made from 100% food-grade silicone these teethers, from world-renowned New Zealand based Haakaa breast pump producers, are an ideal first teething ring set. They are the perfect shape and size for little hands and can be put in the freezer to offer extra soothing comfort.
Why do I recommend it? I am always a fan of companies that are 100% committed to creating stylish, practical and sustainable products that are safe for both our children and our planet and Haakaa ticks all those boxes. I especially like that the integrated moulding of these teethers ensures that no parts can break off – making it super safe for your little one!
Crochet Bunny Teething Ring
What is it? Made of natural untreated unsealed beech wood, these charming rings will be a big hit with your baby. Supporting baby's motor development these natural eco-friendly toys are hand-sanded to safe and smooth perfection.
Why do I recommend it? I am a great fan of wooden products for babies and young children and these teethers are no exception. They have the added bonus of not collecting dust like silicone teethers and wood has antibacterial and antimicrobial properties, making it a superior teething choice. With a beautiful crochet bunny, these teethers make wonderful gifts and comforters.
NatureBond Baby Food Mesh Feeder
What is it? Not only will this set help you introduce your little one safely to new fruits and vegetables whilst weaning, but it can also be an effective teether toy for older babies. This feeder is easy to clean, PBA free and made from food-grade silicone. The soft chewable sack also massages your baby's gums without causing irritation.
Why do I recommend it? Teething babies love to chew and this feeder allows you to introduce them safely to new foods and soothe their teething pain at the same time. You can also put ice chips or frozen fruit/veg into the sacks for extra comfort. You will certainly get value for money from this product!
Jomolly Baby Teething Mittens
What is it? Teething mittens are the best baby teethers for little ones who can not yet hold teething toys. With an adjustable fastener, you can make sure that the mitt fits perfectly. The crinkly sound and cute colourful patterns will definitely help to keep your baby entertained whilst also soothing sore gums.
Why do I recommend it? This teething mitt ticks all the boxes to relieve teething pain for small babies, whilst being entertaining and safe to use. I especially love that it comes with a machine washable travel bag that you can pop into the washer to safely clean the mitten.
Cheeky Chompers Chewy Hippo
What is it? Made from natural rubber this teether is designed to avoid any choking hazard with lots of great features to chomp on while soothing tender gums. Better suited to slightly older babies, due to its size, this stimulating teether provides a unique sensory experience.
Why do I recommend it? This cheeky hippo is ideal for older babies and with a handy strap to attach to a pram or car seat, it's great to take out and about. Chewy Hippo is easy to squeeze and is ideal for teething babies to chomp on and its charming design will make it favourite long after teething has passed.
Matchstick Monkeys
What is it? These extremely popular teething toys get to the source of the pain to help soothe sore gums. They are dishwasher safe, freezer-friendly, are easy to hold, cute to look at and babies absolutely love them!
Why do I recommend it? Parents and babies alike can't help but find these teethers appealing. MatchStick Monkeys but go beyond being a cute toy and have made a great range of effective teethers. They are easy to hold and will help develop your baby's motor skills with their unique shape and textured surfaces.
Sugarboogers Silicone Teethers
What is it? This set of 2 cute cacti are great for teething babies. Sized just right for teething hands they are safe, durable, can be put in the dishwasher and can also be frozen or refrigerated for extra teething relief.
Why do I recommend it? This innovative range of little teethers are a modern classic and I especially like the cacti design which is easy to hold and has a great textured surface to ease sore gums. They provide your little one with safe sensory exploration and are an ideal first teething toy.
LifeTree Baby Washcloths
What is it? A cool washcloth to suck on offers lots of teething help that many babies find comforting. These ultra-soft non-irritating cloths made from 70% bamboo and 30% cotton come in several beautiful designs and are lightweight and, most importantly, are quick-drying.
Why do I recommend it? Offering your teething baby a cool washcloth to suck on is one of the many ways to help your baby's teething discomfort, but these cloths have the added bonus of being multi-functional, as you can also use them as a bib, face towel and burp cloth to name a few. They make a lovely addition to your teething tool kit.
Cheeky Chompers Muslin Neckerchew
What is it? The cheeky chompers range of teething products are award-winning and innovative. Made from 100% organic cotton muslin with an absorbent middle layer they have a soft and pliable teether attached to offer teething comfort.
Why do I recommend it? Teething babies drool A LOT. So to protect your baby's clothes, invest in a good set of teething dribble bibs. Made from high-quality products, Cheeky Chompers offer teethers and teething blankets, but I especially like their Neckerchews that are kind to baby's skin and do a great job of soaking up all that teething drool when being chewed on!
The best teething toys are an ideal way to distract your baby from the discomfort of teething while offering them relief from the pain of swollen gums. Not only do these toys ease the pain of teething, but they also have the added bonus of helping your baby developmentally, as they teach them to reach, grasp and shake. 
Choosing teethers can seem like a daunting task, but when slimmed down to the TOP 13, it becomes much easier to make your choice!
What Teethers Are Safe?
Safe teethers are ones that do not have any risk of falling apart whilst your baby is chewing on them.
For this reason, I am not a fan of teething necklaces. Yes, even under supervision.
Despite how well made they may be… There's always a risk that it may snap, get caught or break when baby is chewing on it – running the risk of choking on any loose beads.
And as I briefly mentioned earlier, I would always advocate going for the natural option when it comes to choosing the best teething toys. You definitely don't want any harmful products being chewed on by accident!
What To Look Out For When Choosing A Natural Teething Toy:
Made from 100% food-grade silicone (not medical grade)
Lead-free
BPA-free
Phthalates-free
Non-toxic
Made with natural paints
Made from natural rubber
Made from natural untreated wood
Made with organic cotton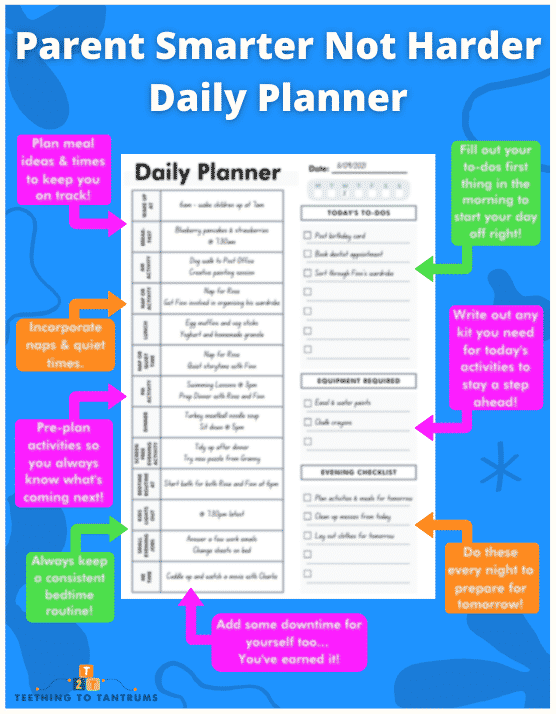 Become The Calm, Organised & In Control Parent You Want To Be By Adopting My "Parent Smarter Not Harder" Daily Planner!
Psst... The secret to peaceful parenting starts with your routine!
By subscribing, you agree to get emails from Teething to Tantrums. We will respect your privacy and you can unsubscribe any time.
Are Silicone Teethers Safe?
YES.
Silicone is NOT plastic but rather a form of rubber with the same durability and diversity as plastic (only much safer!).
Importantly, it does not support microbial growth and is non-toxic and odourless.
Silicone teethers made from 100% food-grade silicone also have the added benefit of being hypoallergenic and do not leach harmful chemicals.
Silicone is a great choice of material for teethers as it is smooth, pliable and malleable enough to be formed into lots of interesting shapes and textures. Teethers made from silicone can be put in the freezer, are dishwasher and steriliser safe and with a rubbery texture that is soft, chewable and durable they are an ideal teether for baby.
To learn more about silicone and it's benefits for baby products, check out this article: Why you should use silicone in mother and baby products.
What Is The Best Natural Remedy For Baby Teething Pain?
The best natural remedy for baby teething pain are products made from either natural rubber, food-grade silicone, organic cotton or untreated natural wood.
Never forget that a good massage of the gum with your finger and a comforting cuddle will also be very soothing for your teething baby.
I would recommend only using infant safe painkillers if you feel it is absolutely necessary. These should be used sparingly and as a last resort. I have 15 great natural teething remedies on my Teething Post, so be sure to check that out too!
NOTE: Always be sure to check the labels of any medicine you give baby and if you're really unsure, contact your local GP or paediatrician for advice.
If you enjoyed this post about the best teething toys and know other parents who would enjoy this content, be sure to give it a share!
If you're looking for more products for your little one and you're not sure where to begin, be sure to check out my Parenting Toolbox.
It is full of all my favourite products which I've tried to ensure are all non-toxic, eco friendly, sustainable and, of course, they're all baby proof! Covering everything from sleep, feeding, baby clothing, getting out and about & of course…. A little something for the parents!
Do you have any blog recommendations that you'd like me to write about? Drop me an email at [email protected] and let me know! I love hearing from you!
Thank you for your continued support and until next time, with love, Happy Parenting!
Paula McLaren
Paul Mclaren - Norland Nurse NNEB RSH is the founder of Teething to Tantrums and has been in the child care industry as a Norland Nanny since 1982. Since then, her mission has been to help parents become the best they can possibly be. And each year, she continues to help more families understand their child's development, the trials and joys of parenting and of course, how to care for their little ones.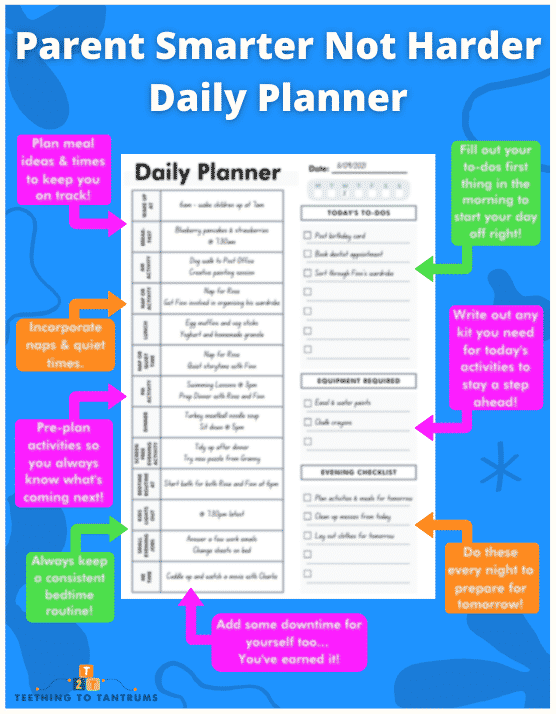 Become The Calm, Organised & In Control Parent You Want To Be By Adopting My "Parent Smarter Not Harder" Daily Planner!
Psst... The secret to peaceful parenting starts with your routine!
By subscribing, you agree to get emails from Teething to Tantrums. We will respect your privacy and you can unsubscribe any time.