Simply put, the best baby bottles you can buy are glass baby bottles.
You can't beat the longevity and sturdiness of simply grabbing a bottle of pre-made formula or milk from the fridge, heating it up and not worrying about damaging the bottle.
While the inexpensive bottles will certainly get the job done, premium brands have convenient features such as different teats for different flow rates and nipple recreations, silicone sleeves, and extra strong thermal-shock glass.
But how do you choose the best glass baby bottles for your precious little one? What features do you need to look for? What do you need to know before you buy a set? Sit back and relax. we've done all the work for you.
Best Glass Baby Bottles: Philips Avent Natural Glass Baby Bottle
These easy to hold bottles are heat and thermal shock resistant. They are also super easy to wash and sterilize. The flexible nipples are ultra soft and flexible with the NUK unique petal design. They also have an anti-airlock vent designed to reduce colic symptoms.
These baby bottles are ideal for mums who want to combine breast and bottle feeding as their breast-shaped teats encourage a natural latch. It also mimics the feel of a breast making them the ideal bottle for breastfed babies to make the switch from breast to bottle.
Our Top Pick
Best Glass Baby Bottles For Colic: Dr. Brown's Options Wide-Neck Anti-Colic Glass Baby Bottle
Dr Brown's have been making bottles to help combat colic for over 20 years and these glass bottles are no exception. They have an anti-colic vent system that is clinically proven to reduce colic, aiding digestion and helping baby to get a good night's sleep.
These bottles have stood the test of time and have long been recognised as the best bottles for combating colic with their unique vent system. They are 100% vacuum free and have breast like teats that encourage a good latch which makes them perfect for switching from breast to bottle and back again. Ultimately, these bottles can have the vent removed as baby's feeding develops.
Download Our FREE Parenting Daily Routine
This free daily routine reveals our simple process to take you from feeling stressed, tired & overwhelmed to a thriving, organized & confident parenting champion.
By subscribing, you agree to get emails from Teething to Tantrums. We will respect your privacy and you can unsubscribe any time.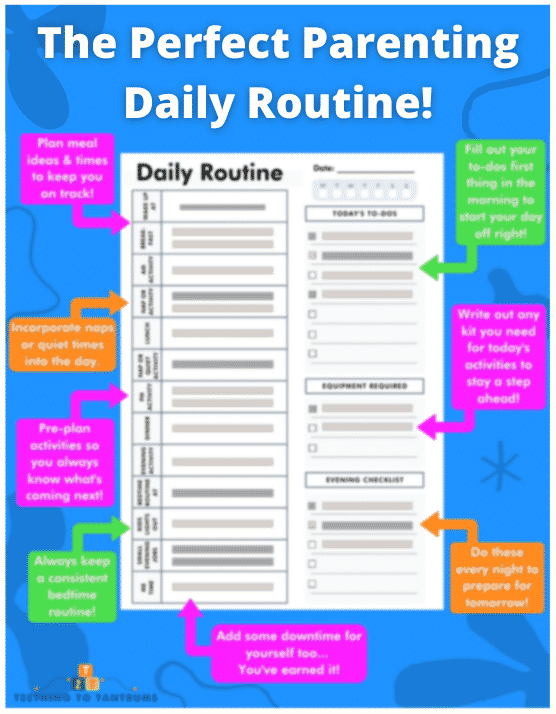 Best Glass Baby Bottles On a Budget: NUK Nature Sense Glass Baby Bottles
NUK nature sense and simply natural glass bottles have teats with several tiny openings that are modelled on a mother's nipple and give a smooth flow. They also feature an anti-colic air system.
These bottles are an ideal place for new mums to start and they won't break the bank either. They tick all the essential boxes for feeding your newborn either exclusively or mixed with breastfeeding. They also offer a variety of teats including slow flow which can be really handy.
Are Glass Bottles Safe?
The short answer to that is… YES. Absolutely.
Glass baby bottles are made from extra strong glass (borosilicate glass) which means they can withstand being taken from a cold fridge and heated up quickly without breaking.
One of the other major benefits of glass bottles is that not only are they extremely durable but they can withstand all that you or your baby can throw at them. If you are extra concerned about safety you can always have the extra security of silicone sleeves for added protection.
Glass Vs. Plastic Baby Bottles
Statistically, the sales of glass bottles are fast outgrowing the sale of plastic bottles and with good reason. There are many advantages to glass bottles over plastic.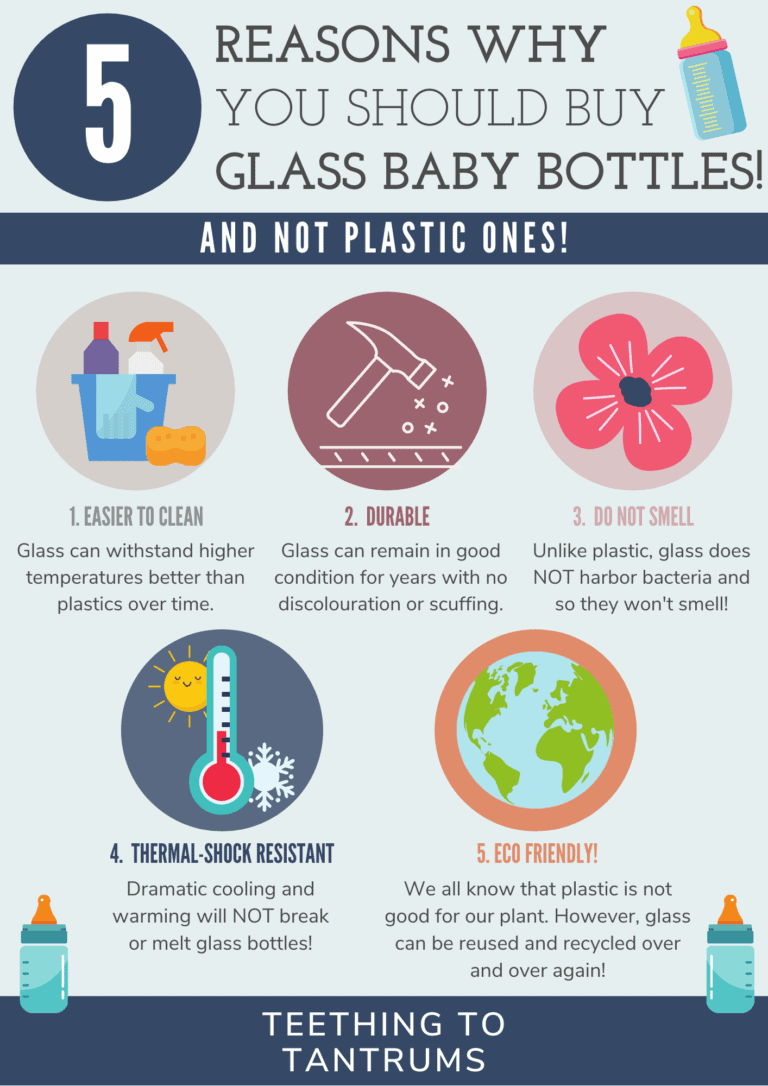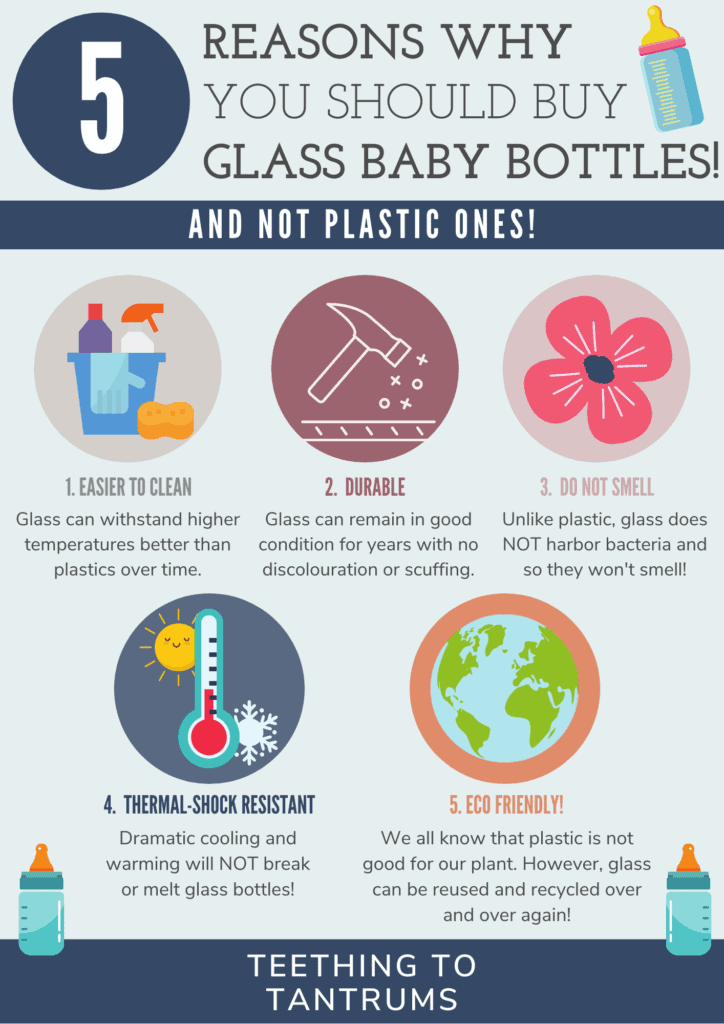 They are easy to clean
They do not harbour bacteria (so they won't smell bad!)
They are durable and remain in good condition for years with no discolouration or scuffing
Glass bottles are thermal-shock resistant
Glass bottles are eco friendly
Glass Baby Bottles – The Eco-Friendly Option
Glass bottles by nature are more eco friendly than plastic bottles. They are easily recycled and will last for years and years.
How To Care For Glass Bottles
You can care for your glass baby bottles in much the same way as you would plastic bottles. You should always wash your new baby bottles before the first use to wash off any dirt and grime from the packaging and I would also then sterilize them before using.
Most glass baby bottles can even go in the dishwasher too – just be sure to check the product information first.
How To Sterilize Glass Baby Bottles
You can sterilize your glass bottles in one of three ways.
Hand washing with a mild detergent and then boiling in hot water for 5 minutes.
By putting all parts on the top rack of the dishwasher after having hand washed with a mild detergent first.
In a sterilizing unit again after having hand washed first.
Some glass bottles say that they can be sterilized in the microwave but I have never been an advocate of this method and would always choose to do one of the above.
If you're looking for a sterilising unit, be sure to check out my Parenting Toolbox Feeding Page for my top recommendation!
How To Warm Glass Bottles
Interestingly baby's do not need to have warmed milk but they do prefer it NOT to be ice cold. After all, breast milk is body temperature and this is what they like best!
While it is always best to make up a feed fresh when you need it that is not always practical or possible. If you have a prep machine then the warming is not an issue as they do it all for you rather like a fancy coffee machine.
However, as wonderfully convenient as they are… they are NOT essential.
Most baby glass bottles are made from thermal shock resistant glass so can be warmed up directly from the fridge but check the manufacturer's instruction leaflet first.
Feeds made up in advance and stored in the fridge can be heated up in the following ways:
In a jug of warm water
In a bottle warmer (check if the bottle warmer can heat glass bottles as some do not)
Testing the temperature of the milk on the inside of your wrist is still the best way to judge if the milk is warmed enough.
It is not recommended that you heat a baby feed in a microwave as it heats too unevenly and NEVER reheat a bottle once formula or breast milk has come into contact with saliva as it has the potential to grow bacteria if reheated.
Top 5 Features To Look For When Choosing Glass Baby Bottles
1. Easy To Hold
Ensuring your baby bottles are easy to hold is a MUST. You don't want to have to be constantly changing your grip when feeding baby and you certainly don't want to drop the bottle on baby either!
2. Not Too Heavy
Choosing a baby bottle that isn't too heavy means that your little one can hold the bottle as they grow up. Babies love to test their independence and being able to pick up a bottle and feed themselves is the first step in this journey.
3. Easy To Clean
You will thank your lucky stars that you did. Choosing dishwasher safe bottles is always great, but a well-shaped glass bottle will be very easy to clean by hand too.
Keep an eye out for the teats though! As they can prove a little trickier to clean.
4. Silicone Covers
As mentioned above, having a good grip is very handy for baby bottles. Not only will this help baby hold them, but it will also ensure the bottle does not slip as easily.
Silicone covers also help to ensure your baby bottle is less likely to roll off a surface too.
5. Can Withstand Quick Temperature Changes – Thermal Shock Resistant
This is one of the major benefits of choosing glass over plastic baby bottles. Therefore, you will need to choose glass bottles that can withstand quick temperature changes such as going from a cold fridge to a bottle warmer.
Plastic can degrade over time when exposed to these changes, whereas glass will not.
How Many Bottles Do I Need?
To start with I would recommend having between 5-10 bottles for your newborn depending on whether you are exclusively breastfeeding or not. If you are planning on expressing then take that into account.
You should start off with 4oz bottles and then transition to 8oz or 9oz bottles at around 4 months.
Are Glass Bottles Worth It?
Bottom Line: Yes!
Glass bottles are definitely worth the investment as they will last not only for your first child but future children as well. They do not become scuffed and fade over time and will stay looking as good as new for years to come.
Glass baby bottles are obviously more eco friendly and easier to clean than plastic bottles and are less likely to hold and grow bacteria. Really what is there not to like?
If you enjoyed this post and know other parents who would enjoy this content about the best glass baby bottles you can buy, be sure to give it a share!
As I mentioned in this post if you're looking for products for your little one and you're not sure where to begin, be sure to check out my Parenting Toolbox.
It is full of all my favourite products which I've tried to ensure are all non-toxic, eco friendly, sustainable and, of course, they're all baby proof!
Do you have any blog recommendations that you'd like me to write about? Drop me an email: [email protected] and let me know. I love hearing from you!
Thank you for your continued support and until next time, Happy Parenting!
Paula McLaren
Paul Mclaren - Norland Nurse NNEB RSH is the founder of Teething to Tantrums and has been in the child care industry as a Norland Nanny since 1982. Since then, her mission has been to help parents become the best they can possibly be. And each year, she continues to help more families understand their child's development, the trials and joys of parenting and of course, how to care for their little ones.
Download Our FREE Parenting Daily Routine
This free daily routine reveals our simple process to take you from feeling stressed, tired & overwhelmed to a thriving, organized & confident parenting champion.
By subscribing, you agree to get emails from Teething to Tantrums. We will respect your privacy and you can unsubscribe any time.