We've all been there… Frantically running around like headless chickens wondering where all the time has gone when we've got appointments to get to, naps to squeeze in (or not!), meals to prepare, activities to do, rooms to clean, and a bedtime fast approaching!
In other words… we've all been BALANCING THE CHAOS.
Well… NOT ANYMORE!
This post will guide you through the processes of creating a FOOLPROOF 3-year-old schedule and help you figure out wake times, meal times, sleep times, and how to drop the afternoon nap if your toddler is ready.
4 Incredible Benefits Of Establishing A 3-Year-Old Schedule
Having a schedule at any age is extremely beneficial. Even as adults we all love a routine so without a doubt there are many benefits of having a schedule for your fledgling preschooler!
So here are 4 incredible benefits of implementing a 3 year old schedule:
1. Helps Your Little One Feel Safe And Secure
In the preschool years, your child's brain and emotions are developing rapidly and things can easily get out of hand or feel overwhelming for you both.
Therefore, having a basic routine that allows some flexibility is ideal for 3 year olds to help keep them grounded and allow them to thrive in a secure environment.
2. Ensures That Meals And Bedtime Are Regular Which Avoids Over Tiredness & Hunger Fuelled Meltdowns
A tired and hungry 3 year old is not an easy person to be around and it is so easy for this age group to get overwhelmed.
Their thirst for knowledge and enthusiasm for life can rapidly get them into trouble as they are not yet old enough to self-monitor! So it is up to us, the responsible adult, to keep things on track.
Ensuring your 3-year-old has adequate sleep, regular meal times and a healthy and regular bedtime routine is essential to avoid meltdowns from exhausted and hungry toddlers!
3. Enables You, As A Parent, To Feel In Control Of The Day
Parents also benefit from a 3 year old schedule as it helps you to feel in control of your day.
Building a schedule around your child's mealtimes and sleep schedule means you can fit in your chores, playtimes and daily outdoor time without having to reinvent every day.
Looking after an active 3 year old can be exhausting and exhilarating at the same time so ensuring you have a basic routine on which to build your days will go a long way to making sure you get the most out of this wonderful age!
4. Starts To Get Your Child Ready For School Where A Routine Is Mandatory
Your 3 year old is soon to be entering the preschool era and may start attending nursery school for the first time. So, having an established 3-year-old schedule at home will make it easier for your child to adapt to nursery routines and make settling into these settings far easier.
5 Ways To Create An Effective 3 Year Old Toddler Routine
An effective routine requires these 5 things:
Have realistic expectations,

Be achievable and attainable on a daily basis,

Some flexibility for when life inevitably happens!

Specific checkpoints in the day that stay constant, so you feel that you are keeping on track.

Utilises natural breaks in the day such as mealtimes and naps which occur at roughly the same time every day.
Also, you should aim to include AT LEAST one outdoor activity or trip out into your routine every day (unless really bad weather does not allow you to!) as the fresh air and endless learning opportunities for your little one are incredible for their development.
Within your routine, it is also important that you build in time for you to get essential chores done and the best way to do this is to get your 3 year old involved with them!
This age group love to copy you and they will enjoy helping out with the cleaning and laundry (even if they're not really helping you, the feeling of achievement and teamwork your little one feels will boost their confidence so much!) So, give them a little job while you get on with the important stuff and this will ensure your routine works for you both.
TOP TIP: When it is not practical for your 3 year old to join you whilst doing chores, create a safe place where they can entertain themselves and play independently.
Ensure you can still keep an eye on them though.
What Activities To Include In A 3 Year Old Schedule?
By 3 years of age, your toddler is very able to play alone and it will be extremely good for them to do so. Mixing up focused play with you and independent play is what you should aim for within your 3 year old schedule.
Include activities such as:
painting,

building,

reading,

or cooking to name a few.
I would also consider some weekly activities that you can build in such as:
swimming classes,

mother and toddler groups that you regularly go to,

organising a play date,

or having Sunday walks.
These types of activities are hugely beneficial for both of you as they will help your little one to start to socialise and allow you to chat and share with other parents.
Make Weekends Special
You should also aim to make family weekend times special!
While it is important to keep to the mealtime and sleep time routines, doing something special together and or letting your partner have some one-on-one time with your 3 year old will be beneficial to you all.
A healthy 3 year old schedule should also have some flexibility as life will always throw you the odd curveball. Therefore, be careful not to fill in every minute of your day with predetermined activities.
Leave some space for unexpected things to happen and for a bit of spontaneity too!
Getting the balance right will help teach your 3 year old to cope with changes in routine when they occur and take them in their stride.
TOP TIP: A good 3 year old schedule is a weekly one as well as a daily routine!
Download Our FREE Bedtime Routine Cheat Sheet
A bedtime routine so good your little one will ask you to put them to bed...
Laura Williams - "This is a life saver! I'm so glad I dowloaded your bedtime routine cheat cheat. My little one actually asked me to put him to bed last night! Unbelievable! Thank you so much!"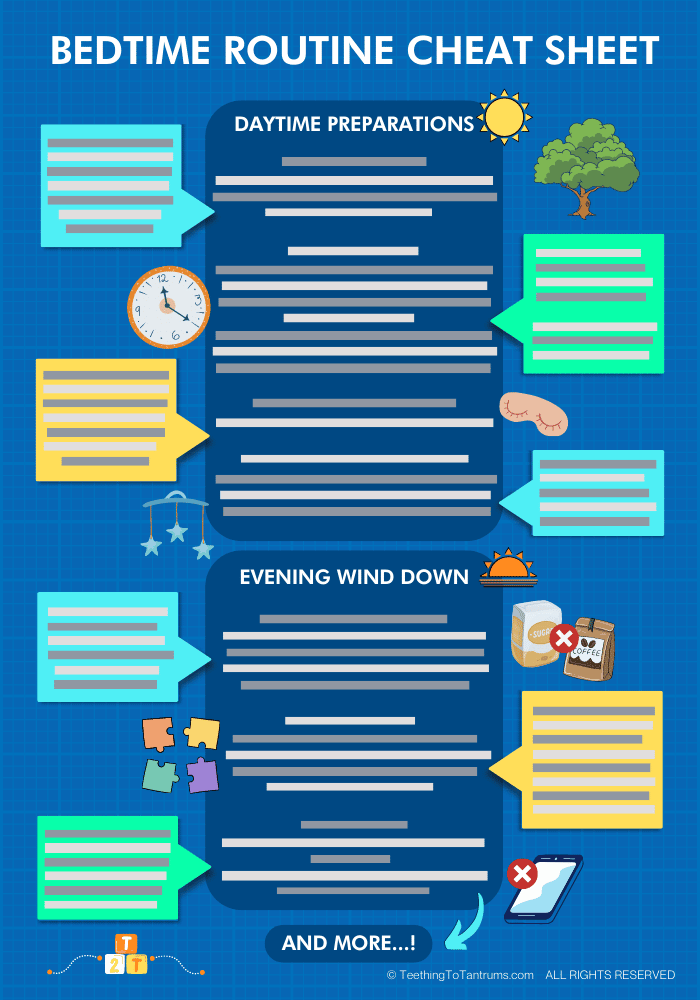 What Does A 3-Year-Old Schedule Look Like?
Whether your 3 year old has a nap or not they should all have a quiet time after lunch.
This is especially important as your toddler is going through a nap transition phase and will probably need to sleep on some days and not others.
Having a quiet time means that on days when they do need to sleep they will probably just drop off and take a nap but, at the very least, they will get a chance to recharge their batteries ready for the afternoon activities.
Quiet time is best taken in their room. You can read a book together to settle them down then leave them to look quietly at some age appropriate books or engage in quiet play.
I believe that teaching your toddler to embrace quiet time is very important so here's a 3 year old schedule below that has an interchangeable nap and quiet time to cover both options.
Example Of A Typical 3-Year-Old Schedule
| | |
| --- | --- |
| Time Of Day | Routine For Toddler |
| 7am | Wake Up and Independent Play |
| 7.30am | Breakfast |
| 8.30am | Potty, Get Dressed, Clean Teeth |
| 9am | Morning Activity, Independent Play, 'Helping' With Chores |
| 10.30am | An Outing or Structured Play |
| 12pm | Lunchtime |
| 12.30pm | Naptime or Quiet Time |
| 2.30pm | An Outing, Walk, Swimming Class, Structured Play or Similar |
| 5pm | Teatime |
| 6pm | Bathtime! |
| 7pm-7.30pm | Bedtime |
REMEMBER: The above routine is a guideline. All schedules for 3 year olds should be built around ensuring they have regular mealtimes and age-appropriate sleep.
A Schedule For You
Remember, having a routine for you is as important as a routine for your 3 year old.
A schedule that compliments your toddler's routine but includes what you need to get done will help you feel more in control of your day. An example could look something like this:
1. Your Routine Whilst At Home
Time Of Day

Routine At Home

7am

Wake Up

7.30am

Breakfast Together

8am

Shower whilst toddler plays independently

8.30am

Help little one get dressed & ready for the day

9am-12pm

A combination of household chores, with or without your little one, independent play, grocery shopping, mum and toddler group, structured play activity or outing

12pm

Lunchtime

12.30pm

Naptime or quiet time

Prep for supper, any chores that are best done without your little one around, get afternoon activity set up

2.30pm

An Outing, Walk, Swimming Class, Structured Play or Similar

5pm

Family Teatime

6pm

Bathtime!

7pm-8pm

Bedtime

8pm-10pm

Supper with your partner if you did not eat earlier

Decide and prepare for tomorrow's activities and meals as needed

Chill out and watch an episode of your favourite TV show!
If you and your partner work, then the above would be your weekend routine and your weekly routine could look something like this.
2. Your Routine Whilst Working
Time Of Day

Routine Whilst Working

6am-6.30am

Wake Up, Shower and Get Dressed

7am

Wake Up Toddler

7.15am

Breakfast Together

7.45am

Help little one get dressed & ready for the day

8.15am

Leave the house to drop off toddler and get to work

9am-5pm

Work

12pm

Lunchtime

12.30pm

Naptime or quiet time

Prep for supper, any chores that are best done without your little one around, get afternoon activity set up

5.30pm

Pick Up Toddler

6pm

Return home, quiet independent play for toddler, prepare evening meal

7pm

Family evening meal

7.30pm

Bathtime!

8pm

Bedtime

8pm-10pm

Prepare for tomorrow's packed lunches and meals as needed

Pack toddler's day bag for nursery

Chill out and watch an episode of your favourite TV show!
REMEMBER: A successful routine is one that works for your household. Each family will have its own needs to suit the personalities within it so try not to compare your routine with others.
Printable 3 Year Old Schedule
As promised, here are my FREE printable schedule templates for you and your little one!
The top 2 are filled out with my suggestions for an ideal 3 year old schedule and the bottom 2 are left blank for you to fill out and work around your lives!
13 Top Tips To Help Maintain A Daily Routine
Having a 3 year old schedule is one thing…
But maintaining it is another…
So what can you do to help ensure that things stay on track?
Print out a basic schedule so that you can check in on it during the day to see how you are going. This can be in the form of a chart or cards that can be clearly understood by your little one too.

Make the printable routine easy for your 3 year old to understand and refer to and put it up in an easy to see place.

Keep mealtimes, nap times and bedtimes REGULAR.

Decide ahead of time what you are going to serve at mealtimes. Weekly meal planning is a HUGE help for this as you can ensure your trips to the grocery store are quick and efficient and you have an idea of what you're going to cook for dinner that week!

Leave some room for flexibility in your routine for the unexpected.

Include your little one in the daily chores. This age group loves to copy what you are doing.

Have a list of activities you would like to do with your little one and decide the evening before what you would like to do the next day to get yourself prepared.

Create a safe place for your 3 year old to play independently.

Use timers and clocks to give your 3 year old timely warnings when mealtimes and bedtimes are approaching or when they have to play independently if you are busy.

Have calm and timely transition times so that your 3 year old does not feel rushed.

Talk about what is coming up next in the day with your toddler so they know what to expect.

Offer simple acceptable choices to your 3 year old to avoid confrontations.

Follow through with what comes next. Your 3 year old is now old enough to understand what is expected when it comes to getting ready for mealtimes, going out or getting ready for bed so DON'T give in if they start to show resistance to your plan!
3 Year Old Schedule FAQS
Here are a few questions that I have been asked over the years about creating and maintaining a 3 year old schedule, so I hope you find them helpful too!
What Is A Good Routine For A 3 Year Old?
A consistent daily routine for your 3 year old will make them feel safe, secure and will allow them to flourish.
A good routine for a 3 year old is one that is built around regular mealtimes and a healthy nap and bedtime routine.
Within those parameters, time spent outdoors at least once a day is also recommended to encourage physical activity.
Included in your 3 year old's day should be plenty of opportunities to engage in age-appropriate play activities and some independent play.
Your toddler is also now old enough to take part in tidying up, laying and clearing the table and will also be starting to learn to dress themselves. It is important that you encourage them to take part and practice these things in their daily routine.
TOP TIP: It has been proven that toddlers are more capable of dealing with what life has to throw at them if they are coming from the basis of a strong and stable routine.
Do I Need To Follow A Routine Every Day?
YES. You need to follow a basic 3 year old schedule every day with the ONLY difference coming from the activities that you do within the routine.
Obviously, there will be days when things change, for instance when you go on holiday or visit family and friends, but ensuring your little one has enough sleep and eats regularly even on these occasions is ESSENTIAL.
Weekends may have a slightly different feel but I would not change the fundamental core of your routine too drastically.
Three year olds are going through a lot of transitions emotionally, so the more consistency you can provide on a daily basis where they feel safe and secure, the more time they can spend learning how to cope with all the new developments that are going on for them at this stage.
What Time Should A 3 Year Old Go To Bed?
A 3 year olds recommended bedtime is between 6 to 8pm as they require 10-13 hours of sleep per 24 hours BUT…
I would personally aim for bedtime at 7pm and no later than 7.30pm.
TOP TIP: It is very important to keep to a regular bedtime and bedtime routine to ensure that your toddler gets enough sleep and that you get the child-free evening you need and deserve.
Do 3 Year Olds Need Naps?
Yes and no…
3 year olds are at an interesting and challenging stage when it comes to daytime naps…
Some will have already dropped the afternoon nap in their schedule while others will not be able to make it through the day without one.
An added complication is that some 3 year olds will need a nap on some days and not on others. This can be quite difficult to navigate as the result is an overtired toddler so you will need to watch out for signs of tiredness and take into consideration what your toddler has been doing that day.
You may find that if your 3 year old is going to nursery on certain mornings or has attended a swimming class that they will need a nap in the afternoon, whereas on days they don't go they can manage without one.
Even though there is no hard and fast rule when it comes to 3-year-old naps, I would HIGHLY recommend that even children who do not nap should still have a quiet time after lunch.
Final Notes
Remember, creating an effective 3 year old schedule must work with your family's life or it will not stick, so always take into consideration how your household's day naturally flows.
Establish consistent wake-up, feeding and sleep times and integrate chores, activities and outings around these core fundamentals.
Remain patient and calm about nap times as some days your little one will be quite happy to not sleep and on other days, they will be desperate for a nap.
And that's about it for creating a 3 year old schedule! If you have any further tips, advice or suggestions that you would like to share with other parents, be sure to drop me an email at [email protected] and let me know! I will happily include them in this post to create a helpful resource for all parents!
So until next time, with love and support, Happy "Organised" Parenting!
Paula McLaren
Paul Mclaren - Norland Nurse NNEB RSH is the founder of Teething to Tantrums and has been in the child care industry as a Norland Nanny since 1982. Since then, her mission has been to help parents become the best they can possibly be. And each year, she continues to help more families understand their child's development, the trials and joys of parenting and of course, how to care for their little ones.
Download Our FREE Bedtime Routine Cheat Sheet
A bedtime routine so good your little one will ask you to put them to bed...
Laura Williams - "This is a life saver! I'm so glad I dowloaded your bedtime routine cheat cheat. My little one actually asked me to put him to bed last night! Unbelievable! Thank you so much!"