​​So you now have a 17 month old walking, talking, energy filled little human!
This month is PACKED FULL of development growth spurts, personality developments and the occasional stubborn tantrum!
It can be tricky to figure out exactly what's going on this month so here's all the important bits you need to know ALL IN ONE PLACE!
17 Month Old At A Glance
So here's a glimpse of what to expect from your 17 month old!
Foods For A 17 Month Old
Your 17 month old will be having 3 meals a day, 2 snacks and the equivalent of 2 8oz cups of milk a day, in the form of a drink with meals or included in meals.
Toddlers are notoriously finicky and fussy eaters, liking something one day and then turning their nose up at it the next. Just keep introducing new foods in a variety of ways and avoid getting into standoffs about food, or falling into the trap of offering unhealthy snacks thinking any food is better than no food.
TOP TIP: Your little one should be having all their drinks from a cup by now.
17 Month Old Sleep
Most 17 month old children will probably have dropped the morning nap and be having one nap a day. They need on average 14 hours sleep in a 24 hour period to include 1 afternoon nap of up to 2 hours.
TOP TIP: Ensure the crib mattress has been moved down to the correct height to prevent your toddler from trying to climb out.
17 Month Old Development
Physically your 17 month old child will become ever more steady on their feet and more adept at moving in general. They will be able to stop whilst walking, bend down to pick something up and then keep going, smoothly and without assistance.
A noticeable mental milestone at 17 months is their speech development. You may notice your child starting to string 2 or more words together and use more active verbs and their speech will be clearer.
Keep reading to learn more about your 17 month old's development milestones!
17 Month Old Development Milestones
Each month in the first two years of your little one's life brings new and exciting developments.
Here are some of the KEY milestones to look out for this month!
Fine Motor
Your 17 month old child may now be able to turn knobs more easily
They can pick up small objects easily using finger and thumb
They can also put circles and squares and maybe even triangles into a shape sorter
Your 17 month old should be able to build a tower of up to 3 blocks too.
Gross Motor
Your 17 month old can now walk, stop, bend down and start walking again confidently
They will be able to start using ride on toys
Your 17 month old toddler will try and throw a ball underarm too
And they will try and kick a ball
Social
Your 17 month old child may bite, hit or shove
They will test boundaries more and more
They will still only play alongside other children but will watch what they are doing closely
Emotional
Your 17 month old child may become very attached to a favourite toy or blanket
They will seek comfort when upset or hurt after a bump or scrape
Your 17 month old child may start having tantrums
But they will begin to understand the difference between right and wrong
And will show voluntary displays of affection
Language
Your 17 month old child may also start to use 2-4 word sentences such as 'I want cup'
They may start to name and point at parts of the body too
And your 17 month old will start to use active verbs such as down, up, jump, in and out
They are also able to communicate what they want and speak more clearly
Play
Your 17 month old child may start to engage in make believe play
Alongside their gross motor development, they will like to play on ride-on toys, pull along toys and your 17 month old will try and throw a ball too.
Download Our FREE Parenting Daily Routine
This free daily routine reveals our simple process to take you from feeling stressed, tired & overwhelmed to a thriving, organized & confident parenting champion.
By subscribing, you agree to get emails from Teething to Tantrums. We will respect your privacy and you can unsubscribe any time.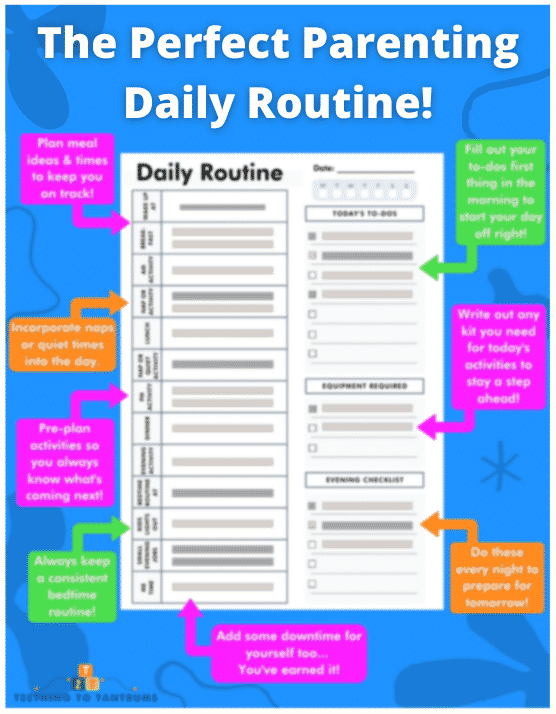 How To Support Your 17 Month Old's Development
Your 17 month old child will be making leaps and bounds in their language development. Their vocabulary will increase quite rapidly during this phase, as will their ability to do more both physically and mentally.
Emotionally they will be on a bit of a roller coaster as they learn to control their feelings.
Here are some of the things you can do to help your toddler develop to their full potential at 17 months:
How Can I Encourage My 17 Month Old To Talk?
Talk and chat, name and explain. Encourage your little ones' attempts to use new words and help to expand their vocabulary. Explain what you are doing in detail like 'let's put on your shiny red wellies' rather than 'lets put on your wellies'
Read lots of books. Reading books is a great way to expand your 17 month olds vocabulary. Take books in your bag when you go out, have stoller books and books in the car.
Sing lots of nursery rhymes and songs. 17 month old toddlers love nursery rhymes and will begin to attempt to say familiar words. They will love action rhymes too and love doing them with you.
Draw and use play dough. Giving your 17 month old crayons and playdough will help develop their fine motor skills.
Encourage your 17 month old to use ride-on toys. At this age, your 17 month old toddler is ready to try ride-on toys. Start with one that you are happy for them to ride on in the house.
Get outside every day. Fresh air is great for your 17 month old toddler. They will sleep better if they have spent time out of doors and being in large spaces where they can explore the natural world safely is great for their development.
Be a good role model. Your toddler will be aware of everything you say and do now so setting a good example is the best way to teach them how to behave towards others and how to behave in general.
Stick to a routine. Your 17 month old will love routine as it gives them a sense of stability and security. It can also help to keep their behaviour in check as they will know how to behave and what is expected of them at each point in the day.
TOP TIP: Always make sure you have one or two books with you when you are out and about to keep your 17 month old entertained on the go!
17 Month Old Weight
The World Health Organization states that, the average weight of a 17-month-old is 22.1lbs (10kg) for girls and 23.7lbs (10.8kg) for boys.
As always, this is only a guide and will vary from child to child. As long as your 17 month old toddler has steady weight gain and is healthy and alert, there is no need to worry.
17 Month Old Sleep Schedules
As with every age group, it is very important that you continue to stick to a regular and healthy sleep schedule.
Your 17 month old child should be having up to 14 hours of sleep in any 24 hour period with around 12 hours of that at night and the rest taken in 1 afternoon nap between 1-3pm.
Your 17 month old child is very likely to put up some objections at times to going down for a nap or getting out of the bath, but it is important that you don't let them think that an objection from them results in you giving in. Try distraction and don't rush things.
You should aim to have your little one in bed between 7 and 7.30 at the latest. Trust me you will need the rest after a busy day with your toddler.
TOP TIP: Toddlers hate to be rushed. 17 month olds in particular! Give warnings and transition from play to mealtimes, nap and bedtime routines slowly.
17 Month Old Bedtime Routine
As I always say if you have established a healthy and regular bedtime routine from early on, you will have less issues around sleep as your little one grows.
The basic sequence of events of 'bath, book and bed' does not need to change from babyhood, to 17 months olds and then onto preschool… so once you have these in place, it will require small age appropriate adjustments!
Be sure to check out my article on Hacking The Bedtime Routine to get this evening routine nailed!
Now… Here's the main trick…
You need to EXPLAIN what is coming and up and what you are doing next.
They do not like to be swept away to the next event without warning, especially if they are engaged in an enthralling activity.
The good news is that toddlers also love predictable routines, so by following the same sequence of events and using familiar words every day, it should help to make things go smoothly when it's time to sleep!
A good way to get a 17 month old ready for bed is to lower the energy at the end of the day by following this sequence:
Dinner time
Quiet play time
Bathtime
If your toddler is not going to bed straight away, you could offer them a milky drink at this point but it is not essential.
Brush teeth
Bedtime story, cuddle and chat in the bedroom
Finally, putting your toddler to bed in a dark or dimly lit, peaceful, cosy room.
Your 17 month old toddler may have a favourite toy or blanket which might help them settle. Also, a white noise machine or musical toy and a night light may still be useful for a 17 month old to help with nighttime settling.
Dream Egg White Noise Machine
What is it? Sleek multi option white noise machine
Why do I recommend it? This a versatile white noise machine with 24 options that will definitely help your little one settle to sleep. It has a soft warm light that will help babies fall asleep faster and stay asleep longer.
TOP TIP: Having a regular bedtime and solid routine is essential at this age. Ultimately, a consistent bedtime routine will reward you with a peaceful evening to recharge and you will be a better parent tomorrow because of it.
How Much Should You Be Feeding A 17 Month Old?
Toddlers do not grow as rapidly as infants and they no longer spend most of their time eating or being interested in eating. Therefore, it may appear to you that your little one is not eating a lot.
This is completely normal. And as long as your 17 month old is gaining weight and has plenty of energy, then there is nothing to be concerned about!
There is no need to count calories when feeding a toddler, just make sure you are offering a variety of healthy foods from all the major food groups at breakfast, lunch and dinner with 2 snacks per day.
Also, ensure that your 17 month old is having the equivalent of two 8 oz cups of whole milk per day offered with or within food. If your child is lactose intolerant or you're raising them as vegan, please substitute with a suitable alternative.
TOP TIP: If you are struggling to get your toddler to drink the recommended amount of milk, bear in mind that any dairy based products such as yoghurt, fromage frais, cheese sauces and milk puddings are great ways to ensure they're having enough!
17 Best Foods For A 17 Month Old Child
Here are some suggestions for what you should be looking to include in your 17 months old diet:
Whole milk and other dairy products such as full fat yoghurt and cottage cheese.
Cheese such as cottage, grated cheddar, pasteurized soft cheeses
Whole wheat bread, pasta and rice
Fortified cereals such as oats, barley, wheat, mixed cereals
Introduce more exotic fruits such as melon, peaches and kiwis
Offer iron rich vegetables such as broccoli and kale
Protein in the form of eggs (scrambled or boiled), beans, low sugar peanut butter, meat, poultry and boneless fish
Honey
Fruit – add as much variety and colour as you can!
A variety of colourful vegetables – such as peppers, sweetcorn and tomatoes. Include different textures too!
Avocado!
Sweet potatoes and potatoes.
Try to avoid processed food and any added sugars as much as possible. The fresher, the better!
As always, if you are looking for great recipes for your 17 month old toddler go to Annabel Karmel's website for an endless supply of wonderfully healthy ideas for feeding your little one. Annabel's recipes are super easy, healthy and fun!
And for more excellent information on childhood nutrition visit Sarah Bushell's website. Sarah is very knowledgeable about child nutrition and is keen to share her knowledge with parents. She also has loads of wonderful age appropriate recipes too!
TOP TIP: Remember that each toddler is unique in their eating habits.
17 Month Old Feeding Schedule
As a rough guideline your 17 month old should be eating the following amount in a day:
1 to 1+1/2 cups milk, or 1 cup yogurt, or 1 to 1 ½ oz (43g) cheese
1 cup fruit
1 cup vegetables
2 oz protein (56g)
3 oz (85g) grains, of which at least half should be whole grains.
Your 17 month old toddler should be having these foods broken down over breakfast, lunch, dinner and two snacks per day as follows!
7:30 – 7:45am – Breakfast with milk
10.30am – Snack with water
12:15pm – Lunch with milk
2.30 – 3.00pm – Snack with water
5:30 – 6:00pm – Dinner with milk
Try not to obsess over the above amounts; they are only a guide.
REMEMBER: As long as your 17 month old is eating a variety of foods from all the major food groups, has lots of energy and is gaining weight then there is nothing to be concerned about.
Up until recently it was thought that you should not give a young child eggs, fish, or peanut products because this might provoke a food allergy. However, the latest research from the American Academy of Pediatrics says that they have found no evidence to support this claim:
"After a thorough review of the latest research on early allergen introduction, the AAP issued updated guidance that reinforces that there is no reason for parents to delay allergen introduction, explains Dr. Jonathan Spergel, Head of Allergy at Children's Hospital of Philadelphia. In fact, parents should introduce peanut as early as 4-6 months according to the AAP and recent landmark studies. In addition, the AAP simplifies the advice by recommending early allergen introduction, even for breastfed or hydrolyzed formula-fed infants."

AAP
However, if you are concerned about introducing these foods into your toddlers diet please talk to your medical practitioner especially if there is a family history of food allergies.
17 Month Old Activities
Here are some of my favourite activities to do with your 17 month old!
Ball games (throwing, rolling and kicking)
Ride on toys
Play dough
Hand painting
Sorting games
Learning how to use zippers
Activity books
Books that talk about emotions
Play tunnels
17 Month Old Day In The Life Schedule
Of course, each family is going to have slightly different routines and timings, but there is a basic schedule that you should aim to follow by this age. 17 month old toddlers like routines and predictability so creating a day that has both is a MUST for your 17 month old to make them feel safe and secure!
7 – 7.30am – Wake Up and Have Breakfast!
8am – Get Dressed
8:30 – 10.30am – Play Time!
10:30 – Snack!
10.45am – 12.00pm – Structured Play or Trip Out
12:15pm – Lunch Time!
1:00pm – Nap Time
2.30 – 3pm – Afternoon Snack!
3pm – 5pm – Free Play or Trip Out. Check out my post about Outdoor Activities For Toddlers for some great outdoor ideas!
5:30 – 6:00 pm – Dinner Time!
6:00 – 6:30 pm – Bath, Clean Teeth
6:45 – 7:30 pm – Book and Bed Time!
Best Toys For 17 Month Old
After a great deal of searching HIGH and LOW! Here are my TOP toys for your 17 month old child. They are exciting, engaging and colourful and best of all, they are FANTASTIC for your 17 month old's development!
TOMY Toomies Hide & Squeak Eggs
What is it? A box of 6 squeaky coloured eggs that is perfect for a child of 17 months.
Why do I recommend it? This is a lovely interactive toy that offers your little one lots of developmental opportunities. It encourages fine motor skills as your toddler has to push the egg down to make it squeak. Inside is a coloured egg that has a matching top and then there is all the fun of putting the eggs in and out of the box which is perfect for your 17 month old. This is definitely a toy that will keep your toddler engaged.
Melissa & Doug Stack And Sort Board
What is it? A brightly coloured sturdy shape and sort toy.
Why do I recommend it? If you have been following my month-by-month article, you will know I LOVE Melissa & Doug toys! And this is a perfect toy for your 17 month old. It develops hand eye coordination and help to teach your little one colours and shapes too.
Prince Lionheart Ride-On Ladybug
What is it? This is an award winning wooden ride on toy that is tough and durable.
Why do I recommend it? This a beautifully well made ride-on toy that will encourage your 17 month old to get physical and develop their gross motor skills. The multi directional casters and easy to grip handles make it ideal for first time riders. It has great eco credentials with its easy to clean PVC free surface being constructed from renewable plantation timber this toy truly ticks all the right boxes.
Melissa & Doug 100-Piece Wood Blocks Set
What is it? A durable set of brightly coloured construction blocks.
Why do I recommend it? This set of wooden construction blocks is a true investment as not only will your child enjoy hours of fun playing with the brightly coloured shapes but for years to come they will return again and again to this wonderful toy staple. Teach your little on colours, shapes, let them build and knock down creations, put blocks inside containers and so much more.
BRIO Duck Pull Along Toy
What is it? A well made classic wooden duck pull along toy.
Why do I recommend it? You may have guessed by now that I love wooden toys and this one is no exception. A classic pull along toy that your 17 month old toddler will love that quacks and flaps its wings as your child pulls it along. This toy will help with developing motor skills and encourage them to walk and improve balance too.
FAQs
Below are some of the most frequently asked questions about 17 month old toddlers that I often get asked… so here you go!
What Should A 17 Month Old Be Doing?
In a nutshell, your 17 month old will be expanding their vocabulary substantially and will be starting to put words together into simple 2-4 word sentences.
Physically, they will start to throw a ball underarm, use a ride-on toy, pick things up more efficiently with finger and thumb and will begin to push boundaries.
They may begin to bite and hit when frustrated, will begin to understand the difference between right and wrong and will be very affectionate towards loved ones.
Why Is My 17 Month Old Not Napping?
If your toddler is not napping it may be because they no longer need 2 naps a day so try transitioning to one afternoon nap for no longer than 2 hours and see if that makes a difference.
Also, help your 17 month old toddler wind down by having a quiet time before a nap as an overstimulated toddler will not want to sleep.
In addition, if your 17 month old is not sleeping well at night, ironically, they may struggle with nap time because they are overtired.
TOP TIP: With toddlers, sleep breeds sleep so a toddler that sleeps well at night is more likely to nap well in the day.
17 Month Old Child Vocabulary
It is around the 17 month old mark when your toddler's vocabulary really start to take shape. Here are the answers to 2 common questions I always get asked about a 17 month old's vocabulary!
How Many Words Should A 17 Month Old Say?
There is no hard and fast rule as to how many words a 17 month old can say but most will have a minimum of 2 – 3 recognisable words and many will have more.
They may also be trying to put a couple or recognisable words together especially to let you know what they want.
My 17 Month Old Is Not Talking Just Babbling… Is That OK?
I would not worry if your 17 month old is not using clearly recognisable words as the rate at which children start to talk varies hugely.
Some children start off with one of two words and gradually add to their repertoire while others say very little and then suddenly come out with a sentence.
TOP TIP: Comprehension is more important than speech at this age. If your 17 month old toddler understands most of what you know say, they will speak in their own time.
Checklist For This Month:
Play ball with your 17 month old
Teach them to use a ride on toy
Sing action rhymes together daily
React to biting and hitting with a firm 'No'
Drop the morning nap
Expand their language by naming and explaining
Enjoy family meal times together to encourage good eating habits
Take your 17 month old photo
Read our 18 month old article so you know what to expect in the next few weeks!
Game Of The Month:
Catch The Bubbles
This is an activity that is always a big hit and it is wonderful for developing gross motor skills and hand eye coordination too!
How? Blow the bubbles slowly one at a time at first and show your toddler how to catch them. Watch the joy and fascination on their faces as they pop before their eyes. Depending on how stable they are on their feet, once they become more confident in the game, encourage them to follow the bubble as it floats to catch it.
This is a great game to play with toddlers in the house, in the bath and even better, outside. All you need is a bottle of bubble liquid with a blower and you are ready!
Book Of The Month:
DK Pop-Up Peekaboo!
What is it? This a charming brightly coloured book with rhyming text from the great Pop-Up Peekaboo range guaranteed to give you and your toddler lots of reading fun.
Why do I recommend it? Any child would love this book but your 17 month old child will delight in the bright colours and delightful pictures. Each page is dedicated to a colour with lift up flaps to reveal surprises underneath and encourage your toddler to be curious. The sturdy pages of this board book make the pages easy to turn and the rhyming text will keep your little one engaged!
This book will give you lots to talk about with your little one to help improve their language development too.
Top Parenting Tips For The Month
Being a parent to a 17 month old is exciting, fun, loving and exhausting!
This month is full of developmental leaps in language and mobility. And, as with every stage in the first 2 years, time will pass you by SO QUICKLY!
Make the most of each day and enjoy each phase with your baby.
Here are some top tips for getting through the 17 month old phase:
Let your child play without interruption sometimes
Have a stable and regular routine
Always have a book or favourite toy with you when you are out and about
Be consistent when dealing with unwanted behaviour
Start to set clear boundaries for your 17 month old
Stick to a regular nap and bedtime
Get outside every day, play ball and maybe try a mini slide,
Sing lots of action rhymes
Read lots of age-appropriate books.
Play musical instruments, sing and dance
Engage in some messy play activities like hand painting
Give your 17 month old lots of hugs and cuddles
Encourage your toddler to move and enjoy physical activities
Appreciate that you will have good days and bad days with your 17 month old child
Appreciate that you are a parent with an energetic toddler and it's OK to take a break every now and then!
If you enjoyed this post about 17 month old toddlers and know other parents who would enjoy this content, be sure to give it a share around!
As I mentioned in this post, if you're looking for products for your little one and you're not sure where to begin, be sure to check out my Parenting Toolbox.
It is full of all my favourite products which I've tried to ensure are all non-toxic, eco friendly, sustainable and, of course, they're all baby proof!
Do you have any blog recommendations that you'd like me to write about? Drop me an email [email protected] and let me know. I love hearing from you!
Thank you for your continued support!
Paula McLaren
Paul Mclaren - Norland Nurse NNEB RSH is the founder of Teething to Tantrums and has been in the child care industry as a Norland Nanny since 1982. Since then, her mission has been to help parents become the best they can possibly be. And each year, she continues to help more families understand their child's development, the trials and joys of parenting and of course, how to care for their little ones.
Download Our FREE Parenting Daily Routine
This free daily routine reveals our simple process to take you from feeling stressed, tired & overwhelmed to a thriving, organized & confident parenting champion.
By subscribing, you agree to get emails from Teething to Tantrums. We will respect your privacy and you can unsubscribe any time.