Having a 13 month old comes with lots of new learning curves for both you and baby!
From adjusting sleep routines, teaching your little one to feed themselves, cruising, talking and becoming VERY CURIOUS about the world around them!
This month is FULL of new wonders, exciting days and loads of loving memories!
So, let's get on into what to expect this month from your 13 month old baby!
13 month old baby at a glance
Here's a quick rundown of what to expect from your 13 month old (don't worry… I will explain it all in more detail later in the article!!)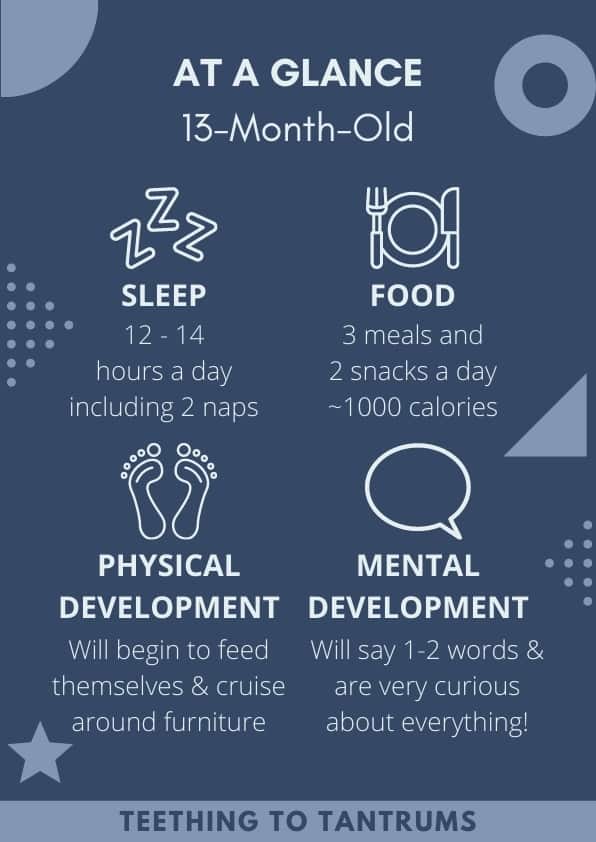 Food For 13 Month Old
Your 13 month will be having 3 main meals a day with two healthy snacks and will need around 450ml of milk per day which can now be taken as whole cows milk. They will consume approx 1000 calories per day and should be transitioning from a bottle to a sippy cup.
13 Month Old Sleep
Most 13 month olds require approximately 12-14 hours of sleep in a 24 hour period and will be having 2 naps per day.
13 Month Old Physical Development
Physically your little one will be well on the way to walking, cruising, standing alone and maybe even taking their first tentative steps. They will be refining their fine motor skills by learning to feed themselves and picking up smaller objects more easily and holding onto them.
13 Month Old Mental Development
Your 13 month old understands much more than they can say but will start to say one or two words like bye bye, mamma and dadda. They are extremely curious and will want to explore everything. They will love to copy and will start to exhibit first signs of independence and communicate more clearly what they want to do.
13 month old development milestones
Physical Development
Physically your little one is now well on the way to walking but may still crawl a lot. They will
Stand alone and sit down from standing
Cruise around furniture
Pulls off socks and hats
Can stack 2 blocks if shown how
Likes to pull, push and dump things
Will turn pages in a book
Social Development
Will wave bye bye
Gestures and points to what they want
Will imitate more
Emotional Development
May become anxious when parent leaves
Will be wary of strangers or even familiar family members and be clingy
Will start to become more willful
Play
Will like to shake and bang things to make a noise
Will put things in and out of containers
Will love to play peek a boo
How to support your 13 month old's development
Having a toddler proof home at this stage is vital. Once you have that place, you can concentrate on boosting and supporting your little ones development as they explore the world around them using their new found abilities.
Here are a few ideas to get you started!
Choose toys that develop hand eye coordination such as building blocks
Let them walk barefoot wherever possible
Encourage language development by talking about everything that you see and do together and have proper conversations
Read lots of books
Encourage your little one to practice feeding themselves from a bowl with a spoon
Wean them off the bottle and onto a cup
Get out and about everyday and talk about what you see
Give them toys they can bang and shake, push, pull, fill up and empty
TIP: Being one step ahead and toddler proofing your home will be your greatest asset.
Download Our FREE Parenting Daily Routine
This free daily routine reveals our simple process to take you from feeling stressed, tired & overwhelmed to a thriving, organized & confident parenting champion.
By subscribing, you agree to get emails from Teething to Tantrums. We will respect your privacy and you can unsubscribe any time.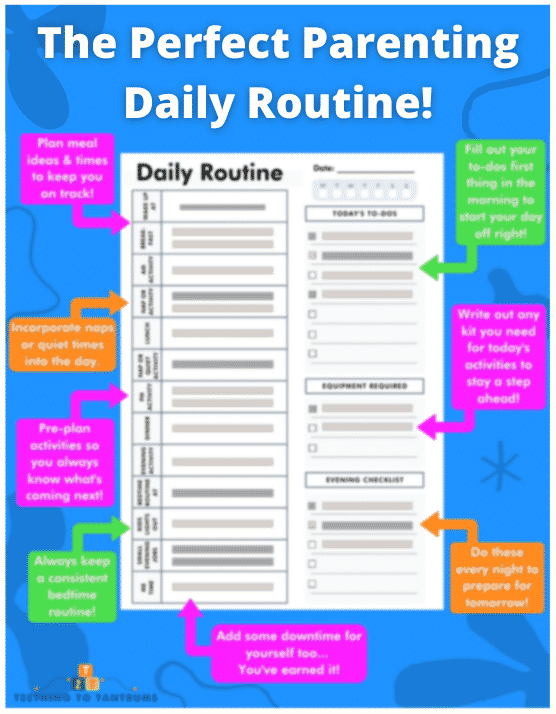 13 month old weight
According to the World Health Organization, the average weight of a 13 month old is 20.2 pounds for girls and 21.8 pounds for boys.
13 month old sleep schedules
Your 13 month old should be having between 12-14 hours of sleep in a 24 hour period including 2 day time naps.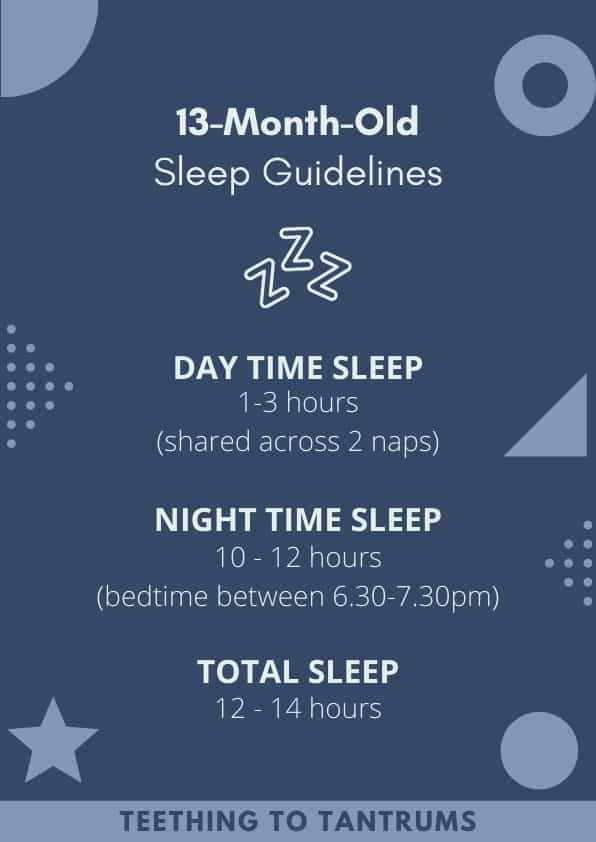 Most 13 month olds will still be taking 2 naps a day with the afternoon nap being longer than the morning nap. Some will drop the morning nap anytime between 13-15 months and you may have days when they have one nap and some days when they have two depending on how well they have slept at night and what they have been doing during the day.
The afternoon nap should not last longer than 2 hours and I would aim to have your little on up and about by 2.30pm at the latest.
13 month old bedtime routine
As always, a regular and healthy bedtime routine is essential to your baby's good night's sleep.
Having a consistent and regular bedtime where they are well prepared for sleep will make it easier for them to settle.
The best way to get a 13 month old ready for bed is to lower the energy at the end of the day by:
Having a calm teatime
Followed by a warm and calm bathtime
Having an evening feed or drink sitting quietly whilst reading together in a dimly lit room
Alongside the above, enjoying a bedtime story, cuddle and chat in the bedroom
Finally, putting your toddler to bed in a dark, peaceful, cosy room.
With all the new skills your baby is learning and the fact that your little one may develop some separation anxiety they may experience a sleep regression at this age which is quite common.
TIP: Having a healthy bedtime routine can help when dealing with sleep regression
How much should you be feeding a 13 month old baby?
Your 13 month old will need about 1000 calories a day of which around 370 should be taken in whole milk or breast milk. This converts into around 500ml of milk per day or 16 oz.
TIP: Remember that your toddler can take milk in other forms such as in cereal or other dairy products.
Although they no longer need formula, full fat milk is important for this age to ensure they have enough vitamin D and calcium. If your child is lactose intolerant or you are raising your child as a vegan, ensure you are choosing a suitable alternative that contains enough vitamin D and calcium for their needs.
Your 13 month old will not be eating huge meals at this stage and will more than likely love a food one day and turn their nose up at it the next. It's annoying, I know… But just go with the flow for now.
It is important that you offer them a wide variety of foods, to prevent your little one from becoming bored with the same old foods, This includes proteins, complex carbs, a variety of fruit and veg and some dairy (if appropriate) avoiding sweet foods and keeping everything as fresh as possible.
TIP: A toddlers portion is about ¼ of an adults
Breakfast Options:
Fortified cereal with milk from daily allowance
Wholegrain toast
Fruits
Eggs
Yoghurt
Lunch Options:
A protein, like chicken or fish
Vegetables
A complex carb such as potatoes, pasta or rice
Milk from daily allowance
Tea Options:
A protein is not essential at this meal if you had some for lunch but feel free to give one if you want.
Milk from daily allowance
Whole Grain bread or pasta
Cheese
Fruit
Veg Sticks
Snack Options:
Fruit
Veg Sticks
Bread sticks
Rice cakes
But avoid sugary snacks!
TIP: By now your toddler should be transitioning from a bottle to a cup (even for milky drinks)
You will see me recommend the following two websites over and over… So, If you are looking for great recipes for your toddler, visit Annabel Karmel's website for an endless supply of wonderfully healthy ideas for feeding your little one. Her recipes are super easy, healthy and fun!
And for more excellent information on childhood nutrition visit Sarah Bushell's website. Sarah is very knowledgeable about child nutrition and is keen to share her knowledge with parents. She also has loads of wonderful age appropriate recipes too!
13 month old baby feeding schedule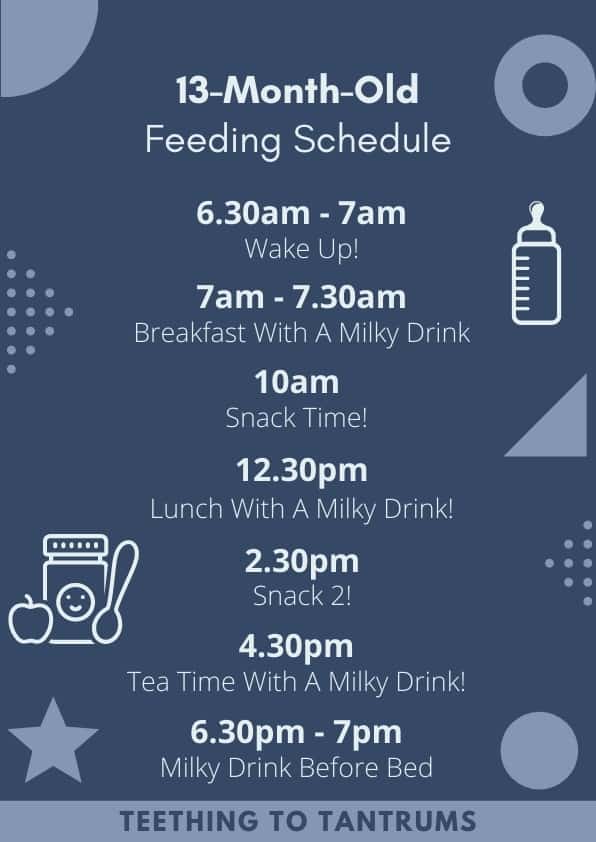 Breakfast with milk – 7am – 7.30am
Snack 10am
Lunch – with milk 12.30pm
Snack – 2.30 pm
Tea time with milk – 4.30pm
Milky drink before bed – 6.30pm – 7pm
13 Best Foods For A 13 month old baby
Here's a quick easy-to-follow list of food ideas for your 13 month old baby!
Fortified unsweetened cereals
Fruit – add as much variety and colour as you can!
A variety of colourful veg – include different textures too!
Avocado
Sweet potatoes
Eggs
Whole grain pasta and bread
Chicken
Boneless fish
Small amounts of red meat
Whole grain rice
Yoghurt or fromage fraise
Unpasteurised cheese (grated or melted)
13 month old activities
As your toddler grows, the variety of activities you can play with them will become more and more interesting! At 13 months, you can definitely play the following games together!
Soft building blocks
Action rhymes
Messy play
Ball play
Play tunnel
Baby walker with bricks
Interactive board books
Stacking cups
13 month old day in the life schedule
As always, these schedules are just a guide and can be adjusted according to your child's individual needs. Some children of this age will be ready to start dropping their morning nap on some days while others will not do so until they are a couple of months older. Keep an eye on your child's sleep cues and try to not let them get over tired.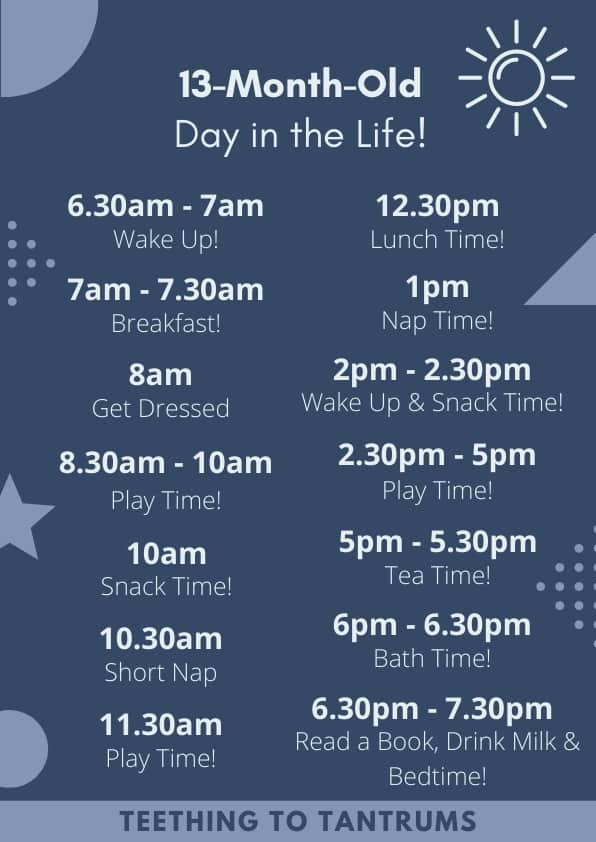 6.30am to 7am – Wake Up!
7am – 7.30am – Breakfast with Milk.
8am – Get Dressed.
8.30am – 10.30am – Play time!
10am – Snack with Milk.
10.30am – Nap
11.30am – Play Time.
12.30pm – Lunch Time!
1pm – Nap Time
2pm – 2.30pm – Wake Up and Have a Snack with a Milky Drink.
2.30pm – 5pm – Play time! Including a Trip Out or Outside Play. Check out my post about Outdoor Activities For Toddlers for some great outdoor ideas!
5pm – 5.30pm – Tea Time!
6pm – 6.30pm – Bath Time!
6.30pm – 7pm – Bottle or Drink in a cup whilst Reading a Book Together.
7pm – 7.30pm – Bedtime!
TIP: Keep energy levels down before bedtime to avoid overstimulation.
best toys for 13 month old
Now onto one of my favourite parts… Toys! Contrary to popular belief… 13 month old toddler's do NOT need loads of toys. BUT… a few well designed, evergreen and stimulating toys will certainly help your little one develop and grow. Here are 5 of my favourites!
Hape Block and Roll Cart
What is it? Wooden walker with blocks
Why do I like it? This is a great wooden toy staple for your toddler to help them become proficient walkers.Along with the wooden blocks this toy will improve motor skills and balance.
Green Sprouts Stacking Cups
What is it? Great set of eco-friendly stacking cups
Why do I like it? I always go for eco-friendly toys wherever possible and these stacking cups fit the bill perfectly. Ideal for this age group these lovely cups can be used for stacking, helping with colour recognition and can be used in the bath or water play too. A truly great toy staple.
Hape pound and tap bench
What is it? Wooden multifunctional musical instrument
Why do I like it? Another great toy from Hape finished in water based non toxic paint and ideal for developing your toddlers fine motor skills and encouraging musicality. Toddlers love to bash things and this awarding winning cause and effect toy is perfect for your 13 month old.
Sensory fidget toy
What is it? Unique sensory toy
Why do I like it? I like the concept of this unique toy with it's soft silicone bubbles that your toddler will love to explore. This well made toy will exercise finger flexibility, and strengthen your toddlers perception of color. It is easy to clean and can also be used as a teether.
13 month old baby FAQs
Below are some of the most frequently asked questions about 13 month old toddlers that I feel every mom and dad should know!
Should a baby be talking at 13 months?
Most 13 month olds will be saying two to four recognisable words but they will not be constructing sentences. They will rely a lot on pointing and gesticulation to tell you what they want. You will probably be waiting until they're 17 months old before they start to string words together.
My 13 month old baby is not walking yet. Should I be concerned?
There is a wide marker for when babies walk from as early as 9 months old to as late as 18 months old. The truth is that babies will walk when they are ready and as long as they are mobile and pulling themselves to stand and cruising there is nothing to be concerned about.
Why is my 13 month old baby so clingy?
It is common at this age for your little one to become more wary of strangers and be more clingy. Just be patient. This is just a passing phase and don't force them on others if they do not want to engage with them. Allow them to observe for a while and usually curiosity will get the better of them.
Checklist For this month:
Every month is full of surprises and 13 months is no different! Be sure to complete the following checklist this month as time will fly by before you know it!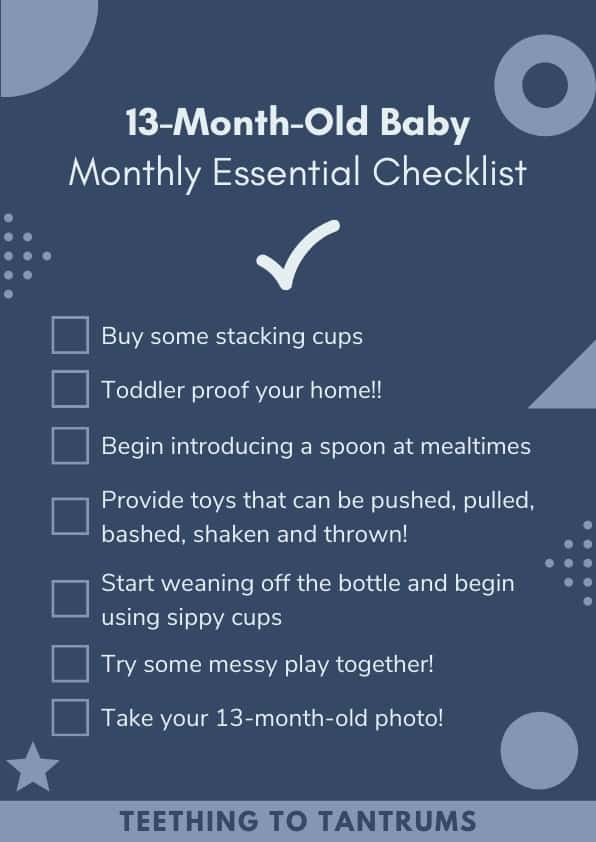 Take your 13 month old photo!
Read our 14 month old article to know what to expect next month!
Start to wean off the bottle and onto a cup
Introduce a spoon at meal times
Toddler proof your home
Create a busy basket
Get outside every day
Provide toys that can be pushed, pulled, bashed or thrown
Buy some stacking cups
Try some messy play
Game of the month:
Busy Basket
A busy basket is a great go to for entertaining your 13 month old and helping their development.
Keep a basket filled with odds and ends, such as blocks, baby-safe kitchen utensils, sensory bottles, music shakers, different textured balls and a variety of fabrics.
Bring the basket out on occasions so that the experience of exploring it is fresh.
Children of this age love to take things out of containers and they love to touch and explore new items. This is a perfect sensory basket that will help develop hand eye coordination and keep your toddler engaged either independently or with you offering information and new language as you explore the basket together.
Book of the month:
Where Is Baby's Belly Button? A Lift-the-Flap Book
What is it? A colourful, interactive lift-the-flap board book.
Why do I recommend it? This beautiful book is great at teaching children about body parts and the sturdy format and easy-to-lift flaps are perfect for parents and children to read together.
I also have a huge range of baby and toddler books in my parenting toolbox – so be sure to head over there and browse around!
Top Parenting Tips For The Month
Parenting a 13 month old toddler is without doubt exhausting. As they move from babyhood to full on toddlerdom this is a busy month!
Here are some tips to help keep you on track as you embark upon the world or parenting a toddler.
Toddler proof you home
Read lots of books
Have lot of cuddles
Adjust sleep schedule as necessary
Transition from bottle to cup
Encourage your toddler to move and enjoy physical activity
Encourage your toddler to feed themselves with a spoon
Stay one step ahead and be ready to divert
Narrate your way through the day to improve language skills
Stick to a healthy bedtime routine
If you enjoyed this post and know other parents who would enjoy this content, be sure to give it a share around!
As I mentioned in this post, if you're looking for products for your little one and you're not sure where to begin, be sure to check out my Parenting Toolbox.
It is full of all my favourite products which I've tried to ensure are all non-toxic, eco friendly, sustainable and, of course, they're all baby proof!
Do you have any blog recommendations that you'd like me to write about? Drop me an email [email protected] and let me know. I love hearing from you!
Thank you for your continued support!
Paula McLaren
Paul Mclaren - Norland Nurse NNEB RSH is the founder of Teething to Tantrums and has been in the child care industry as a Norland Nanny since 1982. Since then, her mission has been to help parents become the best they can possibly be. And each year, she continues to help more families understand their child's development, the trials and joys of parenting and of course, how to care for their little ones.
Download Our FREE Parenting Daily Routine
This free daily routine reveals our simple process to take you from feeling stressed, tired & overwhelmed to a thriving, organized & confident parenting champion.
By subscribing, you agree to get emails from Teething to Tantrums. We will respect your privacy and you can unsubscribe any time.